Spend a long weekend in the middle of Montana surrounded by nothing other than snow, animals and some of the best chefs on the West Coast at The Resort at Paw's Up annual WinterFest food and wine festival.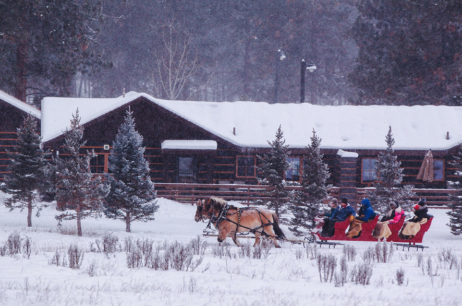 From February 15 through 18, partake in cooking demonstrations, tasting and wine pairings with notable chefs from both California who will be cooking up their most delicious dishes. This year, WinterFest welcomes 2017 Top Chef winner, Brooke Williamson, chef Budi Kazali of Santa Barbara's The Gathering Table and master chocolatier Jessica Foster (we hear her truffles are to die for).
During the weekend, you'll stay in a resplendent home on ranch grounds (which span just over 37,000 sq ft). In three days you'll be privy to winter-themed feast with exquisite wine pairings. Your daily meals will be cooked by the roster of chefs as well as  Paw's Up executive chef, Sunny Jin, who just so happens to be an alum of Napa Valley's French Laundry. You'll also experience beer and spirit tastings and entertainment to round off each night.
During the day, take advantage of Montana's frontier with skiing, snowshoeing, horseback riding and wilderness activities. Each guest will get activity credit per day to explore before tucking into their delicious meals.
From $543 per person per day.
For more information visit pawsup.com