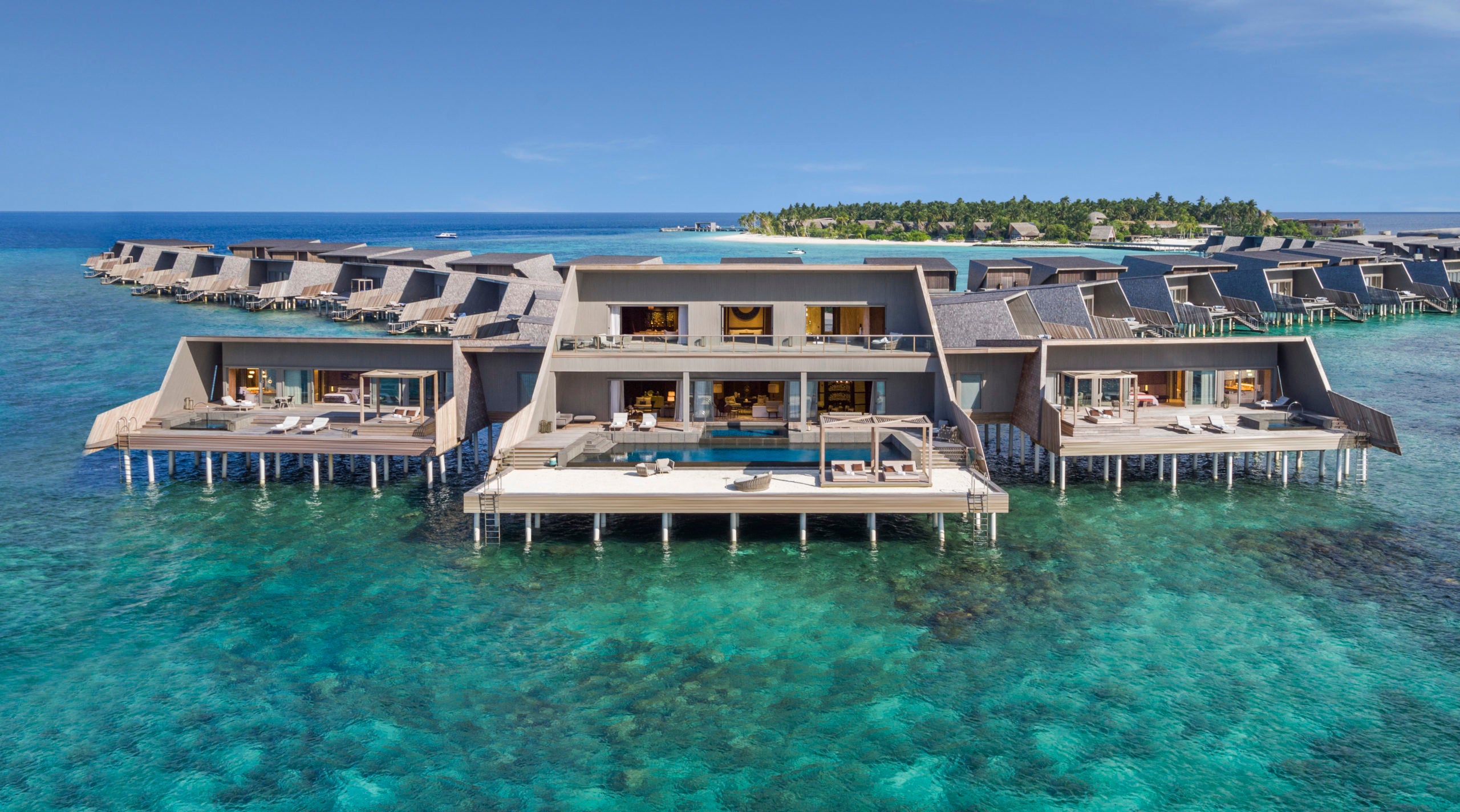 Calling them hotel suites doesn't really do justice to the gigantic accommodations of the Maldives. Surrounded by palm-fringed white-sand beaches and aquamarine seas teeming with exotic marine life, these idyllic atolls are truly paradise found.
The Crescent, Niyama Private Islands (pictured above)
The Crescent is so much more than just a suite; this is a cluster of five villas — all with private pools — positioned above the turquoise water off the island resort's powdery shores. Connected by a raised wooden walkway, the enclave accommodates up to 14 adults and eight children, with a central two-bedroom pavilion, two one-bedroom pavilions and two deluxe studios. A private deck complete with floating loungers, daybed and dining table acts as the Crescent's hub. While staying within this secluded pocket of Niyama, a traditional Boduberu dance is performed exclusively for you. A private barbecue complete with movie under the stars and an exclusive dhoni (Maldivian fishing boat) sunset cruise are all part of the experience.
Special amenities: Dedicated chef, two butlers, foot ritual on arrival, fresh coconuts delivered daily
Size: 15,750 sq ft Number of bedrooms: Six Nightly rate: From $15,365 Contact: Hafidh Al Busaidy, general manager, reservations@niyama.com, +960 676 2828, niyama.com
See also: [A Luxury Travel Guide to The Maldives]
Owner's Villa, Cheval Blanc Randheli
Separate from the main resort, the Owner's Villa is set on its very own 2.5-acre island and features four bedrooms, spa, pretty gardens and an 82ft outdoor pool. The interiors are gorgeous — hardly surprising, as the resort is part of luxury conglomerate LVMH. The sleek neutral palette could have you feeling as if you were in Milan, if it weren't for the palm trees, white-sand beach and crystalline ocean. Designed by renowned architect Jean-Michel Gathy, the villa is a stylish, modern take on the traditional overwater bungalow. The master suite, found at the top of a monochrome statement staircase, offers a panoramic bird's-eye view of the tropical paradise. Be sure to take advantage of the Art de Recevoir program, a 24/7 team on hand to create tailor-made activities.
Special amenities: Private fleet of dhonis, private jetty, cinema, spa
Size: 2.5 acres Number of bedrooms: Four Nightly rate: Available on request Contact: Renato Chizzola, general manager, info.randheli@chevalblanc.com, +960 656 2288, chevalblanc.com
Private Reserve, Soneva Fushi
The ultimate retreat for a family vacation, the enormous Private Reserve is Soneva Fushi's largest accommodation, with nine bedrooms (including bedrooms for children and a nanny), spa, gym, sauna and steam room. The huge lagoon-style private pool provides a playground for little ones — in the middle is a sunken sala, which can be accessed by the waterslide (or by the bridge). When the sun sets, the sala is the perfect spot to host a decadent dinner under the stars. Should you want to venture beyond your idyllic reserve, Soneva Fushi has a wonderful array of activities, including non-motorized water sports (paddleboarding, catamaran sailing, windsurfing), tours of their eco 'waste-to-wealth' center and organic vegetable gardens to learn about best practices in eco-sustainability, and a glassblowing demonstration with cocktails at the Glass Studio. A visit to The Observatory is an absolute must — with so little light pollution, millions of stars are visible to the naked eye, but through the state-of-the-art telescope, you'll spot the Plough of Saturn and the moons of Jupiter, as well as celestial bodies that aren't visible anywhere else in the world.
Special amenities: Private spa, gym, open-air garden bathroom, waterslides
Size: 59,633 sq ft Number of bedrooms: Nine Nightly rate: From $14,807 Contact: Abdullah Rasheed, guest relations manager, reservations@soneva.com, +960 660 0304, soneva.com
The Private Residence, Gili Lankanfushi
Surrounded by a turquoise lagoon, The Private Residence is reputed to be the largest overwater villa in the world. The rooms are connected by wooden Robinson Crusoe-esque walkways, so utmost privacy is guaranteed, even from your own party. There's a one-bedroom master suite and a two-bedroom duplex, each with open-air bathrooms and two-person bathtubs over coral gardens. From every area, you'll be able to soak up uninterrupted views of the Indian Ocean, as the next nearest villa is around 1,000ft away. A recent refurbishment has added a glass infinity pool on the upper sundeck, and kids will love the wide waterslide from the top deck into the lagoon (or big kids, we won't judge). Previous guests include Richard Branson and  Buzz Aldrin.
Special amenities: Private cinema, spa, personal butlers, personal boats, library
Size: 18,300 sq ft Number of bedrooms: Three Nightly rate: From $14,807 Contact: David Stepetic, general manager, mr.friday@gili-lankanfushi.com, +960 664 0304, gili-lankanfushi.com
Grand Sunset Residence, One&Only Reethi Rah
Situated on one of the largest islands in the North Malé Atoll, One&Only Reethi Rah (meaning "beautiful island") can be reached in just 15 minutes from Malé by seaplane. Interestingly, Reethi Rah has its own time zone, set one hour ahead of Malé, allowing guests to enjoy cocktail hour while watching the renowned sunsets. The Grand Sunset Residence is the jewel in an already glittering crown — nestled among lush tropical greenery on the island's largest stretch of private beach, the Residence is made up of two separate villas that share a 540-sq-ft private pool. The vaulted ceilings of the bedrooms and bathrooms top off the plush interiors, and the outdoor areas are just as inviting — dine al fresco courtesy of the on-call chef, grab a bottle of wine from the private cellar, or, if cocktails are more your thing, the private bar can be customized to your taste.
Special amenities: Outdoor cinema, wine cellar, customized private bar, outdoor dining area, private chef on call 24/7, personal butler
Size: 25,317 sq ft Number of bedrooms: Three Nightly rate: $17,000 Contact: Rahul Malhotra, reservations manager, reservations@oneandonlyreethirah.com, +960 664 8800, oneandonlyresorts.com
Royal Residence, Jumeirah Vittaveli
Beyond a huge but inconspicuous gate, at the end of a stepping-stone path over a Japanese-style reflection pool lies the gargantuan Royal Residence. The grand entrance is a solid indicator of the abode within — five bedrooms, six bathrooms, two pools, spa and gym, and a private restaurant shaped like a traditional Maldivian fishing boat protruding out onto the private beach. The interior design is a dichotomy of understated neutrals and gilded accents, like a traditional beach hut dipped in gold. The private spa is a welcome respite after a day at sea — Jumeirah has excellent water activities, and the Royal Residence has its own jetty for you to venture out from. As the sun sets, we recommend enjoying a cocktail from the overwater bar or relaxing in the sunken lounge surrounded by a fragrant lily pond.
Special amenities: Private restaurant and personal chef, overwater bar, gym, jetty, spa, beach, Hermès toiletries, butler
Size: 37,675 sq ft Number of bedrooms: Five Nightly rate: $35,000 Contact: Lilo John, director of reservation and revenue, lilo.john@jumeirah.com, +960 664 2020, jumeirah.com
Como Villa, Como Cocoa Island
Of this island's 33 overwater suites, which all take design inspiration from the curving wooden form of traditional Maldivian dhonis, one pair stands out. Not only are the two Como Villas at Cocoa Island the most palatial, they also provide the most seclusion. Each approached by its own private jetty, the two Como Villas, Sunrise and Sunset, are spread across two wings that meet in the middle with living and dining areas featuring balconies on both sides for direct access to the lagoon. Each wing is home to a bedroom with en suite bathroom and outdoor shower, as well as a private terrace. From your villa's deck, snorkel over the house reef, set out on a barefoot exploration of the island or while away an afternoon on your private sundeck. Como Cocoa Island is celebrated in particular for its world-class spa, Como Shambhala Retreat, which is well worth setting aside plenty of time for.
Special amenities: Private jetty, butler service, use of non-motorized water-sports equipment
Size: 3,229 sq ft Number of bedrooms: Two Nightly rate: From $5,175 Contact: Hassan Nasir, reservations manager, hassan.nasir@comohotels.com, +960 678 0001, comohotels.com
Romantic Pool Residence, Velaa Private Island
Only accessible by boat, this overwater residence is the ultimate in exclusivity, providing absolute privacy to the couple that stays here. The one-bedroom villa sits above the island's turquoise lagoon, providing direct access to the ocean. Every room in the residence spills out onto the terrace, where a sundeck with daybeds, infinity pool, Jacuzzi and sunken pool bath all look out toward the horizon. Watch the sunset from the villa's private patch of white sand or from the overwater dining gazebo at the end of the residence's private jetty. The stylish interiors have been designed with natural materials and come complete with generous living space, a gym and spa treatment rooms. Your personal butler will be on hand to chauffeur you to and from the resort's main island, if you can tear yourself away from this luxurious cocoon.
Special amenities: Private chef, personal butler, gym, spa treatment rooms, kitchen and butler's room
Size: 6,437 sq ft Number of bedrooms: One Nightly rate: From $8,000 to $14,500 per night Contact: Hassan Zahir, reservations manager, hassan.zahir@velaaisland.com, +960 6565 000, velaaprivateisland.com
John Jacob Astor Estate, St. Regis Maldives Vommuli
This two-story, three-bedroom overwater villa features three expansive sundecks from which you can jump straight into the sea, as well as a 990-sq-ft infinity pool. Inside, the residence boasts a gym, spa suites and a cinema, along with a 12-person dining space — complete with a large kitchen and butler's pantry — that ensure you barely need to set foot outside the villa. However, you'll probably be tempted to explore; to make the most of being on this remote island, try out the resort's gastronomic dining venues and set out on the exhilarating excursions offered by the water-sports center.
Special amenities: Private cinema, three Jacuzzis, eight Bang & Olufsen LCD TVs, butler service, personal buggy
Size: 16,576 sq ft Number of bedrooms: Three Nightly rate: From $25,800 Contact: Ahmed Azhyn, reservations supervisor, ahmed.azhyn@stregis.com, +960 676 6330, stregismaldives.com
Private Island, Four Seasons Voavah
Four Seasons Voavah, featuring one three-bedroom beach villa, a two-bedroom water villa and two additional suites, affords unrivaled privacy. The island places you amid extraordinary Unesco ocean territory, where manta rays glide through crystal clear waters with colorful coral and shoals of tropical fish. On land, the two-story Beach House provides indoor and outdoor dining, as well as incorporating an open-air living room, gym, library and loft lounge. Between unwinding in your villa and swimming in the sea, pay a visit to the island's Ocean of Consciousness Spa for a bespoke treatment by an award-winning therapist.
Special amenities: Private 62ft Horizon E62 yacht, dive center and use of water toys, destination dining, beach parties, private jet handling
Size: Five acres Number of bedrooms: Seven Nightly rate: From $38,000 Contact: Armando Kraenzlin, general manager, armando.kraenzlin@fourseasons.com, +960 660 0888, fourseasons.com/maldivesvoavah