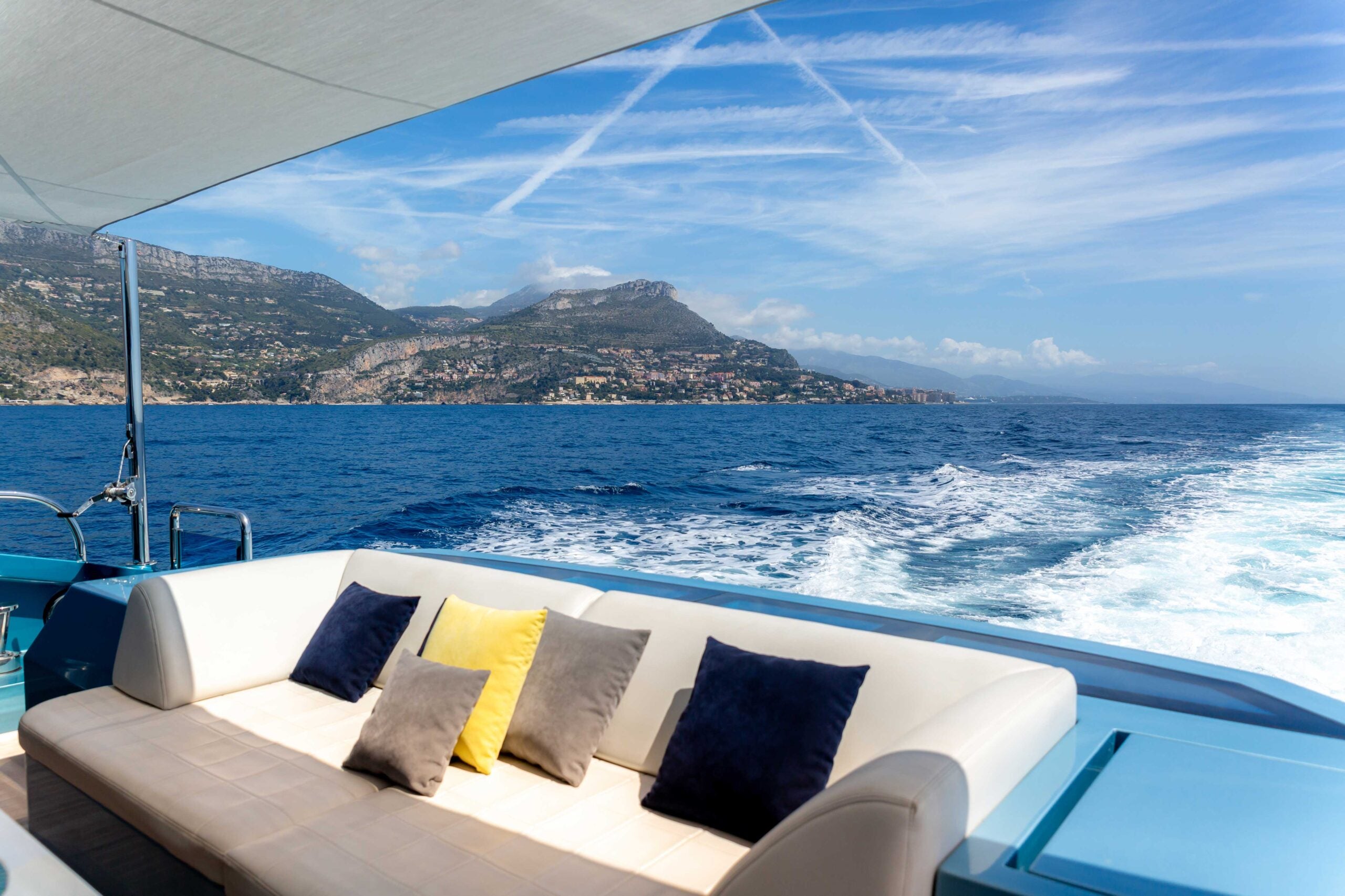 Chartering a private jet using an on-demand app or website is not a new concept, yet chartering a superyacht has historically been left to traditional methods (read: speaking to an actual human). Yotha is a new platform designed to change that and bring simplicity and transparency to the yacht chartering process.
I boarded Philmx, Yotha founder and CEO Philippe Bacou's own yacht, after a helicopter ride from Nice to Monaco. Yotha has a number of partners (including Monacair, Excellence Limousines, Hotel de Paris St Tropez and Quintessentially) to ensure your travel plans are seamless before even stepping foot on the yacht. Even after waking at 3am for an early flight to Nice, soaring through the blue skies and seeing Monaco from above is a thrilling (and super convenient) way to begin a jaunt around the Cote d'Azur.
Philmx is a 143 ft motor yacht in a shimmery shade of pale turquoise that cuts a striking figure in the port. She can sleep up to 10 guests in five rooms with a crew of eight (who are supremely lovely; after dozing off on the deck, they lay a cozy blanket on me and add mini marshmallows to my coffee. Don't knock it 'till you try it!) She has two decks (one with a Jacuzzi) and a beach club.
I spent the next few days sailing around the Cote d'Azur, beginning in Monaco and sailing on to Cannes and St Tropez with Yotha's COO, Carlo Benveduti, who was on board to explain the technology. As Benveduti tells us whilst we are relaxing in Philmx's beige-and-gold saloon with a glass of champagne in hand, Yotha is for the digital generation who have grown up using apps and on-demand sites and see them as the norm. For this demographic, myself included, not being able to book something through an app seems unusual, and they want the same freedom and service they're accustomed to. Yotha began two and a half years ago when Bacou was feeling dissatisfied with the yacht industry (specifically in relation to chartering) and wanted a more straightforward approach where yacht owners can liaise directly with prospective charterers.
As we sail through the crystalline waters, Benveduti shows us the app and website in detail. There are currently 152 yachts available for charter on Yotha's website, including award-winning 180-ft Mustique and 164-ft Vertige. The yachts' owners have of course agreed to have the boats listed. You can browse each yacht and take a virtual tour then send a booking request directly to the owner. All price negotiations are supervised by a customer care team who are available 24/7 so both owner and charterer are protected. Yotha also operates the lowest commission structure on the market at just eight percent.
Dropping anchor in St Tropez, a tender from Club 55 comes to collect us and take us to the beach. There's hardly anyone on the beach, apart from a few early sunbathers, and I wonder where everyone is. The answer? Behind the sun-bleached wooden structure, surrounded by tall bamboos, the outdoor tables of Club 55 are packed. Wear your chicest kaftan, floppy hat and sunglasses, chinos and linen shirt for the place to see and be seen (we spotted Yasmin le Bon during our long, leisurely lunch of seafood and vegetables). Yotha breaks down barriers in the chartering world, making it simpler and easier to access yachting's chic lifestyle.