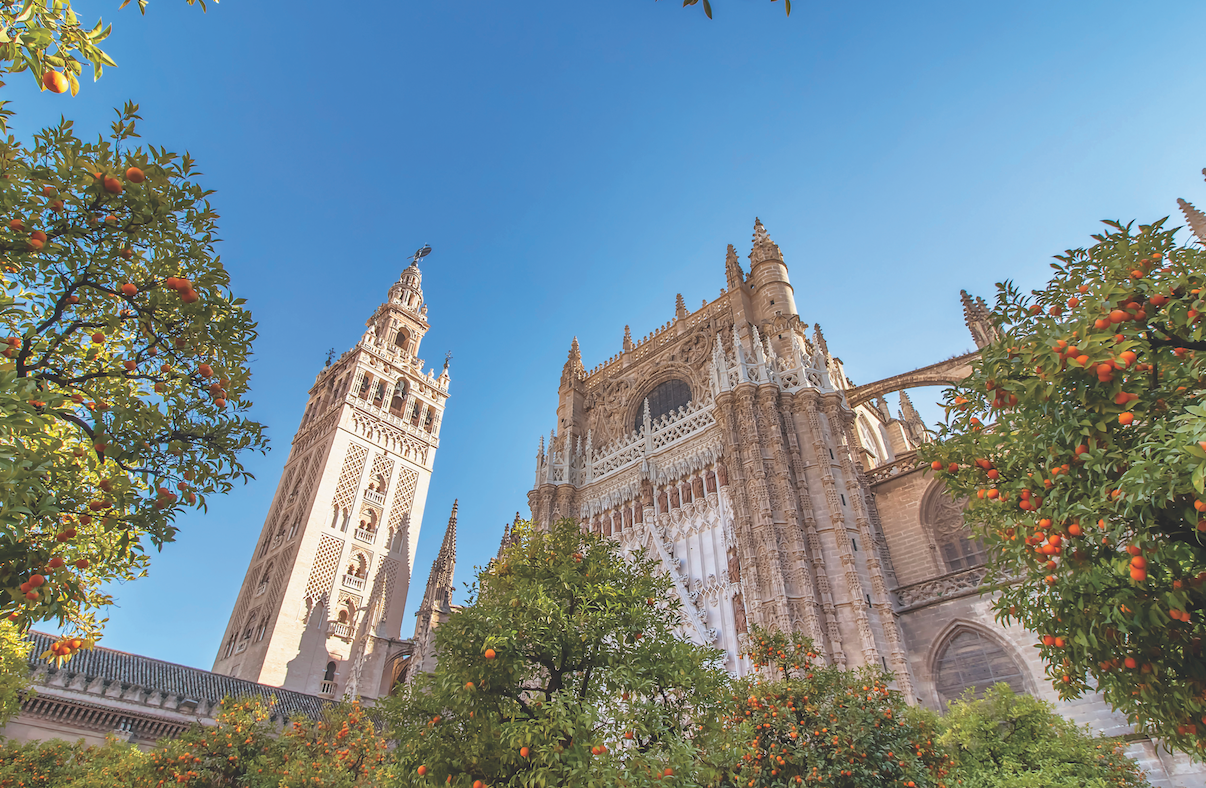 Rich in culture, sizzling with energy, sleek yet startlingly sophisticated — sultry flamenco star Seville has reinvented herself as a coveted destination in the heart of Spain's sun-baked Andalusia region, jazzing up her old-world charm and traditional glamour with a cool, up-market vibe.
Get caught up in a fantasy world of cobbled courtyards, tinkling fountains and gypsy guitarists. Let the Moorish town squares dotted with orange trees indulge your senses, while the Gothic cathedral and horse-drawn carriages add a touch of historical magic. When night falls, the tangle of alleys and flamenco bars spilling out onto the pavement come alive, drawing you into bustling neighborhoods celebrating music, passion and foot-stomping dance. Allow yourself to be seduced.
Once a traditional city in many respects, Seville still evinces a subtle underlying class system that shines through with plenty of peacock oomph! Notice the locals' stylish dress, the way they behave, the food and drink rituals they uphold; all so distinctively typical of the proud Sevillanos that the city can almost be forgiven for its eccentric impression of being culturally independent from the rest of Spain.
With its edgy urban fashion, designer shops moonlighting as art galleries, flamenco flamboyance and lost boho bars, the Andalusian capital promises something for everyone.
The tapas trail
Trailblazing tapas are almost a religious experience in Andalusia, and the Sevillanos love nothing more than a gourmet grazing pilgrimage through the city's cobbled maze, home to some of Spain's most creative and innovative tapas imaginable.
Indulge yourself in the cultural style of casual snacking from bar to bar: Order chilled sherry or ice-cold Cruzcampo beer with tapitas of crisp, fried fish and gambas (shrimp). Try traditional chickpeas and spinach, or pillow-light croquetas with lemon aioli, cod with tomato and Iberian pork cheeks. Why settle for just one plate?
La Azotea is an excellent new tapas venue. Its vibe is busy, buzzy and bijou — which translates as small, so get there early to stake your claim on a barstool.
Zelai serves super-sleek, contemporary Basque tapas in a striking, über-chic setting. The restaurant area is in back, but it's much more fun to hang out at the bustling bar.
Wherever your tapas route starts or ends, make absolutely certain it includes El Rinconcillo, the oldest recorded taberna in Seville — a landmark rendezvous virtually unchanged since 1670. Order traditional tapas from nonchalant waiters at a dark-wood counter where your bill is chalked on the tiled walls. Stand shoulder-to-shoulder, perch on a barrel or hunt down a quiet table on the upper floor.
When you are totally tapa'd out, aim for Abantal — the only Michelin-starred restaurant in Seville. It reigns supreme with contemporary, cutting-edge Andalusian gastronomy. Expect smooth-as-silk service and designer decor. If you like your oysters served on roasted melon beneath a cloud of lemon air, this is definitely the place for you. There are only seven select tables, so book well ahead.
Where to sleep
The Alfonso XIII Suite at Hotel Alfonso XIII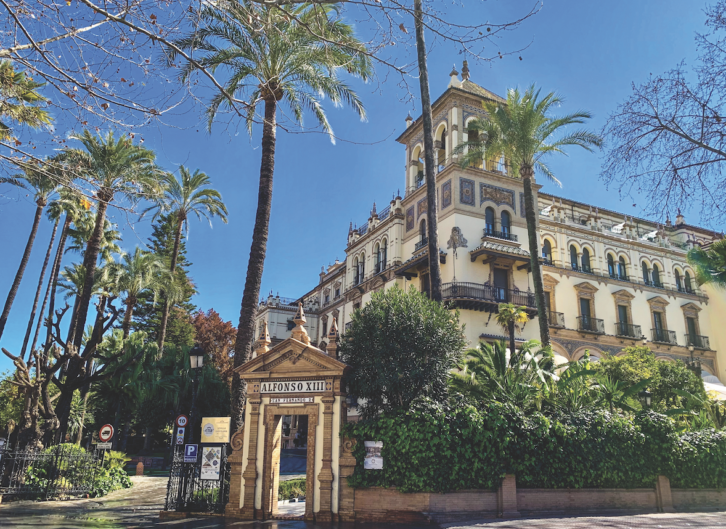 Positively palatial, this is the grandest grand hotel in all of Spain. Alfonso XIII, a Luxury Collection Hotel, is the preferred rendezvous for sophisticated travelers worldwide, attracting royalty, heads of state, Hollywood stars and VIPs who like their history with a hit of pure glamour. Enjoy a pre-prandial cocktail in the Art Deco Bar Americano, rich in the knowledge that Ernest Hemingway and Eva Perón once dined there. The Alfonso XIII Suite provides full-on Andalusian opulence: a regal four-poster bed, silk walls, marble columns and stucco archways. A suite fit for a king.
From $2,645 per night. Contact Maria Yerga, reservations manager, maria.yerga@luxurycollection.com, +34 954 917 000, hotel-alfonsoxiii-seville.com
Torreón Suite at Hotel Palacio de Villapanés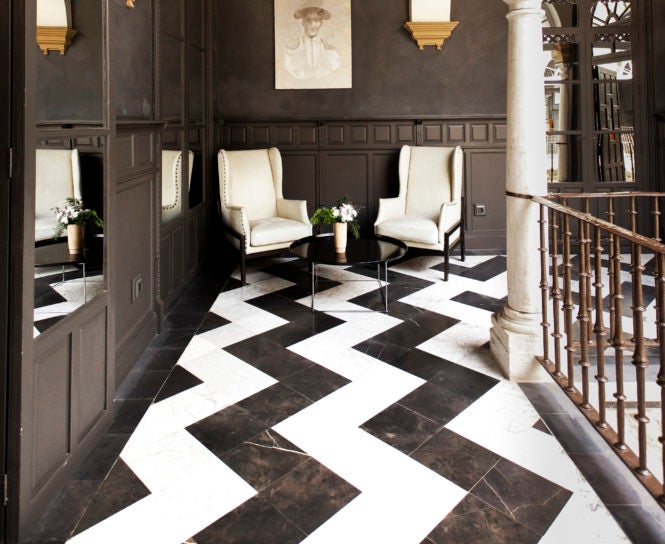 This hotel oozes sheer, unadulterated class, offering some of the most luxurious-yet-contemporary accommodations in Seville. It is utterly sleek and delectably chic. Be sure to check out the Moorish arches, ornate mosaics and mottled marble pillars that adorn the palace courtyard. The Torreón Suite is the hotel's best-kept secret, high in the palace dome. It is divine with dove gray walls, a vaulted ceiling, lavish en suite with the original 19th-century marble bathtub, plus huge windows and a private terrace featuring heartbreaking views across Carmen's Seville.
From $1,050 per night. Contact Lorena Salazar, reservations manager, fomanager@alaciovillapanes.com, +34 954 502 063, palaciovillapanes.com
Presidential Penthouse Suite at Gran Meliá Colón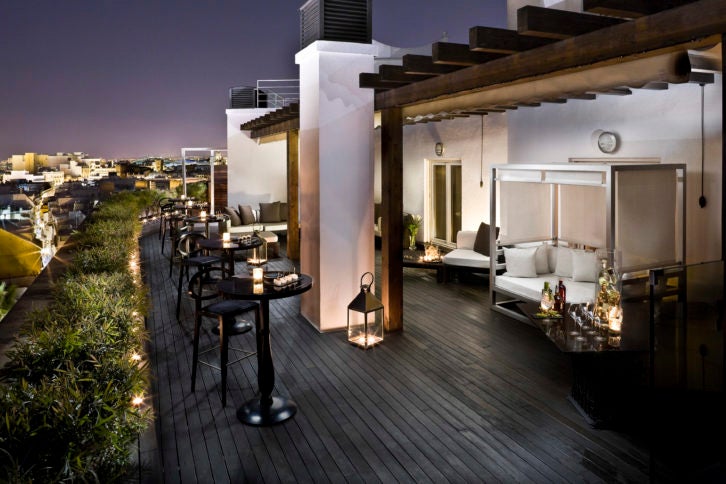 A matador's cape swish away from the historic Plaza de Toros in buzzy downtown Seville, you'll find Gran Meliá Colón. Patronized by generations of bullfighting royalty, the hotel has reinvented itself amid classic Baroque tradition with a contemporary full-on, glam-luxe, stark yet sophisticated interior. White background decor with
stylish pops of black, red and gold is accented with playful, über-chic Philippe Starck and Edra furniture. The Presidential Penthouse Suite is the most spectacular suite in the hotel, boasting an impressive terrace with stunning views.
From $2,070 per night. Contact Magdalena Guzman, reservations manager, granmeliacolon@melia.com, +34 954 505 599, melia.com
Must-see sights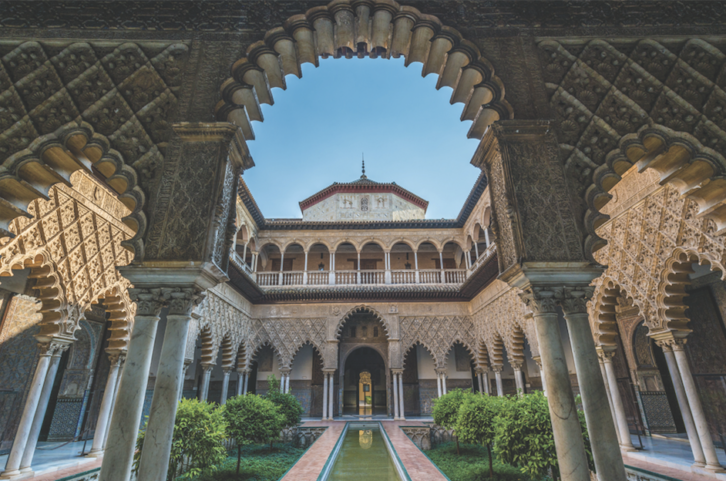 A Moorish masterpiece, the medieval Real Alcazár de Sevilla (right) remains the city's most famed and must-visit sight — it is one of the oldest active royal palaces in Europe and a Unesco World Heritage Site. Stunning architecture, heavenly gilded ceilings, exquisite tiled ceramics, intricate mudéjar plasterwork and the sound of water from gentle fountains entice visitors to wander around the pavilions, tranquil pools and courtyards to the delicious formal gardens, featured as the famed Water Gardens of Dorne in Game of Thrones. It's simply out of this world.
Recently reopened after a lavish restoration, the Galería del Grutesco is a sculpted walkway at the end of the gardens that many people miss. But the real magic is to be had in the summer evenings, when captivating performances of dance, music and theater bring the history of the captivating Alcazár palace to life.
Another of Seville's breathtaking landmarks also happens to be the last Gothic cathedral built in Spain; it remains the third-largest cathedral in the world. Seville Cathedral is truly jaw-dropping in both sheer scale and spiritual majesty. The Pardoner's door is the original entrance to the mosque that preceded the cathedral on this sacred site.
Be sure to climb the Giralda Bell Tower — formerly the mosque's minaret — for fabulous views over Barrio Santa Cruz. Then meditate in the peaceful orange-tree courtyard before setting out to discover the burial tomb of Christopher Columbus.
Off the beaten path
Convento de Santa Paula is one of Seville's best-kept secrets; a surprising, devout treasure nestling in the seldom-visited barrio of San Luis. The limited opening hours (Tuesday to Sunday, 10am to 1pm) are well worth a committed visit, as they offer a glimpse into the hidden world of this cloistered Hieronymite convent, housing richly acclaimed treasures within a 15th-century church and secret garden. Ask the rosy-cheeked sisters to point out the paintings by Morales and José de Ribera.
And don't forget to take home some convent-made cookies or a jar of heavenly preserves. Flamenco may have wrapped its exotic, rhythmic vibe around the world, but its spiritual home will always be Andalusia. El Palacio Andaluz is an elegant flamenco venue in the humming heart of Seville, frequented by locals and tourists alike seeking to experience the indescribable vibrant passion and fiery soul of gypsy dance. Reservations are highly recommended.
If you do one thing…
When you feel like dipping your toes into a completely different pond, A Cat on a Bicycle is that fresh breath inflating the tires of a new art vehicle pedaling through Seville. This bizarrely named concept store started life as an ordinary, independent bookshop until things got famously out of hand.
Now it's a leading light on the arty boho scene, hosting live music concerts, lectures, regular poetry readings, stand-up comedy and whatever theater they can cram into this modestly small yet enormously creative space. Plus, it also sells books. And serves coffee!