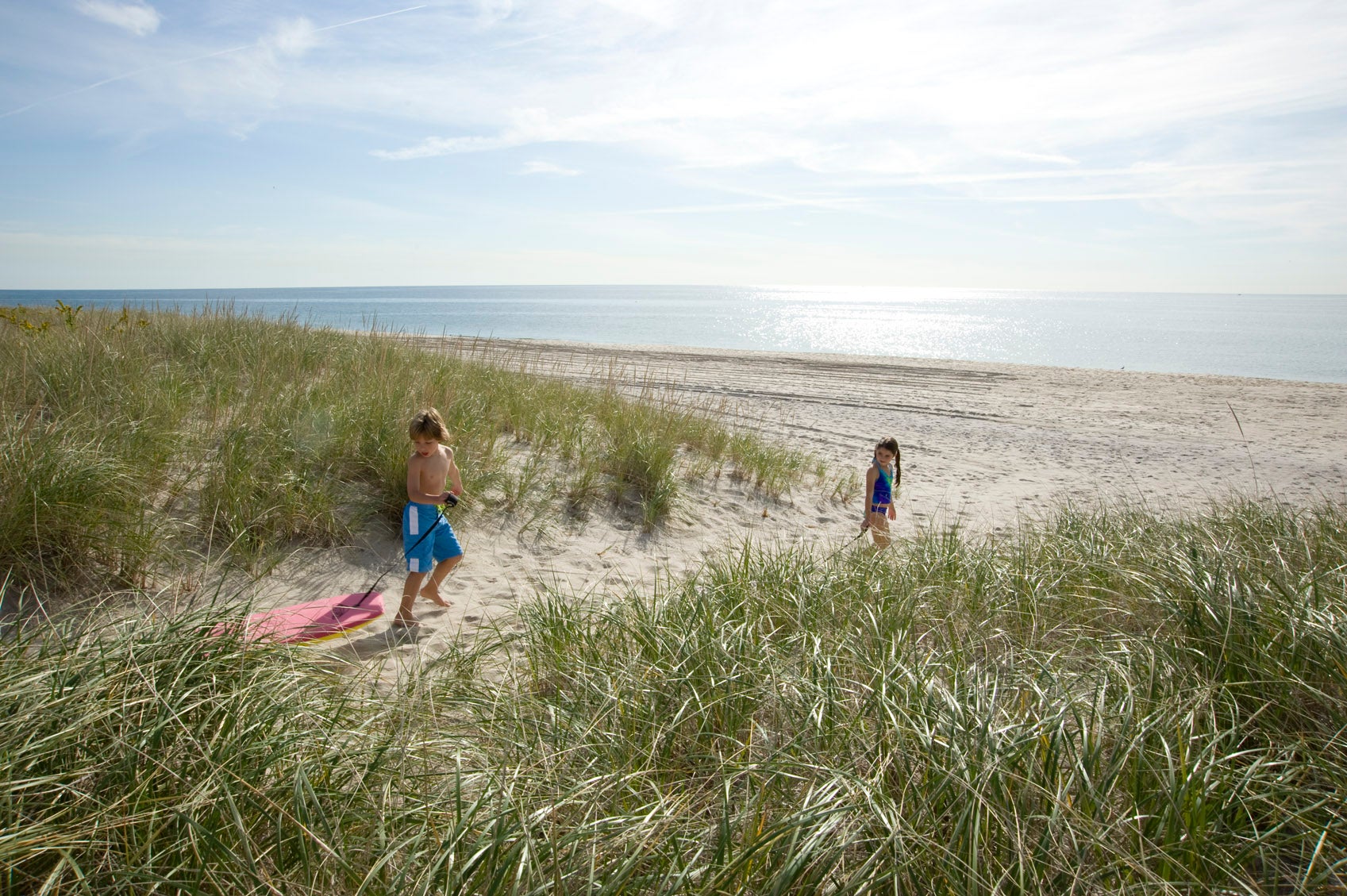 For New Yorkers, the Hamptons is the ultimate getaway from the city's sweltering summer heat. Just 90 minutes outside of Manhattan, it is arguably the most famous part of Long Island, and is home to cute towns, endless stretches of white-sand beaches, lush forests hiding private, shingle-style mansions, quaint cafes and boutiques, alfresco restaurants and see-and-be-scene beach clubs. The New York City elite has been heading here for decades and there's no sign of this destination slowing down. Summer is the perfect time to head out East to enjoy fresh summer days and weekends spent basking in the sun. Enjoy our definitive guide to a long weekend in the Hamptons. 
Where to stay
Topping Rose House
The 1842 Greek Revival-style mansion, Topping Rose House, in Bridgehampton is a quaint hotel that attracts a jetset crowd due to its high design, ultra-luxe amenities and complete privacy. There are only 16 rooms and six one-bedroom suites, in addition to a restaurant by the famed Jean-Georges Vongerichten, called Jean Georges, pool and spa. It's the only full-service luxury hotels in the Hamptons and from the outside looks more like a private estate. With its manicured lawn and outdoor deck, the chic stay provides a quiet weekend for family and friends. It's just a short drive from the beach and the hotel concierge can plan activities, from fishing to surfing to boating, for you and your group. toppingrosehouse.com
Gurney's Montauk
At the near-edge of Long Island, Montauk is one of the Hampton's buzziest spots, and if you come here, Gurney's Montauk is a must. There are 146 rooms, suites, beachfront cottages and two spectacular residences facing the 2,000-sq-ft private beach and ocean. It has a contemporary feel with neutral hues and natural materials (think rattan lamp shades and textured woven area rugs). The Two-bedroom Residence is the largest accommodation and includes a full kitchen, terrace and dramatic ocean views. Bring your friends (it sleeps five) and have your own party away from prying eyes. Head to The Beach Club for a day of cocktails and rosé and if you're not too weary come dinner, Scarpetta Beach serves delicious Italian fare (its sister restaurant is NYC's Scarpetta) with a seafood twist. gurneysrsesorts.com/montauk
The Maidstone Hotel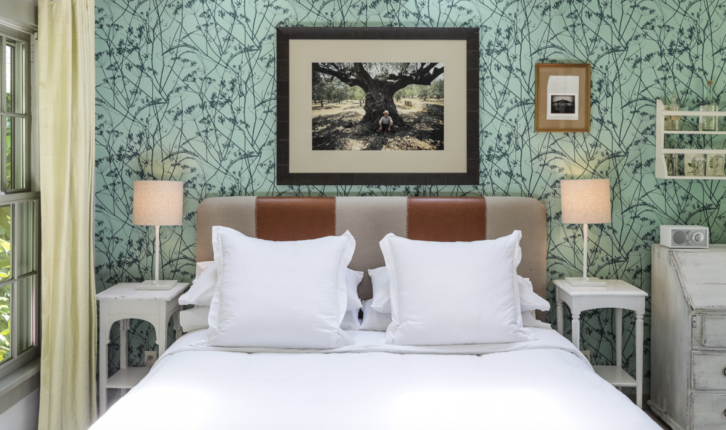 With only 16 rooms and three cottages, The Maidstone Hotel in East Hampton is an intimate, idyllic escape set in a colonial-style home, but it's far from your typical Hamptons stay. Forgoing stark-white furniture and blues, The Maidstone Hotel boasts a whimsical design and each room is inspired by a Scandinavian luminary. Colorful printed wallpaper, photo art and artsy decor decorate each room, which are all designed differently. There's one quaint dining space, The Restaurant at the Maidstone Hotel. There are special menus for kids and dogs, so bring the whole family and your furry friends, too. Enjoy rides on complimentary vintage bikes each morning, or sip on a cup of tea in the garden. themaidstone.com
The Surf Lodge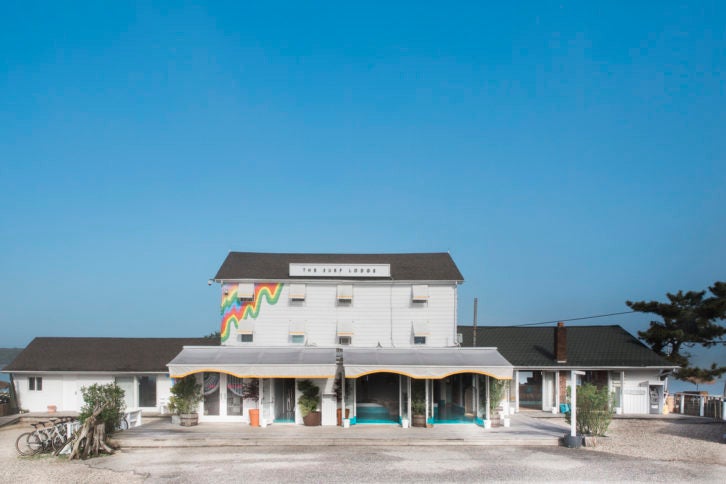 The Surf Lodge in Montauk is no doubt the place to see and be seen. The Montauk-based hotel prides itself on its weekend parties at the beach club and healthy alfresco lunch and dinners. Rooms face the ocean and have a bright and airy feel with natural materials and a color palette of white wood, bedding and pops of greenery. Each summer, The Surf Lodge hosts its outdoor concert series featuring some of the world's most talented DJs and performers. There's a wellness aspect here, too. Complimentary wellness events are hosted throughout the summer by local New York City yogis, nutritionists and other experts in the space. If it's the scene you're after, you can't miss making an appearance here. thesurflodge.com
Where to eat
Whether's it's a drive-by ice cream cone shop, a full fresh seafood meal at a local haunt or an ultra-luxe gastronomic experience, you can find it all in the Hamptons. For incredible seafood, Duryea's Lobster Deck on East End has clams, lobster, local fish and more. Bostwick's Chowder House is another spot for fish tacos, lobster rolls and daily seafood specials, but in a no-frills environment, think: baskets and paper plates. Morning brunch or lunch is best enjoyed at Babette's in East Hampton, which serves everything from enchiladas to the best pan-seared Montauk scallops you'll ever have. Tutto Il Giornio, founded by Donna Karan's daughter, Gabby Karan, is a chic Italian restaurant with inventive seafood-driven Italian dishes. There are three locations: Sag Harbor, Southampton and Tribeca in Manhattan. While last summer was all about EMP Summer House (Eleven Madison Park's summer pop-up), this summer Paola's, the famous Upper East Side restaurant, just opened on Memorial Weekend for the duration of the summer. Nick & Toni's in East Hampton is another famous restaurant that has been around since the late-80s and is known to be a celebrity hotspot. The restaurant serves upscale Mediterranean food and has a phenomenal wine list.
What to do
Shopping
The Hamptons – be it East Hampton, Southampton, Bridgehampton, Watermill, Sag Harbor or Montauk – is known for their unique boutiques, many which are pop-ups from New York City or LA-based brands and stores. We love the Hamptons outpost of Love Adorned, which sells fine jewelry, interior decor and accessories. AERIN, founded by Estée Lauder's daughter, Aerin, is an upscale global lifestyle brand featuring luxurious interior offerings (including leather-bound backgammon sets), fashion and beauty products. Blue and Cream is a Hamptons-based boutique and the place to go for contemporary and designer fashion for men and women. Of course, luxury goods are found in so many small shops – just take to Division Street and Main Street in Sag Harbor for quaint, small-town charm; Main Street in East Hampton; and Main Street in Southampton.
Activities
There's plenty of surfing in the Hamptons, and especially Montauk. Newbies should head to Ponquogue Beach in Hampton Bays for calmer waves or Ditch Plains, arguably the busiest surf spot in the area. Veterans who love a challenge must check out Camp Hero State Park, where you actually ned to climb down a cliff with your board in tow. Dune Road is also a local surfing hotspot. For surfing lessons or partaking in other forms of water activities, Hampton WaterSports in Southampton provides you with all the tools for stand-up paddleboarding, kiteboarding or windsurfing. If it's a yacht experience you're after, Sailo has luxury boat rentals from vintage boats to sailboats to luxe motoryachts.
Getting to the Hamptons
Forget the Hampton Jitney, the LIRR or a car service. The best way to jet off to the Hamptons is by taking a private helicopter to your destination of choice. Through BLADE, you can charter a helicopter or book a by-the-seat flight option from Manhattan to East Hampton. Book via the app and once you arrive with your crew, relax in the BLADE lounge with a glass of rosé — the flight is under an hour. The best part? You'll get an aerial view over Manhattan on your way out there. flyblade.com