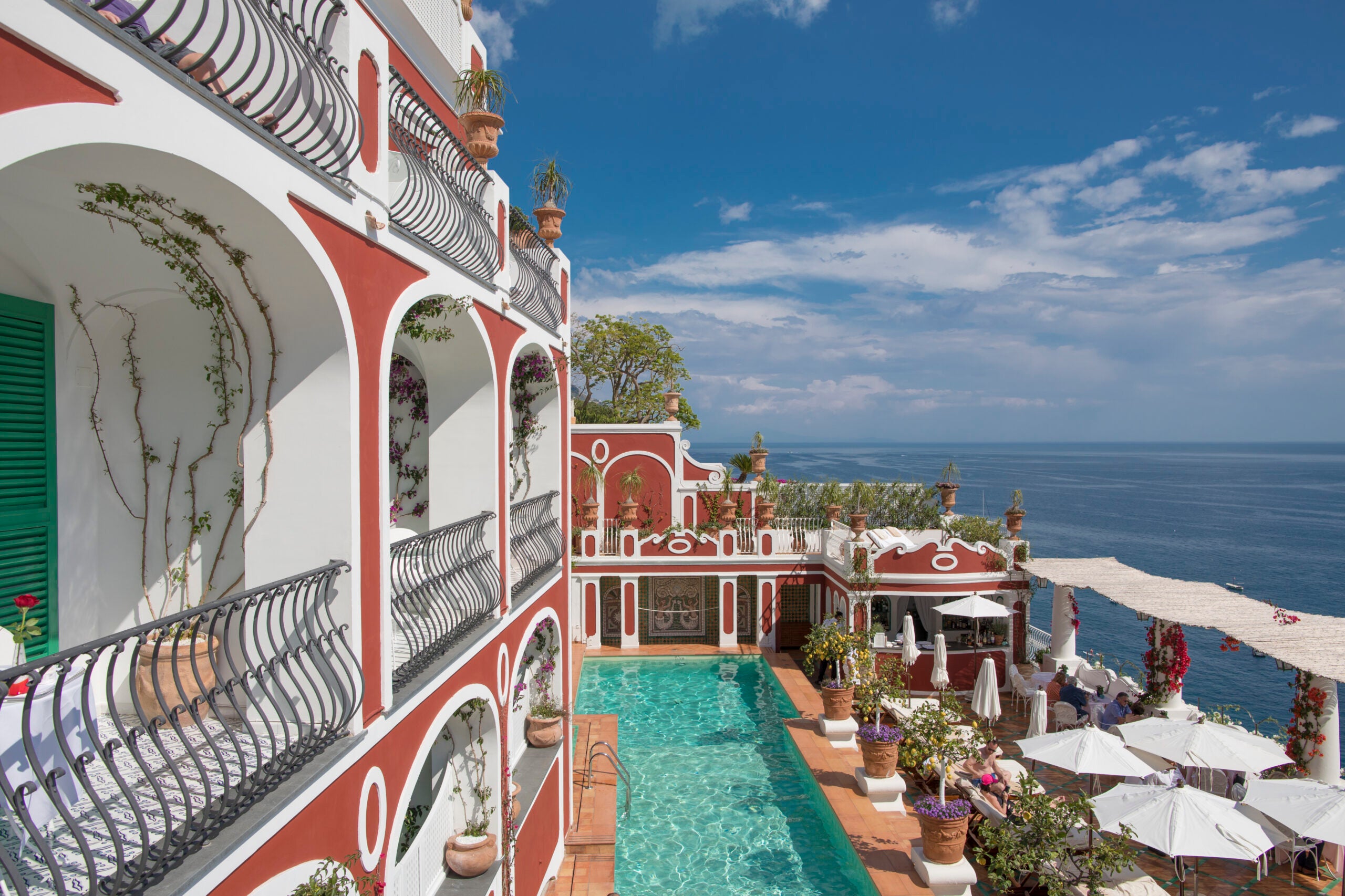 "Authentic, untouched and iconic" is how Anthony Lassman, founder of ultra-luxe travel consultancy Nota Bene Global, describes the Amalfi Coast. A regular visitor to the area for over four decades, Lassman loves that this special corner of Italy — which stretches 31 miles along the southwestern Sorrentine Peninsula between the town of Sorrento and the port city of Salerno — has "hardly changed over the years.
Villages, vineyards and lemon groves hugging the mountainside, the coastal road snaking below, a long season of sunshine and, of course, world-class hotels. It has everything, and that's why it has held its appeal for luxury travelers." Along with those qualities, the region's historical and cultural sites, scenic nature and signature culinary delights have been drawing travelers for generations, from noted 19th- and 20th-century writers, poets and painters to the glam jet-set crowd of the 1960s (heralded by Jackie Kennedy's visit in 1962) to today's tech billionaires and Hollywood celebrities.
This is the place everyone wants to be (especially in the summer) but, despite the perennial buzz, it's also where you can still feel an Old World sense of romance — a place where you can wind down the day, aperitivo in hand, sea views in front of you and find your own slice of la dolce vita.
Where to Stay
Grand Hotel Excelsior Vittoria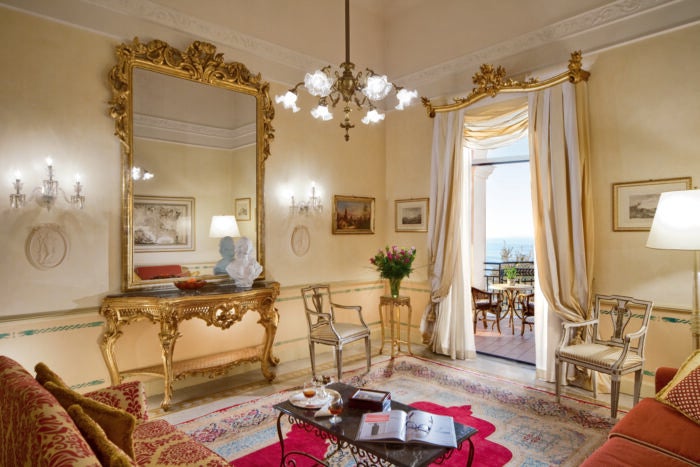 History abounds at this grande dame, which sits on the edge of a cliff in Sorrento, surrounded by a five-acre park and views of the Gulf of Naples. Opened in 1834 as the first modernized hotel in the region, and currently run by the fifth generation of the founding family, the place is rich with stories, from the Roman ruins discovered on site to the roster of royalty who have been guests. The decor is particularly sumptuous: Neapolitan paintings, Louis XVI decor elements, Biedermeier and Arts and Craft-style furniture, dramatic frescoes and the same Ernesto Basile chairs at the Musée d'Orsay in Paris adorn the public spaces and 83 rooms and suites. Of appeal to the contemporary traveler are touches like pizza-making classes around the pool, a spa surrounded by gardens and a Champagne bar, La Pergola, plus a private elevator that takes guests directly down to the Sorrento docks where the hotel's boat awaits for day trips along the coast.
One-of-a-kind Suites from $3,010 per night.
Contact: Tiziana Laterza, hotel manager, tiziana.laterza@exvitt.it, +39 081 877 7111, exvitt.it
Hotel Santa Caterina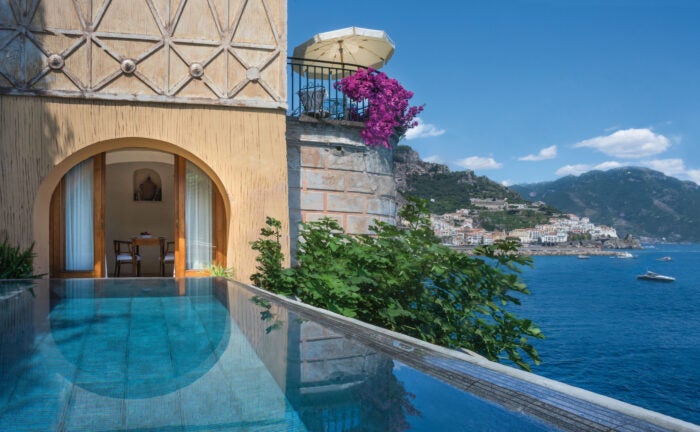 Head out on the iconic Amalfi Drive, just minutes from the town of Amalfi, to find this lush haven, domain of the Gambardella family since 1880. From its perch on the drive, the 66-room hotel winds its way down to sea level where a heated seawater swimming pool, private beach club and open-air restaurant await; elevators carved in the rock face and paths through the hotel's olive and citrus groves lead to the terraced levels. All accommodations have private outdoor space, oversized tubs and a breezy white decor offset by colorful Vietri ceramic tiles; suites — including the two Special Suites — are elevated by private pools and extra-sweeping sea views. As of 2019, the Michelin-starred Glicine restaurant and all hotel dining are under the direction of chef Giuseppe Stanzione, who has worked in other Michelin-starred restaurants.
Romeo and Giulietta Chalet from $2,000 per night.
Contact: Andrew Camera, hotel manager, info@hotelsantacaterina.it, +39 089 871012, hotelsantacaterina.it
Palazzo Avino
In the 1990s, Giuseppe Avino bought and restored a 12th-century villa in the hilltop town of Ravello and turned it into the luxurious Palazzo Sasso (renamed Palazzo Avino in 2011). Today, two of Avino's three daughters manage the operations of the chic 43-room hideaway, renovating and upgrading the property and its private beach club, Clubhouse by the Sea, as well as adding a chef's table to its Michelin-starred restaurant and opening the courtyard Lobster & Martini Bar, which serves over 100 types of martinis. New in 2020 are seven Capsule Collection suites with materials that would have been employed during the 12th-century; the Belvedere Suite is a garden-set haven with a private whirlpool, dining area and a massive seaview terrace.
Belvedere Suite from $3,030 per night.
Contact: Mariella Avino, managing director, mariella.avino@palazzoavino.com, +39 089 818181, palazzoavino.com
Le Sirenuse Positano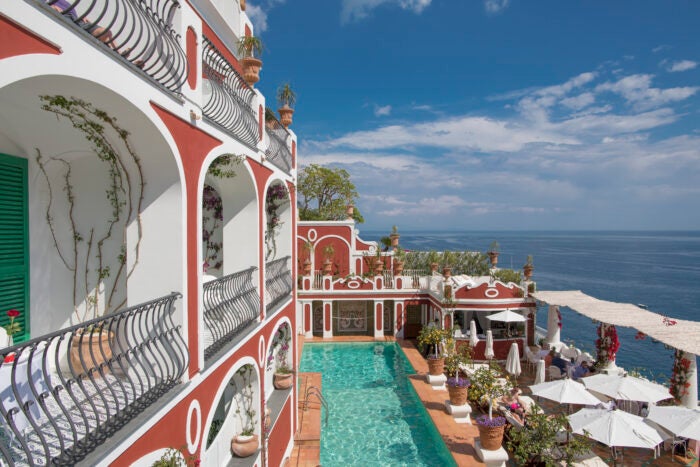 The illustrious Sersale family has included an ambassador, an archbishop, a mayor of Positano and, since 1951, four sibling hoteliers, who turned the family's summer palazzo into the legendary Le Sirenuse. Set in the glamorous town of Positano, the 58-room hotel still feels like a private home, albeit one with multiple chic alfresco bars, a spa hosting wellness retreats, its own fashion line and a gourmet restaurant that's lit up with 400 candles each night. In season, the hotel's boats — one a vintage wooden Riva Aquamarine Special — are available for scenic cruises. Rooms and suites are accented with colorful majolica tiles and handpicked antiques; the top suites are located in the original house with sea views.
Two-bedroom Suite from $4,000 per night.
Contact Marilena Schiavo, reservation manager, info@sirenuse.it, +39 089 875066, sirenuse.it
Where to Eat
La Caravella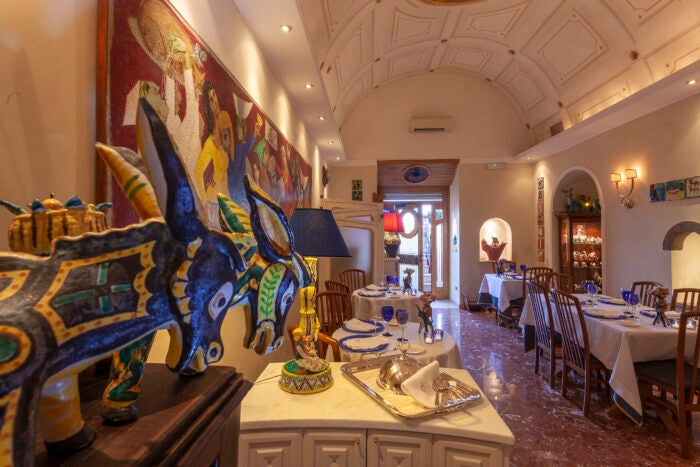 In a 12th-century building near the historic Amalfi shipyards sits the first restaurant in southern Italy to earn a Michelin star — a distinction it has now earned multiple times over, including this year. Opened in 1959, the self-proclaimed 'restaurant museum' celebrates local flavors in dishes like lemon-scented risotto with shrimp, lemon leaves stuffed with fish, smoked mozzarella ravioli and Scialatielli, a thick, rope-like pasta — now a signature of the region — that was created at this restaurant in the 1970s. Before or after your meal, be sure to take in the frescoes, antique ceramics and other artwork that adorn the spaces, or ask to visit the wine cellar, often said to be among the best-stocked in Italy.
Don Alfonso 1890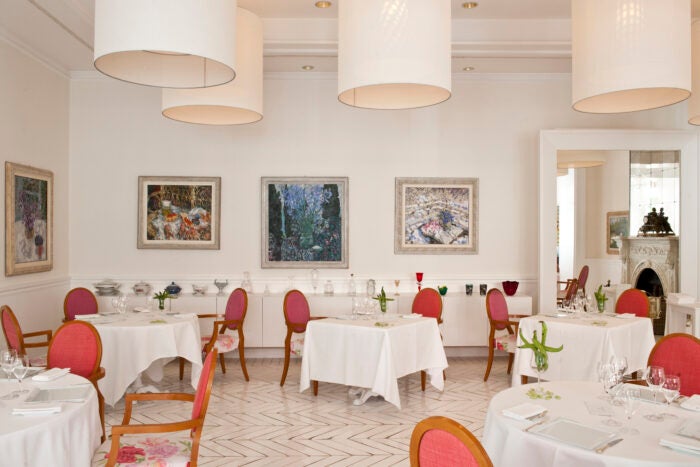 While you might have seen Don Alfonso pop-ups in locations as far-flung as Toronto and New Zealand, foodies can't miss a visit to the two-Michelin-starred flagship, set high above the coast in the tiny village of Sant'Agata sui Due Golfi. What started a half-century ago as a small restaurant has grown to include an organic farm, boutique inn and cooking school, but the heart of the family-run operation is still the elegant dining room, where a father-and-son team create beautiful tasting menus reflecting the region's bounty. Pair meals with something from the 25,000-bottle cellar, then take home some Don Alfonso packaged foods — such as preserved tomatoes straight from the gardens.
Conca del Sogno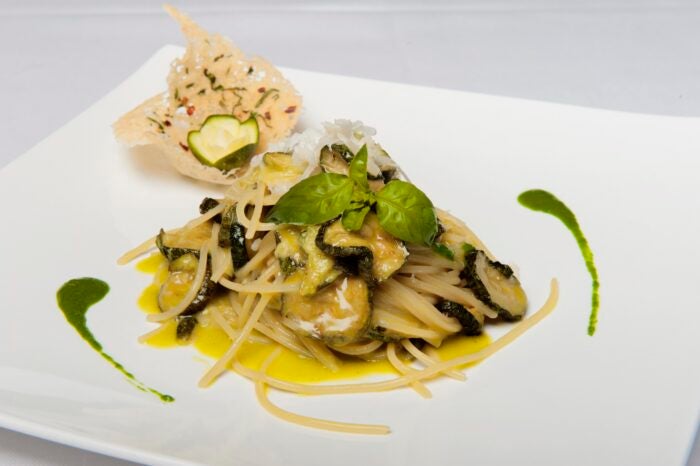 Everyone, from families out for a Sunday sail to celebrities trying to fly under the radar, comes to this favorite on Recommone Bay to soak up the fresh sea air and impeccable cuisine. While you can access the eatery by car (plus a short walk down to the beach), the most iconic way to arrive is by boat; pull your yacht up in the bay, then hop onto one of the restaurant's small wooden boats, which stand ready to ferry guests back and forth. Once seated on the terrace, savor elegantly presented dishes that highlight fresh seafood, including octopus and lobster, caught daily by local fishermen. Pastas and other signatures are also available, but the best thing to order is usually whatever the staff suggests.
What to Do
To the Island
While Capri is not technically part of the Amalfi Coast (it's in the Bay of Naples), boating to the island is a popular activity when staying in the area. Head out early for a leisurely ride up the coast, perhaps stopping to snorkel in a cove along the way. As you get closer, don't miss a photo op at the Faraglioni, the three towering, arched rock formations that have become a visual symbol of the island. There are plenty of signature things to do, like swimming in the Blue Grotto cave, shopping the designer boutiques along Via Camerelle in the town of Capri, hiking up to see the ruins of Emperor Tiberius' Villa Jovis or hopping into a vintage car for an island tour. Get off the beaten path with a stroll down Via Krupp to the charming Marina Piccola Beach, head up to the less-congested town of Anacapri to catch the views from the famous gardens of the 19th-century Villa San Michele, or take the chairlift up to the summit of Monte Solaro. Back in Capri town, don't miss an aperitivo in the Piazzetta, considered the island's 'living room.' If you've fallen in love and can't bear to leave, spend a night (or two) at the iconic Capri Palace hotel.
Heavenly Hikes
There's no shortage of breathtaking views along the Amalfi Coast — you're sure to have plenty from your hotel room itself — but to take 'panoramic' to another level, head out on one of the spectacular hiking trails winding up the cliffs. A trek up Mount San Costanzo will bring you to a point overlooking the bays of Naples and Salerno and the famous Mount Vesuvius, while a hiking tour to Punta Campanella brings you face-to-face with history as you pass the remains of ancient Greek and Roman temples. Hike to Cape Sorrento, and you'll come to the hidden Baths of Queen Giovanna, where you can take a dip surrounded by cliffs, a beach and the ruins of a Roman villa.
Amalfi Style
The spirit and colors of the Amalfi Coast have inspired countless designers and, despite the breezy, beachy location, the cobblestone streets here are often as stylish as the crowd at fashion week (this is Italy, after all.) Create your own Amalfi look with a visit to Autori Caprese, known for its chic linen clothing, or to Mario Adario, an Amalfi-born company that stocks pieces from Italian brands. In Sorrento, show your feet some love by picking up lovely leather flats at Ballerì or handmade sandals at Siniscalchi, which can be customized and engraved per your preferences.
autoricapresi.it, marioadario.it, ballerisorrento.com, sandalisiniscalchi.it
Flowers and Festivals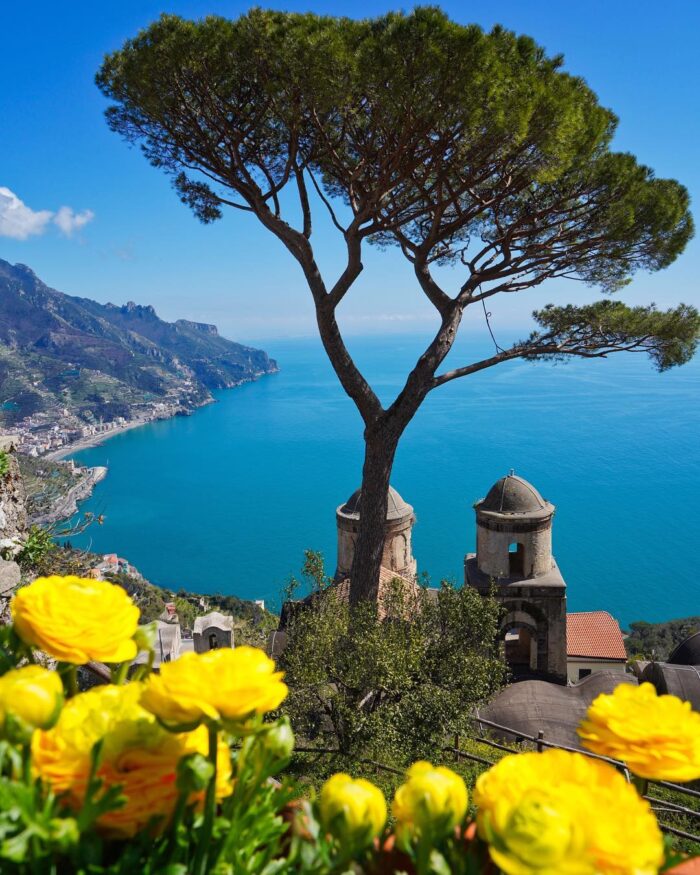 Evoking Spain's Alhambra with its Moorish towers, ornate cloisters and incredible gardens, Villa Rufolo in Ravello dates back to the 13th century, when it was built for a wealthy merchant family. Daily guided tours will take you around the grounds and reveal stories of the Villa's famous past guests, including the King of Naples and composer Richard Wagner, who completed his last opera in Ravello. The connection to artists lives on in the Villa's renowned annual Ravello Festival, a summer series during which piano, chamber and orchestral concerts take place on a stage that juts out over the Mediterranean Sea.
Italian Art
In addition to its annual festivals (which celebrate everything from food and music to patron saints), the region's museums offer great insight into the region's cultural traditions. Set in a historic villa surrounded by citrus groves, Museo Correale de Terranova tells the story of the area through archaeological pieces, exhibits of 17th- and 18th-century Neapolitan paintings, antique ceramics and more. Museo Muta focuses on the history of Sorrento, as well its famous craft woodworking tradition; gorgeous examples of inlaid furnishings and marquetry, some dating back centuries, abound. In Amalfi, Museo della Carta details the town's papermaking tradition, which dates back to the 12th century, while Museo della Ceramica in Vietri Sul Mare focuses on the colorful ceramics and tiles you'll find up and down the coast.
museocorreale.it, museomuta.it, museodellacarta.it
Act Like a Local
Acquapazza
The fishing village of Cetara is built on anchovies. Locals and visitors alike make the trek here to try the salty fish at its source, as well as the signature fermented anchovy-based Colatura di Alici sauce that has roots going back to Roman times. One of the best places to indulge in both is the beachy-chic restaurant Acquapazza, where chef Gennaro Castiello and his team serve up dishes like perfectly fried anchovies (pair them with a glass of bubbly) and pastas tossed with tuna or other fresh catches. Be sure to grab a bottle of Colatura di Alici sauce on your way out.
+39 089 261606
Cantine Marisa Cuomo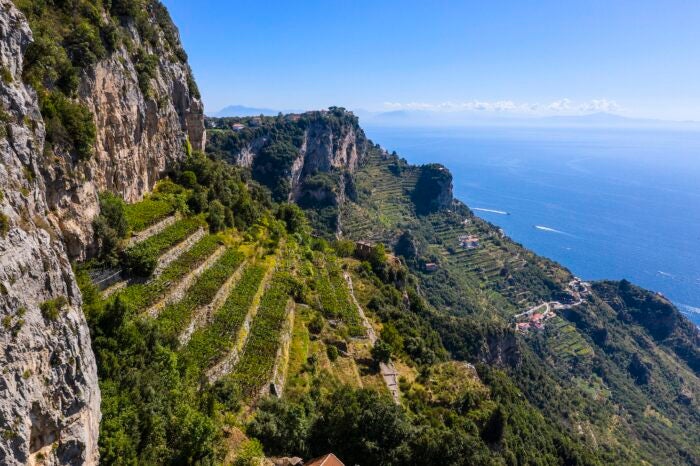 While other regions like Tuscany and Piedmont may be better known on the international wine stage, Campania produces its own bottles, too — and some of the best come from this winery on the Amalfi Coast. Book a guided tour to visit the estate's cellars and vineyards; the latter stretch out on sloping terraces along the Furore fjord, overlooking the Gulf of Salerno. When it's time to taste, you'll find a range of whites and reds made from lesser-known varieties like Falanghina and Piedirosso — but given the sunny setting, a glass of the Marisa Cuomo rosato is always a good bet.
Ristorante Maria Grazia
When out for a day on the water, locals and Amalfi regulars often drop anchor in the seaside village of Nerano, both to enjoy some time on its beaches (there are a few sandy coves from which to choose) and to fuel up with plates of spaghetti alla nerano, the famous dish in which pasta is tossed with fried zucchini and Provolone del Monaco until it's a blend of cheesy goodness. While you'll now find the dish served in many places along the coast, it's believed to have been invented in 1952 at this rustic spot overlooking Marina del Cantone. Settle at one of the long wooden tables on the deck to enjoy it, as well as fresh seafood, olive oil-drizzled veggies and glasses of crisp local wine.