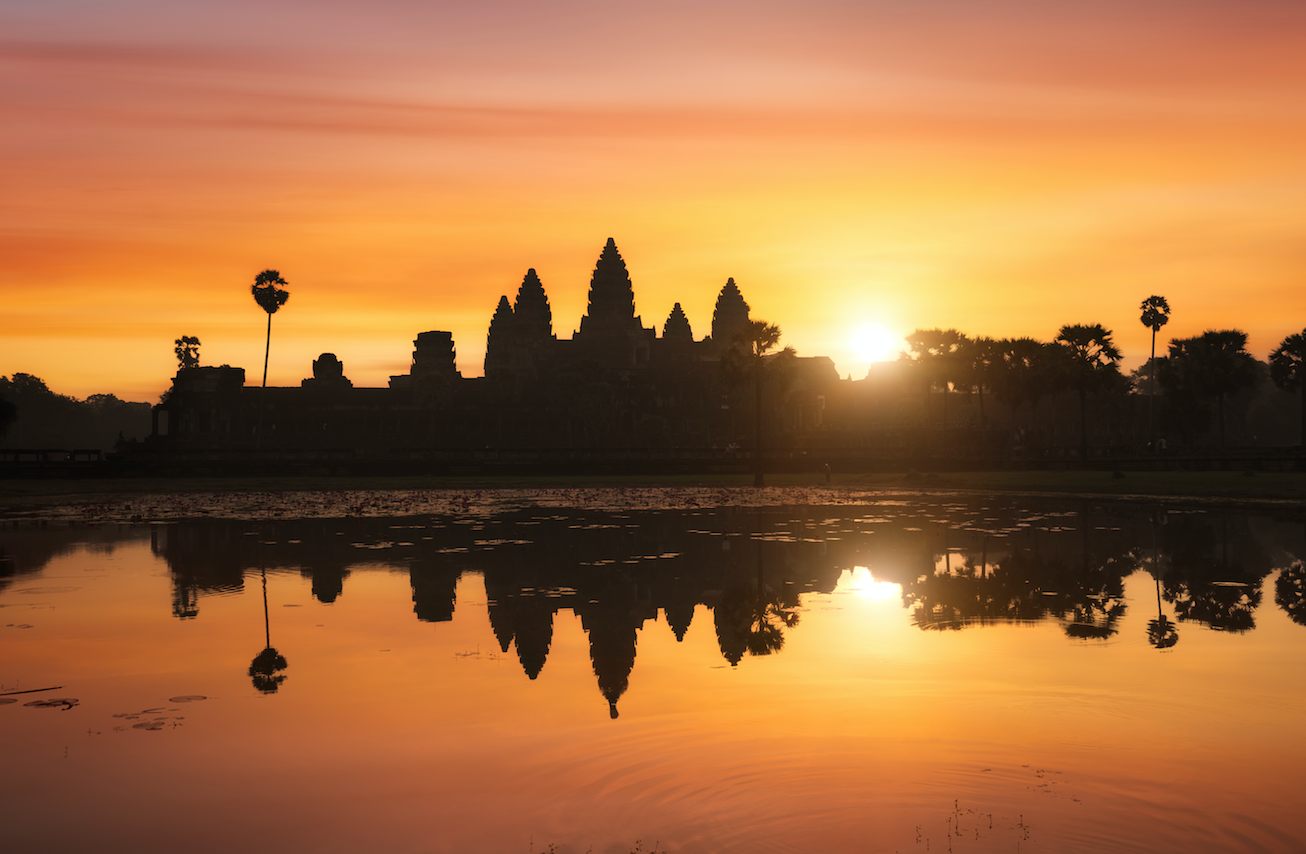 Once one of the ancient world's most glorious kingdoms, Southeast Asia's Cambodia (as the mighty Khmer Empire) ruled what is now Laos, Thailand and Vietnam. Today, it is one of the world's most fascinating destinations, due to its legacy and trove of spectacular, centuries-old temples near Siem Reap, as well as its paradisiacal islands, untrammeled rain forest and buzzy capital city, Phnom Penh.
In past decades, it was a challenging destination for leisure travelers. Now, the country has made tremendous strides and has developed an environment that is as attractive to luxury-seeking guests as adventurous ones.
While watching the sunrise at Angkor Wat has become a bucket-list experience for many people — and there are a number of opulent hotels ready to cater to visitors — Cambodia has so much more to offer.
There are wild jungles where eco-travel reigns supreme and pristine crescents of sand in the south, and the capital itself is not to be missed. With its incredible location, Cambodia can be visited alone or in an incredible trip through Thailand and Vietnam, or at the end of an ultra-luxury cruise.
Where to stay near Angkor Wat
With over a thousand temples dotting its environs, fast-growing Siem Reap in northwestern Cambodia remains the number-one reason tourists visit Cambodia. Showpiece Angkor Wat, best seen at sunrise, won't disappoint.
Anatara Angkor Resort
Full of Cambodian art and sumptuously hewed from gleaming, polished wood, this 39-suite hideaway feels more like a super-sized private villa or home than a hotel. Friendly staff, a slew of unique cultural activities (from cooking classes to gallery visits), a farm-totable restaurant and a central courtyard pool seal the deal. Relax in the Henri Mahout Suite, a two-bedroom extravaganza of Thai silk and bold colors.
From $1,490 per night. Contact Sarah Moya, general manager, smoya@anantara.com, +855 6396 6788, anantara.com
Amansara
Delving deeply into local culture the Aman way, Amansara occupies a re-kitted 1960s guesthouse commissioned by King Norodom Sihanouk. With 24 understated suites, the elegant property invokes an archaeological camp vibe as thrilling and moody as an adventure film set. Choose one of the 12 pool suites — each complete with its own plunge pool and private courtyard — designed to meld the interiors with the terrain.
From $1,700 per night. Contact Astrid Killian, general manager, akillian@aman.com, +855 63 760 333, aman.com
Belmond La Résidence D'Angkor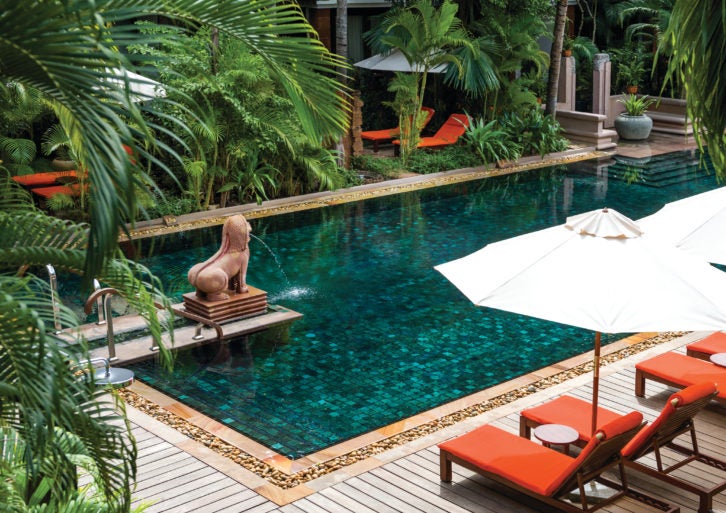 One of the first luxury hotels in Siem Reap, the tranquil, 59-suite hotel borrows from classical Khmer-meets-French-colonial design motifs to create a garden-immersed sanctuary. A saltwater pool, Kong Kea Spa (try the Khmer Herbal Healer, a treatment using herbal poultices) and a martini bar offer diversions from temple-hopping, though guests will want to go off property, too, for hotel-organized activities. Choose the Deluxe One-bedroom Poolside Suite, which has an expansive terrace.
From $800 per night. Contact Michaela Brase, director of rooms, michaela.brase@belmond.com, +855 12 635 435, belmond.com
Raffles Grand Hotel D'Angkor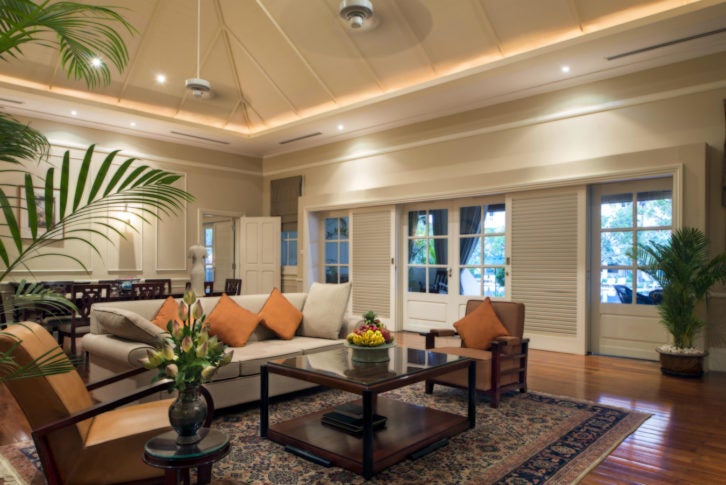 A grande dame built in 1932 during the French occupation, this Raffles hotel reopened in October after extensive restorations. Bright and shiny, it continues to celebrate a bygone era with Art Deco flourishes, a caged elevator, period architectural details, art and antiques. Its new signature restaurant, 1932, serves Khmer cuisine, while the famous Elephant Bar, a hot spot for decades, continues to showcase a heyday stylishness. Opt for the Two-bedroom Royal Villa, with verandas, sumptuous accouterments, and four-poster beds.
From $2,370 per night. Contact Oliver Dudler, cluster general manager, oliver.dudler@raffles.com, +855 23 982 598, raffles.com
Coming soon…
Shangri-La Hotel Phnom Penh will have 302 guestrooms and suites, various eateries, including a Chinese restaurant, and a rooftop pool. The long-awaited hotel will be part of a new mixed-use development located along the Mekong River and facing Diamond Island.
Exploring Cambodia
Forest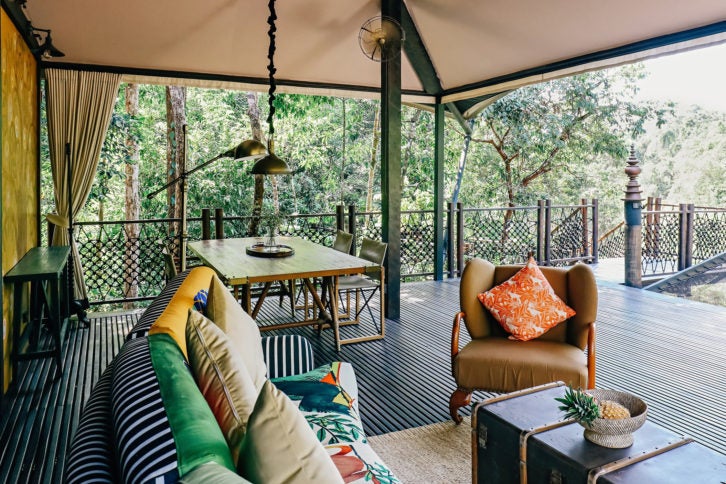 Shinta Mani Wild
Like most of prolific designer Bill Bensley's hotels, Shinta Mani Wild was conjured from a personal dream. In this case, he imagined the 15-tent camp, ensconced beside a river, wedged amid waterfalls and thick foliage, as the place Jacqueline Kennedy Onassis would have stayed had she stepped into the heart of the Cardamom Mountains. Theatrically constructed as a nostalgic colonial safari camp among a landscape with wild Asian elephants, Malayan sun bears and Indochinese tigers, the retreat is almost four hours by road from Phnom Penh. Guests can helicopter to camp — or even courageously zip-line a few thousand feet through the forest for a dramatic arrival. Created to combine opulence with conservation goals, Shinta Mani Wild collaborates with Wildlife Alliance, giving guests the opportunity to work with rangers. Book the Waterfall Tent, considered to have the best views.
From $2,400 per night. Contact Sangjay Choegyal, general manager, gm.wild@shintamani.com, +855 12 223 782, shintamaniwild.com
City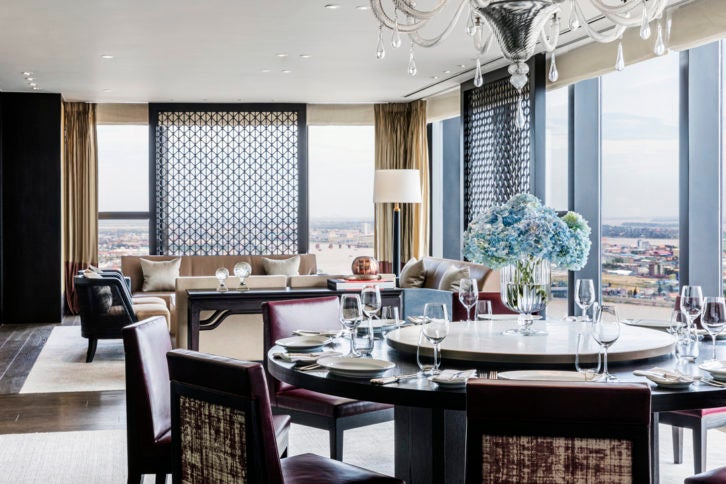 Rosewood Phnom Penh
Chaotic, chic, offbeat and sophisticated, Phnom Penh epitomizes everyone's vision of an enlivened Asian city. With traffic aplenty, busy markets, Buddhist monks, and acclaimed eateries and hotels, this metropolis at the confluence of three rivers has a provincial elan all its own. Embodying that vibrant spirit, Rosewood Phnom Penh soars to the sky in the show-stopping, 39-story Vattanac Capital Tower — the tallest skyscraper in Cambodia. Taking the form of a rising dragon, oriented toward the east, the 175-room hotel offers peerless city vistas, a spa and four dining venues. Its acclaimed bar, Sora ('sky' in Japanese), has a lofty perch on the 37th floor — the highest bar in the city. Rosewood's signature 2,422 sq-ft Norodom House is sublime: a commodious, urbane suite with multiple rooms — including a bedroom, study and dining room — all studiously tended by a dedicated butler.
From $5,800 per night. Contact Rémi Delpech, director of rooms, phnompenh@rosewoodhotels.com, +855 23 936 888, rosewoodhotels.com
Beach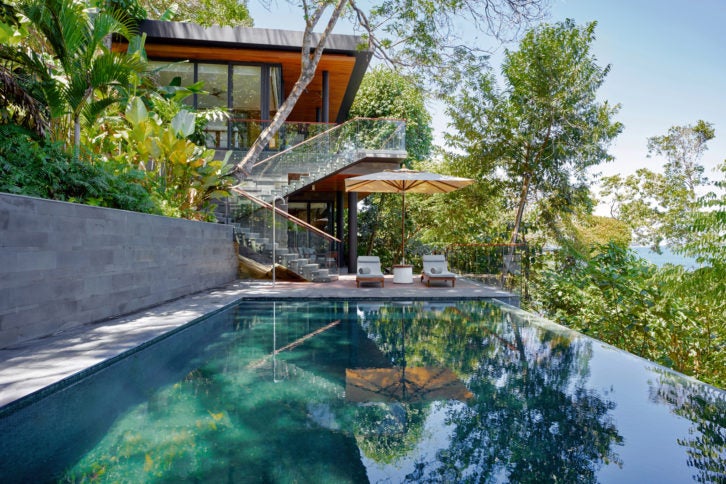 Six Senses Krabey Island
Live the private island dream at sustainably planned Six Senses Krabey Island, a 30-acre tropical enclave three miles off Ream National Park in southern Cambodia. Just 40 pool villas pepper the haven, which includes a spa, two restaurants (don't miss Tree, which offers a contemporary twist on traditional Khmer cuisine) and the Sunset Bar, which was designed to emulate local fishermen's homes. Accessible by boat (the hotel's sports cruiser transfer takes 15 minutes from the resort's mainland reception), Six Senses Krabey Island also has the capability to welcome private jets and helicopters. Families or couples traveling together will enjoy the Oceanfront Two-bedroom Villa, built to frame a picturesque sunset ocean view. In addition to a private plunge pool and private sundeck, the bi-level retreat has elevated views of the ocean and a nearby island.
From $2,625 per night. Contact Ateeb Shrestha, general manager, ateeb.shrestha@sixsenses.com, +855 69 944 888, sixsenses.com
Beyond Angkor Wat
Tonlé Sap Lake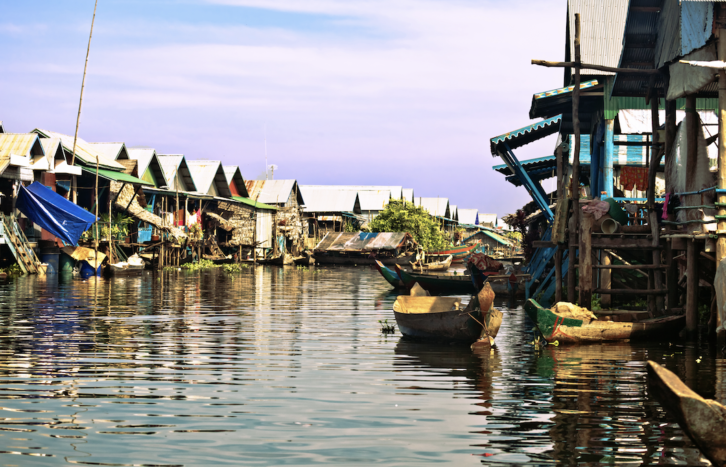 Hotel concierges or upscale on-site outfitters, such as Trails of Indochina, can arrange excursions to see the renowned floating villages that hover atop Southeast Asia's largest freshwater lake. Village visits and tours of a silk farm complete this daylong excursion from Siem Reap. trailsofindochina.com
Pedal Pushing
Companies such as Grasshopper Adventures offer customized daily and scheduled cycling itineraries around Cambodia. Observing the countryside from the seat of a bicycle provides a slow-travel opportunity to view details that might go unnoticed, as well as chances to stop at your leisure and meet locals along the way. Consider the three-day, two-night ride from Angkor to Phnom Penh. grasshopperadventures.com
Further Flung
Intrepid travelers will enjoy exploring less-touristed northern Cambodia. In the northeast, Ratanakiri's thick jungles have become the realm of ecotourism (expect rustic, camp-style hotels), while charming Battambang, in the far northwest, enchants with an artsy colonial vibe. Home to Cambodia's most admired circus, Phare Ponleu Selpak, the fanciful riverside town can be reached from Siem Reap by boat.
Villa Chandara
Cruise by private boat to the small village of Baray, located within a man-made reservoir, historically significant to the Angkorian rice irrigation systems. Enjoy an afternoon with villagers who share their traditional skills before touring the villa's garden. Finally, sit down to a gourmet, candlelit, five-course, Khmer-style meal in sight of the rice paddies. villachandara.com
Image credits: John W McDermott, Sven Ellsworth, Kiattipong Panchee, Mick2770 / Shutterstock.com