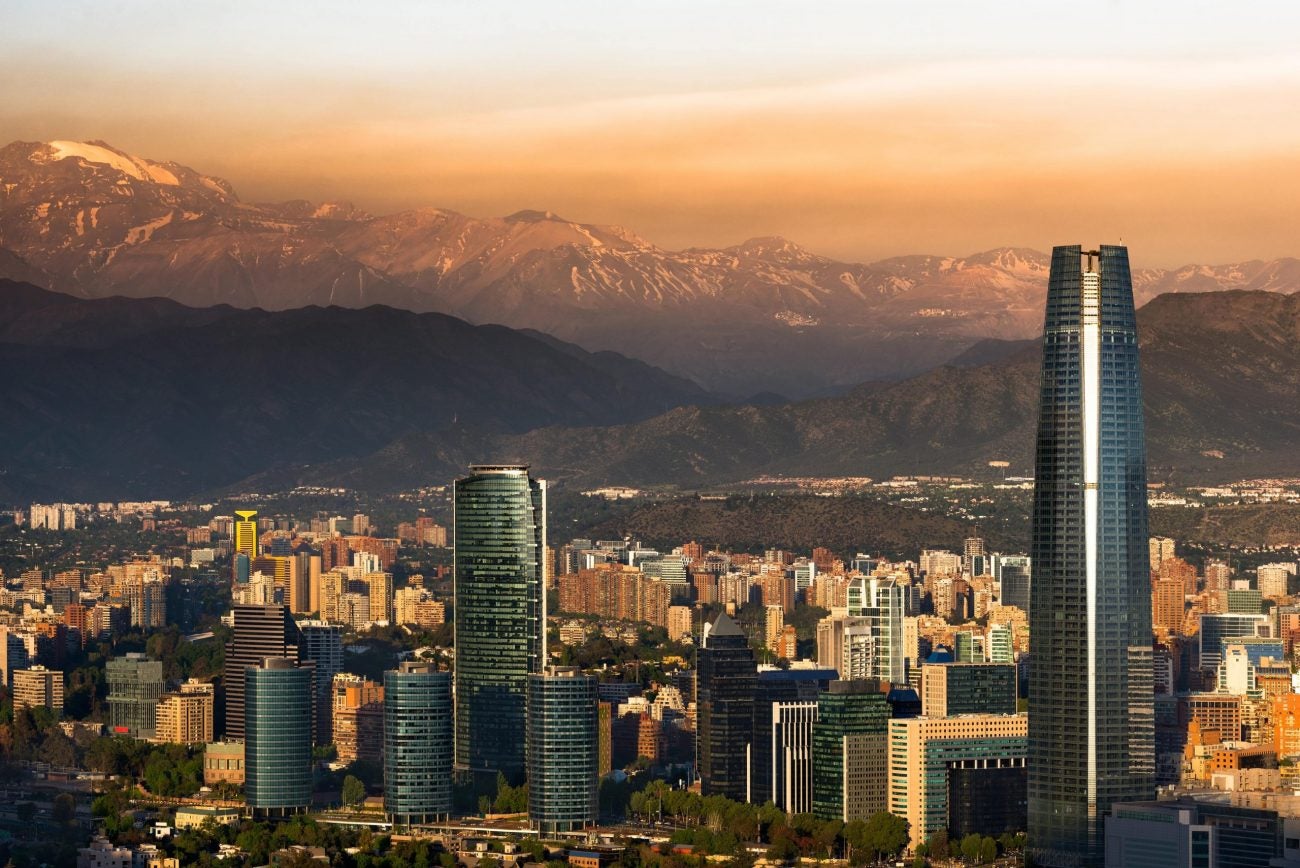 Encircled by the towering Andes Mountains and molded geographically by the Mapocho River, Parque Forestal and Parque Balmaceda, Santiago has been the capital of Chile since colonial times. Founded in 1541 by the Spanish conquistador Pedro de Valdivia and named after the biblical figure St James, Santiago remains the cultural, financial and political epicenter of the country. It's also been the hot spot for a recent revolution: Chileans voted to rewrite their constitution in 2020 and will soon select a convention of 155 citizens to pen it. Seven million people call the city, with its 19th-century neoclassical architecture, winding side streets and distinct neighborhoods, home; it was also home to the city's most beloved poet, Nobel Prize winner Pablo Neruda. It's a walking metropolis, so you can explore the hidden garden patios of Bellavista, the street art of Lastarria and the design-forward Barrio Italia. It is rather easy to lose track of time here; fortunately, Santiaguinos (the locals) appreciate languid lunches and deferred dinners, meaning most restaurants offer continuous service. Mostly temperate, this southern hemisphere conurbation enjoys arid summers and occasionally nippy winters with salubrious (and recommended) shoulder seasons. In this short guide, we discover the best places the eat, sleep and see in Santiago, Chile.
[See also: A Luxury Guide to a Long Weekend in French Polynesia]
Hotels
The Singular Santiago
The Singular Suite
A blend of early 20th-century stylings and Neoclassical French architecture, the Singular Santiago complements the tree-lined streets of its Lastarria neighborhood, Santiago's artistic zone. From the underground gym, complete with boxing bag, to the impressive rooftop outdoor terrace, which features a 26-foot marble bar, the Singular feels spacious yet intimate. Designed by Chilean Enrique Concha, the one-bedroom Singular Suite overlooks Santiago's Parque Forestal and features a large soaking tub and custom furnishings.
From $500 per night. Contact Daniela Orellana, commercial manager, dorellana@thesingular.com, +56 223 068 800, thesingular.com
Mandarin Oriental
Mandarin Suite with Terrace
Although the suite is lavishly appointed, the private, oversized, outdoor terrace shines brightest. Enjoy a dinner under the stars or sunbathe while overlooking Las Condes, a neighborhood in the northern part of the city. Downstairs, the outdoor lagoon-style hotel pool, set amid palm trees, features a dramatic swim-under waterfall. Two restaurants, a fitness center and spa are among the many facilities. Formerly the Grand Hyatt Santiago, the property underwent an extensive multi-year renovation that's near completion.
From $560 per night. Contact Santiago Alfonzo, reservations manager, salfonzo@mohg.com, +56 229 503 088, mandarinoriental.com
Hotel Magnolia
Occupying a scrupulously restored 1929 Spanish colonial-style mansion, the 42-room Hotel Magnolia seamlessly flows from marble staircases and original harlequin tiled floors, to ultra-modern light fixtures and frosted glass floors. Smartly yet sparingly decorated thanks to photographer turned designer Carolina Delpiano, every room is different; some have light wood-paneled walls, others feature restored stained glass windows and a healthy dose of crown molding. Double paned windows abound, offering a welcome respite from the hustle of nearby Santa Lucía Hill. Take breakfast on the rooftop terrace and linger in the lobby library and discover brilliantly curated bookshelves.
From $800 per night. Contact Lucia D'anna, front desk manager, lucia@hotelmagnolia.cl, +56 226 644 043, hotelmagnolia.cl
Capitol Musts
Spend days hiking through 1,700 acres, then imbibe with a pisco cocktail and dance the night away to the sounds of live Latin American music.
Get high
Cerro San Cristóbal
It is not entirely obvious that the Andes Mountains dwarf Santiago until, sitting in the shadow of the Virgin Mary, one looks out across the metropolis from above. Cerro San Cristóbal rises nearly 3,000 ft above the city, a forested mountaintop accessible by foot or funicular. A mecca for bikers and hikers, the city's largest natural space covers over 1,700 acres. Indulge in mote con huesillo, a drink of husked wheat and peach juice that's readily available from green carts throughout the park.
Experience the reinvention of Pisco
Chipe Libre: The Independent Republic of Pisco
Although its true origins remain a mystery, Chile claimed Pisco as the national distillate. No longer limited to its namesake sour or piscola (pisco and Coke, the Chilean version of rum and coke), at Chipe Libre, the mission is to redefine the grape-based, aguardiente spirit. Inside the vast space—a repurposed mansion — the bar features more than 100 labels, an impressive list of signature cocktails and Pisco flights based on regionality, aging conditions or flavor profiles. Cocktails like 'Pisco in the Air,' made with lime juice, raspberry, papaya and basil, tease habitual boundaries — but fear not, there's more than a handful of habitual sours for the more traditionally minded.
Salsa
La Maestra Vida
Since opening its red-walled space in 1988, La Maestra Vida has connected local bands with dance, most notably the rumba and salsa, and instruction. Playing a variety of Chilean and Latin American live music, the 'salsoteca' appeals to both the expert locals and tourists alike. Classes begin most nights at 9pm prior to opening at 11pm. For the true experience, stay well into the early morning; most Santiaguinos arrive after 1am, when the party really begins.
Restaurants
Owner and executive chef Álvaro Romero Evans fuses his classical French training with a deep enthusiasm for fresh and diverse Chilean ingredients. It's not just the food that's considered farm-to-table; Evans and his staff can often be found harvesting the garden. Dine on the expansive front terrace or rear brick patio amongst the trees and twinkling lights. Romero's simple yet crisp tártaro de vegetales includes beetroot and roast pepper with miso mayo. His entrees shine, from the flat iron asada steak to the fish of the day with house salsa. But it's the astoundingly flavorful side dishes that define La Mesa; don't miss the roasted onions, garden carrots, celery potato millefeuille and mashed potatoes.
With a 300-bottle cellar and menu designed and executed to enhance the flavor profiles of Chilean wine, the first 'vinobar' in the capital city continues to be its greatest. A combination of the words for 'mouth' and 'nose' (what one uses to experience food and wine), Bocanáriz creates a road map of taste buds intended to navigate from iodized starters like a fresh Chilean oyster trilogy and herbaceous sweet and sour tapas, through its stewed empanadas and umami-forward mushroom carpaccio, to the punch trilogy dessert. Playful yet intentional, like its wall of bottle openers that range from antique to funky, Bocanáriz also doubles as a wine shop.
After the wild success of Restaurante 040 and the birth of haute cuisine in Chile, Spanish-born head chef Sergio Barroso opened Olam, a sister space that's arguably more daring and less fussily focused on molecular gastronomy. Consider acorn-fed Iberian ham pepitos or roasted cauliflower with coconut cream, curry and green mustard. The emphasis here is on shared plates and tapas with a side of couture dining. "Patience is the secret to good food," Barroso's been known to say, and Olam proves his second restaurant was certainly worth the wait.
Take a day
Casablanca wine region
About an hour's drive northwest of Santiago lies the Casablanca Valley, a cool-climate wine-producing region known for fresh, light whites and rocky, fruity reds. Relatively new by Chilean standards, the valley was first planted in the 1980s. Since then, many of its winemakers have vowed to lead the world in sustainable viticulture practices, focusing on everything from vineyard planting standards to energy consumption and safe labor methods.
Matetic Vineyards, Chile's first biodynamic winery, opened in 1999 and remains family-owned. The property includes the 10-room colonial house turned La Casona Hotel overlooking the vines, and the small-plates restaurant, Equilibrio, offering a four-course Chilean tasting menu. Originally from Croatia, the family transported sustainability initiatives that have become standard on property: In addition to being biodynamic and organic, the winery most notably composts restaurant waste with grape pomace, enriching its soil. Should a tour be of interest, don't miss the chocolate wine shots.
Down the road, Kingston Family Vineyards consists of 350 acres that yield small-production lots of pinot noir, chardonnay, syrah, merlot and sauvignon blanc in addition to the robust number of grapes the estate sells to other Chilean winemakers. Although the farm has been in the family for nearly a century, their hills were first planted in 1998. Kingston continues to expand its offerings with vineyard picnics, cooking classes and a wine-pairing lunch.
Hire in-country travel design company VM Elite to handle the private car, transfers and logistics, not to mention the tasting reservations, lunch and any wine shipping needs.