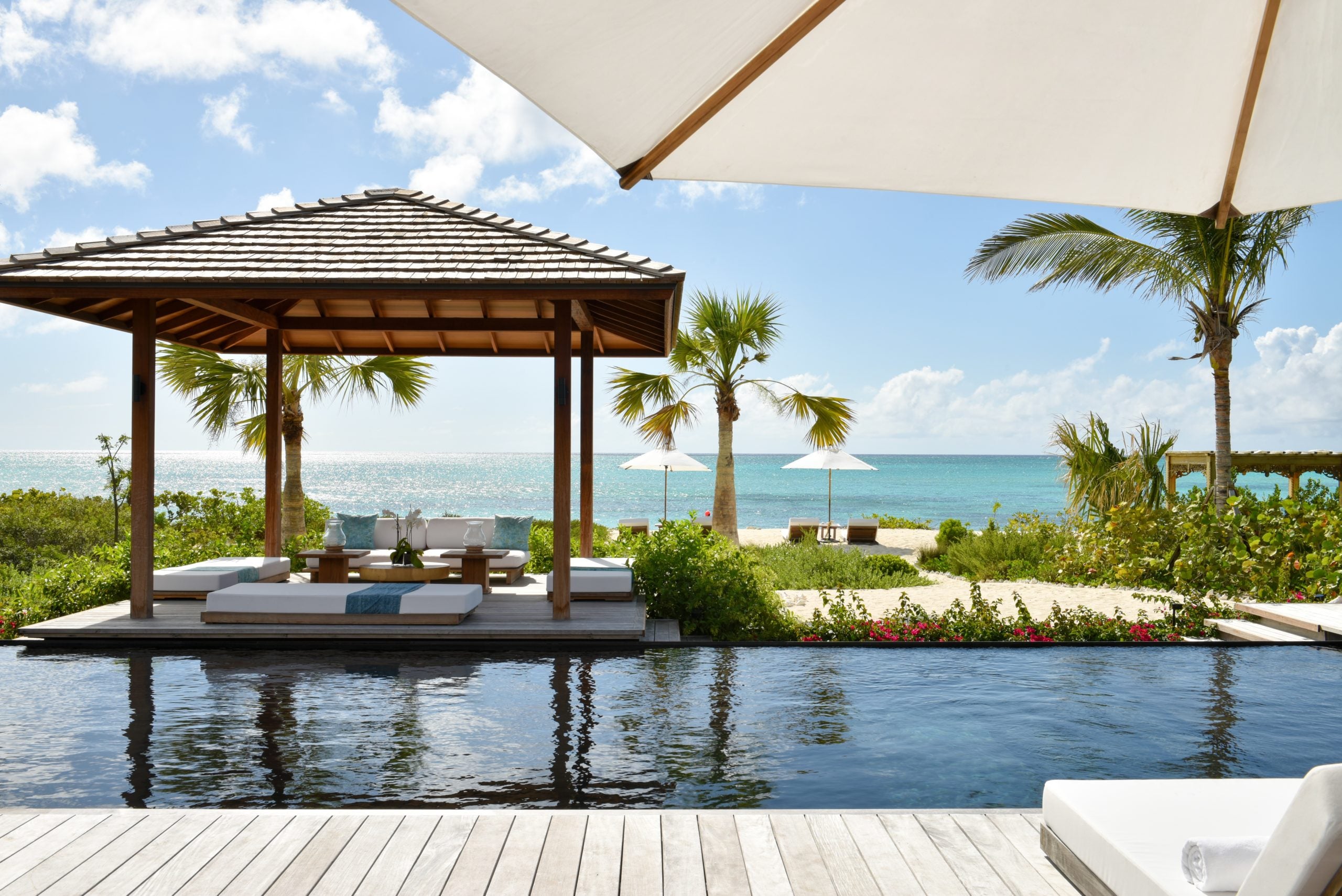 Note: This article originally appeared in the spring issue of Elite Traveler prior to the Covid-19 outbreak. Please note that many of the hotels and restaurants mentioned will be closed at this time. Find the latest travel advice here. 
Blame it on the beaches — and the water. Though just a 90-minute flight from Miami, and about three hours from New York City, the coral island archipelago of Turks and Caicos managed to remain an under-the-radar Caribbean destination for years, staying relatively undeveloped on the tourism front while neighboring islands, like The Bahamas, boomed.
But then word started getting out about its spectacular beaches (all 230 miles of them) and turquoise-hued waters (which are home to the second-largest barrier reef in the Atlantic) and, just in the last couple of decades, Turks and Caicos has been experiencing a boom of its own. It's all being done thoughtfully, though, with the majority of the resorts, dining and shopping centered on the main island of Providenciales (aka Provo), where the highest-end options line the legendary 12-mile, crescent-shaped Grace Bay Beach.
There's also still plenty of charm and character to be found: No building can be taller than seven stories, which helps preserve a small-town feel; fast-food chains are not allowed, so there's not a Starbucks or McDonald's in sight; and, while US dollars are the main currency, reminders of the country's British Overseas Territory status abound (including driving on the left side). See-and-be-seen places exist, but compared to other Caribbean hot spots, Turks and Caicos is primarily about relaxation – ideally, with your toes in the powdery white sand.
Top Hotels
The Shore Club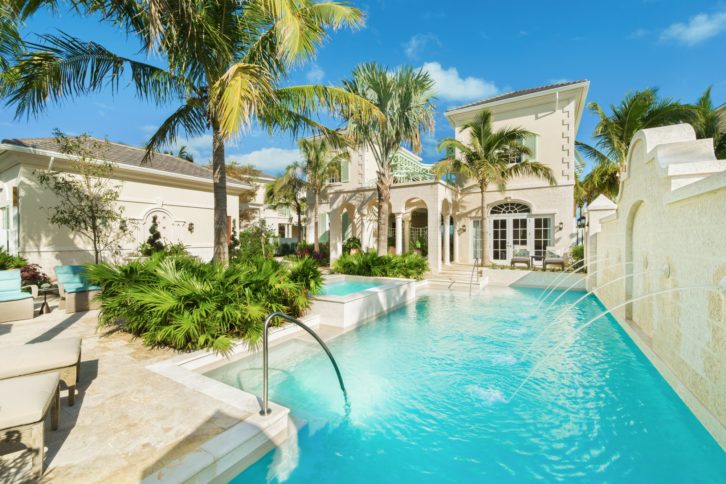 Opened in 2017 with 106 oceanview suites, the $100m Shore Club resort is spread out over nine acres on Long Bay Beach, a less-developed part of Providenciales (but still just 15 minutes from the international airport.) Geared to the active and wellness-focused traveler, the resort features four pools, a spa and a separate wellness center, and three restaurants, including a Peruvian-Japanese fine-dining spot. Suite choices range from multi-bedroom options to penthouses, but the top accommodation picks are the six new 8,800-sq-ft oceanfront villas, each with six bedrooms, a heated pool, butler, kids' amenities and perks like fast-track service at the airport.
From $6,000 per night. Contact Anthony Johnson, hotel manager, anthony.johnson@theshoreclubtc.com, +649 232 7972, theshoreclubtc.com
Amanyara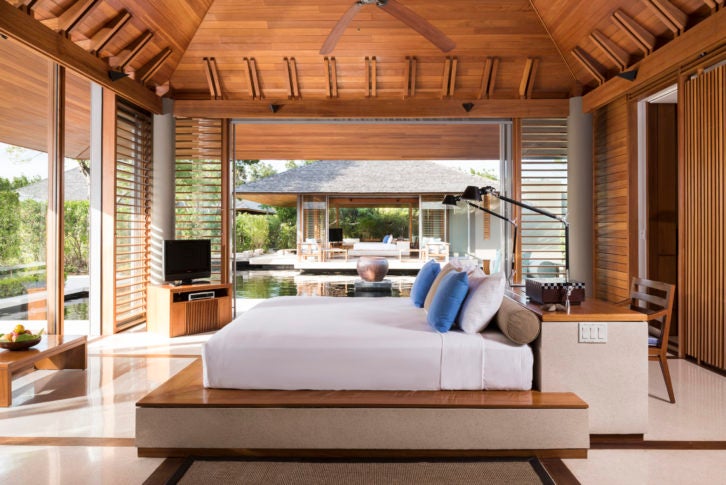 Meaning 'peaceful place,' Amanyara sits on a secluded part of Providenciales' northwest coves, bordering the Northwest Point Marine National Park, which is known for top-notch wall and reef diving. Along with Aman's signature understated elegance, you'll find three restaurants and bars (one of which is set on a dune at the southern end of the beach), a spa, clubhouse with tennis courts, Pilates studio and boxing studio, plus a Nature Discovery Center with programs designed by the American Museum of Natural History. Check into the six-bedroom Amanyara Villa to enjoy a private infinity pool, outdoor living and dining pavilions, two dedicated solar-powered buggies, and a personal villa chef and host.
From $18,000 per night. Contact Ana Fonseca, director of sales and marketing, afonseca@aman.com, +649 941 8133, amanyara.com
Grace Bay Club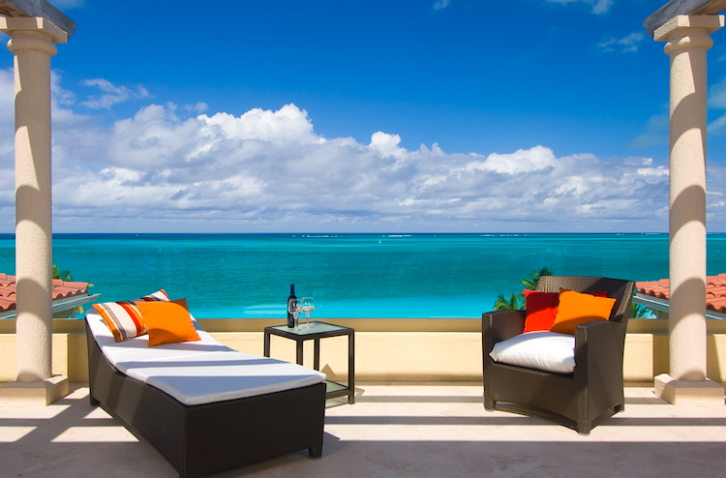 An advantage of this all-suite spot being one of the first luxury resorts on Providenciales (it opened in 1993) is first dibs on a prime location — in this case, 1,100 ft of beachfront in the heart of glittering Grace Bay. As one of the hosts of the annual Caribbean Food and Wine Festival, which draws chefs from around the world, Grace Bay Club is known for its dining outlets; chief among them is Infiniti Restaurant & Raw Bar, with its delicious sea-to-table fare and 90-ft-long oceanview bar.
Suites are separated into four categories (some family-friendly, others adults-only), with the highest-end options found in the resort-within-a-resort, The Estate. There, the beautiful four-bedroom Estate Penthouse Residence comes with private elevator access, indoor/outdoor living spaces, a Jacuzzi and grill, all with breathtaking views.
From $8,800 per night. Contact Krystal Malcolm, reservations manager, krystal.malcolm@gracebayresorts.com, +649 946 5050, gracebayresorts.com
Como Parrot Cay
One thousand pristine acres and a mile-long, powder-soft beach set the scene at this resort, which is hidden away on a private cay accessed by a 15-minute drive and 35-minute boat ride from Providenciales. A contemporary, Bali-chic style is seen throughout, while offerings like the award-winning spa, Como Shambhala Retreat, nutritious gourmet dining and a wide array of active adventures for all ages — from castaway picnics to stand-up paddleboarding through the mangroves — are in keeping with the Como brand's wellness-minded roots.
New in late 2019 were an adults-only pool and several multi-bedroom Beach House villas that lead directly to the water. As the cay is also home to some of Turks and Caicos' top private residences, the real standout accommodation is The Sanctuary at Como Parrot Cay, an estate made up of a 9,000-sq-ft, three-bedroom Main House and two 4,000-sq-ft guest villas — all with interiors by Donna Karan that include antiques picked up on her global travels. Private sundecks, three pools and a dedicated butler round out the perks.
Main House from $15,000 per night. Contact Nolie Omar, hotel manager, nolie.omar@comohotels.com, +649 946 7788; comohotels.com
Images: Steve Passmore, Agile Le Vin, Nick Brown Photography, Ren Nickson
Top Restaurants
Caicos Café
Mediterranean and modern Italian fare gets an island twist from chef Massimo Olivari at this Grace Bay mainstay, which is popular with visitors and locals alike. Perfect for both casual gatherings and romantic nights out (for the latter, snag a table on the deck), the restaurant features everything from fresh local seafood and foie gras terrines to handcrafted pastas and slow-braised lamb shank, along with athoughtful selection of wines.
+649 946 5278
Coyaba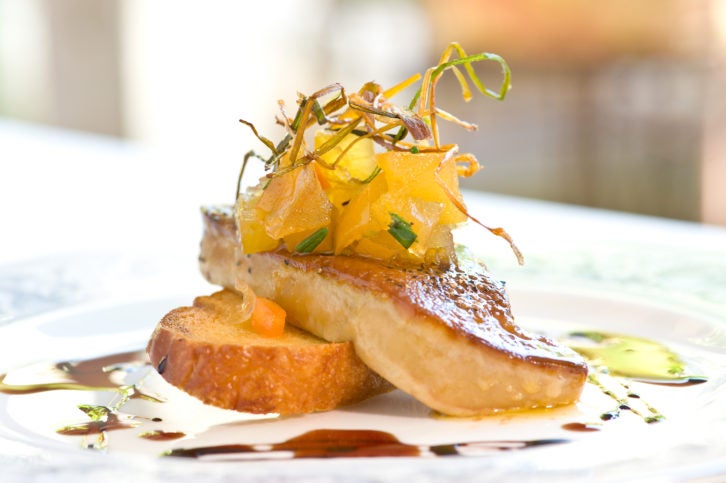 Set in a lovely tropical garden, this Grace Bay favorite from chef and owner Paul Newman has been drawing regulars for nearly two decades. The signature menus change often, but always feature international dishes crafted from Caribbean-sourced fruits, herbs, spices and seafood; think tuna loin wrapped in potato and served with tamarind stir fry, papaya ginger and mango wasabi, or chicken breast with jerk spices, ackee croquettes and pick-a-peppa gravy.
Coco Bistro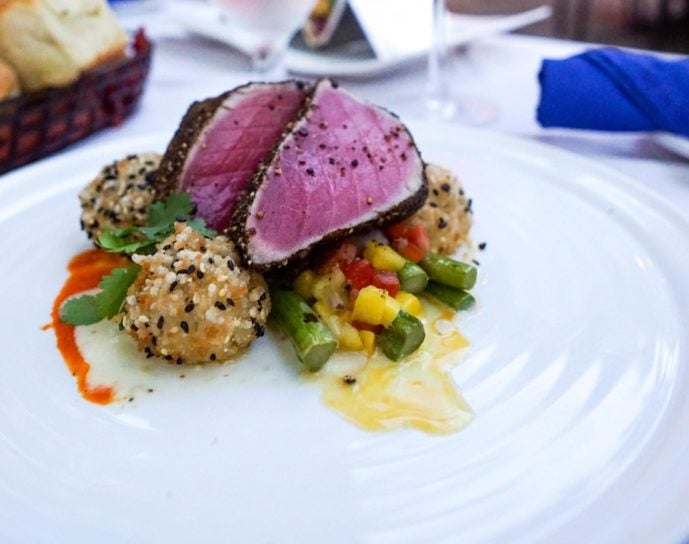 Conch two ways, pepper-crusted local tuna and crispy Caicos lobster with avocado spring rolls are just some of the culinary delights that await guests of this Grace Bay bistro, where everything is served in a magical alfresco setting inside the largest palm grove on the island. The restaurant is the domain of executive chef and owner Stuart Gray, a Canadian expat who honed his craft working in celebrated kitchens around the world before running the kitchen at one of Grace Bay Club's fine-dining restaurants.
Act like a Local
Da Conch Shack & Rum Bar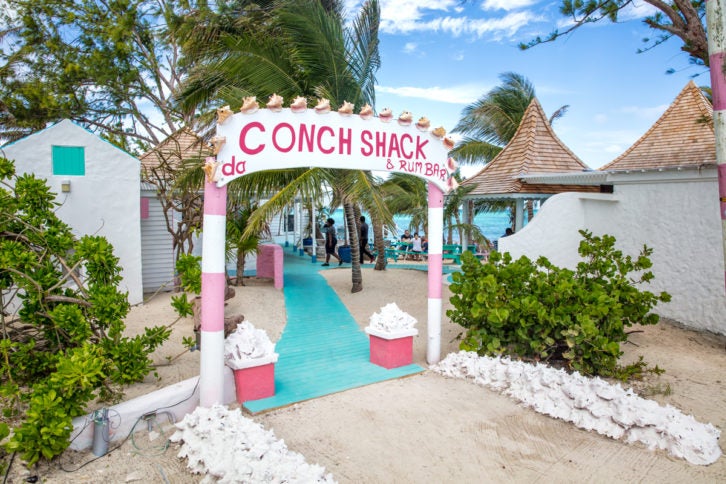 There's no more iconic spot on Providenciales than this feet-in-the-sand spot on Blue Hills Beach. Conch is found on nearly every menu in town, but here you'll find it in a wide variety of preparations — from salads and chowders to curries and a fried version called 'cracked conch' — with a vibrant atmosphere, particularly on nights when there is live music. There are also other local specialties (like Johnny fries) and burgers, along with rum drinks and cold, local beers to help fuel the fun.
Somewhere Café and Lounge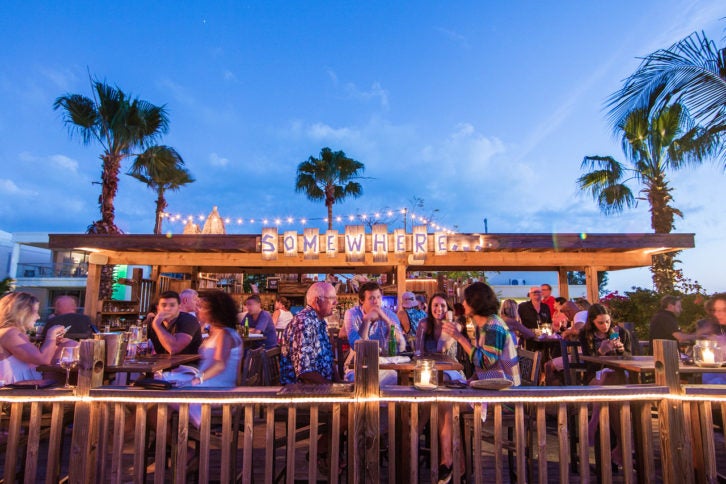 A prime location on Grace Bay Beach — plus the advantage of being in the only two-floor structure on the shore — has helped make this casual café a popular choice for enjoying the sunset, rum punch in hand. Come early to snag a rooftop daybed, then stay after the sun goes down for DJs or live music, Tex-Mex-inspired eats and homemade baked goods.
Island Fish Fry
When planning your trip, make sure to be in Providenciales on a Thursday to enjoy this must-do island event, which has become the weekly place to be. Every Thursday from 5:30 to 9:30 pm in Bight (Children's) Park, this mini food festival features stalls from over a dozen vendors cooking up dishes like crab-n-rice and lobster mac and cheese. Grab some eats and enjoy live entertainment, artisans peddling handmade goods and, at the end of the evening, a Junkanoo parade.
Images: Steve Passmore, Agile Le Vin, Nick Brown Photography, Ren Nickson
Top Activities
Beach hop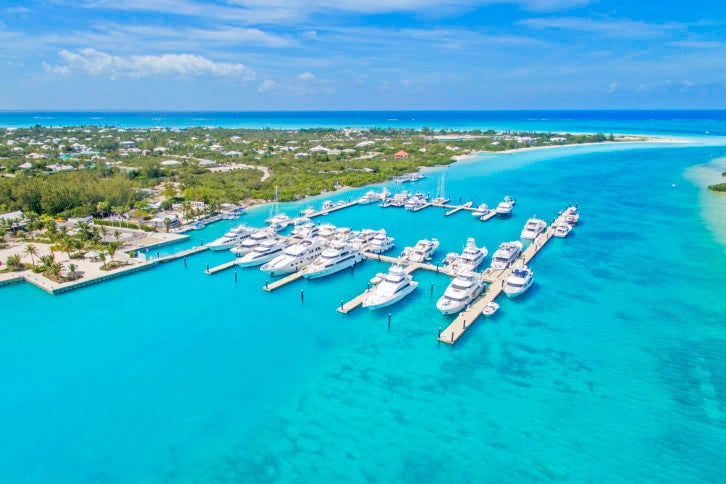 While Grace Bay Beach frequently appears on lists touting the world's best beaches, there's a scenic stretch of sand here to suit every mood and type of traveler. On Providenciales alone, there's Blue Hills Beach, which fronts calm Atlantic Ocean waters and gets a good amount of coral and shells washing ashore (so bring water shoes); serene Taylor Beach, with its very shallow, clear waters and peaceful vibe; and the southern Long Bay Beach, a favorite of kiteboarders. For a different perspective, book a beach horseback riding experience with Provo Ponies.
Hit the greens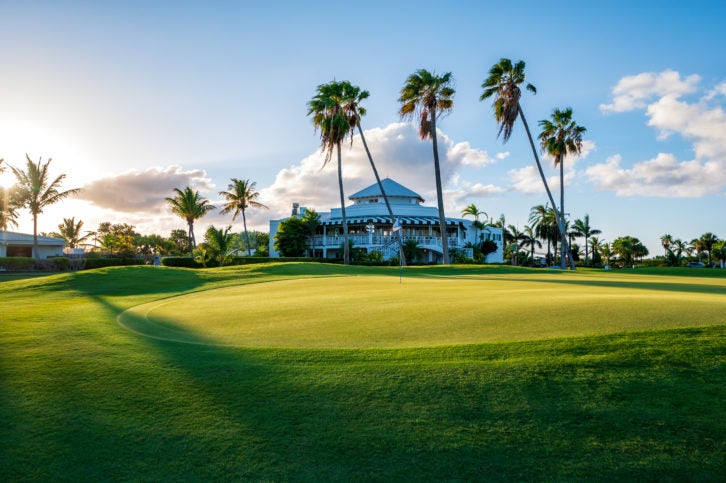 Known as one of the best and most challenging courses in the Caribbean, Provo Golf Club's 18 holes are also among the prettiest, with natural limestone outcrops and native flora and vegetation. Water is also a key feature throughout, including in the back nine's five 'lake holes,' which are watched over by pelicans, herons and flamingos.
Say Spa-a-ah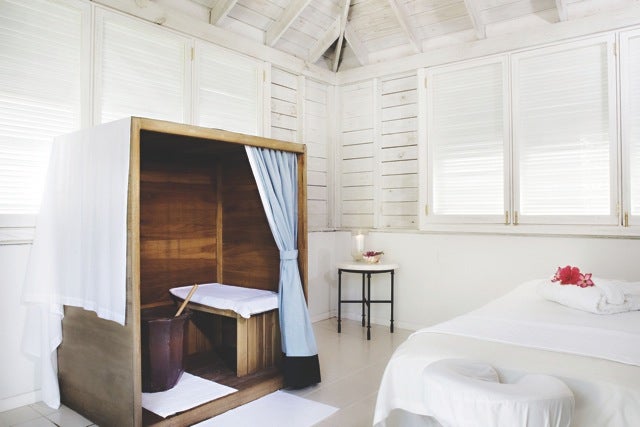 The islands' inspiring natural setting and relaxing vibe have made them a hub for wellness activities, from the customized, expert-led retreats offered at several of the luxury resorts to the nourishing treatments found in the local spas. One standout is The Spa at The Palms, a luxurious, 25,000-sq-ft haven where the island-focused menu includes a mother-of-pearl body scrub done with hand-crushed local queen conch shells, and Zareeba steam treatments incorporating native herbs and plants to help alleviate a variety of symptoms.
Go deep
As home to the second-largest barrier reef in the Atlantic and waters that are particularly clear, thanks to a crushed pink-coral sea bottom found only in this part of the South Atlantic, Turks and Caicos has garnered status as a scuba diver's dream. Highlights include exploring the 14-mile barrier reef on Provo's north shore and the dramatic 7,000-ft underwater wall off Grand Turk Island, and swimming alongside dolphins and reef sharks (and sometimes spotting migrating whales) off Salt Cay. Companies like Silver Deep offer custom private charters.
All about the archipelago
With eight main islands and over 40 smaller cays, there's a lot to explore in Turks and Caicos. Charter a boat via your resort or a company like Caicos Dream Tours, then set off on a day of snorkeling or bonefishing, get ferried to a remote beach for a castaway picnic, island hop to other hubs like South Caicos or Grand Turk, or toast to your trip on a sunset cruise.