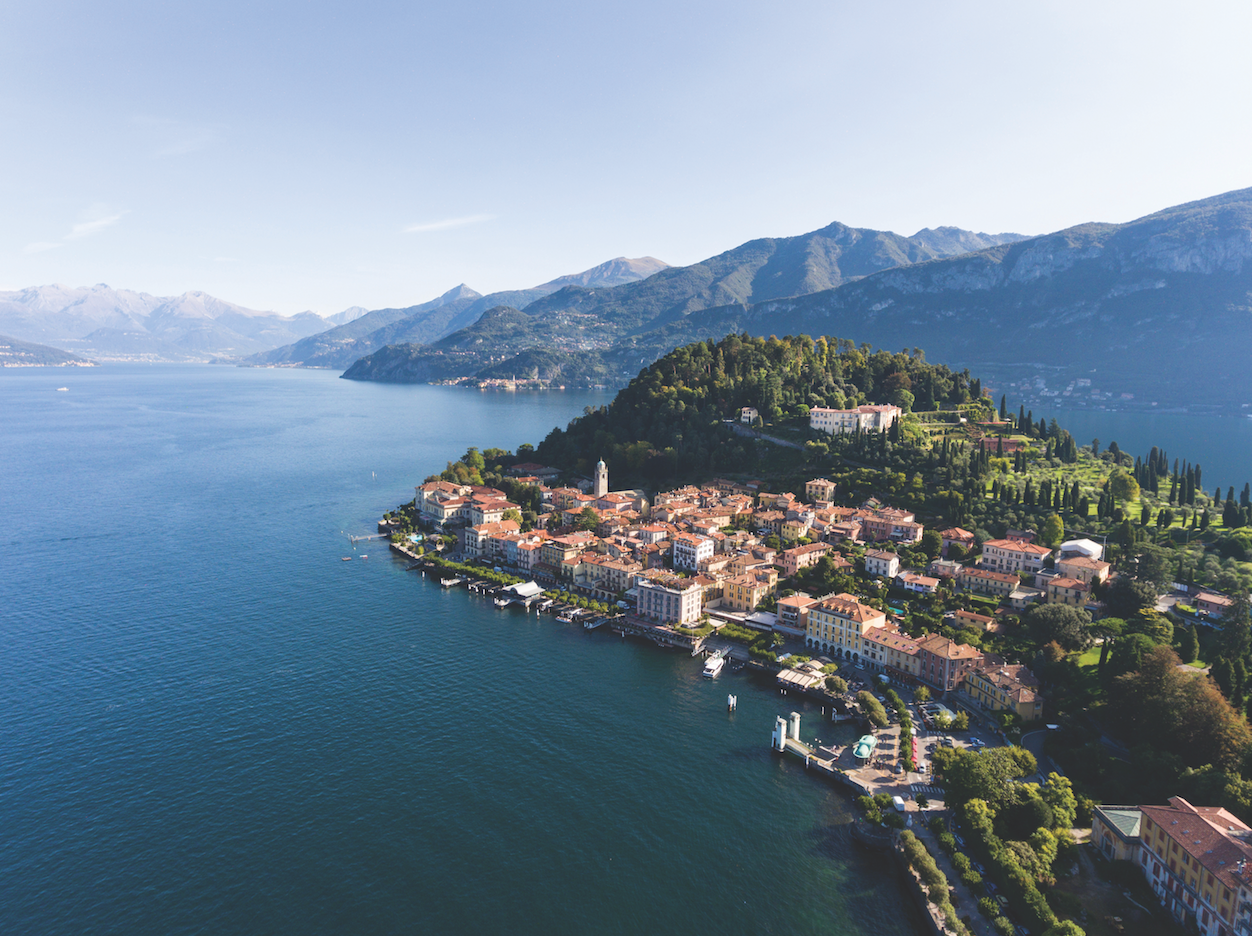 Long celebrated as a playground for the fashionable elite, Lake Como has historically embraced romantic poets, writers, artists, aristocrats and, more recently, Hollywood heartthrobs into the retreat of its cerulean shores.
There are no real nightclubs to speak of, no must-go-to casinos, just calming, infinite water, shades of silver dawn and the gentle sound of shutters sighing open to start your peaceful day. It's a place for linen suits, tanned legs stretched out on expensive terraces and understated elegance against a sophisticated backdrop of designer detail.
There are swanky car launches and lakeside villas to die for, smart cafes to spend lazy mornings in, followed by afternoons toning limbs on tennis courts and evenings spent strolling hand-in-hand and savoring delicious ice cream. It's a place to seriously chill, and to be seen chilling while looking Como-cool and absolutely fabulous.
Getting There
There is no better way to take in the spectacular lakeside scenery than from the sky. And it just so happens that Lake Como is home to the only seaplane school in Europe. Not an option for the meek or fainthearted, yet a must for those with a soaring spirit and a passion to impress, especially when you can land practically anywhere on the water. Book yourself a private flying lesson and soar like an eagle. Contact
Email: info@aeroclubcomo.com
Tel: +39 031 574 495
Website: aeroclubcomo.com
Images: ©Shutterstock.com, ©OLIVER63
Where to Stay
Sereno Penthouse Suite
Il Serano
Hailed as one of Europe's most exciting hotels and the talk of the lake, Il Sereno is the minimalist masterpiece of leading designer/architect Patricia Urquiola. Organic and timeless in its embrace of nature, inspired by the colors and movement of the water, the hotel is an evolution of contemporary materials featuring wood, stone, copper and floor-to-ceiling windows that entice the dreamy views of the lake into your own private space.
The spacious Sereno Penthouse Suite is a designer's dream; it has customized furnishings and an expansive outdoor terrace with garden and private hot tub. Floors are inlaid with Venetian terrazzo and bathrooms are exquisitely paneled in stone.
Natural shades of gray and walnut with a pop of blue reflect the serenity of the surrounding landscape and the liquid views. Sereno Penthouse Suite from $5,880 per night.
Email: info@serenohotels.com
Tel: +39 031 547 7800
Website: serenohotels.com
Rooftop Penthouse Suite
Grand Hotel Tremezzo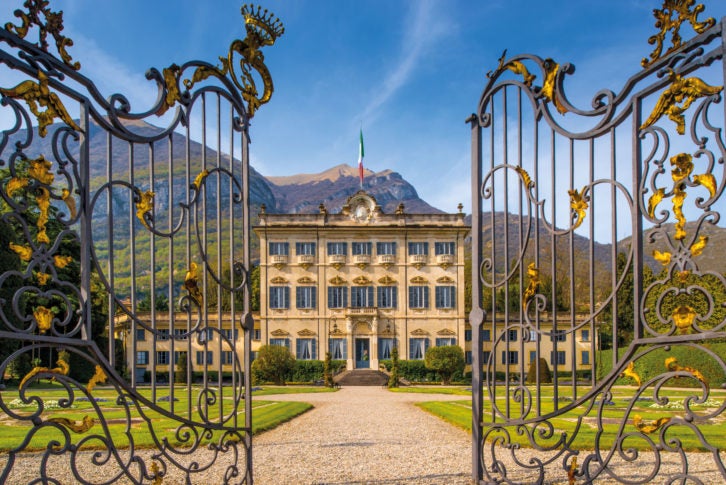 The fashionable Grand Hotel Tremezzo certainly knows a thing or two about style, combining chic interiors with bold, vibrant colors, and supporting classical detail with a young vibe. Tremezzo offers the best facilities on the entire lake, along with its outstanding T Spa.
The Rooftop Penthouse Suite is quite literally the height of lakeside luxury, where the entire rooftop can be reserved on request by combining a Rooftop Front Suite with a Rooftop Corner Suite. Spacious, stylish and unashamedly sumptuous.
The romantically lit private terrace is built for champagne nights beneath the twinkling stars, taking in breathtaking vistas across the calming water towards Bellagio. Rooftop Penthouse Suite from $10,400 per night.
Email: info@grandhoteltremezzo.com
Tel: +39 034 442 491
Website: grandhoteltremezzo.com
Lake View Senior Suite
Grand Hotel Villa Serbelloni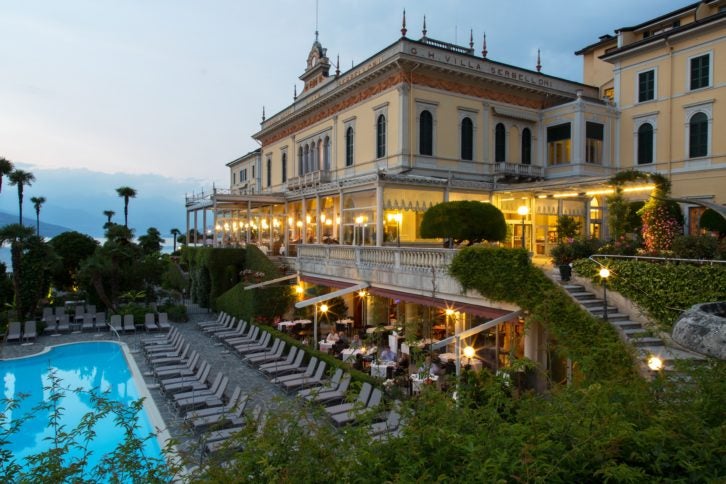 The old-school opulence of Grand Hotel Villa Serbelloni, sitting on the lakefront in the heart of Bellagio, is the pink pearl of the lake. Its interior, with marble columns, Murano chandeliers and frescoed ceilings, will stretch your neck along with your thirst for Italian art.
The Michelin-starred Mistral restaurant serves molecular cuisine in a to-swoon-for lakeside setting. The period feel continues in the Lake View Senior Suites with 19thcentury- style furnishings, a nostalgic nod to a bygone era. Lake View Senior Suite from $1,500 per night.
Email: info@villaserbelloni.com
Tel: +39 031 950 216
Website: villaserbelloni.com
Where to Eat
Peaceful and perfectly picturesque, the village of Varenna is just a bobbing boat ride away from its more famous sister, Bellagio, yet is considered to be the prettiest sibling and the real starlet of the lake.
Nestled in the hug of the Eastern shore, the splendor of this charming village is characterized by traditional fishermen's houses and narrow, cobbled lanes romantically winding their way up and away from the pebble beach, lovely cafes and memorable restaurants basking at its sparkling shoreline.
For gnocchi with a view, head to Vecchia Varenna; for a velvety cappuccino or a thirst-quenching cocktail, visit Caffe Varenna. Al Prato (+39 348 712 4389) is a dreamy spot for prosecco in a piazza, and Il Cavatappi is piccolo but perfect.
Movie Magic
A superstar in its own right, Lake Como has been cast in many iconic movies. Oceans Twelve was a great excuse to include George Clooney's lakeside villa in some of the pivotal scenes: It is worthy of a watch simply for glimpses of Italy's most celebrated lake along with the interior of Clooney's 18th-century summer residence, Villa Oleandra in Laglio. Scenes from 007's Casino Royale with Daniel Craig were shaken, not stirred in the picturesque 12th-century Villa del Balbianello. Both are selfie-worthy. Don't forget the popcorn!