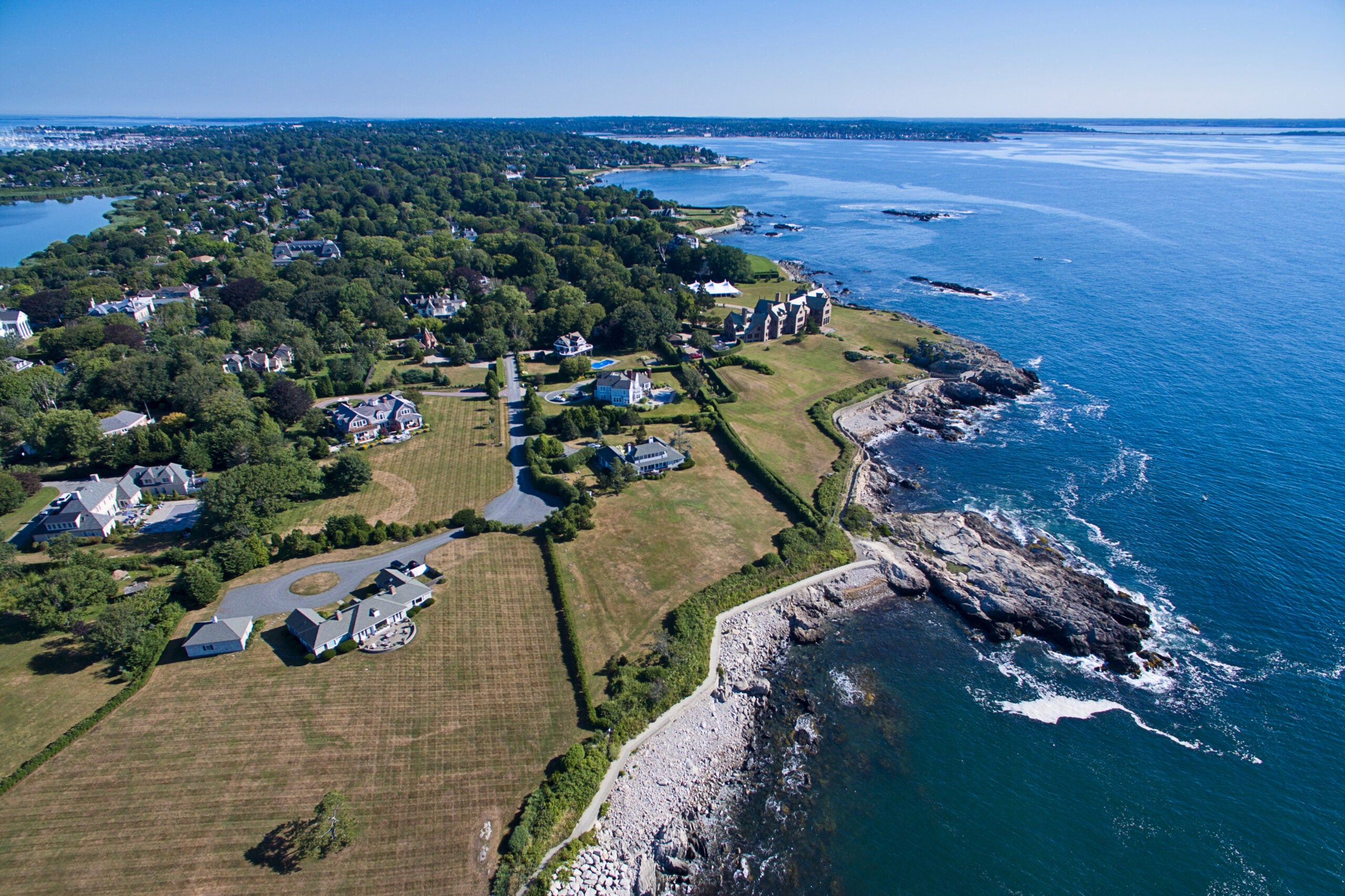 For a quintessential New England seaside escape brimming with history, charm, Gilded Age mansions and fabulous seafood, head to Newport, Rhode Island, located on Aquidneck Island, just a short hop from Boston and New York City. Here, we bring you a luxury guide to this quaint coastal city.
Whether you're a history buff or sailing aficionado, or you just adore classic, preppy New England style, Newport reigns as one of the East Coast's finest summer destinations thanks to its intimate luxury hotels, delicious restaurants, peaceful beaches, impressive (and competitive) sailing community and a dizzying array of historical attractions.
Despite its historical significance as a getaway for America's most prominent families (Vanderbilts, Rockefellers and Kennedys, to name a few), Newport is an elegant yet approachable summer destination, best enjoyed on the water or by indulging in fried clams and lobster rolls in an Adirondack chair while watching the sunset.
Where to stay
Gurney's Newport Resort & Marina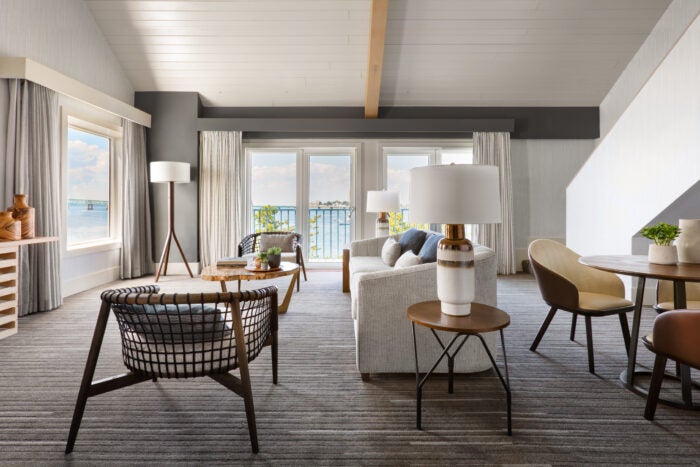 Nestled between Newport Harbor and Narragansett Bay on Goat Island, Gurney's Newport Resort & Marina opened in 2017 after the success of the first Gurney's Resort in Montauk. It's housed in a former hotel first built in 1969, and though the exterior has mostly remained the same, the interiors trade Newport's colonial decor for a bright, fresh and modern vibe. Check into the Liberty Suite, designed with chic furniture and muted tones. The 1,250-sq-ft, two-bedroom suite has plenty of natural light and magnificent ocean views. It's the perfect respite after a day spent on the water, or head to the property's lively Pineapple Club restaurant to enjoy champagne and oysters.
Liberty Suite from $1,940 per night
Contact: David Smiley, general manager, david.smiley@gurneysresorts.com, +1 401 849 2600, gurneysresorts.com
The Chanler at Cliff Walk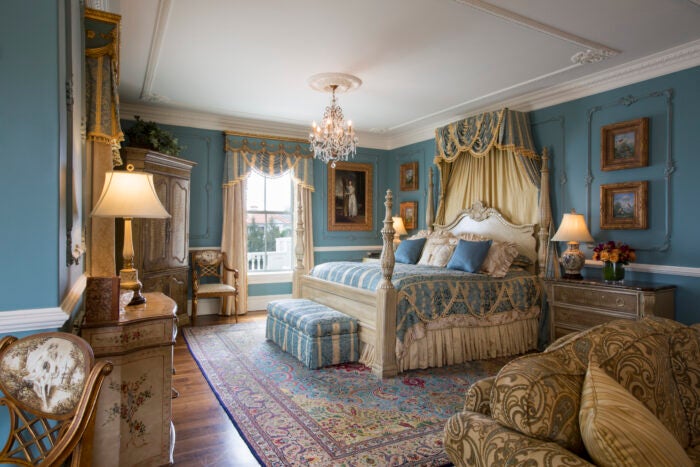 The Chanler at Cliff Walk feels more like a private estate than a hotel, and rightfully so, as it was originally a private summer home built in 1873. The Chanler retains its original French provincial style throughout its 20 accommodations and three dining venues; a stay in the one-bedroom Renaissance Room feels like a step back in time to 17th-century Europe. Awash in turquoise blue, the museum-like room is filled wall-to-wall with antique furniture (like brocade sofas, hand-painted dressers and an opulent four-poster bed) and plenty of art. There is a fireplace, three TVs, an oversized shower and tub, a private bar, a makeup vanity, as well as picturesque views over the ocean and the hotel's verdant gardens.
Renaissance Room from $1,250 per night
Contact: Keith Chouinard, director of sales and marketing, kchouinard@thechanler.com, +1 401 847 1300, thechanler.com
Castle Hill Inn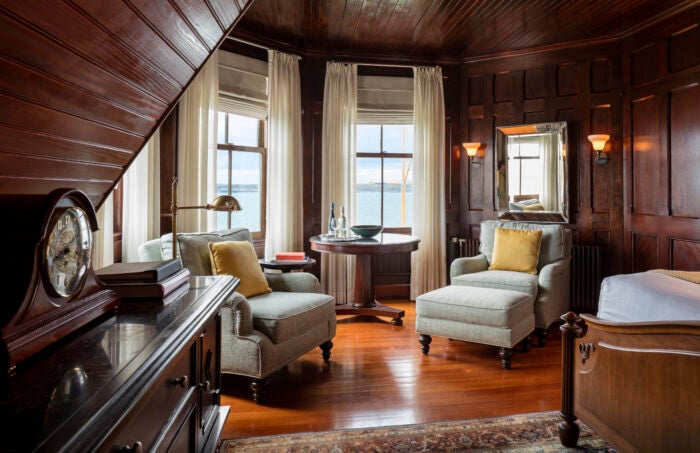 Some of the most stunning views in all of Newport can be found at Castle Hill Inn, whether you're staying at the Agassiz Mansion (built in 1875 and named after marine biologist and former owner of the mansion, Alexander Agassiz) or enjoying a drink on the Adirondack-chair-filled lawn. The most impressive of all the accommodations is the Turret Suite, the hotel's only bi-level suite, which is located on the third floor of the Agassiz Mansion and has 320-degree views of the grounds. The historically renovated suite recalls the mansion's original style and has dark wood floors, walls and ceilings. A custom wood spiral staircase gives you access to the second level, where a white marble bathtub and daybed with spectacular views await.
The Turret Suite from $695 per night.
Contact Lewis Gordon, revenue and reservations manager, lgordon@castlehillinn.com, +1 401 849 3800, castlehillinn.com
Where to eat
White Horse Tavern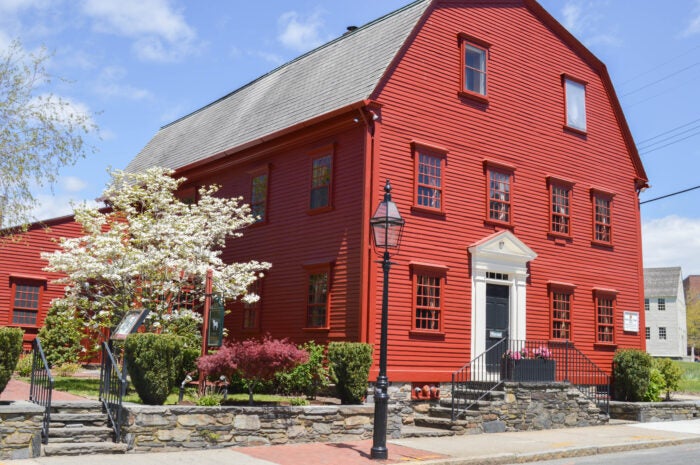 The oldest restaurant in the United States, White Horse Tavern opened in 1673 and has received a National Historic Landmark designation. The tavern surely feels historic with dark-wood beams, clapboard walls, a gambrel roof and small entryways, but it serves upscale pub fare alongside an impressive wine menu with bottles from around the world. Any history buff will relish in the stories told by your waiter or bartender, and foodies will be impressed by the tavern's perfectly cooked steaks, fresh seafood and indulgent comfort-food dishes.
The Black Pearl
One of Newport's busiest restaurants, The Black Pearl on Bannister's Wharf along Newport Harbor is the ultimate summer dining spot. In the summer, the patio is brimming with diners eager to try the restaurant's famous clam chowder, raw bar and fresh seafood dishes, but there's also the Tavern at The Black Pearl for a more traditional sit-down dinner. The authentic New England restaurant is inspired by the region's sailing history and is filled with nautical-themed and seaside pub-style decor.
22 Bowen's Wine Bar & Grille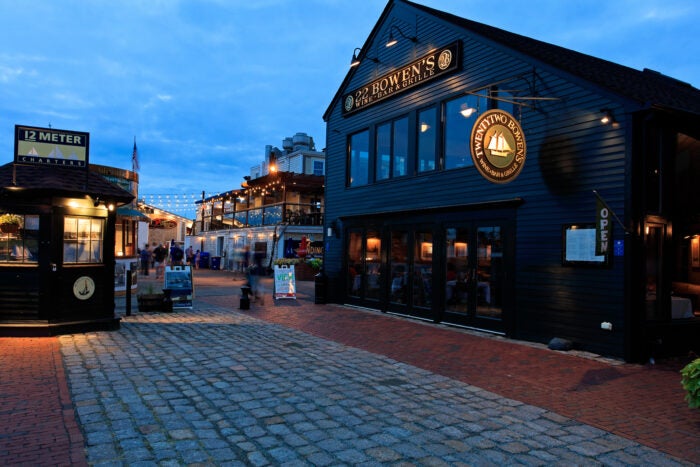 For the best cuts of steak in town, reserve a table at 22 Bowen's Wine Bar & Grille. The upscale restaurant sits right on the wharf and has traditional, nautical-themed decor. Start with Bubbles & Oysters (oysters, caviar and champagne) before tucking into your choice of sirloin, rib eye, porterhouse or rack of lamb. And this is Newport, after all, so excellent seafood options abound, like lobster, crab legs, shrimp and scallops. Indulge in the award-winning wine list or creative cocktails to help wash down your meal.
The Mooring Seafood Kitchen & Bar
For a casual, yet delicious, break from exploring the local museums and mansions along Cliff Walk, pop by The Mooring Seafood Kitchen & Bar within Newport Wharf, which has outdoor patio dining with views of Narragansett Bay and is a must-stop for seafood lovers. Enjoy the ocean breeze during an alfresco lunch while indulging in the raw bar menu and a cocktail or chilled glass of white wine. The restaurant is also open for dinner, but be sure to make reservations in advance.
Raw Bars
Midtown Oyster Bar
In addition to having the largest raw bar in town, this nautical-inspired hot spot serves up some of the best lobster rolls and tuna tartare tacos in town. The bustling Thames Street is the perfect backdrop for people-watching and getting a feel for Newport's infectious energy.
Fluke Newport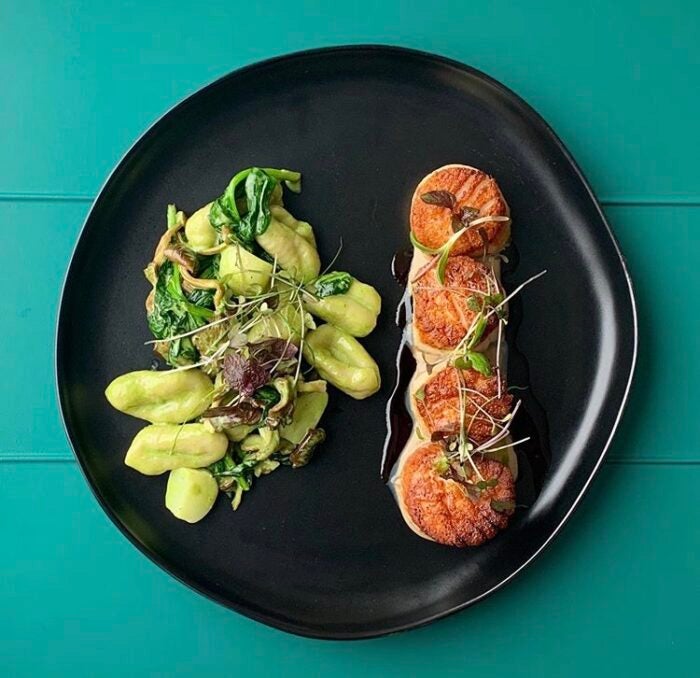 Creative and delicately plated dishes abound at Fluke Newport, a must-stop on your seafood tour. The menu changes seasonally, but in the summer, order raw or crispy oysters, lobster bisque and fried monkfish bites. The dishes will satiate both your appetite and Instagram feed.
Flo's Clam Shack
This no-frills seafood joint has been open since the 1930s, serving New England staples like fish and chips, chowder and fried clams. There's a casual seating area upstairs with a bar, takeout options and even a drive-in dining experience.
What to do
Clambakes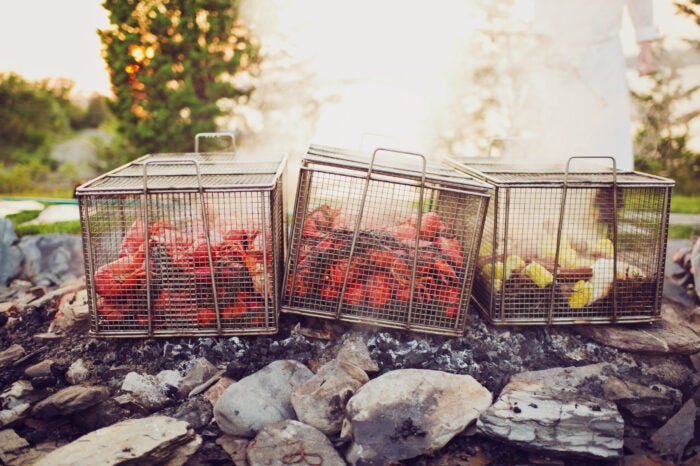 This New England tradition is not to be missed, and there's nothing better than indulging in clams, lobster, mussels and crabs on a hot summer afternoon. While in Newport, visit Castle Hill Inn, which hosts a weekly clambake event in their on-site clambake pit. Play bocce and croquet and sip on a glass of bubbly on the picturesque lawn while enjoying this local tradition. If you'd rather host a clambake in the comfort of your own home, McGrath Clambakes (which has hosted clambakes for more than 50 years) puts on old-fashioned clambakes and lobster boils, as well as offering traditional catering services.
Set Sail
Often called the 'Sailing Capital of the World,' Newport is deeply rooted in the sailing community. The city hosted America's Cup races from 1930 through 1983, and today its biggest events are the Newport Regatta and the iconic, 635-nautical-mile Newport Bermuda Race, which sails from Newport to Hamilton, Bermuda every other year. It's one of the oldest and longest ocean distance races. For novices, there are plenty of places to take sailing lessons or go on a sailing cruise, through entities like Sightsailing of Newport, but you can also simply admire the sailboats with a glass of champagne in hand.
bermudarace.com, sightsailing.com
History Buff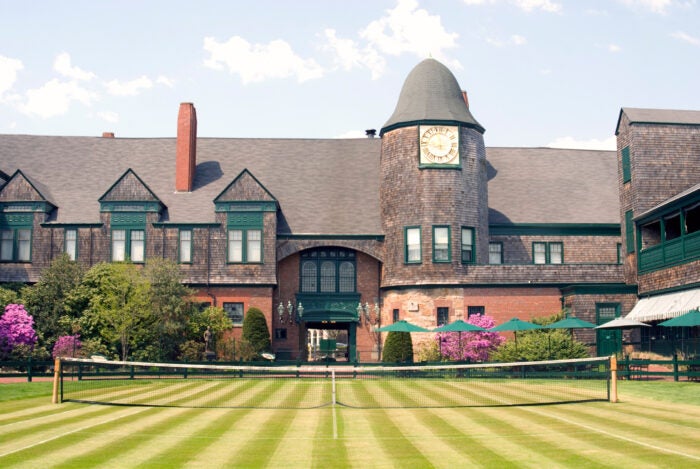 Newport's centuries-old history is sure to enchant even the most well-read visitors. Make stops at some of the city's coolest museums, like the International Tennis Hall of Fame (first opened in July 1880 with a grass court in back) and the Audrain Automobile Museum (there are 220 exotic collectible cars on display). Other unique attractions include the National Museum of American Illustration, Isaac Bell House and the Museum of Newport History.
tennisfame.com, audrainautomuseum.org, americanillustration.org, newportmansions.org, newporthistory.org
Cliff Walk
One of Newport's biggest draws is the Cliff Walk, located along 3.5 miles of coastline, with views of the opulent Newport Mansions from the Gilded Age, once summer homes inhabited by America's most prominent families. Among these mansions are The Breakers (the summer home of the Vanderbilt family), The Elms, Marble House and Rosecliff (where The Great Gatsby was filmed in 1974). Marvel at the homes from the coastal path, or go inside for a tour to learn about each home's magnificent history. For a quicker tour, rent a 'scoot coupe' (a car-like scooter) to mansion hop.
Images: Katherine Gendreau, Discover Newport, Castle Hill Inn