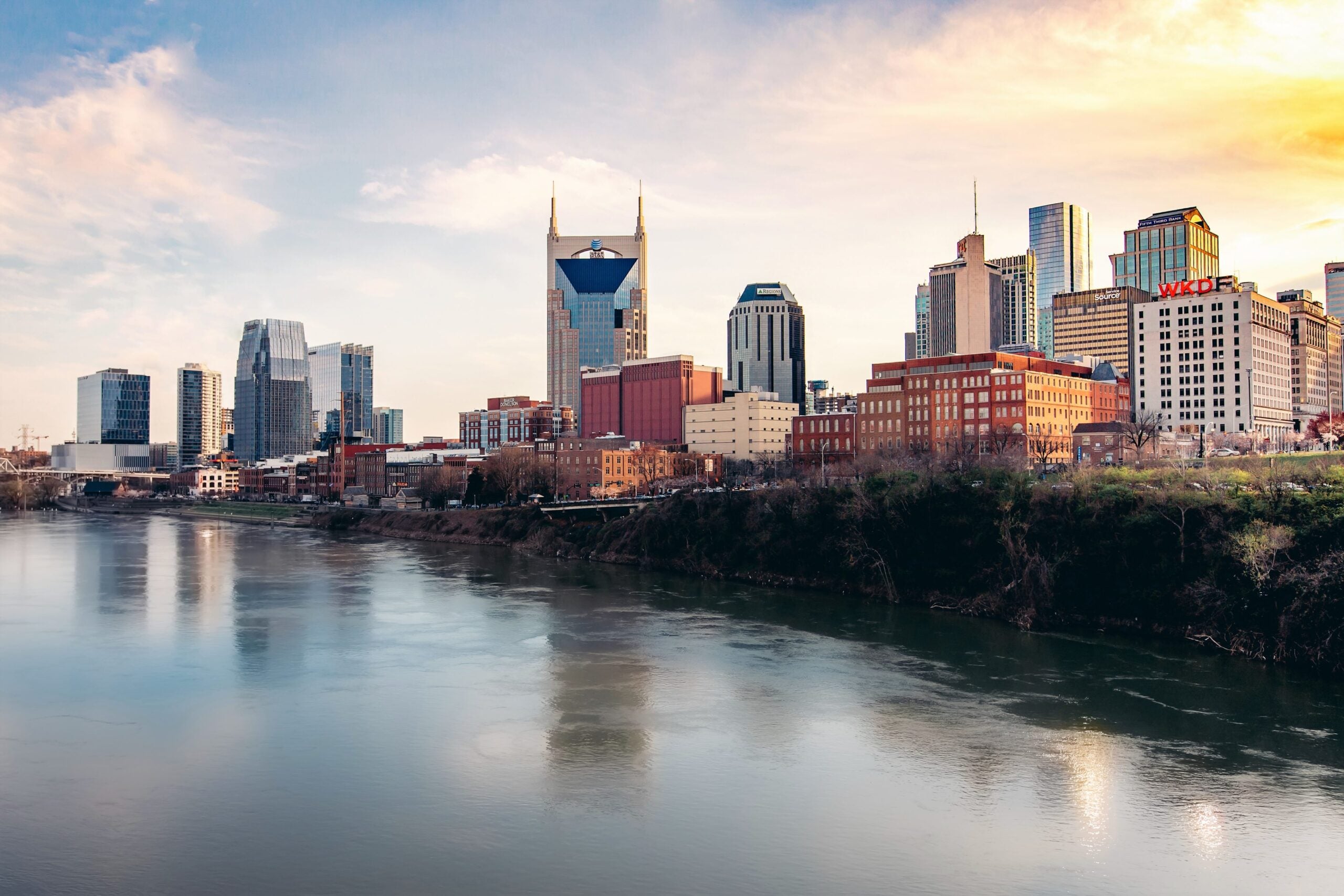 Nashville, Tennessee's rich musical roots have long been a primary reason to visit Music City. After all, it was here that country music was born: Johnny Cash, Hank Williams and Willie Nelson have all, at some point, called the city home.
But in recent years, Nashville has skyrocketed as one of the US's most sought-after destinations. Dozens of luxury properties are being developed, including a Four Seasons Hotel and Private Residences, and travelers come in droves to indulge in the booming culinary scene, where award-winning chefs trade hot chicken and heavy meals in favor of simple dishes celebrating classic Southern ingredients.
From the trendy Brooklyn-esque East Nashville to the lively Lower Broadway, with plenty of historic attractions in between, you'll have all the more reason to head here for a weekend of gourmet fun.
Where to eat
Husk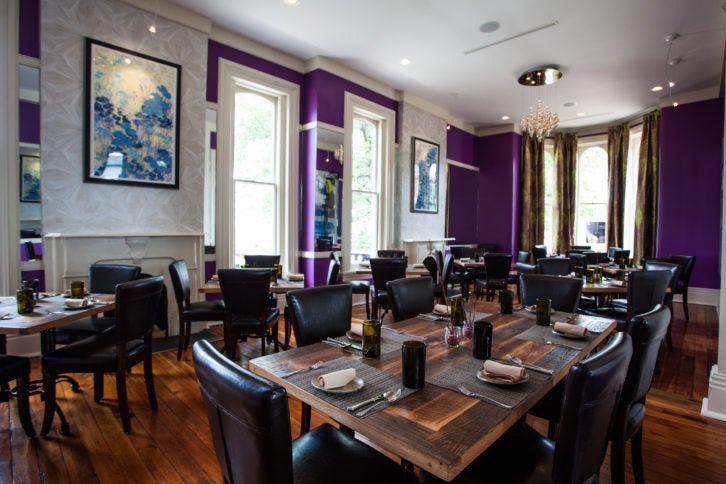 At first glance, Husk looks like a colonial Southern home with a red-brick facade and a breezy front porch. Inside, the homey feel continues, as if you're at a large dinner party. The quaint space is elegant yet comfortable, and its menu celebrates Southern ingredients in their true form. For your appetizer, you can't skip crispy chicken skins with Tennessee wildflower honey and hot sauce, or the peach-ginger-glazed pork lettuce wraps. For 'supper,' as Husk calls it, choose the North Carolina catfish and a savory side of hearth cornbread.
Henrietta Red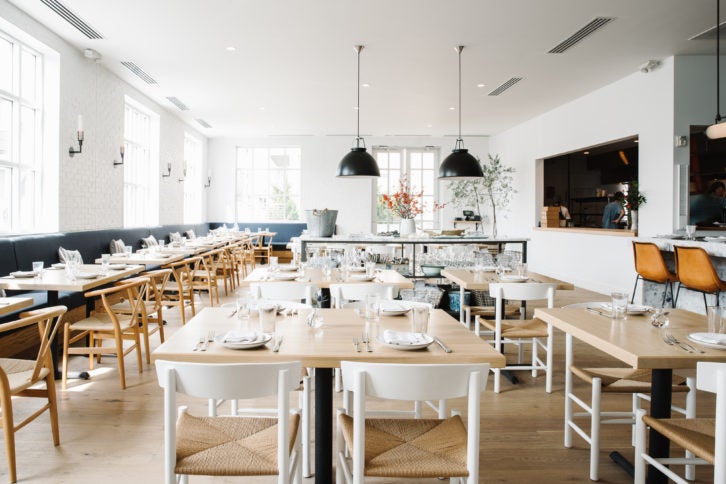 Undoubtedly the best seafood restaurant in all of Nashville, Henrietta Red is perfect for brunch or dinner. The chic space in the historic Germantown neighborhood has a contemporary feel with whitewashed walls and a wraparound patio, but it's the marble-topped oyster bar that steals the show. It offers 15 types of oysters on the half shell (we love the Mon Louis from Portersville Bay, Alabama) as well as wood-roasted oysters and clams. There are also delectable cooked seafood dishes such as red snapper, grouper, littleneck clams or perfectly seared sea scallops.
The Catbird Seat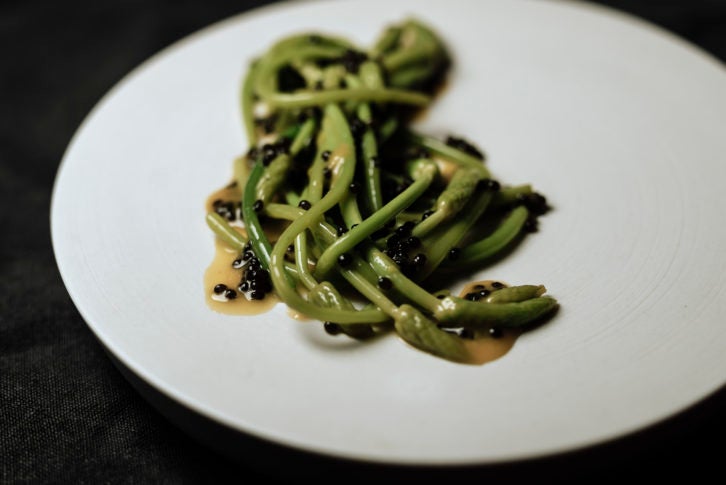 The Catbird Seat is an intimate chef's table experience that seats only 22 guests around a U-shaped counter. Watch chef Will Aghajanian (who trained at Per Se in New York) cook your meal right in front of you using locally sourced ingredients. Inventive dishes, such as frozen artichoke with salted bergamot and artemisia, are inspired by chef Aghajanian's global travels. Book well in advance; reservations are released just once a month at midnight.
Images: Andrea Behrends, Andrew Thomas Lee, Nashville Convention & Visitors Corp
Where to sleep
Noelle Nashville
Penthouse Suite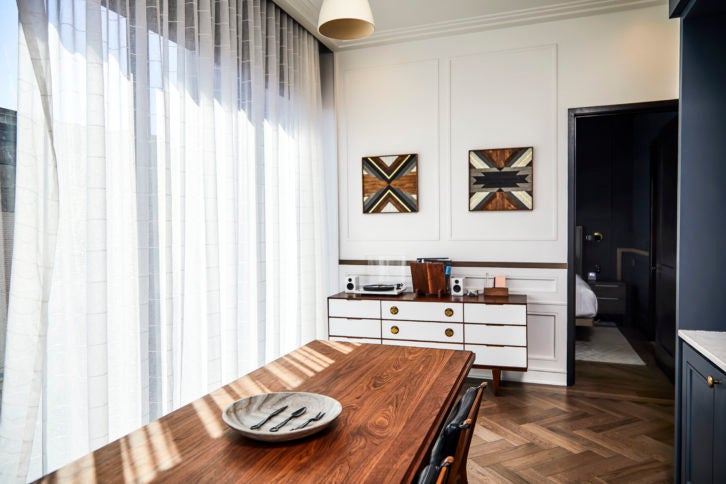 Originally built in 1930 as the first luxury hotel in the city, the renovated and rebranded Noelle Nashville celebrates 1930s Art Deco style. The original bones of the hotel remain; in the lobby and library, terrazzo flooring, brass handrails and marble-and-travertine walls were kept from the original structure.
A new building, added during the renovation, is where you will find the hotel's Penthouse. The two-bedroom suite has vast city views from its perch on the 11th floor, a spacious living area and a dining table for six. Pour yourself a whiskey (or order the hotel's custom locally brewed ale) and listen to vinyl records from the suite's vintage record player.
From $1,500 per night. Contact Tracy Wray, director of sales and marketing, twray@noelle-nashville.com, +1 615 610 7801, noelle-nashville.com
The Hermitage Hotel
Presidential Suite
Nashville's first five-star hotel, the historic Hermitage, opened in 1910. Since then it's welcomed some of the US's most prestigious families, heads of state and country stars. It's renowned for its Southern hospitality and service, and opulent Beaux-Arts architecture, including the lobby's stained-glass ceiling, Italian marble flooring and columns, and ornamental plasterwork.
The crown jewel, the Presidential Suite, is a residential-style, one-bedroom suite with traditional wood furniture, pastel-yellow walls, printed silk curtains and sumptuous fabrics. After a long day exploring, your personal bath concierge can draw you a bath and pour you a glass of wine.
From $3,000 per night. Contact Tiffini Johnson, reservations manager, tjohnson@thehermitagehotel.com, +1 615 649 3929, thehermitagehotel.com
Union Station Hotel
Union Station Suite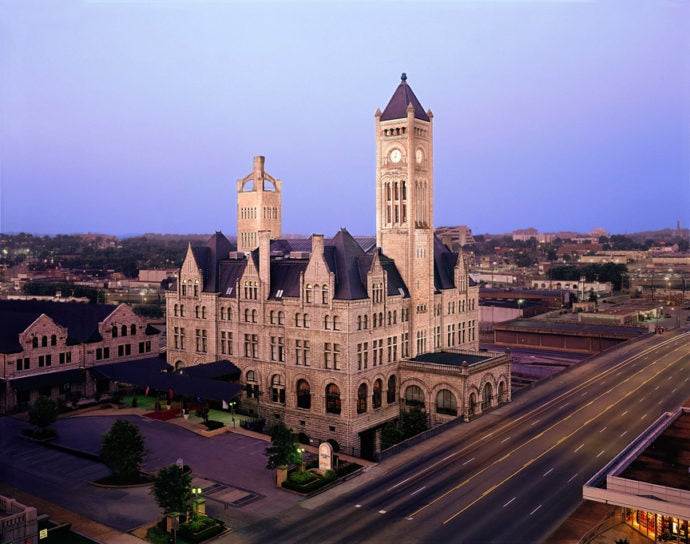 Union Station Hotel Nashville The Union Station Hotel, Autograph Collection, is housed in a former train station near Honky Tonk Central, Lower Broadway. You can't miss the hotel's striking Richardsonian Romanesque exterior. Inside, the lobby has a 65-ft, barrel-vaulted ceiling with century-old prism stained glass, limestone fireplaces and marble flooring.
The pinnacle of the hotel's rooms is the Union Station Suite. In contrast to its grand lobby, the suite is quite modern with contemporary artwork; a neutral color palette with pops of color; cow-print headboards; and nearly floor-to-ceiling arched windows with beautiful city views.
From $500 per night. Contact Rhonda Hill, executive assistant, rhonda.hill@unionstationhotelnashville.com, +1 615 726 1001, unionstationhotelnashville.com
JW Marriott Nashville
Presidential Suite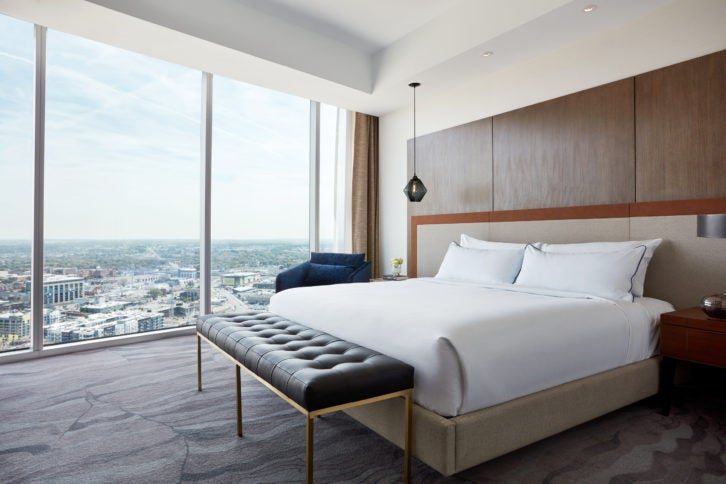 One of the city's newest hotels, JW Marriott Nashville is also one of its biggest. At 33 stories, it's now an iconic part of the city skyline, which also guarantees you'll have great views across the city all the way to the Great Smoky Mountains on the horizon.
Its contemporary design is accentuated with cozy elements like velvet couches, warm lighting and light woods — there's even an electric fireplace, always ablaze, in the lobby. The Presidential Suite, which has floor-to-ceiling windows on each side, follows the same design principles. It has a living and dining area, office with a fully stocked library, massive bedroom and a spacious bathroom.
From $3,500 per night. Contact Nate Denton, revenue manager, bnajwreservations@marriott.com, +1 629 208 8380, jwnashvillehotel.com
Images: Andrea Behrends, Andrew Thomas Lee, Nashville Convention & Visitors Corp
What to see
Musical musts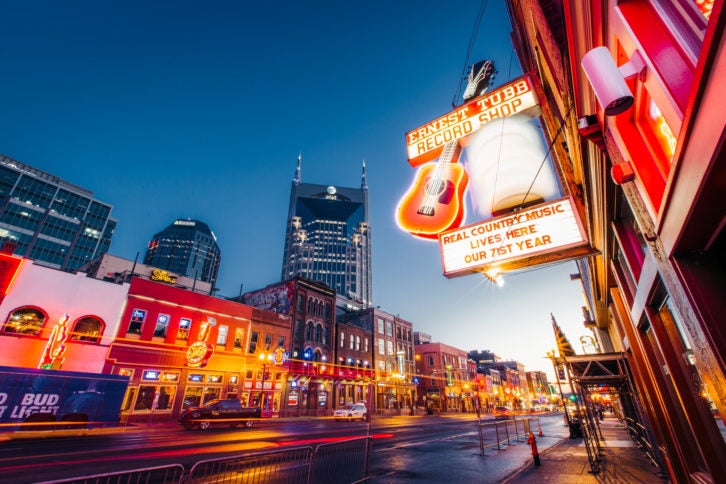 Love it or hate it, country music is the beating heart of Nashville, and there's no better way to experience it than in a live venue. You can't miss the flashing lights and ever-present sound of music coming from Lower Broadway, where most of the city's honky tonks and bars (and tourists) are found. It's not a refined experience, but it's unmissable.
For bluegrass (and perhaps an impromptu performance from a country star), head to the four-decades-old Station Inn. Nudie's is another classic: Memorabilia from Hank Williams, Elvis Presley and Johnny Cash are framed along the walls. True country music fans must stop at Tootsies Orchid Lounge, first opened in the 1960s and one of the most famous honky tonks. If you're looking for a more mellow experience, leave Lower Broadway and head to Listening Room Café, which invites up-and-coming singers and songwriters to perform for an intimate crowd.
Tennesse tipples
Tennessee isn't losing its reputation for whiskey and bourbon anytime soon; it has 25 distilleries across the state, even creating its own whiskey trail. (George Dickel Whiskey is a local favorite.) But now, breweries are on the rise and Nashville has dozens of them. Jackalope Brewing Company is a household name known for its Thunder Ann pale ale and Bearwalker maple brown ale. Black Abbey Brewing Company makes superb Belgian-style beers; visit for a pint and bites at this eclectic brewery. And Fat Bottom Brewing serves up pale ales in its lively HopYard Restaurant and Bier Garden.
Southern Style
The Gulch, 12th Avenue South Street and East Nashville are where you'll find many of the city's boutiques. There are no designer shops or department stores (yet), but the city is teeming with talented creatives that dictate much of the city's style.
Hank Williams' daughter, Holly, is on the pulse of the city's fashion scene with her luxury boutiques, H Audrey and White's Mercantile, filled with designer labels. Another local favorite, Imogene + Willie, is known for its handcrafted denim for men and women made using fabric from a local supplier. To find luxury brands, Emerson Grace on 12th Avenue South has women's designer finds from shoes to dresses, as well as a wonderful selection of locally made jewelry.
Music City
Music lovers will appreciate Nashville's commitment to the arts. In addition to preserving American music at the Country Music Hall of Fame and Museum, the city is home to the fabled Grand Ole Opry, founded in 1925; many credit it for popularizing country music. Today it remains the longest-running radio show in the country. Stop in for a tour, then come back that evening to take in a show.
To see where more than 35,000 country songs were created, including more than 200 Elvis Presley recordings, take one of RCA Studio B's daily tours. Modern country stars favor OmniSound Studios; the studio has churned out iconic hits over the last 33 years.
Act like a local
– Celebrate Tennessee's whole-hog barbecue tradition with a rack of ribs at the famous Martin's Bar-B-Que Joint.
– Head to Biscuit Love for its signature 'bonuts' (donuts made from biscuit dough) we promise they're worth the hour-long wait.
– There's a unique speakeasy culture in the city that serves Prohibition-style cocktails at every corner — if you can find them. Don't miss two popular haunts: The Fox Bar & Cocktail Club and The Patterson House.
– Visit the Frist Art Museum, which hosts rotating contemporary-art exhibitions from famed artists such as Frida Kahlo and Diego Rivera.
– Just steps from Lower Broadway, Nissan Stadium is home to the Tennessee Titans NFL team and hosts the CMA Music Festival each year.
Image credits: Grand Ole Opry, Nashville Convention & Visitors Corp, Shutterstock.com