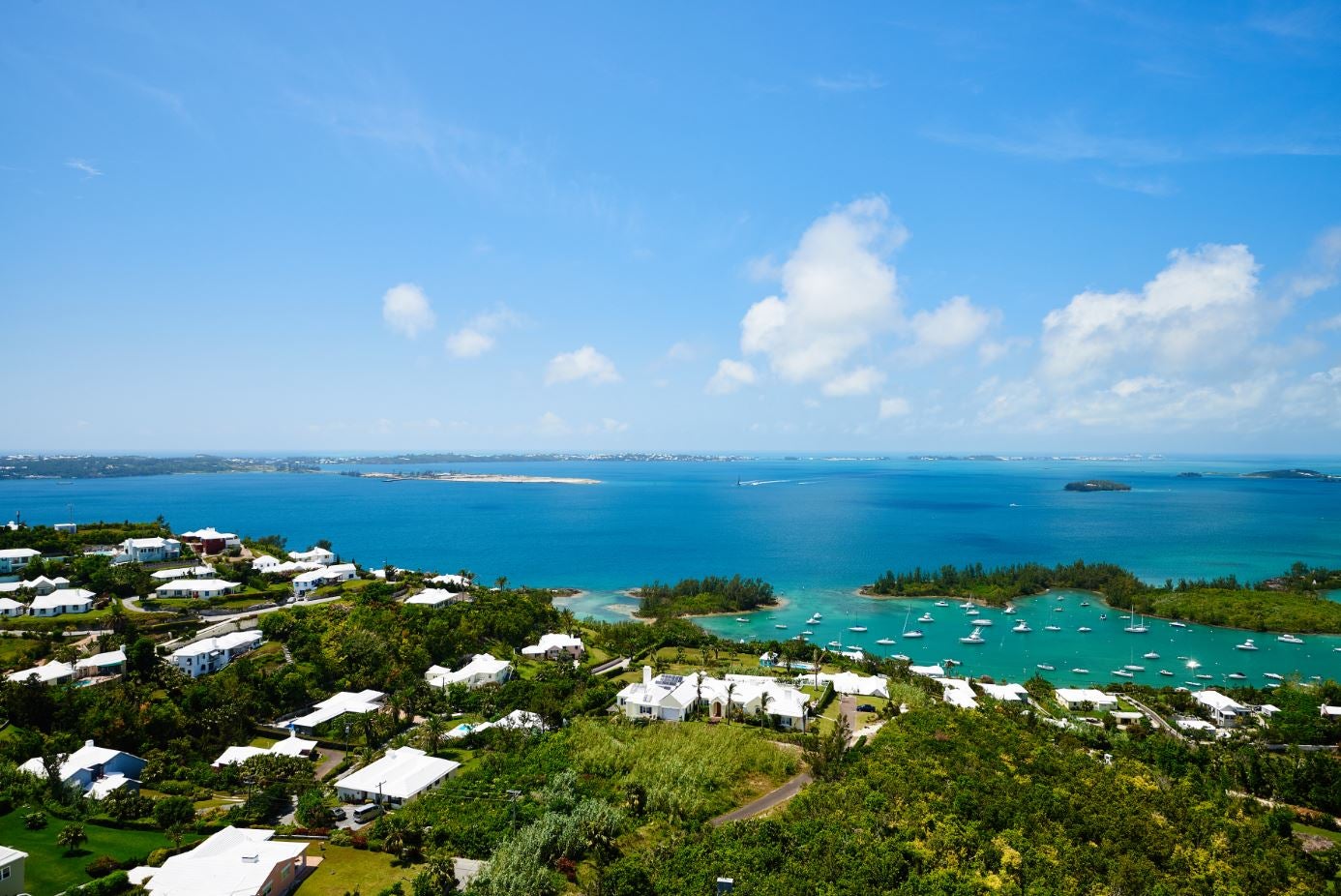 This story originally appeared in the July/August 2018 issue of Elite Traveler.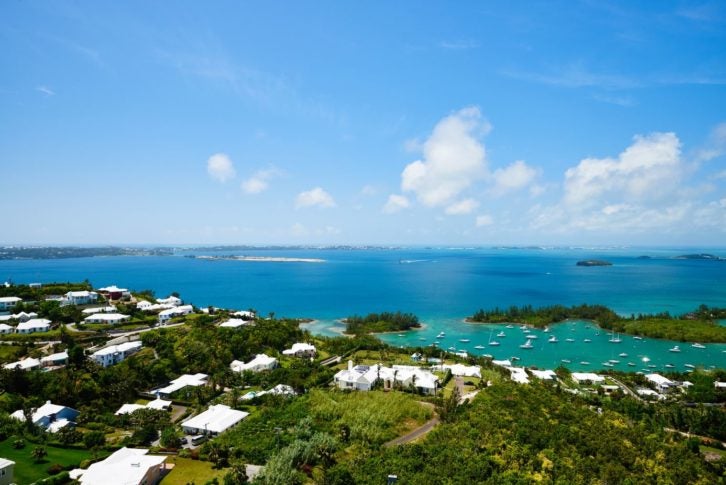 As Mark Twain once said, "You go to heaven if you want to, I'd rather stay right here Bermuda." And we certainly agree. The tiny island in the Atlantic (yes, the Atlantic, not the Caribbean) packs an enormous punch in its 20 square miles. Pastel houses with white roofs perched on verdant hills, curvy roads carved into cliffs, some of the clearest turquoise water you have ever seen, and its famous pink-tinged beaches make up the dreamy island landscape. But there's so much more than its incredible natural beauty. Bermuda played an important part in global history, from early British settlers exploring the New World to espionage during World War II. It has refined cuisine, a vibrant and friendly culture, spectacular water sports and now its formerly staid hotel scene is catching up with the island's popularity. The first new build in 45 years, The Loren at Pink Beach, opened last year to great acclaim; two of its most iconic hotels, Hamilton Princess and Rosewood Tucker's Point, recently emerged from multimillion-dollar renovations; and a spate of new luxury properties, including Caroline Bay—a Ritz-Carlton Reserve—and a St. Regis, are on the horizon. And with its prime location just 90 minutes from the east coast of the US, there has never been a better time to listen to Twain's wise words and head to an island more superb than heaven.
Dining and Drinking
Swizzle Inn
It wouldn't be a trip to Bermuda without a stop at Swizzle Inn for its famous, and dangerous, Rum Swizzle—its motto isn't 'swizzle in, swagger out' for nothing (if you have too many, you'll be staggering out). The Swizzle is so beloved that it's
largely considered the national drink. Family-friendly during the day, the inn can become bawdy at night. Check out the visitor books, which regale readers with
tales of swagger going back to 1942.
Harry's Bar

During happy hour, there's only one place to be: Harry's Bar, which has been a longtime favorite for locals and visitors alike. Harry's partnered with another island institution, Goslings Rum, to create a unique blend. Take a cue from Malcolm Gosling Jr and order the Harry's Old Fashioned, which uses the special rum from his family's cellars. Take your drink out to the patio, which has views of Hamilton Harbour.
Waterlot Inn
For the best steak on island, head to Waterlot Inn, a fairly formal restaurant that cherishes its British influences. Start with the Waterlot Caesar salad, prepared tableside with much flair, then move on to a specialty cut of beef imported from one of the best ranches in the US. Save room for dessert; the menu includes a
homemade Snickers bar, and bananas Foster for two—if you ask nicely, they'll
let you flambé it yourself at the table.
Blû

Watch the sun set over the Great Sound while you savor fresh seafood and inventive sushi at Blû. The expansive menu also offers pasta, pizza, meat and Asian dishes, ensuring there's something to please everyone. If you're celebrating, book the Proprietor's Room. Its executive chef will create a special menu for you to enjoy while surrounded by rare wines and rums.
Tom Moore's Tavern
Step back in time and experience old Bermuda at Tom Moore's Tavern. Built in 1652 as a private home, today it is the country's oldest restaurant and has welcomed guests for over 100 years. The fine-dining menu offers classic European fare with Bermudan influences. If spiny lobster is on the menu, be sure to order. The sweet meat is baked with bread crumbs, tomato concassé and a touch of sherry. The result is sublime.
Shore-View Suites
Penthouse Suite
Hamilton Princess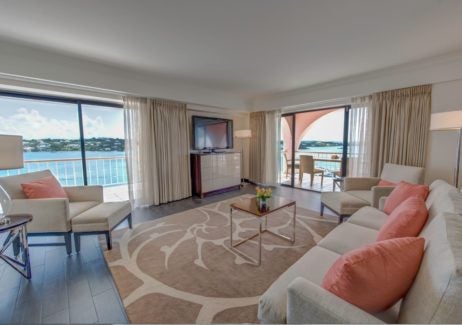 Situated just off bustling Front Street, Hamilton Princess has a prime location for exploring, especially now that it has a fleet of Twizys available for rent (there are no car rentals in Bermuda). After a $100m renovation, it has sleek accommodations, an expansive modern art collection and a host of new restaurants.Marcus', from famed chef Marcus Samuelsson, offers a mix of his beloved dishes, such as chicken and waffles, alongside Bermudan classics like Bermuda onion and fish chowder. 1609 is the place to be for sundowners, especially when Mike Hind performs hits on his ukulele—the place will be rocking when he sings Sweet Caroline. Stay in the Penthouse Suite, which has floor-to-ceiling windows and expansive wraparound balconies for soaking up the ocean views.
From $2,000 per night. Contact Madison Mello, marketing coordinator, madison.mello@fairmont.com, +1 441 295 3000, hamiltonprincess.com
Royal Two-Bedroom King Suite
Rosewood Bermuda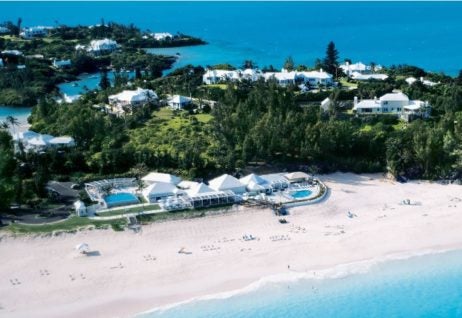 Bermuda's grande dame reopened in April following a $25m renovation, just in time for the summer season. (Although the island has a subtropical climate, there's a joke that locals swim from June to September, Americans from May to October, and the British year-round.)While Tucker's Point still honors its colonial heritage, the decor now incorporates more local artisans' work. Visit the beach club,which is so beautiful that many Bermudians are members (order a piña colada topped with Bacardi Gold to fit in), and the gorgeous golf course. The divine Sense spa integrates local ingredients such as pawpaw into its treatments. Check into the Royal King Suite, available as one- or two-bedroom, which overlooks Castle Harbour from its balcony and opens onto the croquet lawn.
From $7,995 per night in high season. Contact Sherry Alvarado, sales and VIP coordinator, sherry.alvarado@rosewoodhotels.com, +1 441 298 4000, rosewoodhotels.com
The Residence
The Loren at Pink Beach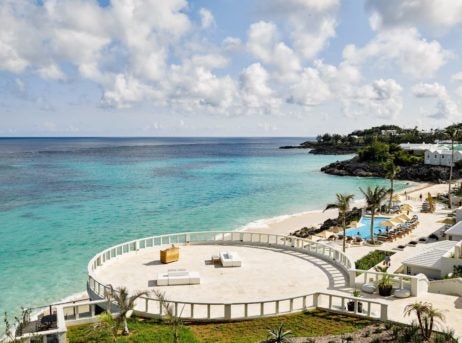 When The Loren opened last year, it emitted a siren song calling travelers to rediscover Bermuda. Contemporary and elegant, it breathes new life into the country's somewhat predictable, colonial-inspired hotels; gray walls, fine art and maps supplant floral prints, letting floor-to-ceiling windows and oceanfront views take center stage. It offers direct beach access (many properties have hilltop locations) and one of the island's most exciting restaurants, Marée, where chef Tim Sullivan creates ultra-fresh fine-dining masterpieces; don't miss the tasting menu on the patio. We love the two-story Residence, which feels like your own Bermudian home. Take a dip in your plunge pool and have the chef grill fresh wahoo on your terrace as you enjoy the ocean breeze and supremely starry night skies.
From $12,000 per night. Contact Anna Gaffney, general manager, anna@thelorenhotel.com, +1 441 293 1666, thelorenhotel.com
Out and About
Open water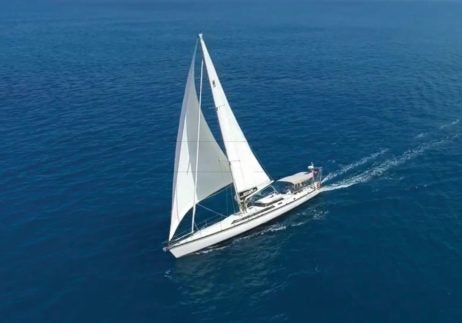 No trip to Bermuda is complete without spending time on the water. The wreck scuba diving is incredible—the tiny island is home to over 300 ships that crashed onto its reefs—and there are shallow sites where you can snorkel among the ruins as well. Perhaps the best way to see the island is on a private charter with Captain Lawrence Trimingham, whose family came to Bermuda in 1620. Aboard Escape, his 65ft sailboat, he can take you on a half- or full-day cruise and share his island expertise. After soaking in the views sailing around Castle Harbour or out on the open water, discover shallow beaches accessible only by boat, snorkel among the reefs and wrecks, and enjoy a fabulous picnic.
Golf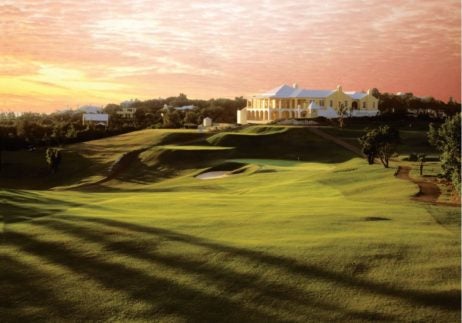 Bermuda's hilly landscape and stunning vistas create the perfect combination for amazing golf. If you're looking for a challenge, it must be Mid Ocean Club, whose championship course's views help you appreciate even the most difficult holes. While it is only open to members, lucky for you, it accepts foreign applicants. Considered to be the most popular public course on the island, Port Royal has hosted several Grand Slams and boasts a very difficult 16th hole, with a long drive over water from the tee. Tucker's Point's par-70 course, redesigned by Roger Rulewich, has a beautiful setting with many elevated tees and a Bermuda-grass hybrid putting surface that is quite quick. For a fun game, head to Turtle Hill Golf Club at Fairmont Southampton, home of the Grey Goose World Par 3 Championships.
themidoceanclub.com, portroyalgolfcourse.com, tuckerspoint.com, fairmont.com/southampton-bermuda/golf
Walsingham Nature Reserve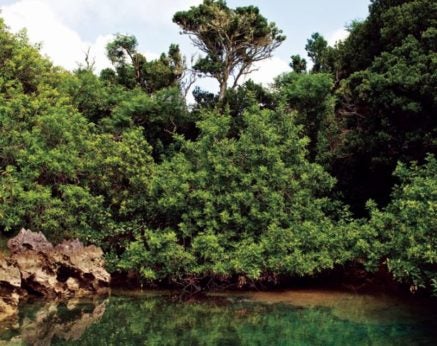 Step into the wild in Bermuda's largest nature reserve, known locally as Tom Moore's jungle (the Irish poet found inspiration amid its lush landscape and abundant wildlife). After hiking through the dense vegetation, find your reward at the Blue Hole. Jump off the cliffs into the deep, clear water, or wade in from the surrounding mangroves if you aren't an adrenaline junkie.
Taxi tour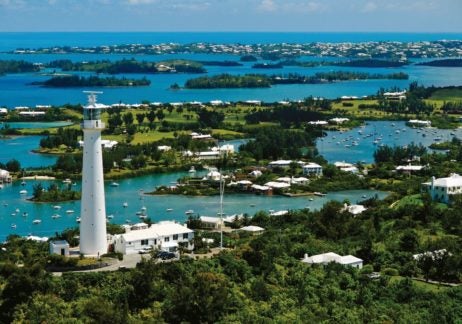 Since there are no rental cars on Bermuda, you'll need to book a taxi to get around.Why not make an afternoon of it and hire one of the friendly, and hilarious, drivers to take you on a tour around the island; the government actually certifies taxi drivers to become tour guides, so you know you will be in good hands. You'll get a taste of real island life, stop at local food spots and see ancient banyan trees, as well as famous sights such as the Gibbs Hill Lighthouse, the old Railway Trail, the world's smallest drawbridge (bring bread to feed the nearby fish), the charming city of St George's and Bermuda's best beaches.
Crystal Caves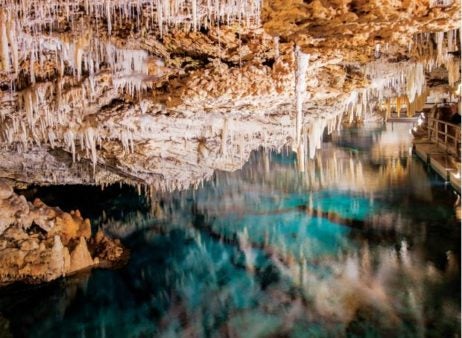 An iconic island sight, the Crystal Caves are not to be missed. Sure, it can seem counter-intuitive to descend into darkness on a beautiful island, but the extraterrestrial underground caverns have entranced everyone from Mark Twain—the cave's first official tourist—to Beyoncé and Jay-Z. Clamber down a steep flight of 88 stairs and over the pontoon bridge to fully appreciate the majesty of the white Ice Age stalagmites and stalactites surrounding a crystal-clear lake.