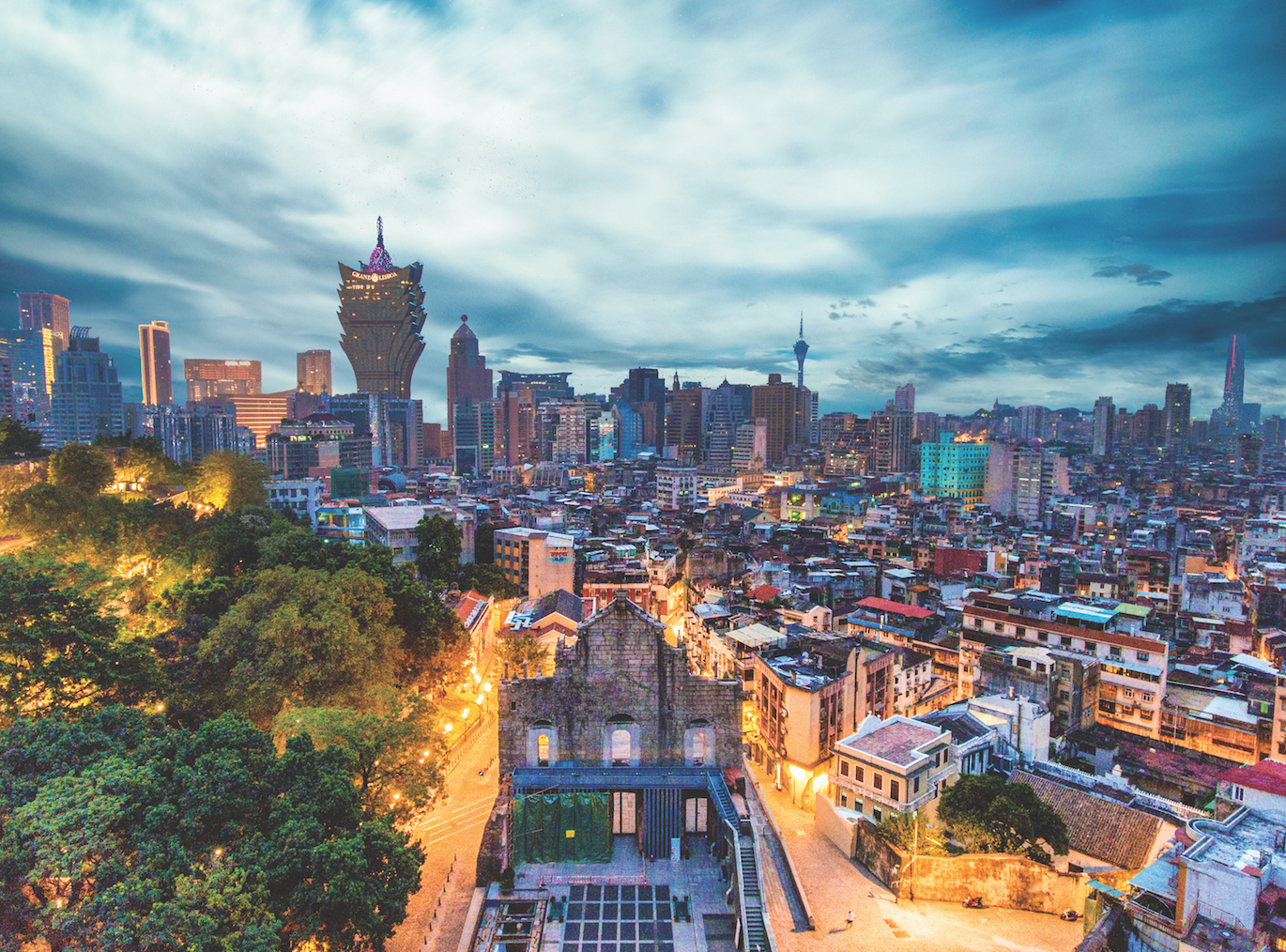 22nd October 2019 // By Kate Springer
A tiny speck in the South China Sea, just an hour by ferry west of Hong Kong, Macau never fails to charm visitors with its unexpected mix of Portuguese and Chinese cultures.
A Portuguese colony from the mid-16th century until 1999, when sovereignty was transferred to mainland China, Macau has seen an astonishing amount of development over the past 20 years. The city of 623,000-some people has all but transformed, ushering in a nonstop stream of high-profile hotels, world-class entertainment and Michelin-starred restaurants.
Getting around is relatively easy with lots of taxis zipping past major hotels, as well as an incoming light rail that will connect the main peninsula with two islands, Taipa and Coloane, across the water to the south.
The main peninsula is where you'll find the majority of the territory's historic sites, from gorgeous Senado Square and the Ruins of St Paul's to the hilltop Guia Fortress and Lighthouse, and the waterfront A-Ma Temple. But there's plenty to do on Taipa as well. Culture buffs will adore the charming cobbled lanes of Taipa Village, while gamblers may want to test their luck in a VIP room at The Venetian.
Where to Eat
Easily one of the best dim sum restaurants in Asia, if not the world, three-Michelin-starred The Eight is hidden away inside the Grand Lisboa hotel. A discreet sliding door takes diners into a glamorous black, red and metallic main dining room, where subtle nods to the number eight symbolize prosperity. We recommend visiting at lunch time for an unforgettable Cantonese dim sum experience. On the extensive menu, signature dishes include lobster dumplings, crystal blue shrimp-stuffed har gao dumplings (which have been folded to look like a gorgeous goldfish) and the crispy char siu bao buns (which resemble tiny hedgehogs).
Awash in ethereal shades of white and champagne, Alain Ducasse at Morpheus is a sight to behold. Intimate tables are set apart by icicle-like pendulums, while a glass pantry full of antique tableware, straight from chef Ducasse's own collection, anchors the room. Awarded two Michelin stars, the elegant restaurant centers around French fine dining, promising hand-carved butter, seasonal menus and a few of Ducasse's signatures, such as the Mediterranean gamberoni in a delicate gelée topped with caviar. This is also an excellent place to sample fine French wines — ask about the private wine room, hidden behind the pantry, for an exclusive tasting experience.
For laid-back Portuguese vibes, head to A Petisqueira in Taipa Village; its bright-blue facade hints at the friendly service to come. Inside, this warm and cozy tavern feels like a time capsule, filled with red-checkered tablecloths, wooden furniture and big jugs of sangría. The menu is equally homestyle and rustic, highlighting seafood signatures like garlicky sautéed clams, savory paella and bacalhau cakes (made with dried cod, a local specialty). This place is loved by residents and travelers alike, so prepare for a buzzing atmosphere once the evening kicks off.
Another Portuguese favorite is Antonio. Set on a cobbled lane in charming Taipa Village, this three-story restaurant is upscale yet casual, promising refined presentations, premium ingredients and beautiful mosaic interiors. The house-made chorizo will be set aflame tableside, while the lengthy Portuguese wine list showcases the best bottles from boutique vineyards. Expect beautifully prepared African chicken (a delicious peanut, chili and ginger coconut sauce atop a butterflied whole chicken), Portuguese duck rice and fresh tiger prawns in garlic. If you're visiting on a clear night, ask for the private table on the rooftop for an extra dose of romance.
Where to Stay
Morpheus – Pool Villa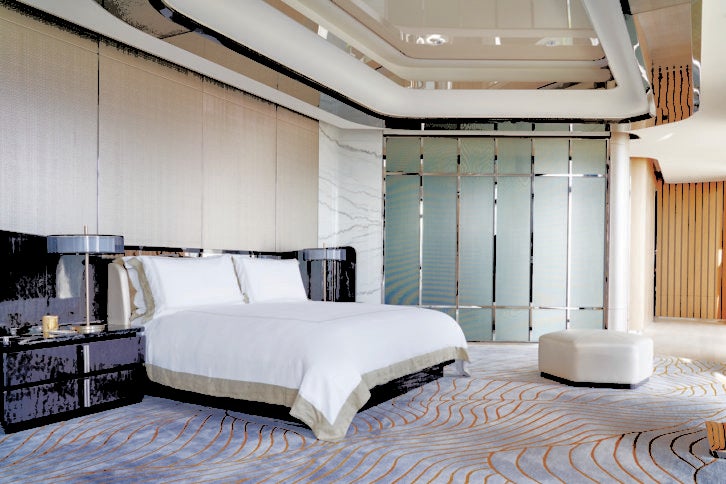 When Morpheus opened on the famed Cotai Strip last year, it changed the skyline forever. Designed by the late Zaha Hadid, the avant-garde monolith looks like it belongs light-years in the future due to its sinuous facade encased in a mesh-like steel exoskeleton. The rooms are just as impressive, particularly the rooftop Sky Villas. Among the nine villas, there are just three ultra-luxe Pool Villas, each offering private pools as well as incredible views of the Macau cityscape through floor-to-ceiling windows. Designed by globally renowned interior designer Peter Remedios, the atmosphere recalls the vibe of a luxury yacht with plush upholstery, a private spa room, fitness facilities, Bugatti kitchen accessories and 1,000-thread-count Frette linens. In addition, villa guests enjoy 24-hour personal butler service and Mercedes-Benz Maybach transfers.
Rate: Price on request
Contact Macy Lam, general manager,  rsvnmorpheus@cod-macau.com, +853 886 888 88, cityofdreamsmacau.com
The Ritz-Carlton Macau – Presidential Suite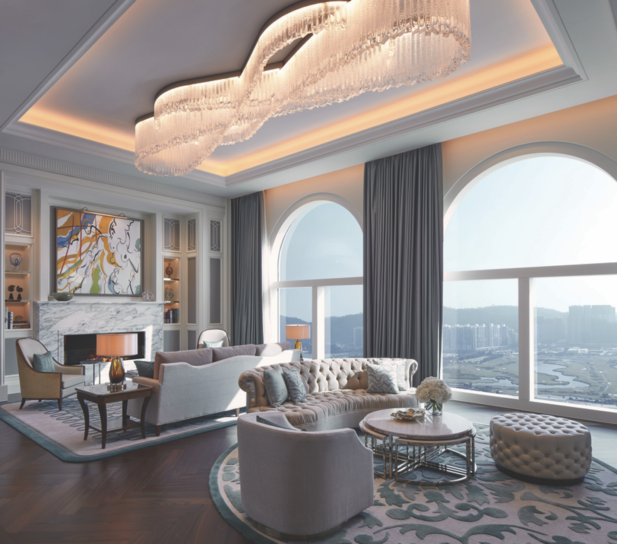 In the all-suite Ritz-Carlton Macau at the Galaxy Macau integrated resort complex, you're surrounded by gleaming white marble and lush floral arrangements. A gold-clad elevator whisks you to the 51st floor, where views of the Cotai Strip stretch before you. Down the hall, there's the lively Bar & Lounge and award-winning Cantonese restaurant Lai Heen, but the real treat is just one floor up. Designed by acclaimed American studio Hirsch Bedner Associates, the 52nd-floor Presidential Suite stretches across more than 2,325 sq ft of sheer luxury — a spacious marble bathroom, in-room sauna and steam room, Rivolta Carmignani linens, a private karaoke room and a cozy fireplace that will make you feel right at home.
Rate: Price on request
Contact: Jackie Hoo, general manager,  +853 888 668 68, ritzcarlton.com
What to See
The House of Dancing Waters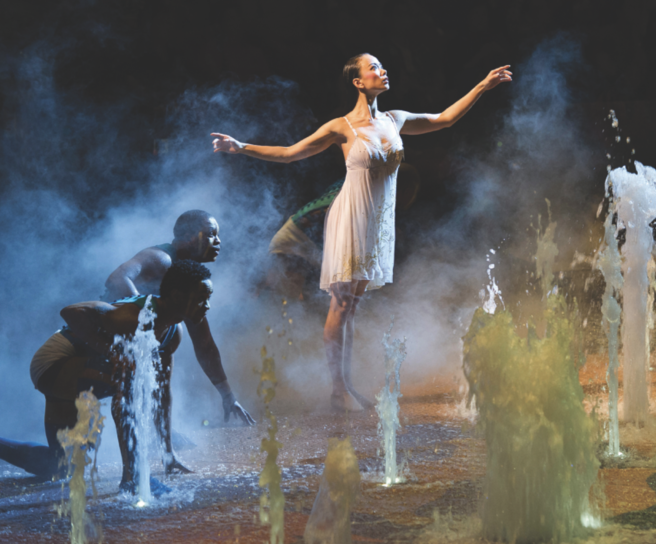 There is no shortage of entertainment options in Macau, but one rules them all. The House of Dancing Water is a feat of engineering and creativity, built on a shape-shifting stage that emerges from a 3.7m-gallon pool of water. Conceptualized by Belgian mastermind Franco Dragone, the 90-minute performance captures a spellbinding love story through music, acrobatics, state-of-the-art digital effects, diving, dancing and even a daring motorcycle stunt show. Thanks to the 270-degree seating design, everyone has a great view of the stage, but be warned: The front row does get wet.
Senado Square
You can't go to Macau without experiencing Senado Square. Part of the Unesco-listed historic city center, the 16th-century public square features iconic wave-patterned tiles that seem to undulate underfoot. All around are pastel-painted colonial-era buildings, including St Dominic's Church, the Holy House of Mercy and Leal Senado (the seat of the former colonial government). While the square has become a major landmark, it remains one of the most important cultural centers in the territory and is the site of many festivals throughout the year.
Ruins of St Paul's
From Senado Square, follow the signs through the streets and alleyways until the intricately carved stone facade of the Ruins of St Paul's comes into view. This is all that's left of a 17th-century Jesuit church that was destroyed by a devastating fire in the 1800s. Before it burned down, the grand church was said to be among the largest in Asia. Behind the facade, a steel staircase enables you to climb to the top, where you'll find an informative exhibition that details the building's architectural style and tragic history. Meanwhile, Macau Museum — one of the region's most important history museums — is right next door.
Taipa Houses-Museum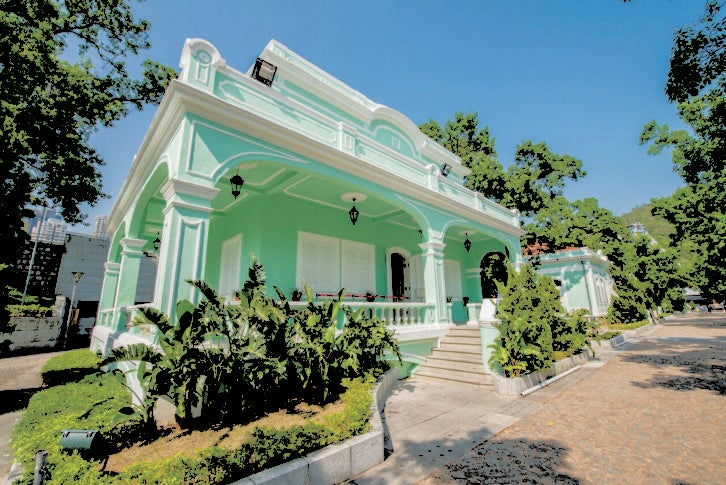 Another top landmark for history lovers is Taipa Houses–Museum, which is just a 10-minute walk from the main village. On the waterfront of this outdoor complex, knobby banyan trees shade a row of five radiant turquoise houses. Inside the refurbished houses, you can explore historic exhibits, Portuguese costumes and household antiques to get a feel for the lifestyles of wealthy Portuguese merchants and government employees in the early 1900s. Head west along Avenida da Praia, and you'll come across a few neighboring landmarks, including the glorious Carmel Garden and the buttery yellow Our Lady of Carmel Church.
Image credits: Barbara Kraft, Emmanuel Crooÿ, Jane Zhang