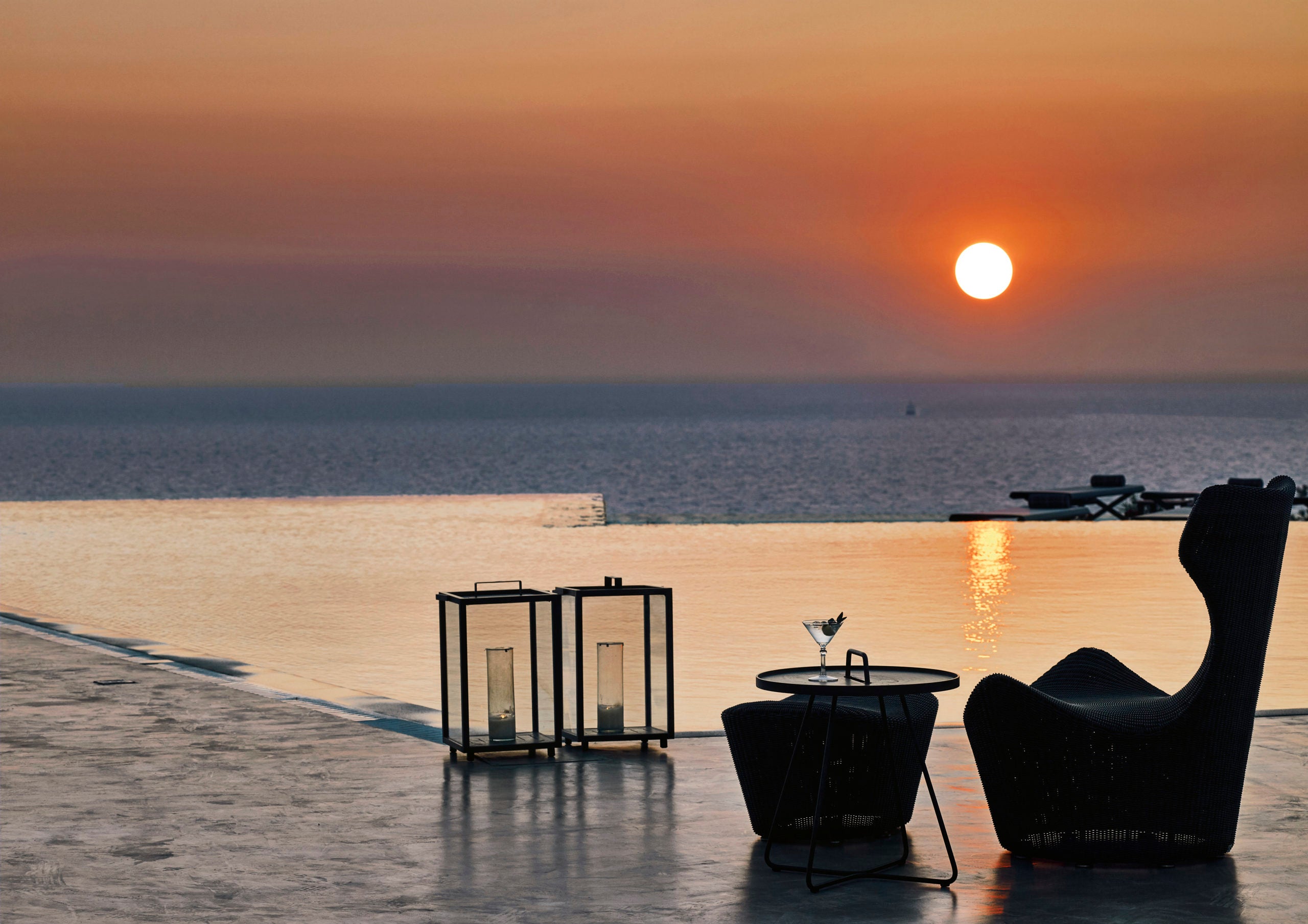 For a different pace in Santorini, head to Santo Maris Oia Luxury Suites & Spa. The all-suite hotel is a breath of fresh air on the supremely picturesque island. Spend days lounging around one of the five swimming pools and spend evenings watching the bliss-inducing sunset, sipping on a Santorini Negroni and listening to live music. 
When I arrived at the Santo Maris in Santorini, my first thought was that this doesn't look like a hotel at all — more a private residence, set away from the hectic, tumbling streets of Oia. The architecture is typical Santorinian (those famous white-washed walls) with exposed rock (taken directly from the volcanic island) but far more spacious that the cascading hotels of the nearby towns. The suites are dotted throughout the resort and each cluster feels more like a lovely little village. There is rosemary and other herbs growing throughout the resort (most of which are used in the cuisine and the cocktails) and pretty, blooming flowers that are all the more vibrant against the gleaming white facades. There is a total of five swimming pools (two infinity, one indoor heated) and I visited when Santo Maris was at 90 percent occupancy and certainly couldn't tell; most days I had the my infinity pool of choice completely to myself for hours on end. 
STAY Santo Maris is an all-suite resort and has 55 suites to choose from, as well as two private villas. The room keys state that they are the key to your happiness, and they're not wrong. Each suite is slightly different but they all share traditional touches: white-washed walls with shelves and charming nooks and crannies built right into the walls and adorned with sculptures from local artists. The decor is decidedly laid back, chic and refreshing. Each suite has a king sized bed, bathroom, living room and a small dining space, terrace with two sun loungers and a hanging chair and a hot tub (the latter is a particularly wonderful spot to watch that famous sunset in with a glass of crisp Santorini wine).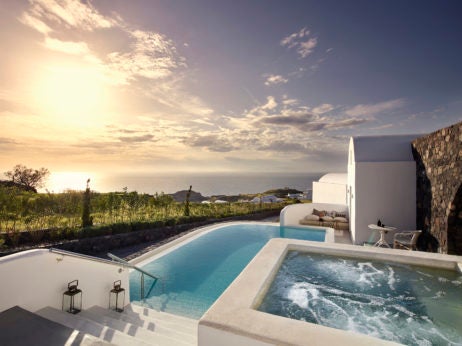 DINE If you've ever been to Oia for the sunset, you'll know firstly how bewitching it is but also how it is insanely busy: Everyone wants to see the huge orange sun dip into the ocean. Beat the crowds and head to Santo Maris's restaurant, called Alios Ilios (meaning 'the sun which rises and sets in the sea' in Greek) and enjoy the sunset without the hoards. Dine on traditional Greek recipes with a twist with the seven-course degustation menu. There's live music once a week at the restaurant, too: expect a harpist playing ethereal notes as you dine.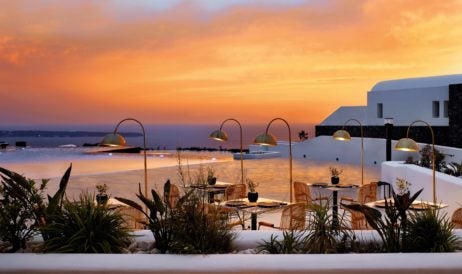 For an aperitif or a digestif, the Romantic Bar is, as its name suggests, a very romantic spot with dreamy views. There's an inventive menu of refreshing and interesting cocktails and workshops available if you want to try your hand at making your own. For a traditional Greek feast, be sure to dine at the Pool Bar at lunch time — you'll be treated to a fantastic spread of classic dishes and fresh seafood. Don't expect to be hungry for hours after. 
EXPLORE The in-house team of 'guest experiences specialists' at Santo Maris can help arrange tours away from the maddening crowd, including horse riding, photography tours, helicopter flights, catamaran charter, walking tours with a private guide and tours to local Greek museums. There's a fun cooking class at Artemis Karamolegos Winery — learn how to make traditional Santorinian dishes such as tomato fritters and fava. The well equipped kitchen overlooks a pretty vegetable garden that grows the produce you'll use in some of the dishes. 
RELAX The spa at Santo Maris is located underground and is a cave-like structure dotted with candles and lanterns. There is an extensive and thoughtful treatment menu, ranging from facials using black lava and peels using sea salt blended with local wild herbs. Cryotherapy is available at the spa, too, as well as beauty treatments. The fitness center is well equipped and private yoga classes can be arranged in either the privacy of your suite or in one of the serene outdoor areas. 
Suite from $530 per night, contact reservations@santomaris.gr, +30 211 234 0692, santomaris.gr