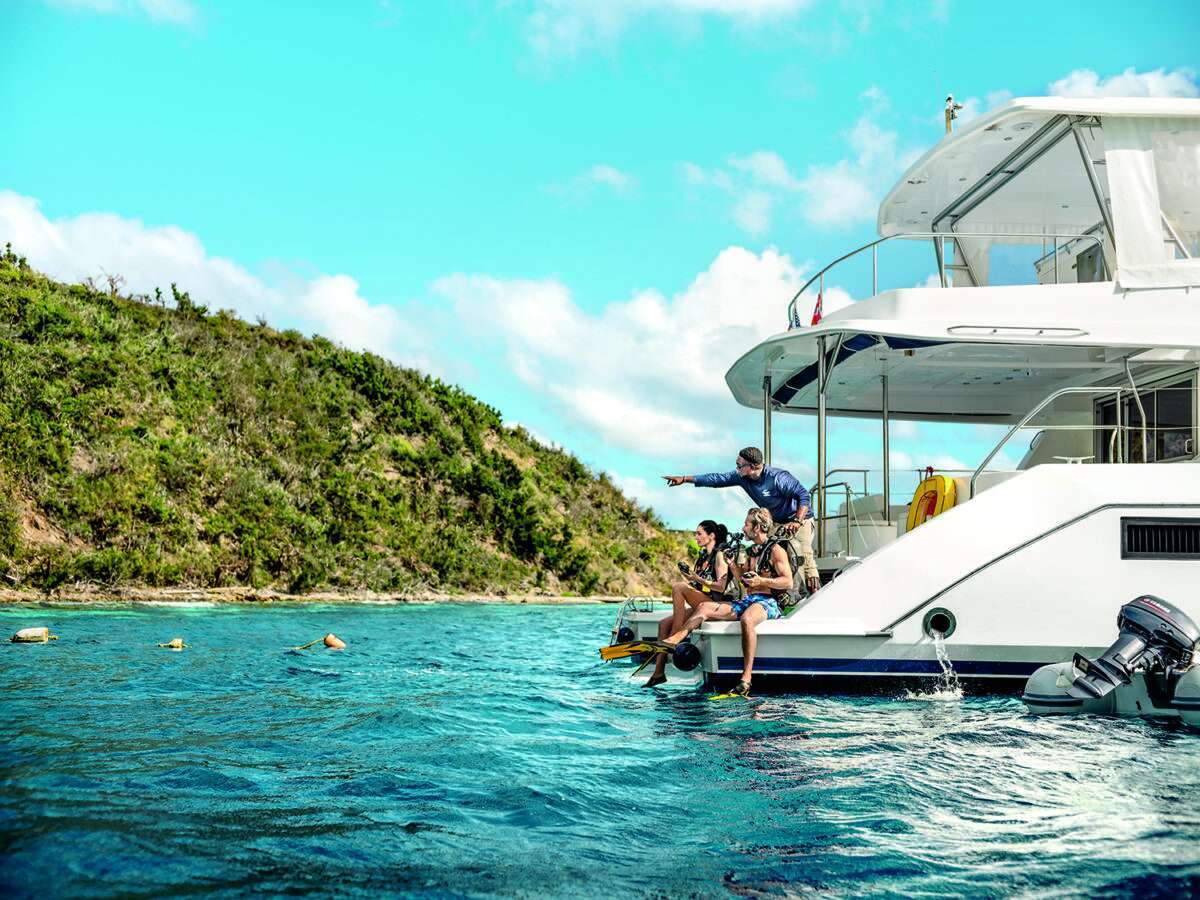 After a quiet year and a half – on the travel front at least – many of us will be after a bit more excitement on our next trip away than the average beach vacation can offer. And what better place is there for intrepid travelers to visit than the archipelago said to have inspired Robert Louis Stevenson's Treasure Island? Those craving an adventure need look no further than the British Virgin Islands.
Here, we've rounded up the best of the BVI's things to do and places to stay for thrill-seekers.
As one of the most popular sailing destinations in the world thanks to its year-round warm weather and steady trade winds, exploring the BVI by boat is a must. Head to Scrub Island, a mile and a half off the coast of Tortola, and drop by at Dream Yacht Charter to choose from plenty of bareboat and fully crewed yacht charter options. From lobster tasting on Anegada to diving at the RMS Rhone shipwreck off the coast of Salt Island, the team is on-hand to plan action-packed itineraries.
If you want to learn to sail, the Offshore Sailing School on Scrub Island and Tortola teaches US Sailing certification courses for every level aboard Colgate 26 sailboats, 40-50 ft cruising yachts, sailing and power catamarans. There are lots of incredible restaurants that are only accessible by water. Be sure to visit Pirates Bight on Norman Island to sample executive chef Patrick Williams' Caribbean fusion culinary delights and Nova at Oil Nut Bay to try the delicious whole grilled lobster.
[See also: The Best Family Resorts in the British Virgin Islands]
If you're planning to visit in spring, consider heading to the weeklong BVI Spring Regatta and Sailing Festival to experience some of the best racing in the Caribbean. Choose to take part in the races or simply soak up the carnival atmosphere from the shores.
When it comes to water sports, the BVI has something for everyone. Over in Brewers Bay, Tortola, Nicola and Andrew run YOLO Adventures. Consider going on a night tour of the iridescent reef of Scrub Island in a transparent kayak fitted with LED lights for breathtaking views of the marine life below. Thrill-seekers can also head to Blue Rush Water Sports in Leverick Bay, Virgin Gorda for jet skiing and flyboarding, or visit Island Time in Tortola to rent a variety of 16-28 ft powerboats.
For those that would rather explore the stunning scenery from dry land, Ground Sea Adventures guided hiking tour of Mount Alma on Beef Island gives you one of the best views in the BVI.
Of course, the British Virgin Islands is home to plenty of beautiful properties and resorts that are the perfect base for embarking on the adventure holiday of a lifetime.
[See also: A Long Weekend in the British Virgin Islands]
Saba Rock Resort
This pristine resort – only an acre-and-a-half in size – is among a cluster of islands that make up the North Sound of Virgin Gorda (also home to Richard Branson's Necker Island). With just nine exclusive rooms, the secluded haven is the ideal spot for those eager to escape the stresses of everyday life. Formerly owned by legendary diver and marine archaeologist, Bert Kilbride, Saba Rock is especially popular for diving, kitesurfing and sailing. Guests can visit the Nautical Museum for a chance to see the impressive collection of genuine shipwreck artifacts and enjoy culinary delights in the open-air restaurant.
Anegada Beach Club
Anegada Beach Club is situated on the white sandy shores of Anegada Island, less than a 15-minute walk from famed snorkeling spot, Keel Point. The luxury resort includes a hotel and nine unique Palapa Retreats akin to thatched cottages on stilts complete with wooden decks and hammocks for taking in the stunning ocean views. Guests can enjoy freshly grilled lobster at the poolside restaurant and visit the Tommy Gaunt Kitesurfing school where lessons are available for every ability. Those with an adventurous side can also opt to go on a fishing excursion or powerboat tour of the island.
Long Bay Beach Resort
Located on Tortola – the BVI's largest island – this luxurious hideaway boasts a mile-long stretch of shoreline dotted with beach cabanas and day beds for soaking up the sun. Intrepid travelers can choose from a range of activities, including surfing, paddleboarding, day trips to neighboring islands and a variety of water sports. Those looking for something a little more relaxing can opt for a beachside massage or sunrise yoga session. A short drive down the coast lies Cane Garden Bay – a curved bay sheltered from heavy winds, ideal for swimming, snorkeling and boating.
Cooper Bay Villa
This unique five-bedroom villa has been built around a boulder in a nod to the surrounding environment. Situated in the heart of Tortola, the property boasts panoramic views of the north shore sea and features a sun terrace ideal for al fresco dining. A separate two-bedroom guest house has its own balcony and en suite bathroom ensuring the utmost privacy. The villa is a short walk from Trunk Bay – one of the most famous and beautiful beaches in the world. Adrenaline junkies can zipline above Johnson Ghut as part of the Original Virgin Canopy Tour for breathtaking views of Tortola and the surrounding islands.
Red Rock Villa
Located in the southern valley region of Virgin Gorda, this three-bedroom villa has been designed around a beautiful shady courtyard with a koi fishpond. The property is surrounded by lush tropical greenery and overlooks the Sir Francis Drake Channel. Guests can enjoy a range of personalized treatments and soak in the Jacuzzi at the on-site spa. Red Rock Villa is an ideal spot for exploring nearby iconic landmarks including The Baths (giant volcanic boulders), Devil's Bay and the Copper Mine Point National Park – an abandoned copper mine from the early 18th century. The villa concierge is on-hand to help plan excursions including sailing and deep-sea fishing trips.
For the latest information on travel protocols to the British Virgin Islands, visit bvitourism.com
bvitourism.com/reopening
Click here to return to the dedicated British Virgin Island hub