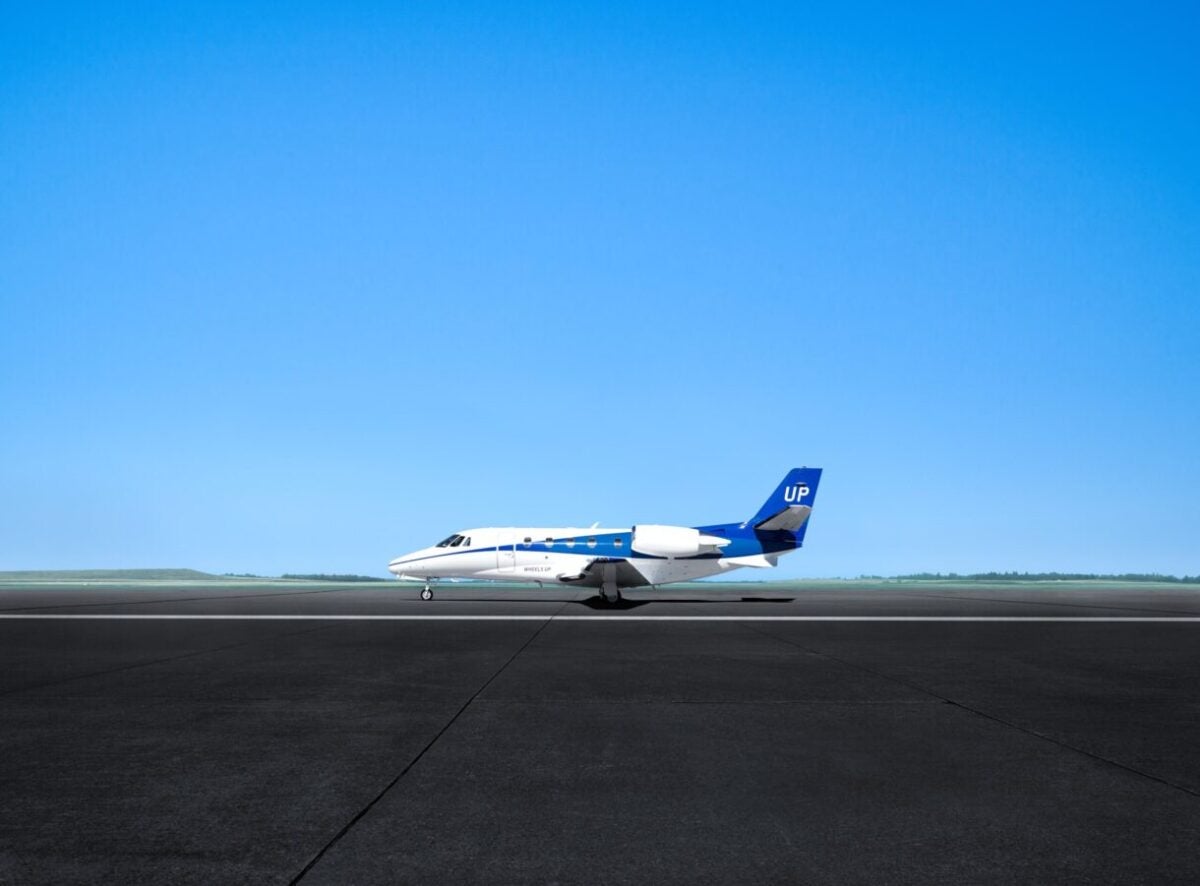 Since its launch in 2013, Wheels Up has gone on to become the second-largest private aircraft operator in the US offering clients access to over 1,500 leased, owned and managed planes through a range of differently priced membership options and, more recently, a mobile app. Described by its CEO as the 'Uber of the skies', the company has ambitious plans to democratize the sector and attract first-time private fliers. But how much does Wheels Up cost?
The answer depends on how often you fly and what level of commitment you're looking for. If you're just dipping your toes into private aviation and don't want to pay out any pricey upfront costs, it might be worth trialing the Wheels Up mobile app, that was relaunched earlier this year. The platform is straightforward to use – you simply select the aircraft type, number of passengers, travel date, destination and departure time. You'll then be given a list of options to choose from and, once confirmed, you simply turn up at your airport of choice 20 minutes before departure.
While the Wheels Up app is free to download, flights for non-members aren't capped so the price per journey can vary significantly based on demand and may be considerably more expensive. If you're flying more than a few times a year, it's worth considering one of the pay-as-you-fly membership options.
[See also: Delta Private Jets Combines with Wheels Up]
The most affordable is 'Connect', which includes up to two authorized lead passengers. Wheels Up Connect members pay a one-off initiation cost of $2,995, followed by an annual bill of $2,495. This gives you access to shared flights, so you can split the bill with other members reducing the cost by at least 50%; shuttle flights, for purchasing individual seats on scheduled private shuttles to and from popular events; and hot flights, one-way 'empty leg' trips that occur when an aircraft is traveling to another airport to pick up members for another flight. Connect members are able to book up to five hot flights per year via the Wheels Up mobile app, with a starting price of $320 per trip for the entire plane.
Members also get the added benefit of capped hourly rates 300 days a year: the smallest plane in the Wheels Up fleet (the King Air 350i) is capped at a price of $4,965 per hour, while the biggest (the large-cabin jet) will not go above $12,995 per hour. Since billing is based on flight time, any delays won't impact the total cost of your trip.
For those taking to the skies with their families on a more regular basis (flying privately around 10 – 30 hours a year), the 'Core' membership is probably a better option. You'll need to pay a one-off upfront fee of $17,500, followed by an annual bill of $8,500, and you can either pay-as-you-fly or deposit anything from $50,000 into the Fund Program before the end of the year for tax-free flights.
The Core membership gives you and three designated family members access to the Wheels Up fleet, including shared, shuttle and hot flights. Core members also get the added perk of being assigned a dedicated account manager to take care of everything and a range of lifestyle benefits.
Finally, for companies, there's a business membership option with an initial fee of $29,500, and an annual bill of $14,500 thereafter. This has similar benefits to the Core membership, with the same capped hourly rates and a dedicated account manager, but covers six lead passengers.
In the end, you'll need to consider how often you plan to fly privately on a yearly basis to figure out the most cost-efficient option for your needs. Trying out the app is a good starting point to get a feel for the Wheels Up experience, but seasoned private flyers will make significant savings in the long run by becoming a member.
[See also: A Quick Guide to Private Jet Charter Memberships]