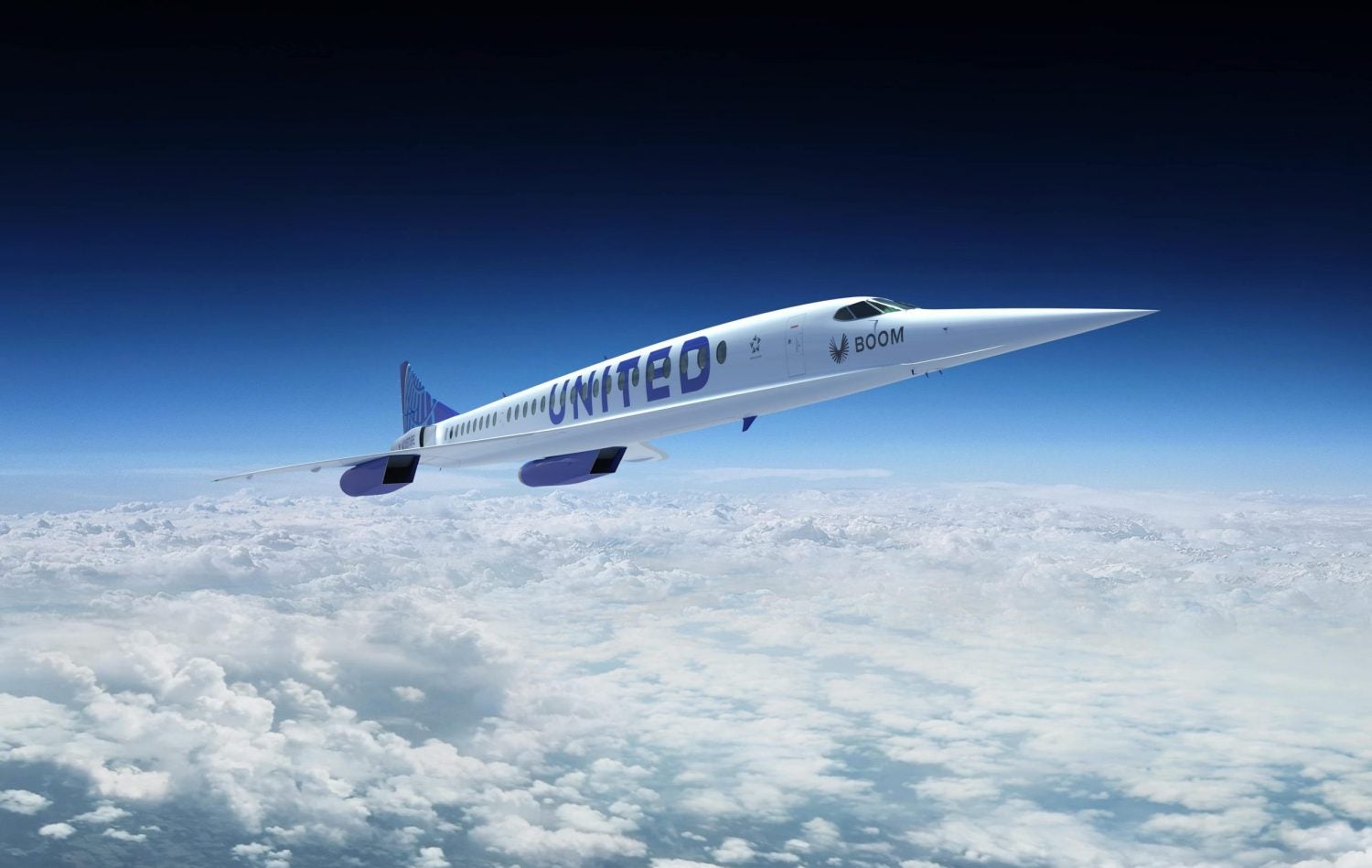 United Airlines has shown intent to bring supersonic flight back to the commercial sector after announcing a deal to purchase 15 Overture jets from startup Boom Supersonic. The deal relies on the Overture meeting demanding safety, operating and sustainability requirements. If those requirements are met, however, United Airlines has an option to increase its order to 35 aircraft.
Supersonic flight has been absent from the commercial sector since Concorde was mothballed in 2003. Numerous attempts to bring it back have failed, most recently when Aerion unexpectedly closed down in May. The company, which had purchased agreements with various companies including NetJets, had been working on delivering its AS2 model but ran out of money after failing to attract further investment.
Boom's Overture is even more ambitious than AS2. It will fly higher, further and faster, and carry more passengers. The Overture will have a long-range cruising altitude of 60,000 ft and fly at Mach 1.7 (Concorde flew at Mach 2.04). That would halve the time of some of the world's most popular routes. London will be reachable from New York in three and a half hours. The all-business-class interior will seat up to 55 passengers, with two single rows. Most impressively, it will be designed to run on 100% sustainable aviation fuel (SAF), which would make it the first carbon-neutral commercial aircraft.
[See also: The Top Jets in the World]
The Overture is still a concept, but Boom expects to have a 1:3 scale model (the XB-1) flying by the end of the year. It hopes to have the first full-sized aircraft rolled out in 2025, testing underway in 2026 and to welcome its first passengers by 2029. United Airlines will now work with Boom to ensure the project stays on track.
"United continues on its trajectory to build a more innovative, sustainable airline and today's advancements in technology are making it more viable for that to include supersonic planes. Boom's vision for the future of commercial aviation, combined with the industry's most robust route network in the world, will give business and leisure travelers access to a stellar flight experience," United CEO Scott Kirby said. "Our mission has always been about connecting people and now working with Boom, we'll be able to do that on an even greater scale."
One of the supersonic flight's biggest obstacles has been the noise it causes. Overture will only break the sound barrier over oceans, in line with international aviation laws, and has also been designed with noise-reducing technology so takeoff and landing are no louder than current commercial aircraft. The aircraft will run on more sustainable fuels that reduce emissions by 80% with the remaining carbon cost paid for through offset projects.
"The world's first purchase agreement for net-zero carbon supersonic aircraft marks a significant step toward our mission to create a more accessible world," said Blake Scholl, Boom Supersonic founder and CEO. "United and Boom share a common purpose — to unite the world safely and sustainably. At speeds twice as fast, United passengers will experience all the advantages of life lived in person, from deeper, more productive business relationships to longer, more relaxing vacations to far-off destinations."
[See also: The Fastest Jets in the World]