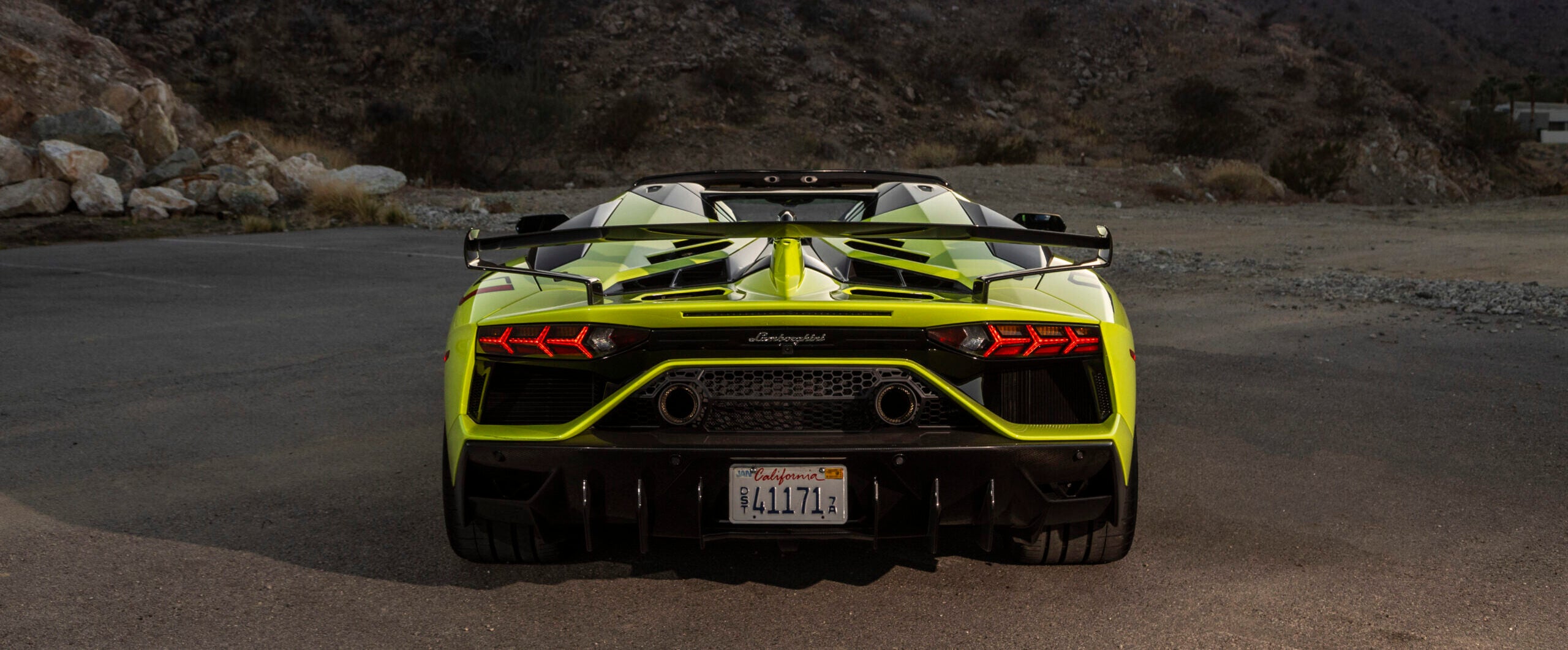 At the dawn of a fresh decade, premium automakers are eagerly jostling to carve out their respective identities. Some invest in proprietary technology while others repurpose nostalgia. Once unthinkable, several share the same engine, as parent companies continue to amass once-independent coachbuilders. In this new era, differentiation arrives via bold design and bespoke possibilities. Within this crowded luxury market, manufacturers wrestle not only with brand recognition but allegiance. Providing plush, dynamic sanctuaries that transport drivers and their partners or families, each vehicle found in these pages articulates its automaker's vision, from more nuanced offerings to long-awaited arrivals.
Lamborghini 2020 Aventador SVJ Roadster
Flirting with the absurd seems a common theme running through Lamborghini. That is, until Italy's Raging Bull recognizes the lunacy, then transforms it into a track-ready, road-eager supercar — like the Aventador SVJ Roadster.
A 6.5-liter, naturally aspirated V12 (likely one of the last) pumps 770 hp through the convertible's all-wheel drive, four-wheel steering system. A loud, fast-moving contradiction, its gun-slit windows abut bulky A-pillars, and trapezoids and triangles swoop and squish, forming lines that pinch and pucker. Technically, all the bodywork's shapes can be found in nature — usually not together. But that's part of the romance, and a textbook Lamborghini design aesthetic. These features also make the car go fast.
The company derived inspiration from spaceships and jet fighters, but oddly opted for an analog roof. Two rigid panels must be hand-removed and stowed in the car's nose for open-air accessibility. It's a supercar capable of 0-60 mph in 2.9 seconds with a roof-off top speed of 217 mph, but the driver must pull over and exit the vehicle should inclement weather occur. It's a charming irreverence, a reminder that cars can be quick, but they should also be fun.
From $574,000, lamborghini.com
Ferrari 2020812 Superfast
Whenever Ferrari updates or redesigns, the Prancing Horse consults its racing annals and previous models. The arrival of the 812 Superfast brings the premiere of a new 12-cylinder engine, the singular machine that launched Enzo Ferrari from man to brand 73 years ago. The 6.5-liter, naturally aspirated V12 produces 789 hp, which crowns the 812 Superfast as the most powerful, fastest road-bound Ferrari ever built (with the exception of the mid-rear-engined, special limited-series 12-cylinders). Continuing its legacy, Ferrari referred to the F12berlinetta and the F12tdf for inspiration, regardless of the industry-wide shift away from big internal combustion engines and toward hybridization and electrification. In an unusual but unsurprising evolution, the Italian supercar brand is capitalizing on the front-mid-mounted engine and pairing it with a rear-mounted transmission. This sophisticated transaxle architecture achieves the enviable 50:50 weight distribution.
Branded a new Berlinetta, the 812 Superfast possesses the aerodynamic footprint and stylings of a fastback. Those entrenched in Ferrari lore will merely glance at its backside and immediately envisage the 1969 365 GTB/4 Daytona. The four round tail lights and quad exhaust pipes, not to mention the diffuser, will have fans seeing double. For all of the racing intensity and tradition-bound design cues, the interior is a study in simplicity. The pared-down edit offers a bounty of negative space — so refreshing in the age of touchscreens and overwhelming infotainment systems. Analog knobs and a sleek trio of buttons alleviate complex cockpit navigation. This vehicle wants its driver's eyes on the road.
From $358,000, ferrari.com
Bentley 2020 Flying Spur
Like any coachbuilder with a century's worth of automotive design and production, Bentley, for a time, lost its way. The splashy unveiling of the new Flying Spur, however, completes a powerful trifecta that's poised to propel the British brand firmly into the next epoch. Alongside the Bentayga and freshly unwrapped Continental, the Flying Spur gives new meaning to founder WO Bentley's objective to build "a fast car, a good car, the best in its class." In its third generation, Flying Spur sits on the same basic platform as the Porsche Panamera, a fellow member of the Volkswagen Group. But that's where the similarities end. Flying Spur's formidable 6.0-liter, twin-turbocharged W12 mated to an advanced dual-clutch, eight-speed transmission serves two masters; it's a sports sedan meant to be driven but also a luxury limousine assuming the authority of the Mulsanne, which ceases production this year.
Dripping in grandiose English luxury, from the pedigreed upright grille on the exterior to the world's first three-dimensional, diamond-quilted leather inside, the 626 hp Flying Spur commands attention. A purposeful weight adds a sense of timelessness to the hand-carved wooden buttons, knurled aluminum bezels and rotating display, a trio of dashboard options that flip from a 12.3-in HD display to a blank wood veneer or a threesome of analog dials (time, temperature and compass). Fear not — the champagne fridge remains, albeit surrounded by a 2,200-watt, 16-speaker audio system with two active bass transducers, should the bubbly need a little beat.
From $214,600, bentleymotors.com
Lexus 2020 LC 500h
Undoubtedly the way of the future, electrification excites, but many still find it impractical, unwieldy or lacking infrastructure. Steering away from purely naturally aspirated engines, Lexus continues to rule the hybrid space. The LC500h coupe functions as the first-ever multistage hybrid system, which pairs a gasoline engine with a duo of electric motor/generators. The result is a 3.5-liter V6 engine with D-4S direct fuel injection and a dual VVT-i valvetrain. It's oddly curious, the silence that comes with 354 hp.
Lexus avoids strong narratives; rather than thrusting harsh lines and garish colors into the limelight, the brand instead favors a softer approach. Make no mistake, the LC500h's elongated grille provokes, as does its chrome-plated moldings, which Lexus designers use to evoke the lines of a traditional Japanese Samurai sword. Understated modishness influences everything from its tail lights, which culled inspiration from the glow of a jet's afterburners, to the hand-stitching and draping of the Alcantara interiors, an allusion to the Takumi craftsmanship paramount to Lexus' design philosophy. (Considered the highest honor of the 7,700 workers at the Miyata Lexus Plant in Kyushu, Japan, there are only 19 Takumi masters.) Equally equipped to conquer the open road and face rush hour traffic, where the electric assist will dominate at lower vehicle speeds, the LC500h achieves a combined 30 miles per gallon — a novel thought for some daily sports car drivers.
From $97,500, lexus.com
BMW 2021 Alpina XB7
To create the ultimate driving machine, the BMW Alpina XB7 culled inspiration from across the BMW universe. A sport activity vehicle (SAV) — BMW patois for SUV — the Alpina XB7 gleans its stance and refinements from BMW's X7 model line as well as the B7 sedan, Alpina's other American-built offering. A privately-owned company, Alpina has a long-standing technical partnership with BMW.
An all-wheel-drive vehicle, the up-to-seven-passenger Alpina XB7 is based on the BMW intelligent xDrive system, which variably distributes torque between the front and rear axles. Producing 608 hp courtesy of a 4.4-liter biturbo V8, the Alpina XB7's originality and ingenuity lies in its driver-assist system and superior mechatronics.
Far from being fully autonomous, the robust suite of standard assist programs includes a host of options that extend beyond most manufacturers, like rear collision warning, city collision mitigation (including cyclist detection) and a stop-and-go function within its active cruise control. Deployable up to 130 mph, it monitors both traffic and programmable distance control while maintaining a desired speed. Take ride height: the low-speed raise of 1.6 inches (for a total ground clearance of 10 inches) is expected, but the vehicle can also lower the same amount, dependent upon driver request or speed. Imperceptible to a quick glance, a lower center of gravity alters the automobile's suspension geometry — Alpina's expertise and arguably the XB7's raison d'être.
From $141,000, bmwusa.com
Jaguar 2021 F-Type R Coupe
Competing with the memories of models past is a heady yet inescapable task for the Jaguar F-Type. Allusions to the sanctified E-Type of the 1960s abound — yes, the one Enzo Ferrari called the most beautiful car ever made. Thanks to its classic sports car proportions, the new F-Type toys with its own bygones. The sculpturally sleek hood and buttoned-up backside abide by a familiar silhouette (one that has garnered the F-Type 180 design and car awards since its arrival in 2013), while the teardrop headlights and s-curve roof convey a sense of thoughtful modernism. The performance-tuned F-Type R employs a 5.0-liter supercharged V8 that pumps out 575 hp, ample energy and outstanding suspension; it's refreshingly effortless to maneuver.
New springs, dampers, anti-roll bars, lower-friction wheel bearings, stability control, rear-biased torque split and wider back tires further equip this F-Type to best its signature handling. It doesn't need to pile on unnecessary comforts or roar to feel the road, although Jaguar maintains its sense of British propriety with an optional quiet start mode. While some may argue the F-Type R is neither the flashiest or the fanciest, this automobile achieves the precarious balance between sports car and luxury, an oft-overlooked, albeit intricate, feat.
From $103,000, jaguarusa.com
Range Rover 2021 Autobiography Fifty
Range Rover prizes thoughtful evolution overdramatic debuts. To celebrate its 50th birthday, the British brand fashioned a limited-edition vehicle based on its most sumptuously appointed SUV, the Autobiography. A fun twist, rather than a choose-your-own-adventure of customization, this specific model pays homage to past vehicles, from its grand black interior veneer to a trio of bespoke paint options that honor the original colors available at launch in 1970. Bahama gold, Davos white and Tuscan blue freeze a moment in time when the capability of a Range Rover was conveyed through bolder colors. Picture the snapshot: The mica-filled Mediterranean blue SUV throwing sand as it conquers a desert, or the Bahama gold mingling with old-growth trees as it approaches a beautifully appointed log cabin. Sitting on 22-inch bespoke gloss black, diamond-turned wheels, the Autobiography Fifty is available in both standard and long wheelbase versions. With 518 hp courtesy of a 5.0-liter V8, a familiar setup, this vehicle is less about inaugurating the new than acknowledging the brand's rich heritage and creating an instant collector's item.
From $147,000, rangerover.com
Porsche 2020 Taycan Turbo S
It rhymes with icon. Taycan Turbo S, Porsche's first all-electric vehicle, finds its power in a pair of permanent magnet synchronous motors, one for the front axle and another for the rear. Derived from a Turkish expression that represents a young stallion, Taycan vaunts 750 hp, redefining electric vehicle possibilities. Performance remains paramount. Taycan Turbo S's response time is two milliseconds, a strong argument for retaining the 'Turbo' moniker. (Despite the flagrant lack of forced induction, the Germans kept the naming convention intact.)
Ditching the grille in favor of a double-black-diamond slope of a hood that frames the road between its globular fenders, the four-door, all-wheel-drive sports sedan sits on 21-inch wheels. While other EVs rely almost exclusively on single-pedal driving via regenerative braking — when the driver lifts off the throttle, rather than coasting, the car quickly slows, utilizing that kinetic energy to recharge the battery — Taycan Turbo S requires the driver to apply the brakes. And they're large, 16.5-in carbon ceramic ones in the front and 16.1-in in the rear — perhaps a reflection of track days? The EPA-estimated range is an abysmal 192 miles. To compensate, Taycan Turbo S uses 800-volt charging, an architecture that's twice as powerful as other EV system voltages.
Akin to a circular cinema, the interior eliminates physical buttons. Everything, from the door locks to the windows, operates via one of five touchscreens, LCD displays (steering wheel controls notwithstanding) or voice commands starting with "Hey Porsche."
From $187,600, porsche.com
Aston Martin 2021 DBX
The enormity of the task at hand cannot be understated. Aston Martin, arguably the creator of the most beautiful street-legal cars in the business, necessitates long-term salvation. As many luxury brands have discovered, redemption may come in SUV form. Beginning with a clean sheet of paper — as close to carte blanche as possible for a 107-year-old manufacturer — DBX is Aston Martin's first-ever SUV.
Everything under DBX's hood impresses, starting with the Mercedes-AMG-built 4.0-liter, twin-turbocharged V8 engine that yields 542 hp. Its aluminum body structure and cast aluminum suspension mountings allow the double-wishbone, split-link front and multi-link rear suspension to thrive across any terrain. But it's in the design details that Aston Martin beguiles. The hidden side glass seals on the frameless doors finished with glass B-pillars create an uninterrupted line, freeing the eye to glide across the SUV. Cutaway sills narrow the car's entry points, one less obstacle to worry about when wearing one's Sunday best. Gliding into the Bridge of Weir leather interior, or, an industry-first fabric made from 80% wool, the sense of airiness continues via DBX's full panoramic glass sunroof.
Options abound, from a snow package complete with boot warmers to a pet package that includes a portable washer. Although proficient in daily drivers, establishing a presence in the utilitarian and adventure markets maps uncharted territory for Aston Martin. Until now.
From $190,000, astonmartin.com
McLaren 2020 600LT Spider
Ponder the misnomer of 'adding lightness.' McLaren's latest offering embodies that philosophy while managing to redefine the status quo of a high-performance convertible. The fifth car to carry the Longtail name, the 600LT Spider features a 3.8-liter, twin-turbocharged V8 capable of 592 hp. Generally, when automakers retool a coupe to a convertible, the scales tip in the most dreadful ways. Weight increases while headroom and driving comfort decrease. Rigidity is inevitably compromised. Not so with the 600LT Spider. Committed to a carbon-fiber diet, McLaren inserted its racing seats from the P1 and equipped the supercar with a forged aluminum suspension and minimalistic instrumentation in the cockpit. Engineers reduced the length of the exhaust pipes, rerouting them to exit atop the mid-mounted engine.
Hitting the scale at 2,859 lbs, the 600LT Spider delivers an astounding power/ weight ratio of 4.82 lbs/hp. (The traditional sports car standard is 10 pounds for every horsepower; the new McLaren doubles that.) Occasionally, driving a supercar feels more like a battle than a pleasure; not so with the McLaren. Falling into the LT lineup, its electrohydraulic steering provides concentrated but not overwhelming or unwieldy sensitivity. This machine fancies track-focused driving but is equally at ease playing nice in the neighborhood.
From $256,500, mclaren.com
Maserati 2020 Quattroporte S Q4 GranSport Edizione Ribelle
Indisputably Maserati's Grande Dame, the Quattroporte continues to blur the line between sports car and burly sedan. After five decades of fine-tuning, the Quattroporte S Q4 GranSport Edizione Ribelle embodies peak poise by way of persistence. Not in a category typically brimming with competition, the Modena, Italy-based brand remains committed to expanding its options and editions.
There's a single specification that unites every car manufacturer: Any vehicle looks sexier, sleeker or, in Maserati's case, more rebellious, when blacked out. The Quattroporte S Q4 GranSport Edizione Ribelle features a Nero Ribelle mica exterior, a black that accentuates its voluptuous quarter panels and catches streetlight reflections. Ample black chrome finishes, from the exhaust tips and the vertical grille bars to the 20-in wheels with contrasting red brake calipers, reinforce Maserati's desire to encourage 'the excitement of the urban night.' The alternating nero and rosso (black and red) interior with contrasting stitching reads a touch Ferrari. And there's more Prancing Horse under the hood: The Ferrari-designed and -developed 3.0-liter, twin-turbo V6 engine propounds 424 hp and a max speed of 179 mph.
The Q4 intelligent all-wheel drive system, with its variable torque control, shifts engine torque in real time from its normal rear wheel preference to a 50:50 weight distribution. With increased stability and dynamic functionality, Maserati's flagship sedan refuses to sacrifice performance despite its reputation as an all-road, all-weather-condition vehicle.
From $120,000, maseratiusa.com
Land Rover 2020 Defender 110 X
Above & Beyond — equal parts decree, challenge and promise, that tagline has encapsulated the Land Rover spirit and the Defender nameplate since the latter launched in 1948. Steeped in history and deeply beloved, the new four-door Defender debuts after a two-decade absence. Off-road purists find disbelief in its unibody framework, oft considered to be weaker than the previously popularized body-on-frame architecture. Adding shock value, the SUV also deploys an independent suspension. Defender leaned into and learned from every Land Rover in order to efficiently prove the naysayers wrong. The turbocharged six-cylinder, mild-hybrid with an electric supercharger (P400 MHEV) pushes 400 hp and three times more rigidity; the Defender can handle school pickup and uncharted mountain roads with equal vigor.
Opulence befalls by way of technology and personalization. Windsor leather seats come with a side of fording capabilities (in up to nearly three feet of water). A thoroughly pragmatic ClearSight Ground View system uses a camera to display video of what's normally obscured by the hood. Clever. An exposed magnesium beam doubles as the dash, providing pockets to stow gadgets and gear, both wild and urban. With over-the-air updates for Defender's infotainment and electrical architecture, two separate modems ensure that software can be downloaded without affecting data flow, like streaming music, to Wi-Fi-connected devices.
Rarely has a nameplate soaked in sentimentalism and adventure married modern comfort and drivability with rugged and refined capability like Defender does.
From $81,000, landroverusa.com
Rolls-Royce 2020 Black Badge Cullinan
Long recognized as the pinnacle of luxury, Rolls-Royce currently finds itself in a peculiar position: It's popular. The lynchpin of the shift from bombastic chauffeurs' car to en vogue automobile arrives courtesy of the Cullinan, Rolls-Royce's lavishly capable SUV. Catapulting the brand into the fresh decade as the fastest-selling new model in the firm's history, nearly half of Rolls-Royce's 5,152 deliveries (the most in its 116-year history) in 2019 were Cullinans, all of them bespoke.
The arrival of Black Badge Cullinan — deemed 'the King of the Night' by the British brand — drives that momentum forward as the BMW group subsidiary inaugurates a handful of firsts. The first-ever colored brake caliper, a high-gloss red paint, offsets the new 22-in forged alloy wheels. The famed starlight headliner makes its SUV arrival on Black Badge Cullinan. Its 1,344 individual fiber optic cables showcase a brand-new feature: eight shooting stars. Hand-polished for up to five hours in what the brand considers the most comprehensive surface-finish process ever applied to a solid paint color, the exterior is coated with multiple layers of paint and lacquer.
Re-engineered for enhanced dynamic performance, the drivetrain and chassis deliver a 600 hp, 6.75-liter twin-turbocharged V12 punch — enough for any escapade. Marketed as the more avant-garde edition, Black Badge Cullinan features a 'low' button, a supplement to the gear shift that unlocks an audible rumbling exhaust — yet another demonstration of Rolls-Royce's commitment to charming a younger demographic.
From $382,000, rolls-roycemotorcars.com
Audi 2021 RS6 Avant
As the tide of unending crossovers and SUVs continues to rise, Audi opted to make an altogether different kind of splash. Crossing the Atlantic for the first time in its quarter-century history, the RS6 Avant is a supercar cloaked in the body of a station wagon. Shared with both Porsche and Lamborghini, its 4.0-liter twin-turbo V8 engine produces 591 hp, which helps it complete the 0-60 mph sprint in an impressive 3.5 seconds. More akin to full-size, realized Hot Wheels — complete with Valcona leather — than Clark Griswold's Country Squire, the RS6 Avant is all angular lines. From its honeycomb-style 'squircular' (when a square meets a circle) grille, over its bulging fenders that house purposefully enlarged wheelhouses, and around to its duo of egg-shaped exhaust pipes, Audi forwent subtlety for statement-making.
Embracing its Bavarian roots, the RS6 Avant features all-wheel drive and an eight-speed automatic transmission. Wheel-selective torque control grants drivers the ability to direct nearly all the 590 lb-ft of torque to one wheel, providing greater maneuverability at low speeds and engaged stability at higher ones. It's traditionally a sports car flex, now achievable in a hatchback. Driver-focused technologies range from Dynamic Ride Control (an elective sport suspension) to progressive steering. Three-dimensional city maps proffer practicality while interior displays track tire pressure and g-forces, demonstrating how a vehicle typically dismissed because of its styling unites everyday functionality and performance.
From $109,000, audi.com
Mercedes-Benz 2021 Mercedes-AMG GLS 63
At no point were the words "that's enough" (or likely "das ist genug") uttered in the presence of the Mercedes-AMG GLS 63. Surprising, one might say, considering the significant restraint typically found in German engineering. Instead, Mercedes-Benz bucked the steady rise of luxury crossovers that have signaled the demise of the grander, weightier, haul-it-all sport utility vehicles. The Mercedes-AMG GLS 63 makes a compelling argument with this magnificent 603 hp, third-row, seven-passenger SUV with 80 cu ft of storage space and a seemingly never-ending list of options.
The more is more ethos means that not only does the vehicle boast nine USB ports, two heated and cooled front cupholders, 64 color interior ambient lighting options, pneumatic self-leveling (a constant vehicle level despite load weight), six drive programs and, of course, all-wheel drive, but it also introduces a battery-powered EQ boost atop its 4.0-liter V8 biturbo hand-assembled engine. In layman's terms, that's additional horsepower and lb-ft torque under hybrid power and everything, options-wise, but the kitchen sink. While it could easily fall victim to its own weight, the Mercedes- AMG GLS 63 handles with unexpected ease.
Like a pair of freshly ironed trousers, heavily contoured powerdomes pleat the hood and elongate the roofline. Long, low bumpers complete with air inlets and a statement-making quad of exhaust pipes accentuate its width. Inside, the raw amount of uninterrupted space, underscored by the panoramic sunroof, alludes to a mobile greenhouse. Being a passenger might be as lovely as actually driving.
From $132,000, mbusa.com
Photos: Richard Pardon, Mark Fagelson Photography, ALPINA Burkard Bovensiepen, Trigger Shoots, Dean Smith, AUDI AG, Daimler
This article appears in the 26 Aug 2021 issue of the New Statesman, Fall 2021