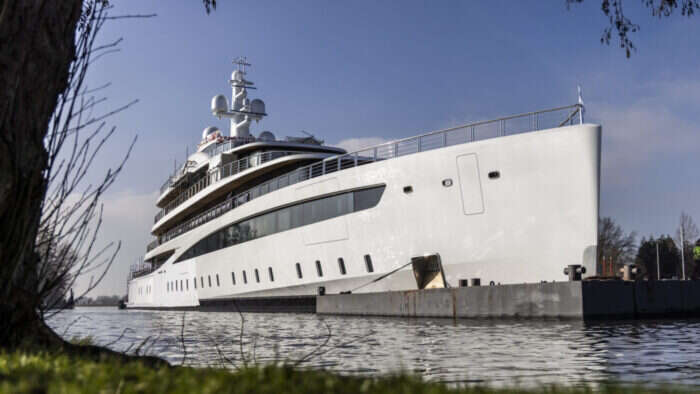 The groundbreaking superyacht Project 817 was seen for the first time as it left the Feadship shipyard to undertake sea trials. The 308.5ft vessel, also known as Viva, is one of the most anticipated projects in the superyacht industry due to the expected advance in eco-friendly technologies that it will bring.
Her owner set the highly ambitious target of keeping Project 817's environmental impact the same as his previous yacht, which is a full 105ft shorter in length. To achieve that goal, Feadship has used a variety of green technologies including an advanced hybrid propulsion system that will allow Project 817 to travel at 12 knots on diesel-electric power. The exhaust emissions will be treated via catalytic converters and diesel particulate filters, further reducing her impact on the surrounding environment.
A tremendous amount of thought has also gone into reducing the emissions caused by day-to-day living on the yacht. Engineers and designers worked tirelessly to optimize the efficiency of the air-conditioning system, which was made all the more challenging due to the owner's desire for floor-to-ceiling windows. Designers took a pioneering approach to structural design that achieves maximum efficiency by compensating for the absence of bulwarks.
[See also: Hydrogen-Powered Yachts: What to Know]
The floor-to-ceiling windows were needed to achieve the beach-house-style interior designed by Peter Marino Architects. The owner's brief included a less-is-more, minimalistic philosophy, which has influenced every aspect of Project 817 inside and out. Designers achieved a flowing, undisrupted look by fitting electric sliding doors instead of standard hinged doors, closing flush to the superstructure with no visible frames or handles.
Despite the need to maximize efficiency, designers have nonetheless found space within Project 817's 45-ft beam to house the largest tender on a Feadship to date. While sea trials are now underway, Project 817 is expected to achieve a maximum speed of 20 knots in diesel direct mode.
Recognized as a world leader in building pure custom yachts, Feadship has been in pursuit of building the perfect ship since its inception in 1949 – although the brand can trace its roots back another 100 years. The Dutch company has locations throughout The Netherlands, with its headquarters and design and engineering center found in the northern city of Haarlem.