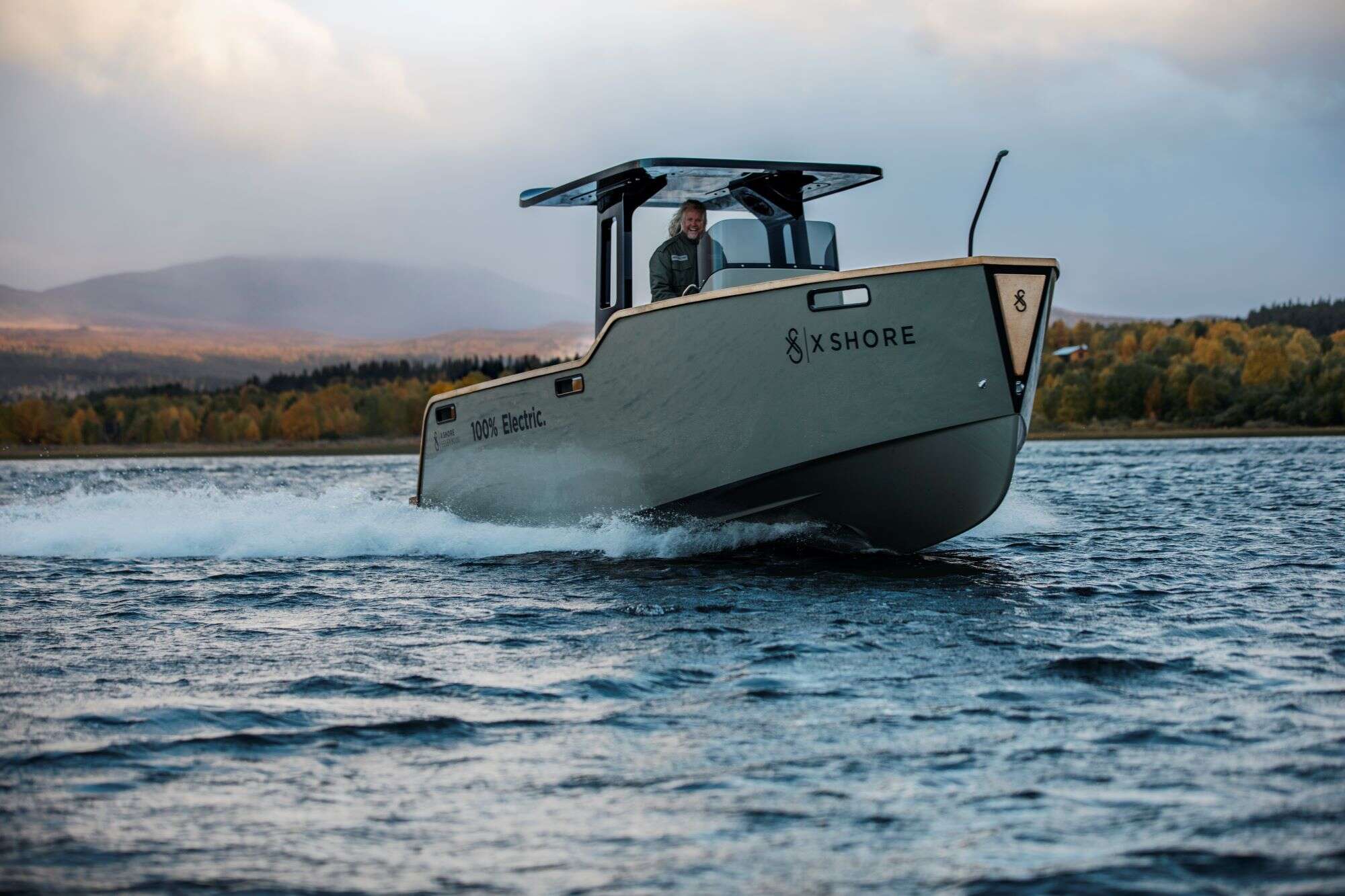 Swedish hi-tech-boating-pioneers X Shore has launched its new 100% electric, uber-connected Eelex 8000 boat in the United States. Powered by intelligent software, the dynamic vessel can be updated remotely, allowing for regular improvements to the boat's capabilities based on customers' likes and behaviors. 
With a build rooted in sustainability, the completely silent Eelex 8000 was inspired by the powerful South American electric eel with a robust head and streamlined body but packaged-up in stylish Scandinavian design. X Shore's engineers gave careful consideration to materials opting to dress the vessel in more sustainable cork instead of teak. Eco-focused owners can also go one step further with the choice of a sustainable hull design made from flax fabric and recycled PET plastics instead of fiberglass and carbon fiber. 
"We see an opportunity to reinvent an industry that has seen little change in past years, yet is in dire need of transformation," said Jenny Keisu, X Shore CEO. "Taking boating electric has been a topic of discussion for years, but it's yet to take root to become the new norm for boat manufacturing. X Shore's combination of technological advancements and deep commitment to sustainability is what we believe will be the key to truly impacting change in an industry that is firmly rooted in practices that are not environmentally friendly." 
[See also: The Best Hybrid Superyachts in the World]
The Swedish company is hoping the innovative vessel – which is powered by a 225 KW electric motor and dual 60 kWh batteries – will offer an actionable solution to the pollution of the traditional boating industry. Full charge can be achieved in one to two hours with superchargers and the craft can reach speeds of 35 knots, sending passengers on journeys of up to 100 miles at a time without the use of any fossil fuels. 
The Eelex 8000's software captures an impressive 150 data points every second, enabling real-time analytics of battery and engine performance, including temperature, location and the vessel's system status. An optional built-in 'Sea Lab' will also provide owners with environmental parameters and data of the water being occupied, including PH and oxygen levels. The data from each vessel is anonymously and securely monitored by X Shore and is used to provide optimal upgrades and updates to the vessel. Plans for the Eelex 8000's first update include a self-docking feature with her Swedish manufacturer setting its sights on eventually creating a self-driven boat.
For now, the smart-vessel already has a number of cutting-edge features installed. For example, all of her controls are managed from a central 24-inch touchscreen and there's also an autopilot function so passengers can sit back and enjoy the ride. Tech buffs will be pleased to hear that the craft can be activated via a dedicated mobile app; the specially designed software enables owners to unlock and turn on the vessel remotely as well as track her location at all times thanks to the use of advanced geofencing technology.
The Eelex 8000 can also be synced with the Garmin MARQ watch which provides overboard detection, enabling the vessel to stop within 10 seconds of a watch wearer being more than 32 feet away or under the water. 
The Eelex 8000 starts at $329,000, xshore.com