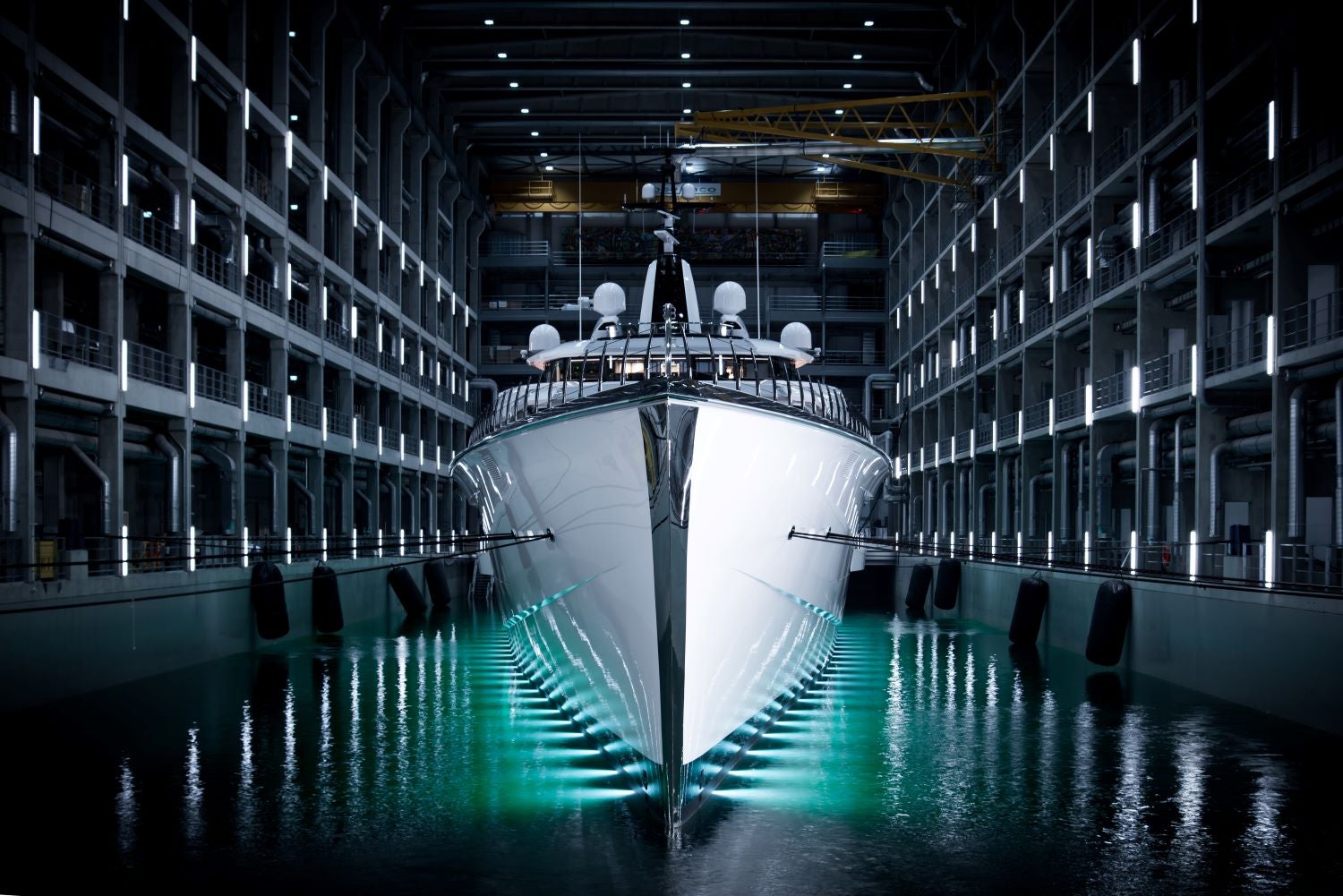 Hybrid power is seen as one of the most exciting innovations in the yachting world, with more superyacht owners demanding their vessels leave a smaller carbon footprint.
It is somewhat disputed quite how long hybrid superyachts have been around. Some would argue that Royal Huisman's Etheral was the first superyacht to pioneer the use of hybrid technology when she launched in 2008. Others would say that hybrid power in fact arrived seven years later in the form of Feadships's Savannah, featured below.
What can be agreed is that the hybrid superyacht is here to stay, and since both Etheral and Savannah hit the water, numerous luxury shipbuilders have followed suit. But what actually is a hybrid superyacht? Bjorn Moonen of Ghost Yachts offers a straightforward explanation in Superyacht News. He said: "A hybrid yacht is basically a yacht that can be propelled by two different energy sources. Most commonly these are a combination of diesel and electric propulsion systems".  As in cars, this system is infinitely greener thanks to the reduction in fossil fuel usage.
As well as hybrid power, these forward-thinking owners and their engineering teams often incorporate the very latest green technology into their designs – such as solar power and wastewater recycling system – limiting their impact that one step further. At Elite Traveler we have shortlisted some of the very best hybrid superyachts on the water today.
[See also: Meet the Elite Traveler Eco Superyacht by Heesen]
Amare II
Builder: Heesen
Year of build: 2020
LOA: 164ft
Number of guests: 12
Number of crew: 9
Delivered in June 2020, Amare II is one of the newest hybrid superyachts to hit the water. Custom built by Dutch shipyard Heesen, her sea trials were completed during the height of lockdown which Heesen described as "challenging" but her delivery date was kept on track so she could enjoy her first summer cruising the Mediterranean in 2020. 
Thanks to her lightweight aluminum Fast Displacement Hull, which was devised by naval architects Van Oossanen and engineered by Heesen's in-house team of experts, she offers the luxury of silent cruising coupled with frugal fuel consumption. In diesel mode, Amare II can reach speeds of 17.2 knots while in silent mode she can travel at 10.2 knots. 
[See also: Twenty for 20: Innovative Yachts of the 21st Century]  
Her sleek exterior lines are courtesy of Omega architects who also penned Heesen's first hybrid superyacht Home. Her interiors are yet to be seen publicly but are said to feature soft pastel tones by Monégasque studio Sabrina Monte-Carlo and fine furnishings by the Italian designer Cristiano Gatto.
Artefact
Builder: Nobiskrug
Year of build: 2020
LOA: 262.5ft
Number of guests: 12
Number of crew: 24
This hi-tech head-turner built by German shipyard Nobiskrug also took her maiden voyage in 2020. Nobiskrug states that the goal in her design and build  was to demonstrate that "beautiful man-made objects can complement and celebrate the natural environment with minimal impact." Have her builders and designers achieved what they set out to?
The facts speak for themselves. Artefact has some of the lowest emissions of any superyacht and is one of the only ones to meet the International Maritime Organization's Tier III emissions regulations. Utilizing the very latest green technology she features solar panels and a battery storage system that enable the vessel to reduce the use of its combustible engines, as well as a wastewater recycling system and a silent hybrid propulsion system that can hold position without dropping anchor to protect the sensitive seafloor.
It's not just Artefact's green credentials that are changing the game but also her avant-garde exterior design by naval architect Gregory C Marshall. Her multilevel glass wall and quirky curved windows are like nothing ever before her. 
Black Pearl 
Builder: Oceanco
Year of build: 2018
LOA: 350ft
Number of guests: 12
Number of crew: unknown
Oceanco's Black Pearl is the world's largest sailing yacht (Sailing Yacht A below is larger but is a sail-assisted yacht) and is estimated to have cost in excess of $200m. The distinct vessel has achieved worldwide fame in the yachting world thanks to her innovative design and eco-credentials which have set a new industry standard.
Capable of crossing the Atlantic without using any fuel, Black Pearl is powered by a hybrid propulsion system that Oceanco designed in collaboration with consultancy BMT Nigel Gee. Of course, her other power source comes in the form of her towering 230ft DynaRig carbon masts which were designed by Dykstra Naval Architects and house 31,215 sq ft of sales. Harnessing wind propulsion couldn't be easier as her sales can be set at the touch of a button in just seven minutes allowing for a much greener mode of travel than your average motor yacht. 
Black Pearl's interiors remain somewhat of a mystery but according to the Italian design studio Nuvolari Lenard who were responsible, the design embraces Louis XVI style (imagine elaborate wood carvings, opulent fabrics and gold touches) as well as some art deco influences. 
[See also: Step Inside the Black Pearl Yacht]
Bravo Eugenia
Builder: Oceanco
Year of build: 2018
LOA: 357ft
Number of guests: 14
Number of crew: 30
Dallas Cowboys owner Jerry Jones' Bravo Eugenia superyacht was the first Oceanco vessel to utilize an innovative LIFE design approach which was created with the input of Lateral Naval Architects. LIFE, which stands for lengthened, innovative, fuel-efficient and eco-friendly, harnesses intelligent naval architecture with these four principles in mind to achieve a harmonious balance between weight, power, technology and luxury living space. 
By boosting Bravo Eugenia's waterline length, engineers were able to reduce the overall need for propulsion power and could therefore install smaller engines. In fact, while most similar-sized superyachts would demand a two-level engine room, Bravo Eugenia's occupies just one, freeing up over 1,000 sq ft of living space (or more rooms for the vessel's toy and tender collection). 
The team also refined her hybrid propulsion system to give significantly better fuel efficiency – around 30% less fuel consumption than her competitors.
Home
Builder: Heesen
Year of build: 2017
LOA: 163.3ft
Number of guests: 12
Number of crew: 9
Heesen's first hybrid superyacht was also the first to benefit from Van Oossanen Naval Architects' lightweight aluminum Fast Displacement Hull. Her innovative eco-credentials and cutting-edge design caused quite the stir in the industry; so much so that Home scooped three awards at the prestigious Monaco Yacht Show in 2017 as well as a World Super Award and a Boat International Design Award in 2018.
Able to seamlessly shift between her diesel engine to electric, Home offers a more efficient voyage with reduced vibration and noise making for a more comfortable cruise. 
Available to charter from Burgess from $245,000 per week, Home's Cristiano-Gatto-designed interiors are the epitome of relaxed luxury. The outdoors is invited in through floor-to-ceiling glass windows which flood her beach-club-style VIP cabin and living areas with natural light.  
Sailing Yacht A
Builder:  Nobiskrug
Year of build: 2017
LOA:  468.5ft
Number of guests: 14
Number of crew: 35
At an enormous 468.5ft, Sailing Yacht A is the largest sail-assisted yacht in the world. Her lustrous futuristic exterior perfectly complements the forward-thinking engineering that powers this groundbreaking vessel. Sporting a hybrid diesel-electric propulsion system and advanced navigation technology Sailing Yacht A is reported to have cost in excess of $400 million. 
Her mainmast towers designed by Dykstra Naval Architects – responsible for Black Pearls' and The Maltese Falcon's masts – are the largest carbon masts in the world and stand 328ft above the waterline, taller than London's Big Ben. 
The striking hybrid superyacht's interior and exterior were designed by the renowned Phillippe Starck and feature near-invisible windows enabling her streamlined appearance. This eight-deck superyacht is said to host a plethora of incredible amenities including a glass observation pod, a helipad, huge swimming pool and a submarine. 
Savannah
Builder: Feadship
Year of build: 2015
LOA: 273.1 ft 
Number of guests: 12
Number of crew: 26
The multi-award-winning Savannah is widely regarded as the world's first hybrid superyacht. Combining a single diesel engine with a pioneering electro-mechanical propulsion platform and streamlined hull, she is a true innovator. 
Built by Dutch shipyard Feadship, both her metallic exterior and sophisticated interior were designed by Paris-based Cristina Gherardi Design. The main aft deck has the effect of almost emerging from the water's edge, with steps and platforms leading to a spacious beach club and living area. An outdoor 33ft pool, underwater lounge and a library are just some of the amenities that can be enjoyed onboard by those who wish to charter her, with a week-long charter costing approximately $1.2 million.
[See also: Style and Sustainability: The New Sunreed 80 Eco Catamaran]