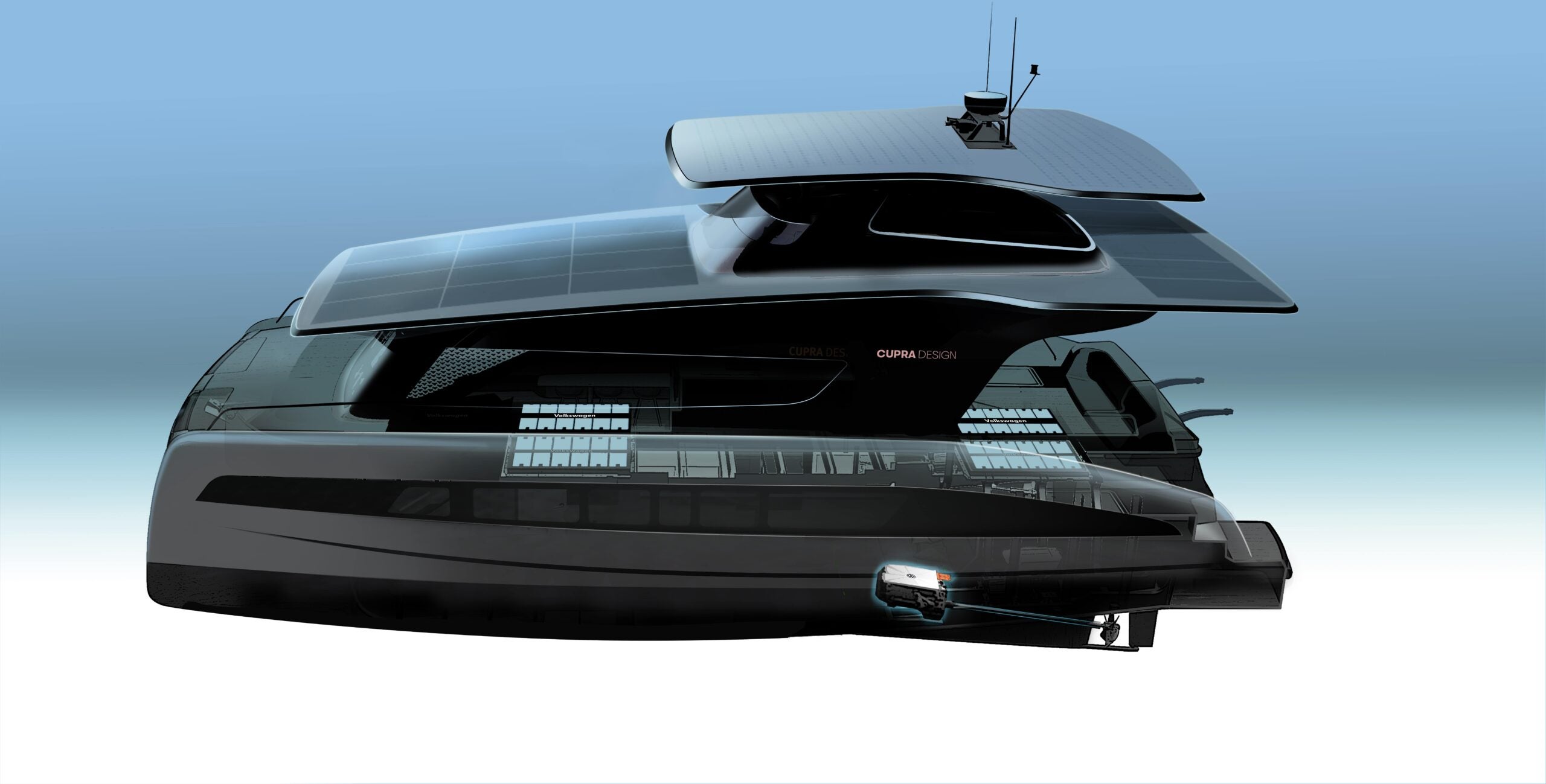 Silent-Yachts has announced plans to develop a solar-powered electric yacht designed by car brand Cupra and powered by an innovative motor from Volkswagen. The three-way collaboration brings the shipping and automotive industries together in the name of supercharging sustainable transport technology.
The new solar electric catamaran is the latest project from Silent-Yachts, which is leading the way in the development of noiseless maritime navigation. The electric propulsion system, powered by state-of-the-art solar panels, allows for a theoretical unlimited zero-emissions cruising range.
Cupra, a Spanish automotive brand, will bring its expertise to the design process by adding a contemporary and sporty edge to the new catamaran. The result will be a vessel that offers as much luxury as eco-friendliness.
[See also: Inside Flying Fox, the Largest Private Charter Superyacht in the World]
The electric yacht will be powered by one of the world's best modular electric drive matrixes (MEB) from Volkswagen. The German company has made huge leaps and bounds in its electric technology in recent years and now counts itself as one of the leading authorities in the field. Volkswagen opened up its MEB technology for third parties, allowing Silent-Yachts to incorporate it into its own models.
"I'm happy to cooperate with our partners on this exciting new project," said Michael Kohler, founder and CEO of Silent-Yahts. "Volkswagen Group is one of the most advanced players on the electric cars market and I am sure together we can make something really special on the water."
Silent-Yachts is an industry-leader in solar-powered oceangoing catamaran yachts and is helping to drive the efforts to make a traditionally dirty industry sustainable. Yachts generally use large amounts of fuel and the industry as a whole is recognizing its contribution to the climate crisis.
As well as the eco-credentials, a solar-powered yacht comes with added benefits. For one, there is no noise or vibration from the generator, making for a more comfortable and immersive experience on the water. The drive system is also far easier to maintain and safer than fuel-dependent propulsion systems.
[See also: The World's Most Expensive Superyachts for Charter]