The past few years have seen two of the most expensive yachts in the world join the charter market. Lana, O'Pari and Octopus are now available for hire priced at $2.1m and $1.1m and $2.2m per week, respectively. Freshly launched, these stunning ships add to an already impressive array of superyachts on the charter market right now.
When they were first released, these ships entered an industry that is facing unprecedented challenges, with the effects of the Covid-19 pandemic still reverberating. However, as cases began to drop and travel back on the menu, chartered superyachts became the most favorable vacation option to those who could afford it, with privacy and the opportunity for splendid isolation away from crowded airports and resorts both big draws.
Here, we look at the esteemed company that Lana and O'Pari will be joining with some of the most expensive superyachts to charter.
[See also: Twenty for 20: Innovative Yachts of the 21st Century]  
Flying Fox
Rate: From $3,517,000 per week Location: Mediterranean (year-round) Built: 2019 Length: 446.2 ft Guests: 25 in 11 cabins (up to 36)
Built by Lürssen and delivered in 2019, Flying Fox (pictured above) is the most significant addition to the charter market in recent times. The weekly charter fee puts her at the most expensive yacht in the world. This means she is in reach of just a select few, with Beyoncé and Jay-Z choosing her for their summer vacation in 2021.
We have covered Flying Fox in greater detail, but in short, this is a one-of-a-kind vessel that offers a truly unique experience. At a hulking 446 ft, space is no issue with the yacht home to two helipads, a two-story spa, a 40-ft swimming pool, which is unique for a yacht of this size, and a full gym and beauty center, among other similarly impressive features.
It is worth drawing special attention towards the vessel's cryotherapy chamber, as it was the first to ever be installed on a private yacht and can reach -166 Fahrenheit. With 54 expert staff on board, including some former Olympians, Flying Fox is well-equipped to look after up to 36 guests, either in the West Mediterranean in the summer months, or the East Mediterranean for the rest of the year. Whichever option is chosen, this superyacht is the peak luxury experience.
Octopus
Rate: From $2,200,000 per week Location: Central America, Europe and Pacific (summer), Central America, South America and Caribbean (winter) Built: 2003 (refurb 2021) Length: 414.1 ft Guests: 12 in 13 cabins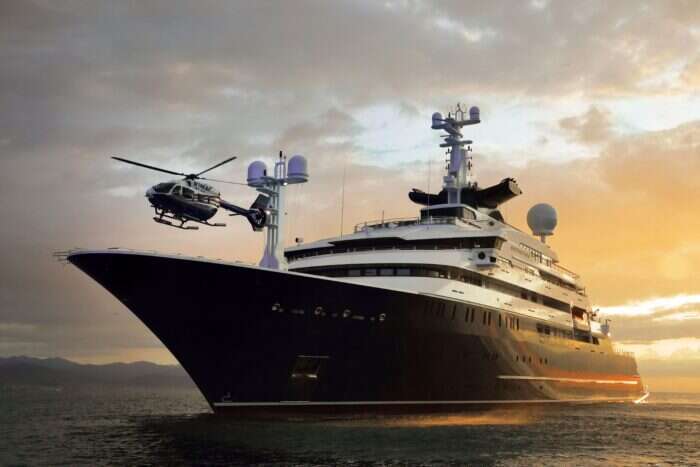 Arguably one of Lurssen's most iconic yacht builds, despite being first delivered in 2003 Octopus has only recently come to the charter following a sale. The 414.1-ft ice-class vessel isn't short on exciting features to shout about, with two helipads, seven tenders, a swimming pool, library and even a glass-bottomed aquarium. Accommodations are suitably luxurious with a lavish master suite and two VIP apartments, as well as seven doubles and three twin rooms.
Octopus has seen plenty of sights in her lifetime with her first owner, the late Paul Allen, frequently loaning her out for exploration projects and research missions. While her new owner remains undisclosed, it has been noted that they are keen for her to continue being used for meaningful expeditions – as well as the odd cruise around paradise, of course.
[See also: How to Charter a Superyacht]
Lana
Rate: From $2,110,500 per week Location: Middle East and The Red Sea Built: 2020 Length: 351.05 ft Guests: 12 in 8 cabins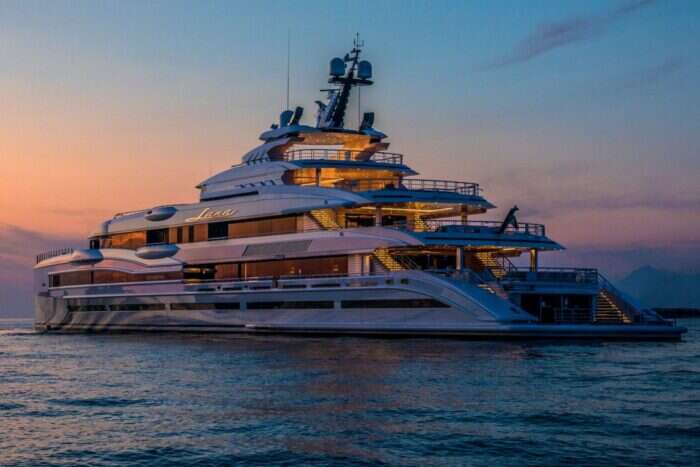 When she was first delivered in 2020, Lana took the title of Benetti's largest-ever build at 351 ft and a maximum beam of 50 ft. While she has now been surpassed by the likes of Luminosity and M/Y IJE, she's still a force to be reckoned with, and the $2.1m weekly fee goes a long way with this much space. Benetti's Italian craftsmanship is on display in the seven VIP staterooms, along with one master suite. The rooms are able to accommodate 12 guests in these eight cabins, with each room equipped with an individual color scheme and panoramic windows.
Lana is kitted out with everything we have come to expect with a superyacht of this size, featuring a spa, gym, cinema, helipad, and outdoor pool. Perhaps most striking is its Beach Club which comes with folding terraces. Currently situated in the Middle East, this impressive superyacht is well-prepared for a full season of cruising.
Madsummer
Rate: From $1,774,643 per week Location: Bahamas/Caribbean Built: 2019 Length: 312.66 ft Guests: 12 in 10 cabins
Delivered 12 weeks ahead of schedule in the summer of 2019, Madsummer is a striking vessel, designed by the renowned Espen Oeino. Studio Laura Sessa furnished the interior, making use of a broad and bold color palette. Each of the 10 staterooms have a custom color scheme that is both contemporary and tastefully finished. Sessa has applied similar levels of customization throughout the ship. One notable detail of this is the custom-built dining table (a work of art in itself), which is topped off with layers of colored lacquer for a beautiful result.
For the nautically inclined, the ultra-modern bridge is situated alongside the master suite, allowing the charterer easy access to the organizational hub of the yacht. The vessel's fundamentals are state-of-the-art, with a 125kW, lithium-ion battery pack as just one example of this. This battery means less fuel is required and helpfully retains any excess energy produced.
[See also: How Much Does it Actually Cost to Charter a Yacht?]
Lady S
Rate: From $1,635,000per week Location: Mediterranean (summer), Pacific (winter) Built: 2019 Length: 305.12 ft Guests: 12 in 7 cabins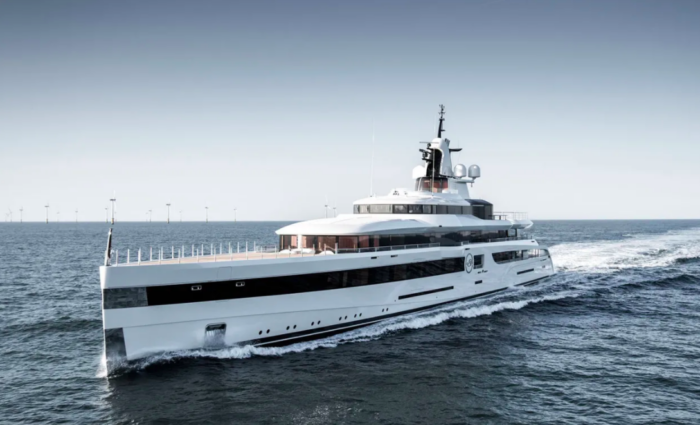 Also a relatively new vessel, Lady S was delivered in 2019 by Dutch builder Feadship. The interior was designed by Reymond Langton and described by them as "a contemporary jewelry box", with the glitzy white and crystal chandeliers just one detail that highlights the truth behind this statement. Such is the quality of its construction Lady S was the recipient of two awards from Boat International for both its interior and exterior design.
Beyond aesthetics, the vessel is equipped with all the amenities and facilities that any charterer could desire, making her worthy of being on any list of the most expensive yachts. This includes the very first IMAX cinema to be installed on a yacht, a basketball court and ice plunge pool, along with all else that you would expect in this price range.
[See also: The Best Superyacht Charter Itineraries in the World]
Aquarius
Rate: From $1,500,000 per week Location: Mediterranean (summer), Caribbean (winter) Built: 2016 Length: 301.84 ft Guests: 14 in 7 cabins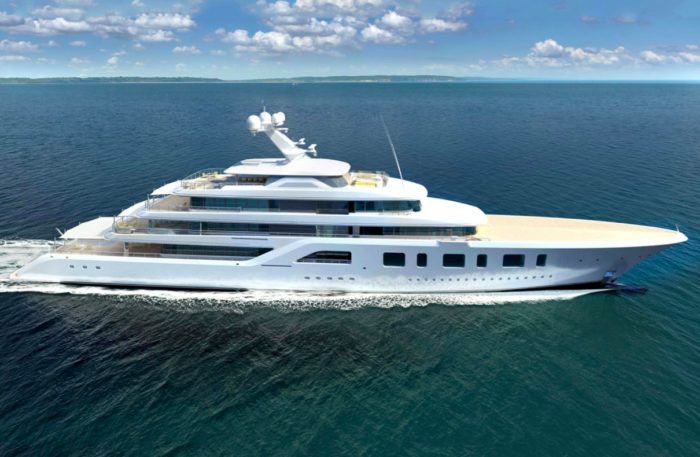 Aquarius is an eye-catching vessel. Her all-white four-deck exterior was designed by Sinot Yacht Architecture & Design and built by Feadship. The company was also responsible for its interior, one of its notable features being the floor-to-ceiling windows that surround its outsides. In keeping with its ambitious glass work, there is a bar at water level underneath a glass-bottom pool, that when emptied can turn into a dance floor. Based in the Mediterranean in the summer and the Caribbean in the winter, Aquarius has six VIP cabins, with a private deck for the master suite, suitable for 14 guests in total.
Kismet
Rate: From $1,330,982 per week Location: Mediterranean (summer), Caribbean (winter) Built: 2014 Length: 312.34 ft Guests: 12 in 7 cabins
Kismet has more than a touch of glamour about her, previously hosting Beyoncé and Jay-Z, along with other celebrities, while it has recently featured in 'Six Underground', Michael Bay's $150 million film. With this level of celeb appeal, it's no surprise that she's one of the most expensive yacht charters on the market. The appeal is clear with the ability to hold large parties for up to 270 guests and two helipads for ease of access for the world's ultra-high-net-worth individuals.
Owned by Shadid Khan, owner of NFL's Jacksonville Jaguars, Kismet features a large silver jaguar at the bow in a nod to his team. The interior was designed by Reymond Langton, who was inspired by "champagne and caviar".
Lengton has successfully combined traditional opulence with the latest technology, including state-of-the-art video walls that can switch between regular television and moving artwork. The deck is laid with black marble, while the master suite's bathroom contains an onyx bath that oozes glamor.
[See also: Discovering the World's Most Exciting Superyacht Concepts]
Excellence
Rate: From $1,150,000 per week Location: Bahamas Built: 2019 Length: 262.5ft Guests: 12 in 7 cabins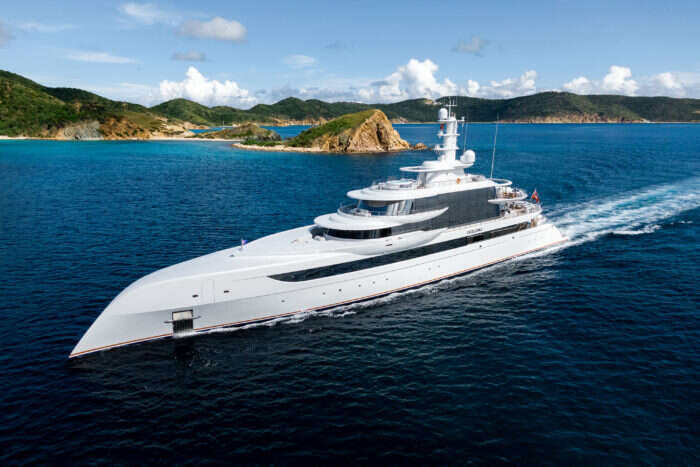 This striking (and expensive) yacht is sure to turn heads wherever she goes. Designed by Winch Design, Excellence remains at the forefront of what a modern superyacht should look and feel like. The curved floor-to-ceiling mirrored glass is designed to reflect her surroundings. Natural light floods through the triple-height glass atrium and the full-height windows. Her striking and angular plumb bow gives her the unmistakable look of a futuristic spaceship. There is a large swimming pool with a swim-up bar on the main deck aft and an upper deck entirely dedicated to the owner. Above the owner's deck is the substantial sun deck with a lounge area and jacuzzi. There is also a large water-level tender garage where the yacht's limousine tenders are stored.
O'Pari
Rate: From $1,112,000 per week Location: Mediterranean (summer), Caribbean (winter) Built: 2020 Length: 311.68 ft Guests: 12 in 6 cabins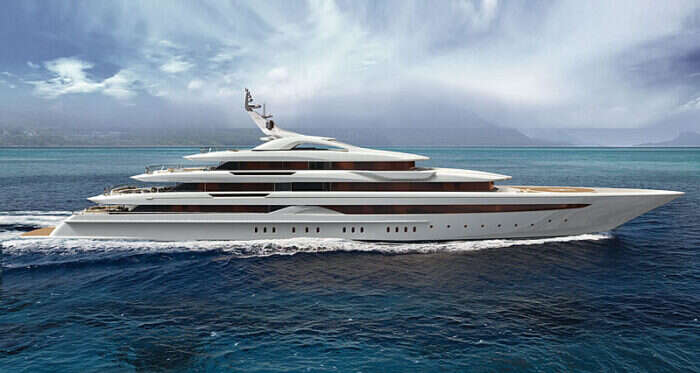 At just under 312 ft, O'Pari is the largest superyacht Greek yard Golden Yachts has produced and was delivered in June of this year, quickly becoming one of the most expensive yachts in the world. Both the interior and exterior were designed by Studio Vafiadias and part of the brief was to commission a custom art collection for display onboard.
The theme chosen for this was the relationship between man and nature, a particularly apt choice given the generous outdoor space on O'Pari. This includes a huge sky lounge, with panoramic ocean views, as well as a bar with DJ booth and an alfresco dining area on the upper deck. Also on the upper deck is the master suite with all other guests suites located on the main deck. Available to charter in some of the most attractive regions in the world, the Golden Yachts flagship is an outright success and is one of the most attractive high-end options out there.