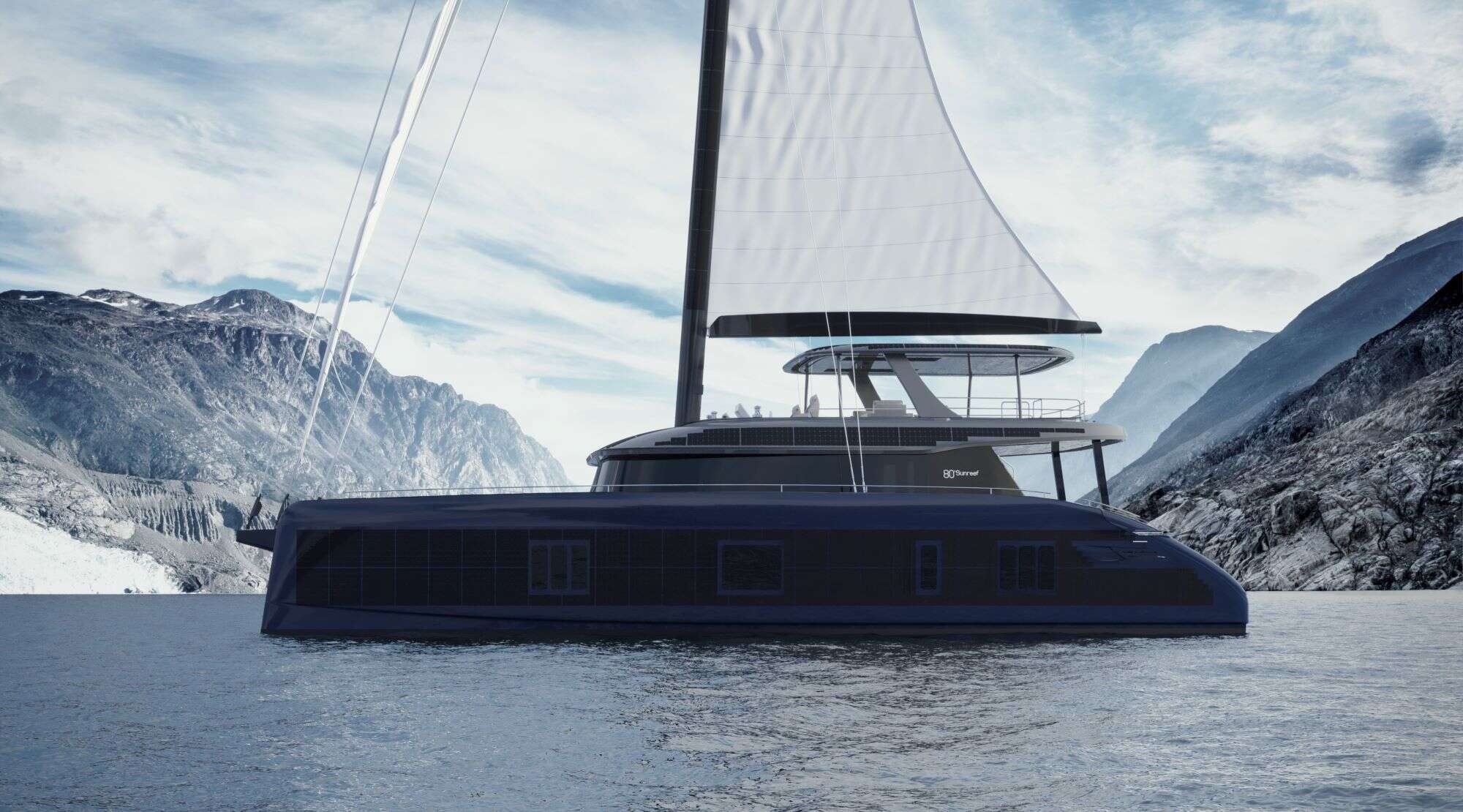 Polish-based Sunreef Yachts is building one of the world's most advanced sustainable luxury catamaran: the all-electric Sunreef 80 Eco. 
The Sunreef 80 Eco, which will premiere later this year, will generate renewable energy both above and below the waterline through a combination of electric propulsion, solar energy and the very latest green technology the yachting industry has to offer. 
[See also: The 10 Biggest Superyachts in the World]
Engineered in-house by the award-winning luxury catamaran specialists, the vessel, which can accommodate up to 16 guests, is designed for long offshore navigation and according to its makers, it will travel in total silence. Powered by renewable energy, the Sunreef 80 Eco features an advanced solar skin system that consists of ultralight solar cells which will be fully integrated throughout the vessel's anatomy including her sides, boom, superstructure and mast, covering a total surface area of 492 sq ft, delivering up to 34 kWp.
Founder and president of Sunreef Yachts, Francis Lapp said: "The Sunreef 80 Eco is all about responsible sailing and relying on renewable energy. We are now pairing the industry's most innovative solar power system with hydro generation. On top of that, the yacht will be able to save massive amounts of energy thanks to an air conditioning system available exclusively on Sunreef Yachts catamarans."
The 78.3ft long vessel's wind-free propulsion will come from twin electric engines providing the height of energy efficiency and performance. While under sail, the Sunreef 80 Eco will recover energy from the propeller rotation thanks to a state-of-the-art hydro generation system. The energy acquired will then be used to power everything from the vessel's propulsion through to the air conditioning and household appliances. As well as benefiting from the latest in green technology onboard, the catamaran itself is made from a combination of sustainable materials with Sunreef Yachts integrating natural and recycled fabrics into the build. 
Internally, the Sunreef 80 Eco offers superyacht-style living spaces which are fully customizable, offering endless possibilities when it comes to interior design. Owners can choose from multiple configurations including everything from a sleek multi-cabin design to a sophisticated open-plan layout that incorporates a generous saloon, sumptuous master suite and an expansive front terrace complete with elegant daybeds for relaxation in the sun. 
Sunreef Yachts will also provide access to a broad selection of ethically-sourced and eco-responsible finishing materials.