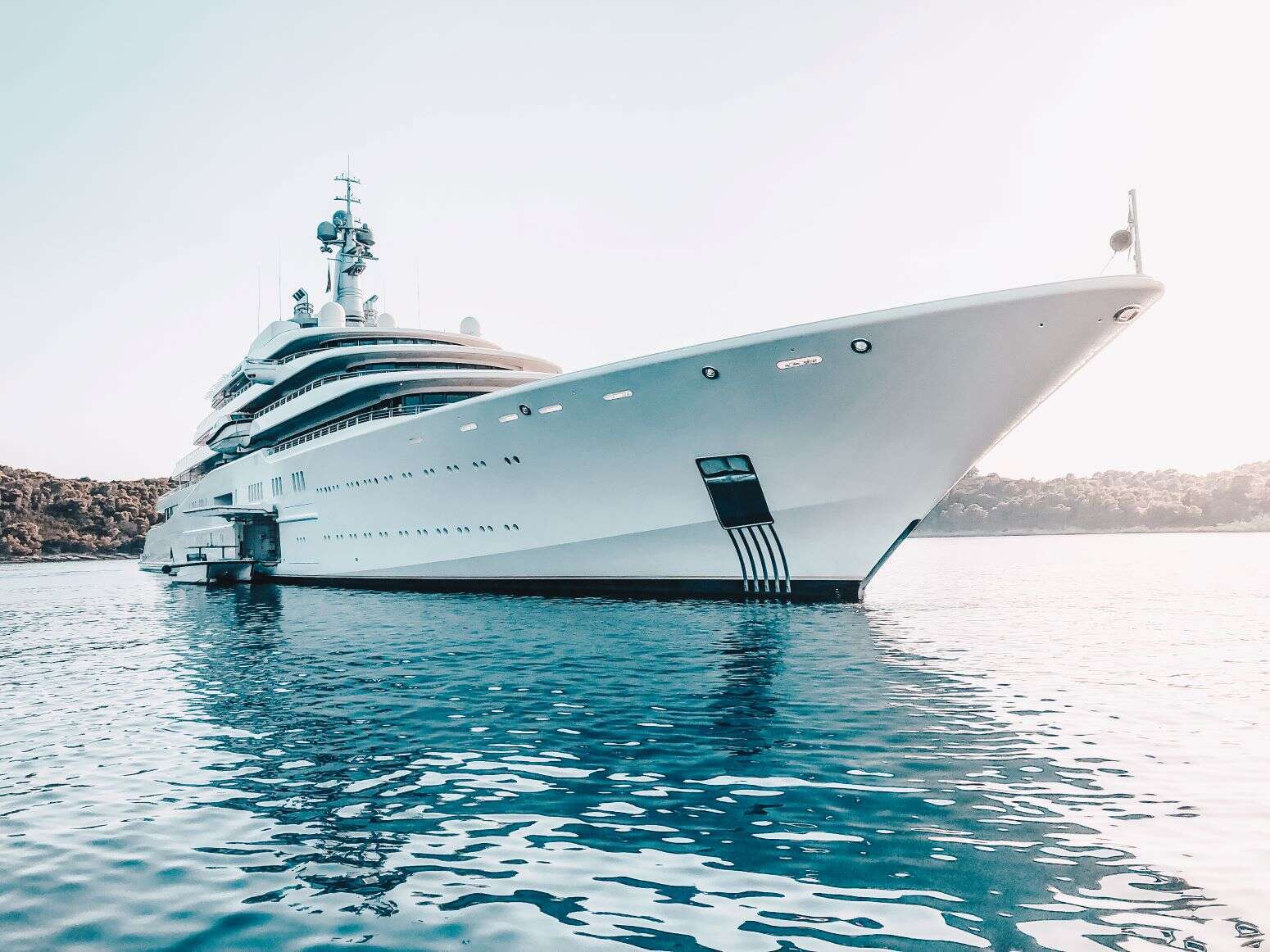 Superyachts represent the very pinnacle of luxury travel but they can vary in size dramatically; from those at the smaller end of the spectrum measuring under 100 ft to gargantuan 500-ft+ custom-built creations that command price tags in the hundreds of millions(or even billions). Here at Elite Traveler, we have been exploring the latter as we take a look at the 10 biggest superyachts in the world.
[See more: The Best Luxury Yacht Builders in the World]
El Mahrousa
Builder: Samuda Brothers
Year of build: 1865
LOA: 478.1 ft
Number of guests: Unknown
Number of crew: 160
The oldest by over 100 years to make our list of the biggest superyachts in the world, Egypt's presidential yacht El Mahrousa is an enormous floating piece of history. Nearly four decades older than the Titanic, she set sail on her first voyage just as President Lincoln was beginning his second term in office. 
Built by the now-defunct London shipyard Samuda Brothers, El Mahrousa was designed by the most celebrated master-shipwright of the day, Sir Oliver Lang. Commissioned by Khedive Ismail, Egypt's Ottoman governor, she went on to play a central role in many of Egypt's defining moments including the opening of the Suez Canal as well as ferrying three of the country's rulers to exile, including the last king of Egypt. 
She has had numerous modifications over the years, growing 57 ft in length since she first left the Thameside dockyard in 1865.  Today, she is the world's oldest active superyacht and was the first to pass through the new Suez Canal extension in 2015.
Prince Abdulaziz
Builder: Helsingor Vaerf
Year of build: 1984
LOA: 482.4 ft
Number of guests: 64
Number of crew: 65
At 482.4 ft Prince Abdulaziz is the largest yacht built in the 20th century and is thought to be one of the last yachts built by the historic Danish shipyard, Helsingor Vaerf, which closed its doors for the last time shortly after she was completed. 
Commissioned by the Saudi royal family, Prince Abdulaziz has certainly stood the test of time, with regular sightings on the Mediterranean. Her original interiors were by iconic British interior designer David Hicks, famed for his use of color and pattern. Since then she has received fairly regular refits, with the most recent thought to have been in 2018. 
[See also: How to Charter a Superyacht]
A+ 
Builder: Lürssen
Year of build: 2012
LOA: 483.1 ft
Number of guests: 62
Number of crew: 79
Built by famed yacht builder Lürssen at their Bremen shipyard, A+, originally known as Topaz, is thought to have cost in excess of $500m. 
Not much is known about A+, and her owner has never been officially confirmed but she is widely believed to belong to Sheikh Mansour bin Zayed Al Nahnan, the deputy prime minister of the UAE and the owner of  Manchester City Football Club.
Her exterior was designed by multi-award-winning designer Tim Heywood, and features two helipads, while her interior was placed in the hands of sought-after yacht interior designer Terence Disdale and includes 26 luxurious cabins. 
[See more: Lürssen Reveals Climate-Neutral Yacht Concept]
Al Said
Builder: Lürssen
Year of build: 2008
LOA: 508.6 ft
Number of guests: unknown
Number of crew: unknown
Commissioned by the late Sultan Qaboos Bin Said of Oman, the Al Said first set sail in 2008 and like many royal yachts, her details are held under lock and key.
We do know however that her exterior was designed by the famed naval architect, Espen Øino – the man behind many of the world's most famous superyachts – while her interiors were created by the respected British design studio, Redman Whiteley Dixon.
The interior of the ship has never been photographed which has led to much speculation of what lies inside. As well as accommodation for up to 74 guests, she is rumored to include a mini-concert hall capable of accommodating a full chamber orchestra.
Dilbar
Builder: Lürssen
Year of build: 2016
LOA: 511.10 ft
Number of guests: 36
Number of crew: 96
When Dilbar was built in 2016, she was the world's largest yacht in terms of gross tonnage, at 15,917 GT and the team at  Lürssen described her as "one of the most complex and challenging yachts ever built, in terms of both dimensions and technology." 
Owned by Uzbek-born investor Alisher Usmanov she wowed the judges at the prestigious World Superyacht Awards in 2017 to scoop the top prize of  'World Superyacht of the Year'. Her ivory exterior was custom-designed by Espen Øino, while her interior was the work of celebrated design studio, Winch Design. She boasts an 82 foot swimming pool, making it one of the largest to ever be installed on a superyacht, as well as two helipads.
[See more: Twenty for 20: Innovative Yachts of the 21st Century]
Dubai 
Builder: Platinum Yachts 
Year of build: 2006
LOA: 531.5 ft
Number of guests: 24
Number of crew: 88
Originally commissioned by a member of Brunei's royal family as a joint project between shipbuilders Blohm+Voss and Lürssen, the build was halted in 1998. The structure was subsequently bought by the Dubai government and the build continued under the exclusive Dubai-based shipyard Platinum Yachts. Today it serves as the royal yacht of Sheikh Mohammed bin Rashid Al Maktoum, Dubai's ruler. 
Designed by Winch Design, she spans over seven flowing decks and features an atrium nearly 70 ft in size. 11 luxurious guest suites have the benefit of their own private balconies while other features onboard include a swimming pool, a cinema and a disco.
Jetting off on an air excursion is easy as Dubai is equipped with a helipad for a Blackhawk helicopter while the yacht's submarine and vast selection of water toys are housed in the yacht's garage. 
[See also: These are the Yacht Interior Designers to Know]
Eclipse
Builder: Blohm+Voss
Year of build: 2010
LOA: 533.1 ft
Number of guests: 36
Number of crew: 70
The fourth-largest ship on our list of the biggest superyachts in the world is Eclipse. The German-built vessel was voted 'Motor Yacht of the Year' at the World Superyacht Awards in 2011 and both her exterior and interior designed by the acclaimed Terence Disdale.
Owned by Russian businessman Roman Abramovich, the estimated $1bn+ superyacht was reported to have undergone a refit in 2015 and is packed with tenders and toys including two helipads, three launch boats and a mini leisure submarine. 
Her custom-designed interior includes a 183.7-ft deck and an expansive swimming pool which can convert into a raised dance floor. She also has her own missile defense system, a feature that appears to be increasing in popularity amongst the owners of the world's biggest superyachts. 
Fulk Al Salamah
Builder: Mariotti
Year of build: 2016
LOA: 538.1 ft
Number of guests: unknown
Number of crew: unknown
Very little detail has ever been released about the Fulk Al Salamah, which translates into English as 'ship of peace'. Built for the Omani royal family by ultra-luxury shipbuilder Mariotti in its Genoa shipyard, her lack of outdoor entertaining space has led to unconfirmed reports that she is in fact a support vessel, used to shadow the late Sultan of Oman's Al Said superyacht.
While it isn't the longest superyacht in the world, when it comes to actual volume, the Fulk Al Salamah is thought to outsize both Azzam and REV (below), with an estimated total gross tonnage upwards of 20,000 GT (REV is 17,440 GT and Azzam 13,136 GT).
Azzam
Builder: Lürssen
Year of build: 2013
LOA: 590.6 ft
Number of guests: 36
Number of crew: 80
Thought to have cost well in excess of $500m, Azzam has held the title of world's longest superyacht since 2013 however her reign is about to draw to a close thanks to the next superyacht on our list, REV. 
Owned by Sheikh Khalifa bin Zayed Al Nayan, President of the United Arab Emirates and Emir of Abu Dhabi, Azzam's sophisticated exterior was designed by Italian studio Nauta Design. Much of the yacht's interiors –  which were created by French designer Christophe Leoni – remain shrouded in mystery but Leoni describes the aesthetic as: "sophisticated, with luxurious decor inspired by the Empire style of the early 19th century".
Azzam has every nifty feature you could wish for including a helipad, gym, pool and even a golf training room so guests can practice their swing onboard. Like Eclipse, she also boasts her own missile defense system. Despite her stature, she can lay claim to being one of the world's fastest superyachts with a top speed of 33 knots. 
[See more: Top 10 Explorer Yachts in the World]
REV Ocean
Builder: VARD
Year of build: Due 2023
LOA: 600  ft
Number of guests: 36
Number of crew: 54
Currently still in build, REV is set to steal the crown from Azzam to become the biggest superyacht in the world once she is delivered. But this is no normal superyacht. Funded by Norwegian business-man Kjell Inge Røkke, REV is a totally unique, state-of-the-art research and expedition vessel with one ambition: to make the ocean healthy again.
Designed by Espen Øino, the vessel is creating a huge amount of excitement within the industry due to the technological advances she is set to offer including cutting-edge marine science facilities. The super-sized vessel is equipped with the very latest observation and mapping equipment for conducting research encapsulating the entire marine ecosystem. One of many exciting features is the 25-ft moon pool in the hull, designed to lower scientific tools and submersibles into the ocean's depths, including a three-passenger submarine. 
REV is expected to be available to charter for one-third of the year, which will include both conventional charters as well as on a single cabin basis to accompany experts on expeditions. 
[See also: How Much Does it Actually Cost to Charter a Yacht?]