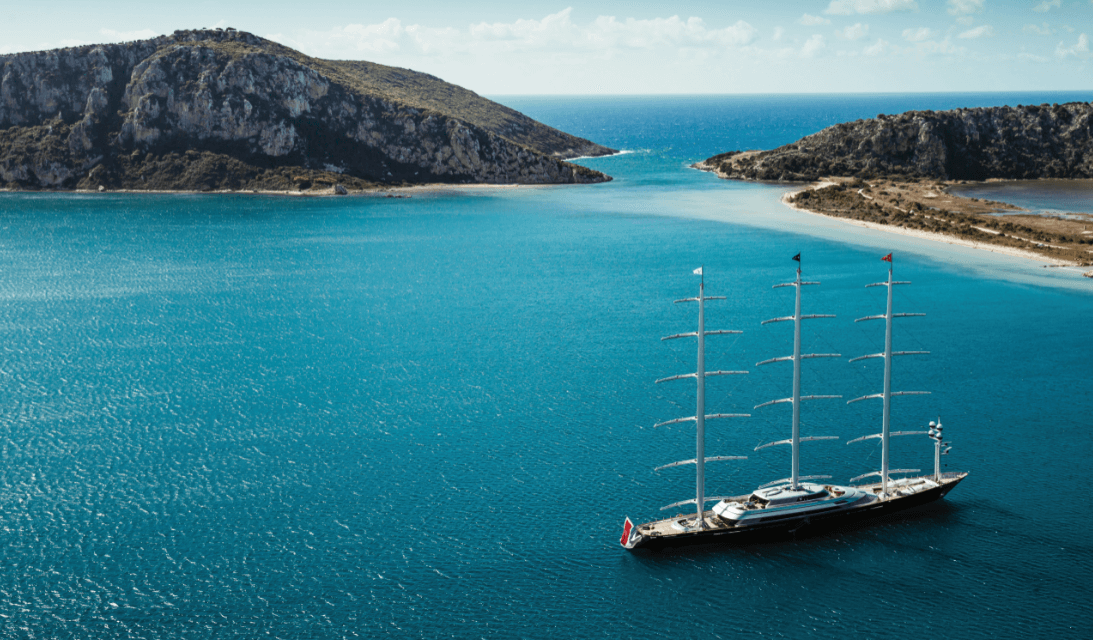 Spending so much time indoors has us itching to get back out into the world: to explore, to visit beloved destinations, to make new memories, and to reunite with friends and family. A superyacht  charter is arguably one of the safer ways to travel the world, and also one of the most fun. We've looked at the best charter yachts from the top brokers and handpicked itineraries that really make the most of the open seas, and vessels that have such an extensive list of amenities, toys and special features that you might not ever feel the need to go ashore.
[See also: Inside Flying Fox, the Largest Private Charter Superyacht in the World]
Maltese Falcon
Virgin Islands
One of the most head-turning and instantly recognizable yachts on the water, Maltese Falcon (pictured above) has won more than 18 awards since her launch in 2006. She has all the qualities of a sailing yacht but with the huge spaces and luxuries typically found on a motoryacht, and is one of the largest sailing yachts in the world. Her interior, designed by award-winning firm Ken Freivokh Design, is sleek and modern, and features a vibrant art collection. She has spacious deck areas (the VIP cabin looks out on its own deck space), and the deck can transform into an outdoor cinema by night. There is also an outdoor dining table, Jacuzzi, card and playroom area, large office, interior formal dining room, circular bar, gym and spa area. Of course, her most striking feature is her three carbon-fiber rotating masts with 15 sails, which can all be fully controlled via a computer system. This pioneering system means she is simple and safe to sail at speed while maintaining stability, and has contributed to her winning a slew of prestigious superyacht sailing regattas throughout her history.
Where to go
Even though the US Virgin Islands are just 1,000 miles from Miami, the spellbinding natural scenery, abundant marine life and secluded spots make it feel like another world. Spend a relaxing eight days sailing around the main islands of St Thomas, St John and St Croix, dropping anchor in isolated bays. Beginning in St Thomas, sail to Magens Bay in the Northside region to spend a lazy day on the nearly mile-long sandy beach, or try out one of Maltese Falcon's many watertoys (laser sailing dinghies, stand-up paddleboards and anti-jellyfish sea pool, to name a few).
Next you'll visit Lovango Cay, a small private island between St Thomas and St John. If you want to venture ashore, the island has exceptional walking trails, or drop anchor just north of the island, one of the best spots for snorkeling in the USVI — keep your eyes peeled for nurse sharks. Journey on to Francis Bay, a protected area on St John. The waters surrounding the island are a hot spot for marine life (look out for sea turtles, tropical fish and coral reefs) and, as 60 percent of the island is occupied by the Virgin Islands National Park, St John feels as if it is far removed from civilization.
You'll also visit Round Bay and Rendezvous Bay on St John — secluded spots that are ideal for spending days out on the water. Explore by tender or jet ski, or fish for your dinner from the shore and have an alfresco dinner in Maltese Falcon's outdoor dining space. Sail on to St Croix, where you'll visit Buck Island Reef National Monument. The island has an abundance of wildlife both above and below the ocean, and you can drop anchor at the historic St Croix Yacht Club in Teague Bay to watch the sunset and have the most scenic movie night on the upper deck.
Elite Tip: IYC has recently partnered with Magellan Jets, so you can have a seamless and safe experience with a 'closed loop' vacation.
Need to Know
LOA: 289ft
Builder: Perini Navi
Built/refit: 2006/2016
Guests: 12
Cabins: 6
Crew: 19
Cruising speed: 16 knots
Max speed: 18 knots
Best feature: Carbon-fiber masts
From $539,000 per week. Contact Heather Hatcher, charter management director, hhatcher@iyc.com, +1 954 683 2148, iyc.com
Formosa
Thailand
Despite her young age, Formosa is a seasoned traveler: Her intrepid owner took her on an around-the-world tour two years ago, and she has been on the move ever since. Available for charter in Southeast Asia this winter, she is as well-suited to shorter jaunts as she is long, relaxing vacations. The owner's suite is on the upper deck and has its own study and private terrace; the two VIP cabins on the main deck both have marble en suites; the two double cabins and one twin are on the lower deck. A glass elevator connects the decks.
Formosa's interiors, by award-winning Dutch yacht design studio Sinot, are fresh and subtle with a few choice pops of color; her exterior spaces are built to enjoy warmer climes. The spacious sundeck has a hot tub and bar, and the observation deck is a private haven strewn with bright orange sofas and daybeds. The upper deck has alfresco dining space and a sky lounge that can be converted into a cinema room, and the swim platform makes for easy access to the ocean to play with her long list of toys: jet ski; kite surfing equipment; slide; inflatable climbing wall; canoe kayak; wake, ski and knee boards; banana boat; and a host of fishing equipment.
Where to go
Thailand has some of the most beautiful islands in the world, and in this weeklong suggested itinerary from Fraser, you'll see the best of the Andaman Sea from Formosa's inviting decks. Begin in Phuket, the largest Thai island, and visit stunning beaches — each one offers something different, from the secluded Nui Beach to the lively atmosphere at Patong Beach.
Cruise through Phang Nga Bay, famed for its karsts (limestone cliffs), then south to Ko Phi Phi Don. This is a good spot for scuba diving — or hop in a kayak and explore the quieter bays and caves. Next on the agenda is Koh Ngai. It's officially part of Koh Lanta National Marine Park, so you can expect picture-perfect beach scenes. The neighboring islands form a triangle, making it easy to island-hop, and the rocky islets of Koh Ma, Koh Chueak and Khon Kaen have great snorkeling sites.
Sail on to Koh Muk, home to the Emerald Cave — it is as magical as it sounds. A gorgeous lagoon surrounded by tropical plants lies just beyond the cave, and between the hours of around 10am and 2pm, the sun shines on the lagoon's waters and reflects on the tunnel's walls — resulting in a shimmering emerald display. Cruise on to Koh Rok Nok, which is a protected wildlife habitat that has pretty coral gardens teeming with vibrant tropical fish. You'll be able to spot them right beneath Formosa; head to her swim platform for the best view, or snorkel in the warm waters for a closer look.
Elite Tip: For a memorable night, head to a secret spot and the crew will set up a campfire on the beach.
Need to Know
LOA: 196ft
Builder: Benetti
Built: 2015
Guests: 12
Cabins: 6
Crew: 15
Cruising speed: 14 knots
Max speed: 16 knots
Best feature: Sky lounge/cinema room
From $448,000 per week. Contact yachtcharter@fraseryachts.com, +44 207 016 4480, fraseryachts.com
[See also: The Best Superyachts to Charter This Summer]
Savannah
New Zealand
Savannah is an incredible vessel to charter — she is as innovative as she is impressive, with stellar eco-credentials to boot. She is the world's first-ever hybrid motoryacht and uses a specialized propulsion system to ensure reduced emissions for sustainable cruising. Since her launch in 2015, she has won a host of awards; it's easy to see why. She has a total of four decks, connected by an elevator and a rosewood spiral staircase. The owner's suite is on the private upper deck, and the VIP cabin (complete with its own waterside balcony) and additional four en-suite double cabins are found on the main deck.
The main deck also has a 30-ft swimming pool, expansive sundeck with DJ booth and barbecue. There is an onboard spa with hammam (a masseuse and beautician are part of the crew) and a well-equipped gym with views of the ocean — but if you're more into shooting hoops, then head to her basketball court. Savannah's piece de resistance is the underwater lounge. It's the first underwater viewing lounge of its kind, with floor-to-ceiling windows that open up the world beneath the surface for your viewing pleasure. It can also be turned into a cinema room with stadium-style seating.
Where to go
As one of the world's natural seven wonders, the Great Barrier Reef is simply remarkable. A large part of the 1,430-mile stretch of coral reef is protected by the Great Barrier Reef Marine Park to limit the impact of tourism, so Savannah's eco-friendly credentials make her a considered choice to charter here. The reef is home to some 900 islands, and while you could certainly head on a longer jaunt to try and see as many of them as possible, this seven-day itinerary from Northrop & Johnson explores the wonders in and around Lizard Island.
On day one, you'll cruise toward Mackay Cay — a small sand island that only rises about a foot above high tide. Snorkel in the surrounding crystal-clear waters and look out for endangered plants and animals. Sail on to Rachel Carson Reef for a spot of fishing, then enjoy a few sunset cocktails on Savannah's main deck before dinner. Then head on to Anderson Reef, where you can snorkel or dive world-famous sites, including Steve's Bommie and Temple of Doom. Or, if you'd prefer, head to Savannah's Nemo Lounge for stunning vistas of the underwater world around you.
In the following days you will sail on to visit Ribbon Reef 7, Ribbon Reef 9, Cod Hole and Dynamite Pass. On day five, you'll arrive at Lizard Island — follow in the footsteps of Captain Cook, and hike up to the highest point on the island (known as Cook's Look) to take in the astonishing views; snorkel amongst the giant clams at Clam Gardens, or kayak through the clear waters.
Need to Know
LOA: 274 ft
Builder: Feadship
Built: 2015
Guests: 12
Cabins: 6
Crew: 24
Cruising speed: 14 knots
Max speed: 17 knots
Best feature: Underwater viewing lounge
From €1m (approx. $1.2m) per week. Contact Amy Wachmann, charter broker, charter@northropandjohnson.com, +1 954 522 3344, northropandjohnson.com
Joy
Balearic Islands
Built by industry powerhouse, Feadship, Joy has the first exterior designed by the lauded design studio Bannenberg & Rowell. She has five decks connected by a spiral staircase that coils around a glass elevator; the master suite can be found on the owner's deck. It was designed to resemble an onboard penthouse and has 270-degree views from floor-to-ceiling windows, a private office and lounge, and his 'n' hers en-suite bathrooms, plus it overlooks a winter garden. There are two double en-suite cabins on the owner's deck positioned close to the master suite (handy if you're traveling with family). The other cabins are on the main and lower decks. Joy has myriad entertainment spaces including a lower deck beach club that can be transformed into a nightclub or private cinema thanks to the video wall; an Irish whiskey bar in the main saloon; sundeck with barbecue and pool; and a large games deck forward. If you're a fitness enthusiast, the wellness facilities are outstanding: There is a very well-equipped gym that overlooks the ocean, and a sumptuous spa treatment room.
Where to go
The main islands in the Balearics are Mallorca, Menorca, Ibiza and Formentera, and each has its own distinct character. This seven-day itinerary from Burgess begins in Club de Mar, Mallorca's chic marina, before gliding onto Playa Es Trenc, a six-mile stretch of beach with shallow, aquamarine waters and powdery sand. Spend the day strolling along the white sands and wading through the clear waters before enjoying an alfresco dinner onboard. Head chef Lee Easdon grew up in a small fishing village in Cornwall, England so, unsurprisingly, he has a passion for seafood. Dine on seared sea bass with fennel puree, dauphine potato and fennel.
The next day, you'll sail on to Formentera. The 'chill' island (known as Ibiza's calmer sister) is perfect for lazy days in the sunshine: Relax on Joy's sundeck or grab a SeaBob — this is a prime spot for underwater viewing. If you're up for something more energetic, have a one-on-one training session in the gym. Next, travel on to Ibiza Town. Go ashore in the Wajer 38 tender, then meander through cobbled streets in the fortified Unesco-listed Old Town, or hit one of the famous clubs. Start the next day with a 90-minute Ayurvedic massage in Joy's spa suite while you sail north on to Cala Xarraca — an off-the-beaten-track beach, surrounded by pine forests and with natural mud baths. Cruise to Puerto Soller, a small and charming seaside town, and Puerto Andratx, a glamorous fishing village on the western tip of Mallorca.
Elite Tip: Joy's onboard fitness instructor can create a bespoke training plan for your time spent at sea.
Need to Know
LOA: 229.7ft
Builder: Feadship
Built: 2016
Guests: 12
Cabins: 7
Crew: 19
Cruising speed: 12 knots
Max speed: 16 knots
Best feature: Gym with fitness instructor, spa and onboard masseuse
From $700,00 per week. Contact James Clark, head of retail charter, charter@burgessyachts.com, +44 207 766 4300, burgessyachts.com