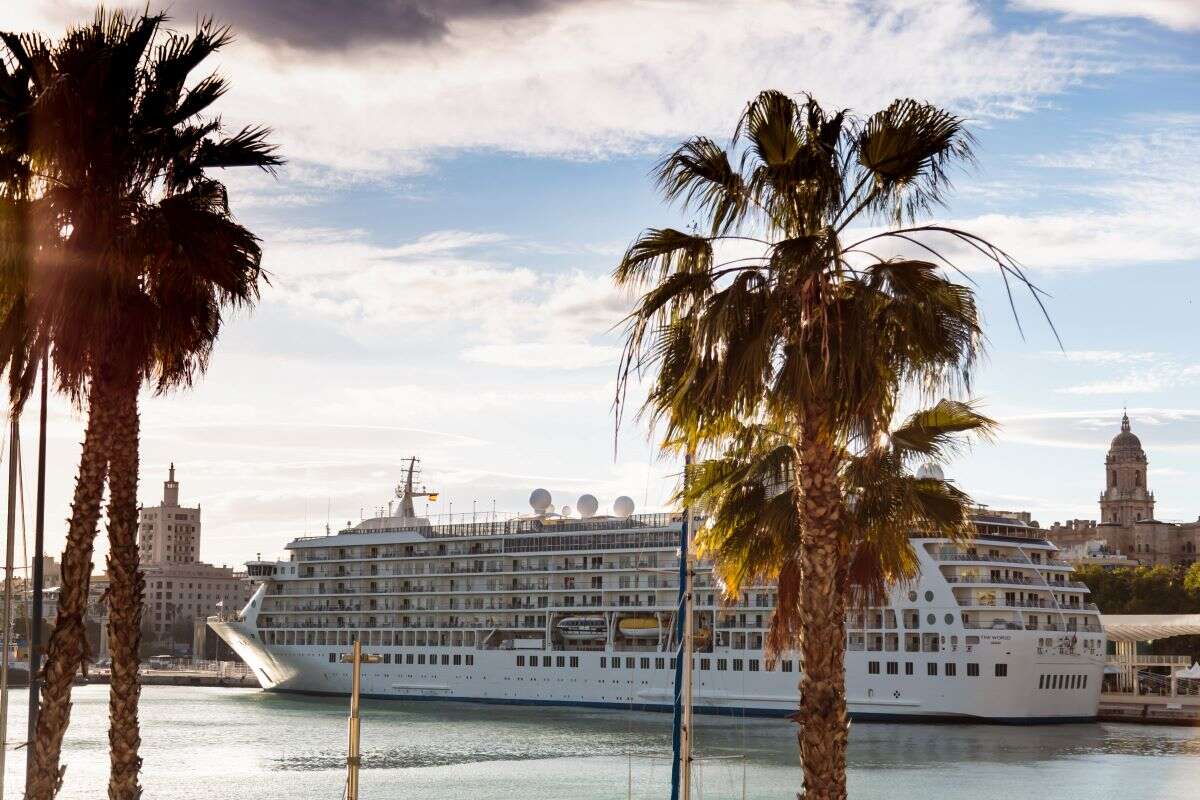 The World, the biggest privately-owned residential yacht on Earth, has announced that it will re-commence sailing in July 2021 after a covid-enforced hiatus. 
The 644-ft  ship which contains 165 luxury private residences, will welcome back the families who are part of an exclusive community that own abodes onboard the luxury vessel, for the ultimate post-lockdown getaway. 
Known for its extraordinary globe-trotting itineraries, The World combines enriching expeditions with a highly personalized service within the most luxurious of surroundings. Residents will not be short of onboard amenities either, with six restaurants as well as an array of private dining options; an award-winning wine collection featuring over 14,000  bottles; golf facilities which include onboard putting greens, a state-of-the-art golf simulator and resident pro; the only full-size, regulation tennis court at sea; two swimming pools; a luxurious spa; a fitness center complete with personal trainers; expert destination lecturers (including Nobel prize winners); a cinema and more. 
[See also: Inside the Incredible Superyacht REV]
The World's passengers start their voyage in European waters this summer, taking in the secluded Greek Islands and the turquoise shores of  Cyprus; exploring the enchanting Croatian coastline; and visiting Mediterranean ports in France, Italy and Spain before heading to the Portuguese island of Madeira to begin the Transatlantic part of the journey. 
Once transported across the ocean, passengers will find themselves waking up in a new island paradise every few days, with the pink sands of Bermuda serving as the first stop, before being whisked to destinations across the Caribbean including the sun-drenched Bahamas and Cayman Islands. 
Central America awaits to round off the year with passengers delving into Mexico's ancient sites and contemporary cuisine, followed by an adventure across the Caribbean shores of Belize and wildlife-rich Costa Rica, before arriving in Guatemala's lush canopies. 
"After more than a year, it is a great pleasure to announce that we are setting sail once again," said The World's CEO Pamela Conover. "It's been a difficult 16 months for our residents who have been missing their home at sea. They have been incredibly supportive of the operation while the ship was in warm lay-up and especially of our crew, who are like extended family members. We are all anxious for the ship's return and are enthusiastically preparing to welcome our residents back home this summer."
The elegant superyacht has an average occupancy of only 150 to 200 at any time, ensuring a spacious environment onboard. Its newly launched Covid Shield will also put passengers' minds at ease. The program includes a suite of health and safety measures and will be overseen by a team of medical specialists.
As well as caring for the health of its passengers, The World is a yacht keen to ensure the health of the planet's oceans, running on low sulphur marine gas oil and operating a "zero discharge to sea" policy.