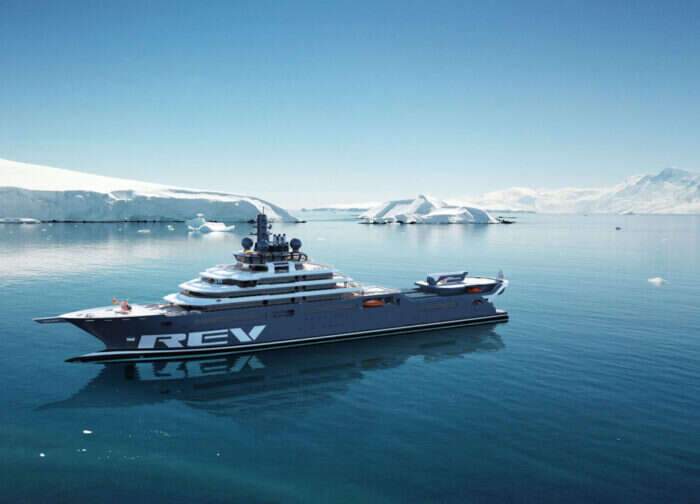 Imagine a floating eco-metropolis powered by hybrid energy, filled with the best scientific minds and equipment that could journey to the most secluded corners on earth to unlock the secrets that could save the world's oceans. Now imagine you could be a part of it. Meet the incredible yacht, REV Ocean.
Measuring 600 ft in length, she has one mission: to make the ocean healthy again. Funded by Norwegian billionaire businessman and philanthropist Kjell Inge Røkke, who has vowed to give away half of his fortune to environmental causes, REV Ocean is set to be the world's largest superyacht taking the title from its current holder, the 590.6-ft Azzam.  
The super-sized ship shares its name with the not-for-profit foundation which Røkke established together with marine biologist and former WWF Norway CEO, Nina Jensen. The vessel itself forms a major part of the organization's strategy to spearhead the next generation of ocean solutions and raise awareness of the global impacts of pollution, climate change and overfishing. 
REV Ocean will be kitted out with the latest sampling, observation, mapping and communication equipment for carrying out research that encompasses the whole marine ecosystem, from the icy abyss of the polar regions to the equatorial waters of the Indian Ocean. 
[See also: How Long is a Yacht Charter Season?]
Built by Norwegian shipyard VARD and designed by renowned naval Architect Espen Øino, REV Ocean will be powered by ultra-quiet hybrid propulsion and will have a max speed of 17.8 knots. She will also feature a lithium-ion battery pack that can be used to power the propulsion motors for silent running, limiting underwater acoustic pollution during biomass sampling on research missions.
Determined to limit her environmental footprint, the multidisciplinary team behind her design and build has installed an endless list of eco-focused gadgets which include a 'Green Pilot' to monitor emissions as well as a water treatment system to prevent species cross-contamination across ocean zones. However, the most innovative of all has to be REV Ocean's incinerator which gobbles up plastics in an environmentally positive way without producing noxious gases. This means the vessel does not have to off-load plastic waste to shoreside facilities in locations with little ability to dispose of plastics.
[See also: Octopus: On Board the Original Explorer Superyacht]
[See also: The Maltese Falcon: A Timeless Icon of the Yacht Industry]
After a delayed launch thanks to the global pandemic, REV Ocean is finally set to hit the water in 2023. She will be available to charter for one-third of the year, enabling guests to join scientific experts in an immersive, once-in-a-lifetime expedition. What's more, any profit generated through the use of the vessel is reinvested into the charity's vital ocean-saving work. 
Although REV Ocean is a superyacht, a floating palace she is not. Those looking for the glamour and grandeur found on the likes of her superyacht predecessors Azzam or Eclipse might want to look elsewhere. REV Ocean is unashamedly a different type of vessel; one that confidently stands out from the crowd to offer an alternative adventure.
Stay
As a charter vessel, REV Ocean will be able to comfortably accommodate 28 guests in 18 cabins. Her interiors have been imagined by the London Studio H2 Design who are responsible for, amongst others, the contemporary designs onboard the famed explorer yacht Ulysees as well as the luxurious and modern style found within the new 262.5 ft superyacht Tatiana. 
Speaking to Yacht Charter Fleet in 2019, H2's founder Jonny Horsfield explained that designing the interiors for a vessel like REV Ocean required a fresh approach: "It is now my challenge to deliver a new kind of interior that is fit for the demands of its purpose, one that is holistic in its requirement to connect to the environment around it, and establish a new way of thinking to a project that has no precedent," he said.
[See more: The Best Luxury Yacht Builders in the World]
Indeed Horsfield admitted that despite REV Ocean's unparalleled size (she measures 17,440 GT), the vessel crams in so many technological advancements that a major challenge has been fitting everything in. However, judging by the incredible list of exciting marine research equipment she is set to house on board, it appears to be a challenge that H2 has risen to.
Although much of her interiors are yet to be revealed, it's safe to say she may not be quite as opulent as some of her superyacht predecessors; but this feels very much like a choice made in keeping with the vessel's purpose. "She has been designed towards a more industrial look but with a Scandinavian minimalist approach to the [details]. All the materials are simple, basic materials like concrete, wood, metal and stone," said Horsfield. 
Relax 
REV Ocean may not exude the glamour of some of the world's other largest superyachts but despite this, charter guests will still be able to enjoy many of the luxuries found onboard her more lavish counterparts.
She is set to offer guests the choice of three swimming pools, a  jacuzzi, a gym and a spa. There will be multiple dining rooms and recreational spaces onboard ideal for relaxing or entertaining, as well as several observation platforms to spot marine life or take in the unforgettable polar sunrises. 
[See also: Oceanco, Pininfarina and Lateral Unveil KAIROS Yacht Concept]
Her adventure-loving guests will have the opportunity to leave the jacuzzi behind and immerse themselves in the groundbreaking marine research taking place on board. With over 43,000 sq ft of the vessel dedicated to scientific research facilities, including laboratories and a dive center, there will be plenty of scope to join scientists in their mission-critical work. 
As is to be expected, this futuristic mega-vessel also holds an incredible collection of tenders and submersibles. This includes a three-person Triton 7500/3 series submersible capable of diving to 7,500 ft which is lowered into the ocean's depths via the ship's 25-ft moon pool in the hull. Adventures via air are made possible by REV Ocean's Airbus ACH145 helicopter which is served by two helipads. 
Explore
From remote polar regions to the tropics, REV Ocean is designed to cope with the planet's most extreme conditions thanks to her ice-class hull. Possessing a range of 21,120 nautical miles,  she will be able to pretty much circumnavigate the globe without refueling meaning no location is off-limits. 
Originally planned for 2021, REV Ocean's maiden voyage was set to be a scientific mission to the Norwegian archipelago of Svalbard, home to a diverse population of wildlife including seals, polar bears, whales and walruses. This has been put on hold as she awaits completion. Other expeditions in the pipeline are rumored to include the Caribbean and the Galapagos. 
[See also: Twenty for 20: Innovative Yachts of the 21st Century]