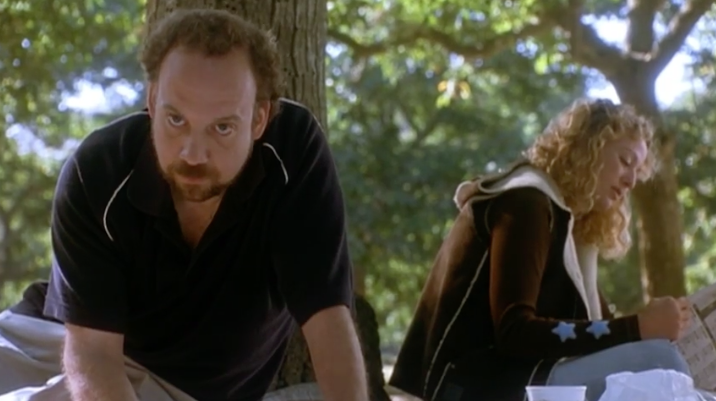 The world is in lockdown right now and millions of us have been forced to work from home or self-isolate. The travel industry has also ground to halt and millions of vacations have been postponed or canceled. But don't let the coronavirus pandemic kill your wanderlust. Keep it alive by gorging on the best travel movies of all time. Here, we pick 10 must-watch movies that will help pass the time indoors.
Sideways
Originally released in 2004 to critical acclaim, Sideways has, fittingly, continued to age like a fine wine. This charming film transports you to the rolling hills of California's wine country and is best enjoyed with a special bottle of pinot noir. The film was nominated for five Oscars, including Best Picture and Best Director, and took home one: Best Adapted Screenplay. The movie was also credited for a sharp upturn in tourism to the Santa Ynez Valley wine-growing region of California's Central Coast.
Up
Up is a Pixar classic that will fire up the spirit of adventure in children and adults alike. The plot follows a grumpy old man Carl on his mission to travel to South America in honor of his late wife. The fantastical adventure succeeds in creating relatable characters in fantastical, and sometimes farcical, circumstances. Far from a kids' film, this beautiful tale will have you laughing and crying from start to finish.
The Motorcycle Diaries
Few foreign-language films break into the English-speaking mainstream, and The Motorcycle Diaries certainly struggled to make an impact when it was first released in 2004. But this masterful story, directed by Walter Salles, slowly came to the fore as its genius became apparent. The film follows a young Ernesto "Che" Guevara and his friend Alberto Granado in their two journeys across Latin America. It shows Guevara's eyes slowly open to the political injustice that was rife throughout the region, which sewed the seed for his life in revolutionary politics.
The Darjeeling Limited
Following the death of their father, three brothers decide to travel across India on its chaotic train system in an attempt to bond with each other. The Darjeeling Limited perfectly encapsulates the culture shock that most Americans feel when traveling through this foreign land. India as an expansive country, but can feel intensely cramped in its megacities, no more so than on its overcrowded trains. Director Wes Anderson packs a ton of fun and adventure into its 90-minute run time, and there are notable performances from leading men Adrien Brody, Owen Wilson and Jason Schwartzman.
Vicky Cristina Barcelona
Written and directed by the legendary Woody Allen, Vicky Cristina Barcelona is an ode to his love for the Catalonian capital. The film follows a similar theme to Allen's usual style by making the city itself a character within the film. It follows two women (Scarlett Johansen and Penelope Cruz) during their visit of Barcelona, and you are treated to the city's spectacular architecture and rich culture. It may not be time to visit Barcelona at the moment, but it'll be elevated to the top of your bucket list after this.
Eat, Pray, Love
The book, written by Elizabeth Gilbert, is widely considered to be one of the great travel novels. The film, starring Julia Roberts, does at times struggle to capture the same magic, but it does succeed in providing beautiful scenery from the world's great culinary destinations. The film follows Gilbert as she rediscovers her lust for life through travel, food and the power of prayer. With a terrific performance form Roberts and beautiful vistas to enjoy, Eat, Pray, Love will have you rekindling that backpacking trip that never quite happened.
Under the Tuscan Sun
Continuing with a similar theme to Eat, Pray, Love, Under the Tuscan Sun follows the adventures of Frances (Diane Lane) as she moves to a dilapidated house in Italy following the break down of her marriage. Follow Lane as she transforms the beautiful Tuscan villa, and discovers the wonders of northern Italy. You'll be ready to pack your bags and searching the Internet for renovation projects by the end of it.
The Beach
One of the most famous examples of a paradise lost, The Beach follows Richard (Leonardo DiCaprio) as he discovers an off-the-grid community living on a beautiful island off the coast of Thailand. After swimming through shark-infested waters and dodging drug lords, he finally finds what he has been looking for, but cracks in the island paradise soon appear. For bookworms, the novel by Alex Garland (author of Ex Machina) is a captivating read and even darker than the film.
Easy Rider
Few films better encapsulate the free-living spirit of the 1960s than Easy Rider. Released in 1969, today the film acts as a time capsule for the counterculture movement. Featuring Peter Fonda, Dennis Hopper, and a young Jack Nickolson, Easy Rider follows two men on their motorcycle journey from Mexico to New Orleans through Los Angeles. It puts the barren lands of western USA in a beautiful light and will inspire thoughts of a classic American road trip.
The Trip
Originally a series of six episodes, The Trip was later stitched together to make a feature-length film that is stacked full of British charm. Follows fictional versions of actors Steve Coogan and Rob Brydon as they travel around England's beautiful Lake District. They stay in some of its best hotels and dine in its best restaurants, providing insights into Michelin-starred kitchens all the way along. The plot meanders from sophisticated to downright silly, but it never fails to captivate. Listen out for superb impressions of Michael Caine, Al Pacino, and Batman villain Bane. The popular TV show now has four series, including journeys through Italy, Spain, and Greece. All are equally worthy of your time.