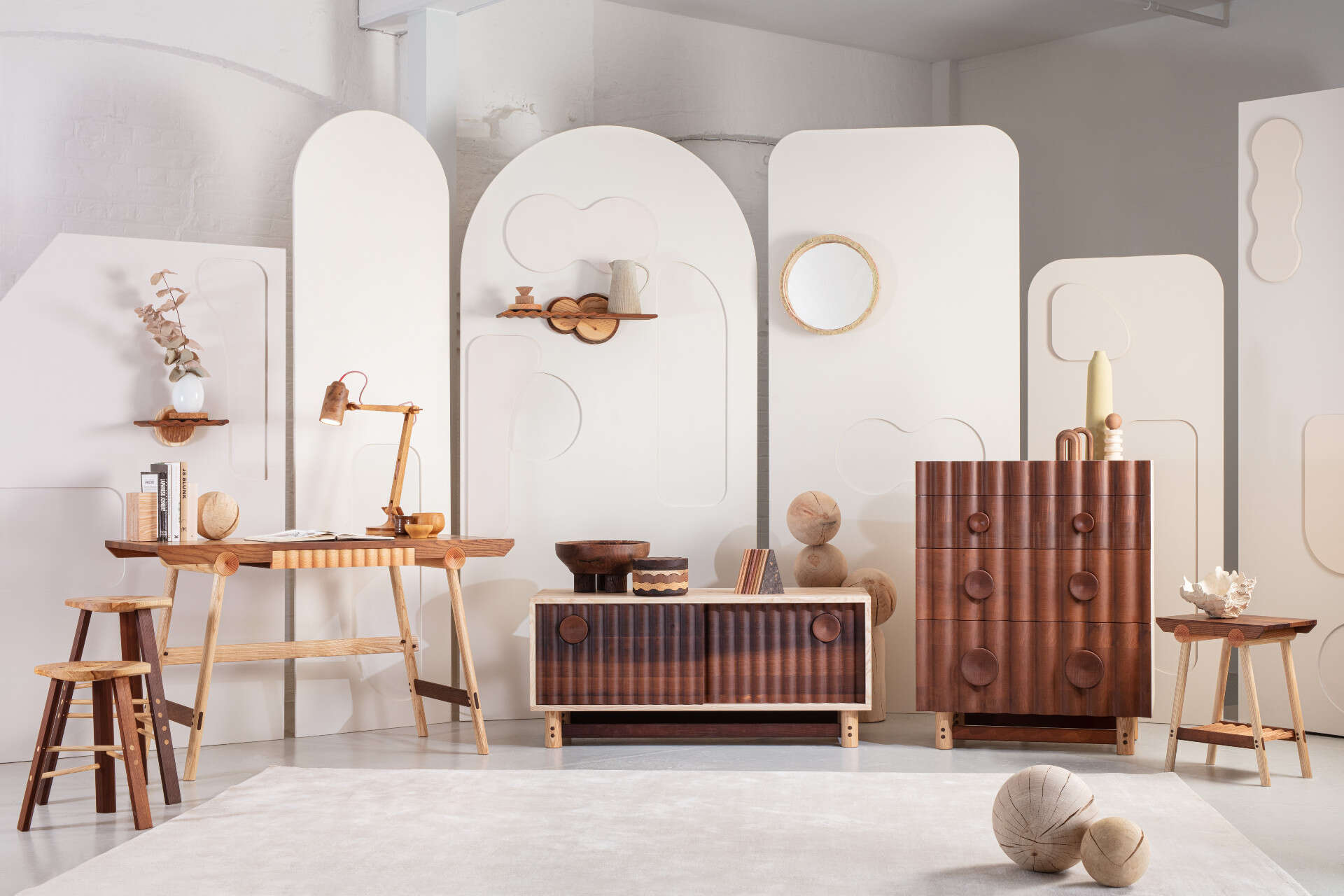 Whether you are searching for homewares, furniture, materials or lighting, it's no secret that there are a plethora of different design brands to choose from. However, on closer inspection the unfortunate truth is that many of these brands are lacking when it comes to ethical or sustainable design – they may use materials that cannot be recycled, have unsustainable methods of supply, or use harmful or toxic chemicals.
But hope is not lost: there is a growing list of brands that are putting sustainability at the heart of their businesses, choosing ethical practices not only for the environment but also for their workers and communities. That's why, here at Elite Traveler, we've put together a guide to some of our favorite brands that are promoting ethical and sustainable design, proving that luxurious interiors don't have to come at an environmental price.
Toyine Sellers x TILT
One way of creating sustainable furniture or homeware is by reusing waste products. This collaboration between textile brand Toyine Sellers and Brussels-based design studio TILT is a perfect example: the two companies have worked together to create a new lighting collection that is made from waste elements produced by Toyine Sellers atelier. Once seen as "useless", the waste materials have been repurposed and transformed by TILT into a functional and sculptural lighting collection.
The new collection is entirely bespoke and consists of seven individual lighting pieces, comprising of one wall light, a table lamp, a floor lamp and four pendant lights. "Our use of color and the reclaimed elements in our works resonated with Toyine's own creative language," say TILT's co-founders. "She asked if we'd be interested in creating new designs made with remnants found in her atelier, and soon arrived [with] boxes full of wonders in the form of old plastic dyeing cones and tubes as well as leather offcuts. It didn't take us long to decide what to do with them!"
Grain
Founded in 2008, Grain is a boutique design practice that has dedicated itself to environmental and social responsibility. Based on Bainbridge Island in Washington State, Grain is headed by partners James and Chelsea Minola, who aim to unite sustainability and business through good design. Grain's products are made as responsibly as possible, either in small batch runs at the team's island studio, or through special collaborations with expert artisans, including communities in Guatemala.
Grain prides itself on merging modern manufacturing technologies with age-old crafting techniques to create designs that stand the test of time. Its products are sold across the US and abroad, with Grain's collection including everything from large rugs to mirrors and lighting. Grain is also a full-service design consultancy that offers its expertise to companies that are interested in becoming more sustainable through design. Previously, Grain has worked as a design and sustainability consultant for the likes of Anthropologie, Hem and Trina Turk.
[See also: The Women Making Waves in Luxury Design]
Gris
Inspired by art and architecture, Gris is a new sustainable paint brand that has respect for the environment at the forefront of its ethos. Launched by make-up artist Liz Michael in partnership with Keim Mineral Paints, the collection comprises of three essential series called Nordic, Architectural and Inky. Nordic has been inspired by Scandinavian design; Architectural by the Modernist and Brutalist movements; and Inky is a darker, blue variation evoking a Japanese mood.
The collection is the result of Michael being unable to find the perfect white-grey shade she wanted for her own home – instead of compromising, she decided to create her own brand that reflects her minimalist and considered approach to interior design. As well as offering timeless colors, Gris is 'Natureplus' certified and entirely sustainable: its paints are free of any synthetic binders, acrylics and solvents. Instead, the color comes from earth oxide pigments, and Keim's special bonding process means that the paints are UV stable and less likely to fade than other options.
Nature Squared
Ethical design brand Nature Squared was founded in 2000 with the aim to create "truly innovative sustainable surfaces". Since the brand's conception, Nature Squared's extraordinary surfaces have been used across the world by architects and designers for a multitude of projects and products, including hotels, residential properties, furniture pieces and yachts. Nature Squared has a portfolio of ready-to-order collections and also offers a bespoke service, creating original surfaces when requested.
The innovative brand uses the latest material technologies and artisanal skills to create its surfaces, upcycling everything from grass and bark to feathers and – with its new, innovative CArrelé Collection – eggshell. While these materials are not endangered or threatened, Nature Squared goes one step further by not using virgin resources; instead, it often sourcess its materials from other industries (such as farming and fishing), recycling what would otherwise be considered waste.
Jan Hendzel Studio
Founded in 2015 by self-taught furniture maker Jan Hendzel, Jan Hendzel Studio is a London-based design and craft furniture studio that focuses on using natural, local materials and celebrating British craftsmanship. Whether it is using quality British materials, ensuring that its products are made with longevity in mind, or finding ways to make design a circular process, sustainability lies at the heart of the studio and its practices.
Jan Hendzel Studio merges traditional joinery techniques with modern manufacturing processes in order to experiment with texture and function and create the best products possible. Previously the studio has been commissioned to create pieces for a zero-waste restaurant and the recently opened Birch hotel in London. Last year, Jan Hendzel Studio launched its first full collection of furniture, called Bowater. The collection features nine pieces, including a sideboard and decorative objects and is made exclusively with British timber.
[See also: How Anthologist is Championing Cultural Preservation]
EcoBalanza
Located in Seattle, EcoBalanza is a boutique furniture workshop that specializes in creating organic pieces such as sofas, chairs and sectionals. As well as having an essential collection and a couture collection, EcoBalanza offers a custom design service, designing furniture to the purchaser's exact specifications and handcrafting the items. Its founder and CEO Aimee Robinson personally oversees every step of the design process, ensuring only pieces of the highest quality leave the workshop.
EcoBalanza was founded with the aim of creating the "ultimate organic sofa", which would be comfortable and stylish while also environmentally responsible. The brand prides itself on only using the finest non-toxic materials (which are third-party certified) for its furniture – not only is this kinder on the environment, but it also means that the workshop can meet the needs of those who have chemical sensitivities. EcoBalanza also makes all its furniture by hand using traditional techniques, supporting artisan carpenters, seamstresses and upholsters to continue their trades.
The Joinery
Beginning in 1982 as a one-person furniture refurbishment and repair workshop, The Joinery has almost 40 years of experience handcrafting beautiful furniture for both residential and commercial spaces. Each piece in its extensive collection is built to last a lifetime – or several. All The Joinery's furniture is designed and built in the brand's manufacturing facility in Portland; no matter if the piece in question is from the product line or a custom design, an individual artisan will craft the object from start to finish.
Since 2010, The Joinery has been a certified B Corp brand, which is a certification of "social and environmental performance" – it means the company is required by law to consider how its decisions will affect the environment, community, workers and suppliers. All The Joinery's furniture is built from solid hardwoods from the most environmentally responsible source possible. Whether the piece is a modern or classic design, The Joinery's craftspeople will use traditional woodworking techniques to enhance the function, style and durability of the piece, such as using dovetail or butterfly joints.