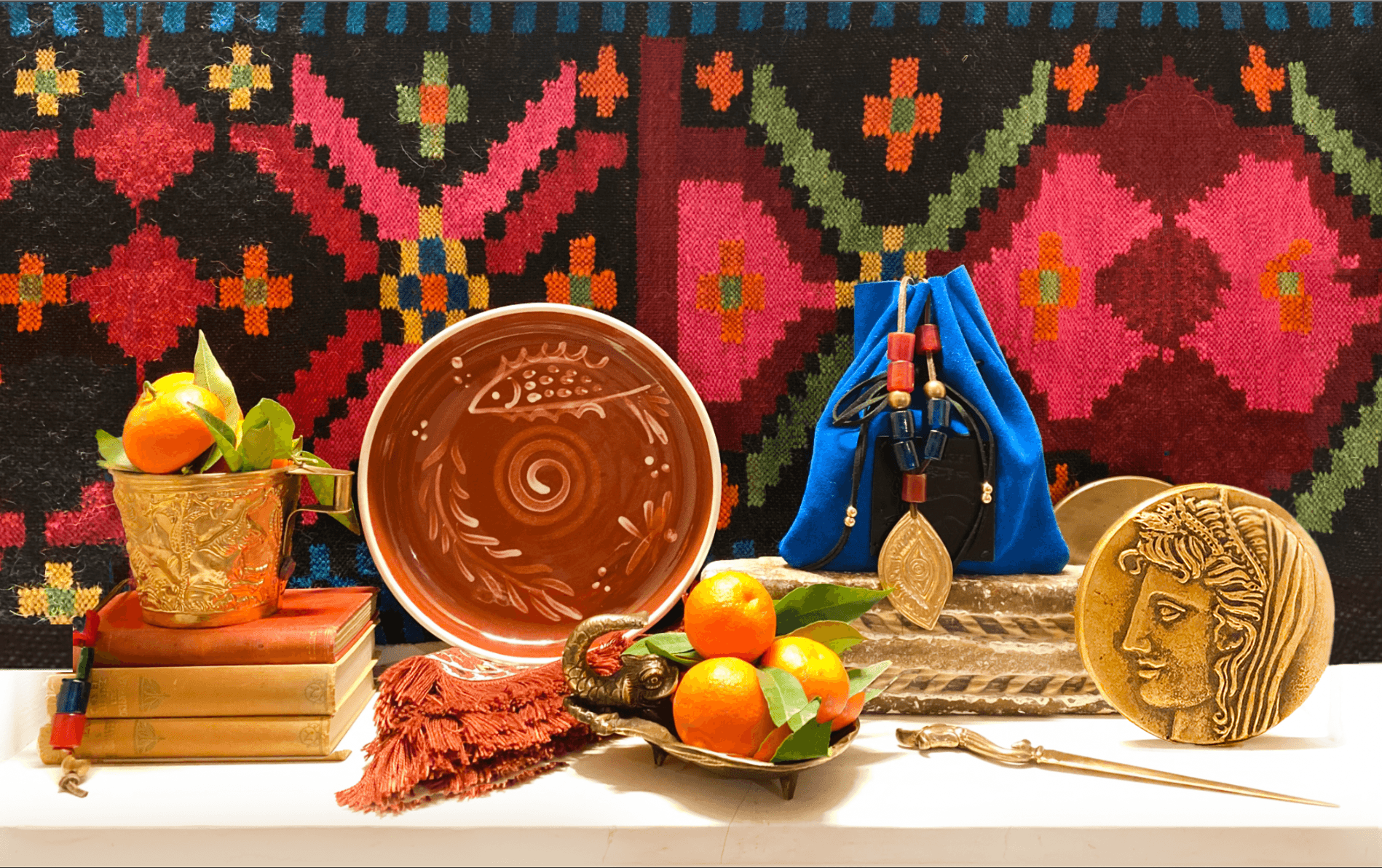 Finding a way to perfectly describe Anthologist is a tricky business. At a basic level, it's an online shopping destination based in Greece, founded by travel PR specialist Andria Mitsakos last year. But Anthologist is more than this; it's a company that specializes in object conception and creation, in finding and supporting artisans who use traditional methods and in introducing hospitality venues to these unique – and often handcrafted – objects, to help the venue create an interior that is full of heritage, craft and authenticity.
The story of Anthologist began in 2020 when Mitsakos found herself in lockdown in Greece. She spent the summer renovating a small farmhouse on the island of Paros, working with local craftspeople and artisans to update the traditional building. "It was an education," Mitsakos says. "My carpenter has lived [on Paros] his whole life. I found it so rewarding to actually work with the people that make these things. Everything that's in that house – with the exception of my personal antiques and such – is all from Greece."
What started as a hobby and a way to incorporate authenticity into her own cottage quickly transformed as Mitsakos received requests from hotel clients for her pieces. "I had a few hotels buying things that I had made – even just for myself," she says. "They didn't have access to trade fairs and [catalogs] last year [because of lockdown]. That's kind of how it started. My clients are also contacts I have in hospitality, who know I have taste and understand that I have the contacts [with local people] to make it work."
[See more: Gavin Brodin on Shifting Mindsets in Luxury Design]
Anthologist sees itself as an "architect of stories," offering both individual pieces for purchase on the website and bespoke plans for hospitality venues, helping them conceptualize and create beautiful spaces. It is also, first and foremost, a positive-impact brand that focuses on cultural preservation and promoting artisanal talents that use small, traditional forms of production.
For example, the foundry in Athens that Anthologist works with is one of the last left in the world that uses sand molds. "You could walk in there and not know what century it is," Mitsakos mentions. "They finish everything by hand. In the last lockdown, [the] foundry couldn't even access metals; [the owner] was melting down old pieces. We were the only production he was doing at the time. If we don't [work] with them, a lot of these trades would not survive."
Discussing Anthologist's attitude towards sustainability, Mitsakos mentions that this doesn't always have to mean thinking "green." "Buying vintage or from small businesses is also really important," she says. "I think it's really important – I encourage people, and I think you should approach fashion the same way you approach interior design. You should collect, not shop. [Anthologist] has a big collection on the site of antiques, of vintage textiles, and that's part of sustainability because you're not buying new."
Not only this, but it makes each piece found on Anthologist incredibly unique. Each brass object or traditional ceramic is finished by hand; each wall hanging or pillowcase will have been carefully chosen by Mitsakos for its design. These textiles have often had previous lives – the pillowcases, for example, are often made from old bags "used on farms in northern Greece," Mitsakos says. "They're made of wool and really colorful… They're so unique, it's hard to believe you'd see one on the back of a donkey somewhere."
Though Anthologist is still a young company, Mitsakos' approach is creating a buzz – Anthology has already started its first collaboration with Kanava Hotels, a Greek company that owns and operates boutique five-star resorts on Paros and Santorini. Anthologist has created an exclusive brass donkey key ring for the collaboration, which will be used throughout Kanava's resorts and is also available to buy online.
Hopefully, this will be the first of many collaborations for Anthologist; after all, as the owner of her own travel PR company, AMPR, Mitsakos is well placed to understand the hospitality market. "Hotels need to get better at knowing what's around them," she suggests. "They should be good neighbors and get to know the locals. I think we're all needing that authenticity much more [nowadays] – it's very important; otherwise, I think that sense of place in hotels [can be] so easily lost."
As well as future collaborations with hospitality venues, Mitsakos is planning to develop Anthologist's curated range of objects to include collections from other parts of the world. "I'm actually launching a collection of furniture made in the Caribbean," she says, "I love it – the Caribbean is very important to me [as a location]; I spent a lot of time there growing up. Mexico and Sri Lanka are also really interesting to me. Greece is my heritage and the birth of Anthologist, but it will definitely expand."