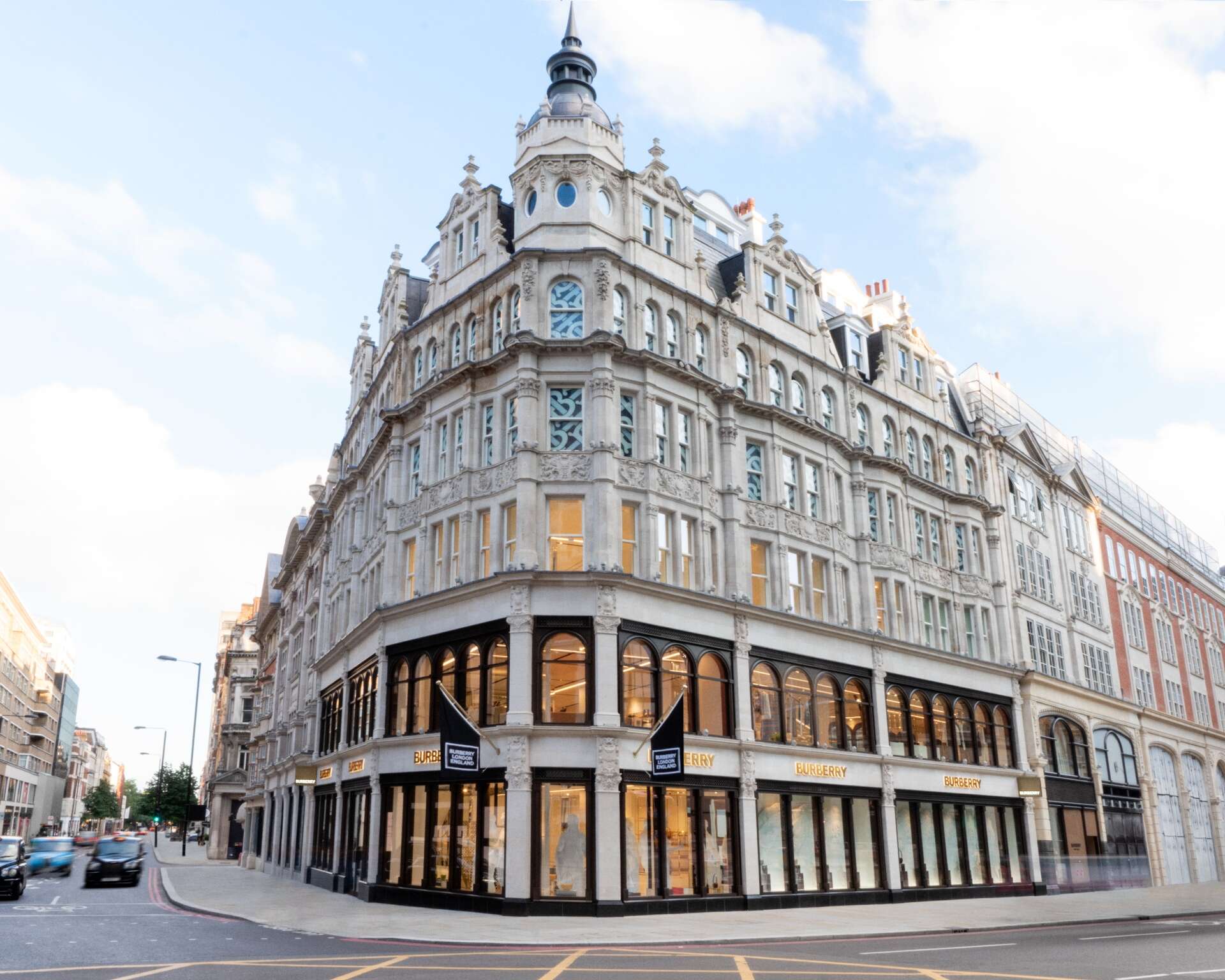 Burberry has announced the opening of its new London flagship store, which is the first location to feature the company's new global design concept. The new store is located at No.1 Sloane Street in the heart of London's Knightsbridge. The site boasts an SW1 postcode, which is particularly special to the luxury British brand – over 130 years ago, founder Thomas Burberry opened his first London store in the SW1 area, in a building that, to this day, is the brand's global headquarters.
The No.1 Sloane Street flagship has been designed in collaboration with renowned Italian architect, Vincenzo De Cotiis, using a new concept that aims to encapsulate the essence of the luxury brand. For example, the iconic colors of the Burberry check – white, black, beige and red – have been adapted and used throughout the store, while the pattern itself has been reinterpreted into parts of the floor and ceiling.
Overall, No.1 Sloane Street's design juxtaposes brutalist elements and open plan spaces with luxurious materials and textures, creating an inviting and modern interior. Across its three floors, the store benefits from an abundance of natural light, thanks to its positioning on the street and two walls of floor-to-ceiling windows.
[See also: Beautiful Women's Watches Using High-Tech Gold]
"This is a story about a home, Burberry's new home. An open and welcoming place, prolifically rich in detail. A familiar and at the same time experiential environment, in which to participate actively in tradition," says Vincenzo De Cotiis. "We wanted to create a domestic shell, a home where art, culture and people move through intelligent and elegant modernity."
Bright and airy, the ground floor has been designed to act as a gallery-like backdrop where Burberry's latest collections can be showcased in style, including a framed square space at the entrance of the store that is dedicated to seasonal displays. Burberry's full range of accessories can be found across the ground. Meanwhile, at the back of this floor is a section devoted to the brand's signature trench coat, including space to try on the items and look through the various styles.
Womenswear is found on the first floor of the new flagship store, in a space that features sculptural seating areas, a warm beige and cream color palette, and displays and railings in a shiny champagne finish. A tiered, custom-made island can be found in the middle of the floor, which has been designed to celebrate and display Burberry's exquisite collection of women's shoes while also acting as seating for customers.
[See also: See the Exclusive Burberry Collection for Net-a-Porter]
"The No.1 Sloane Street store has been designed to be the most luxurious Burberry store in the world," explains communications assistant, Becky Davidson. "The idea is that customers can come inside, and they can sit and socialize as they browse. You'll be offered drinks as you look around, or you can arrange a private appointment where drinks and nibbles will be provided. We want your visit to the store to be an experience."
Up another flight of the store's monochromatic tiled staircase, visitors will find the menswear section. Here, white terrazzo marble has been used throughout and the space continues the bright, open plan style. However, different fixtures, finishes and textures have been used on the menswear floor in order to differentiate it from womenswear. For example, champagne finishes have been swapped for stainless steel, while the sculptured furniture and seating uses a monochrome and grey color palette.
"Our new flagship store at No.1 Sloane Street is a manifestation of all that is Burberry: authentic, bold, elevated, with creativity at its core," says Burberry's chief executive officer, Marco Gobbetti. "An iconic destination in the heart of Knightsbridge, London, it is the first to carry our new global store concept, providing a uniquely British luxury setting for our local and international customers to explore our brand and products. We're excited to welcome our customers to this new home for our brand that connects our past, present and future."
[See also: The Most Coveted Luxury Sustainable Fashion Labels]