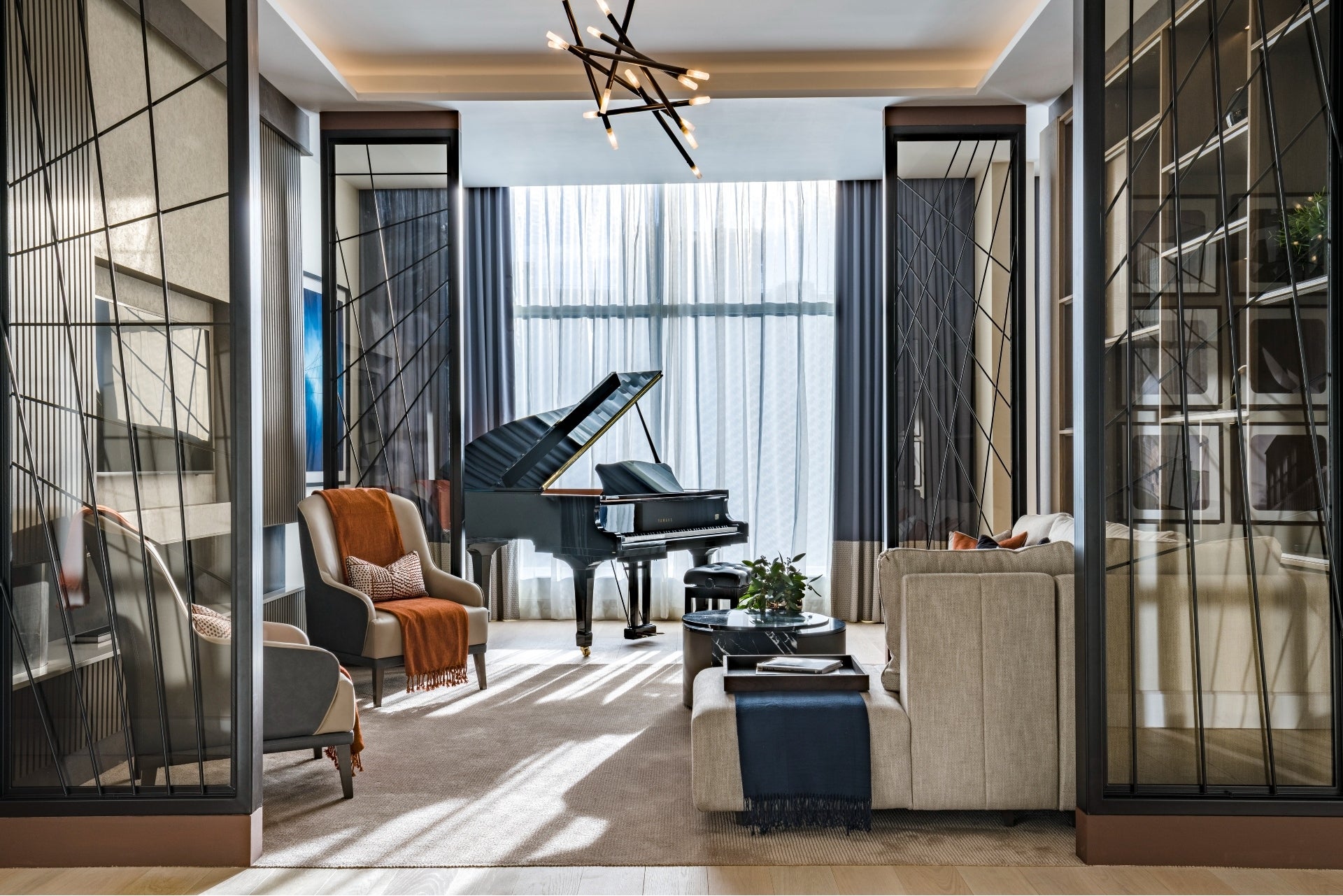 In the world of high-end residential, hospitality and spa design, the name Goddard Littlefair is well renowned. With a global portfolio of previous projects – including The Gleneagles Hotel in Scotland, Mandarin Oriental Vienna in Austria and Villa Copenhagen in Denmark – the internationally recognized luxury interior design house is coveted for its timeless designs.
The studio was first established in 2012 by Martin Goddard and Jo Littlefair, who had previously met in 2005 through work at another design company. "We got on really well there and worked on a couple of projects together," explains Goddard, speaking to Elite Traveler in the Dandy Bar of The Mayfair Townhouse, one of the studio's most recently completed projects.
"Then we went off in different directions. She went off to have a family. I moved to Toronto to do landscape design," Goddard continues. "When I came back to the UK, I decided to [start a studio] on my own. I managed to land a couple of reasonably sized projects I needed help with, so I reached out to Jo. We got another project in and another one… so we started building a team. It got to a point where we were working exclusively with each other, and it made sense to set up together."
Interestingly, it was after deciding to work together that Goddard and Littlefair also got together as a couple. "It happened very organically," Goddard says. "Whether you believe in fate or not, there's that feeling of cards being lined up and then things come around – connections happen."
It also helped that Goddard Littlefair's two founder-directors' styles of working complemented each other perfectly. "I'm much more on the architectural side, the interior architecture, the master plan, etc," says Goddard. "Jo's much more focused on the FF&E [furniture, fixtures and equipment]."
Despite working across several industries, Goddard explains that when it comes to creating an interior space the studio's main focus is design narrative and storytelling. "We use that in any of our projects, whether it's a residence or a spa or a hotel," he continues. "The process is similar, but we're always looking at who the end-user is. For example, in the residential market, you've really got to understand who's going to live there. Are they going to live here, are they going to rent it out, is it going to be one of several homes?"
"It's the same in a hotel space; who's going to sit in the bar and restaurant? What sort of demographic is it? After that we can decide how we style the scheme, depending on what fits the site, location and the brand," Goddard says. "It's about spinning different plates at different times, figuring out what will give the most impact but also be cost-effective."
[See also: 2021 Interior Design Trends, According to the Experts]
Despite having a clear process to how Goddard Littlefair creates an interior scheme, Goddard says that the studio "doesn't have a house style. But I would say that we are certainly quite layered. We have a residential feel, generally. We like to use decorative lighting; we like to create a layer of light. We like really working on furniture [90% is bespoke], dressing and accessories and adding extra little things to a scheme, which I think is a bit of a hallmark."
"One of the things a lot of clients are now telling us or insisting on is that our schemes aren't overtly fashionable – they shouldn't follow the trends," Goddard continues. "Instead, our spaces should have longevity, which means after a few years they [are] still going to look good. This is why the narrative is really important; if you make the project correct for its location, for its audience and for its architecture, then it should always work. It should last at least 15 to 20 years."
Goddard explains that in the world of luxury design – especially for hotels and restaurants – creating a timeless interior that can last for decades is one of the most efficient ways of bringing sustainability into a scheme. However, over the years Goddard has also seen that this is not the only way sustainable luxury design is coming into play.
"We are finding investment funds are requiring sustainability within the project, whether it's through LEED or other qualifications like that. That's really encouraging," he says. "It is a requirement in the funding for some of our clients. We've been [focusing on sustainability] for a number of years now. We've got a couple of people in the office who are passionate about sustainable design."
For example, Goddard says that the studio "look at alternative ways of air conditioning spaces or ventilating spaces or anything from shading down to dark sky design for lighting [in areas where light pollution is bad]. It's about integrating sustainable practices as much as possible. Our challenge is to still keep projects luxurious and looking great and making sustainability inherent in the design – putting it in the infrastructure."
"I also think sourcing from location is really important," Goddard continues. "We've done projects in Scotland and we've used Scottish mills and we've used Scottish manufacturing. When we worked with Gleneagles, we got a mill to create a custom fabric that was a contemporary take on the traditional design. That's a nice story, but actually, we really enjoyed the process of finding those people, because it gives us some integrity to the design."
"Another example [from The Mayfair Townhouse] is that a lot of the furniture [in the hotel] was made in Portugal, with people that we have long relationships with. We've gotten to know those suppliers; we know that they employ a lot of local people. We know what the working practices are like and where the materials are being sourced from. We do try to share that at the beginning, in the concept stage of a project. We want to talk about those opportunities, so they become embedded in the design."