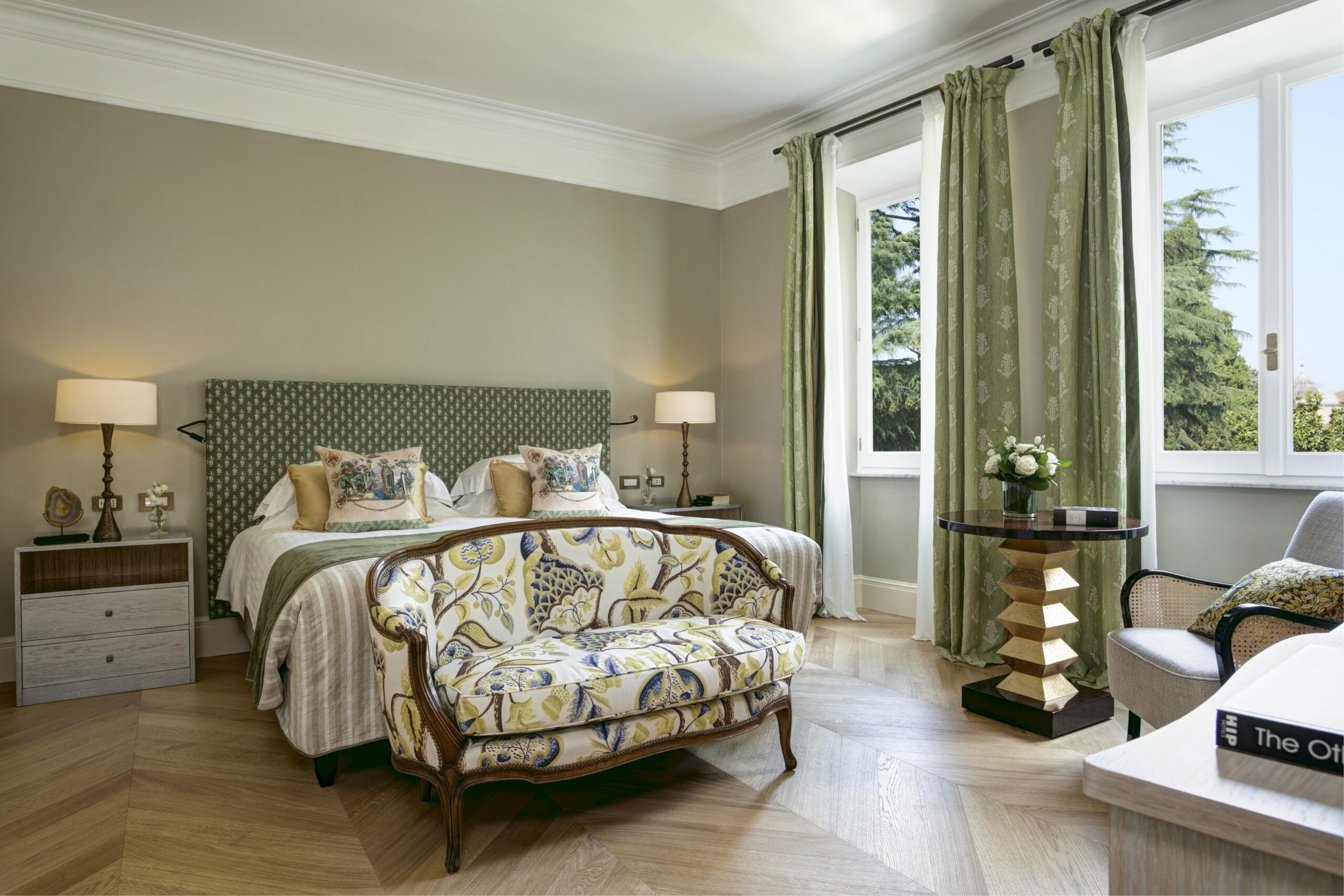 With verdant green spaces littered throughout the city, visitors to Rome needn't sacrifice nature for culture. However, while Rome's public parks are awash with tourists year-round, the serene secret garden at Hotel de Russie is a slice of heaven. It's no wonder then, that the hotel, which operates under the prestigious Rocco Forte name, has used this private oasis as the inspiration for its newly redesigned accommodations. Introducing the Hotel de Russie Garden Suites.
Imagined by Rocce Forte's director of design Olga Polizzi the seven new Garden Suites replicate the tranquility of the hotel's outdoor space with calming earthy hues and understated floral prints. Flashes of cobalt, selected to emulate Rome's clear blue skies, complete the palette.
The Garden Suite's furnishings have been selected equally as considerately, with Polizzi committed to championing modern Italian designers, as well as celebrating the more classic artistic features of ancient Rome. The resulting effect is a perfect juxtaposition between traditional and contemporary – an accurate reflection of the city itself.
"When it comes to design, I always start with the location and the style of the building, and shape the vision from there," says Polizzi. "The hotel has to reflect the feeling and culture of the city that it's in and as such, I wanted to keep the original feel of Hotel de Russie, which is much loved as one of the best hotels in Rome."
[See also: The Best Fine Dining Restaurants in Rome]
"We always want guests to feel like they are enveloped in the location they are in, in this case Rome, so you'll find Italian artworks and designers used throughout and bookcases filled with Italian literature" she continues.
The suite's bathrooms also received a new look as part of the renovation, with the addition of new walk-in showers and deep bathtubs in dramatic Calacatta statuario marble.
The redesign of the new Garden Suites follows that of Hotel de Russie's recently revealed lobby space which, under Polizzi's creative lead, has been reimagined to exude the welcoming atmosphere of a refined Italian living room, instead of a stuffy formal reception area. As with the new accommodations, considered design touches are featured at every corner, with furnishings selected to celebrate both modern and ancient Rome.
Elevating Hotel de Russie's lobby experience is the installation of a Pianeta, a technological capsule designed by Elli & Rini. The intimate pod-like space, which is crafted from eco-friendly wood materials, is equipped with a monitor, webcam and wireless charging, giving guests a space to take calls or even listen to music in complete privacy.