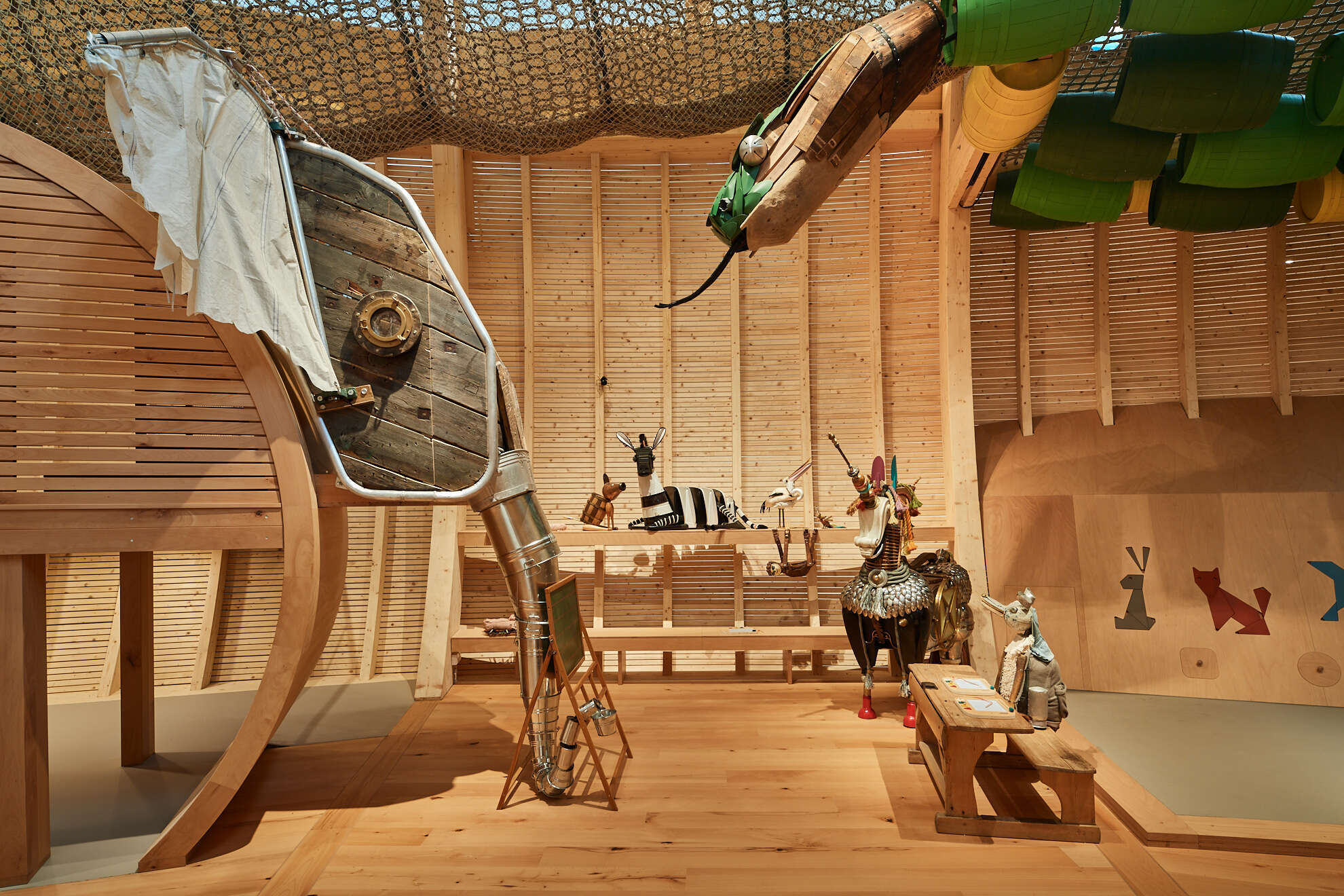 A new tactile children's museum, ANOHA Children's World, has recently opened at the Jewish Museum Berlin. Designed by Seattle-based architecture studio Olson Kundig, the space welcomes preschool and elementary school children to explore and play in an immersive way while asking questions about the natural world.
The newly constructed ANOHA Children's World lies across the street from the Jewish Museum Berlin's main building. The site was previously home to a wholesale flower market, meaning that the children's museum now encompasses an expansive 29,000 sq ft. Led by design principal Alan Maskin, Olson Kundig have made the most of the space, with the focus point of the Children's World being an enormous wooden Ark.
The theme of ANOHA Children's World is the Torah story of Noah's Ark, with children and families able to explore the exhibitions themselves, which – as well as the Ark – features over 150 animal sculptures. They will also be able to speak to educationally trained companions at various stages around the site, who will help share the story of Noah's Ark and ask guests to ponder questions around nature and environmental protection.
[See also: The Best Restaurants in Berlin]
"The Children's World is envisioned as a place of encounter between generations, religions, and cultures, for people from Kreuzberg, Berlin, and beyond," says Hetty Berg, director of Jewish Museum Berlin. "With the opening of ANOHA, we are offering a new place for even the youngest among us to play and learn while further strengthening our ties in our own neighborhood. This is somewhere to enter into a playful conversation about questions that affect everyone."
Other elements of the exhibition include the Great Flood Simulator, where children can build their own boat and launch it on the water to see if it is strong enough to withstand a tidal wave. Visitors can also 'feed' some of the animal sculptures and guide them onboard the Ark; crawl through the anaconda; sit on the elephant or cuddle up beside the sloth.
Many of the unique sculptures have been created by artists out of recycled everyday objects including soccer balls, lamps and firehoses. Visitors are welcome to touch everything in the exhibit and immerse themselves in ANOHA Children's World – here, there are no barriers to play and imagination.
[See also: The Best Rooftop Bars in Berlin]