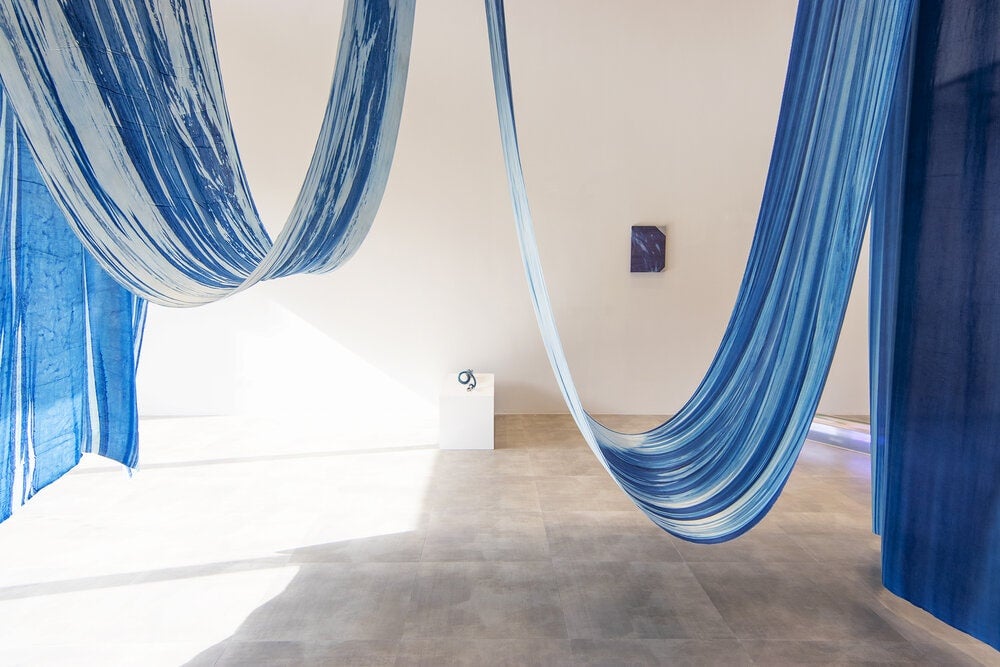 A collective of international artists has come together to raise awareness of the wonder and the fragility of the ocean through art in the form of the Blue Minds exhibition, which is now welcoming visitors in London.
The artists within the Blue Minds collective are varied and diverse but share the common theme of being inspired by the vastness of the ocean and being compelled to protect it. The works featured span a broad spectrum of mediums, including sculpture, couture, photography, jewelry and film to create an all-encompassing experience.
From Aigana Gali's vast and hypnotic Steppe series and Elisabetta Cipriani's wearable art collection to Maya Sanbar's award-winning Footsteps on the Wind animation and marble sculptures by Jordi Raga, each piece in the exhibition shares a connection with a different facet of the ocean, inviting visitors to explore its many edges as well as engage with the threats it faces.
[See also: Gaggenau Installation Fragment on Display in London]
Held in association with the Blue Marine Foundation with the support of sustainable winemaker Chêne Bleu, Blue Minds intends to highlight the link between scientists and artists. While both are dedicated to observing the natural world, scientists use the many tools in their arsenal to examine how it is changing and how we stop irreversible damage, while artists tap into their creative prowess to form an emotional response.
"This show is about connection – with nature and ourselves. Showing a vital selection of work from 26 artists for whom the ocean is an important theme, across a broad range of media, we want to highlight how creative thinking mirrors the work of marine scientists – in particular Blue Marine Foundation – and inspire hope," says Blue Minds co-curator Nico Kos Earle. "We just need to stop and listen to the ocean – it holds the key to our sustainable future."
In addition to the gallery space, which is open from now through to 6 July, the Blue Minds program features a series of ticketed art talks, lectures and conversations from the exhibition's artists and curators.
The exhibition is free to visit, but donations are welcomed. 15% of sales will be donated directly to the Blue Marine Foundation, a charitable organization that is dedicated to restoring ocean health by tackling unsustainable overfishing and securing marine protected areas.
[See also: Azlee Jewelry Reveals Ocean Diamonds Collection]
The Blue Minds exhibition is open Monday – Friday 11am – 5pm until July 6th at 127 Sloane Street, London, SW1X 9AS. Visit eventbrite.co.uk/blue-minds-festival for more information, to reserve a slot and to book event tickets.