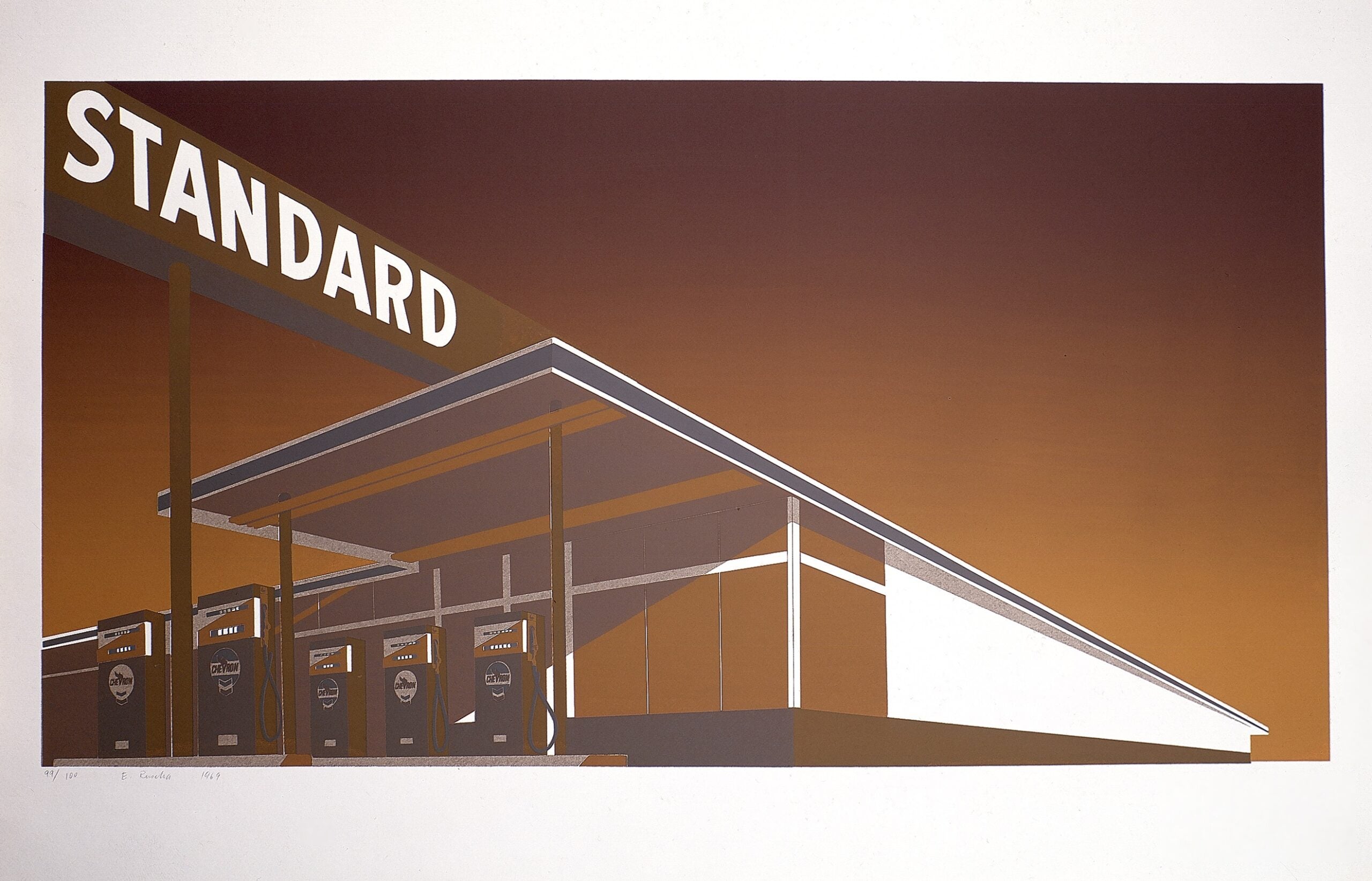 Running from February 18 to July 5, this spring Oklahoma Contemporary unveils Ed Ruscha's first solo exhibition of work in his home state and hometown. Called Ed Ruscha: OKLA, the exhibition will explore Ruscha's relationship with Oklahoma and features artworks and objects spanning over 60 years of the artist's career. The exhibition has been co-curated by Oklahoma Contemporary – it's the second major exhibition to run in the art center's new building – and New York-based curator Alexandra Schwartz, who has written extensively about Ruscha's work.
The exhibition is a first in two ways: it is the first to explore the way that Oklahoma influenced Ruscha's style and aesthetic, and it is also the first solo exhibition to present the artist's work in the city of his childhood. Over 70 works across different media will feature in Ed Ruscha: OKLA, including iconic pieces such as Twentysix Gasoline Stations and Chocolate Room and newer, lesser-known bodies of work like his two recent Drum Skins paintings.
[See more: The Best Travel Coffee Table Books]
Ed Ruscha: OKLA is structured around five themes that have been central to Ruscha's life and work over the years. The first theme, "Oklahoma OK," features works that include the letters "OK" as a double meaning: the word "okay" and as a reference to Oklahoma. "Made in the U.S.A" looks at Ruscha's perspective of being American, while "51% Angel, 49% Devil" explores the artist's childhood and the influence growing up Catholic had on his art.
Another theme that makes up the exhibition is "Pop Origins," which traces the frequent references to 1940s pop culture that Ruscha makes in his art. Finally, "US 66" examines the mythology of the famous route west, which Ruscha has driven many times as he traveled between his home in LA to his roots in Oklahoma City.
"We're excited to share this landmark exhibition with our visitors and hope the programs created by our incredible educational and curatorial teams can leverage Ruscha's work to inspire the next generation of artists in Oklahoma," says Jeremiah Matthew Davis, the artistic director of Oklahoma Contemporary.
"We are thrilled to be working closely with Ed Ruscha and his studio to bring this important facet of his work to light and to do so in the state's first survey of his iconic artworks," Davis continues. "Hopefully, Ed Ruscha: OKLA will help to broaden the public's awareness of Oklahoma's significant influence on Ruscha's work throughout his storied career."