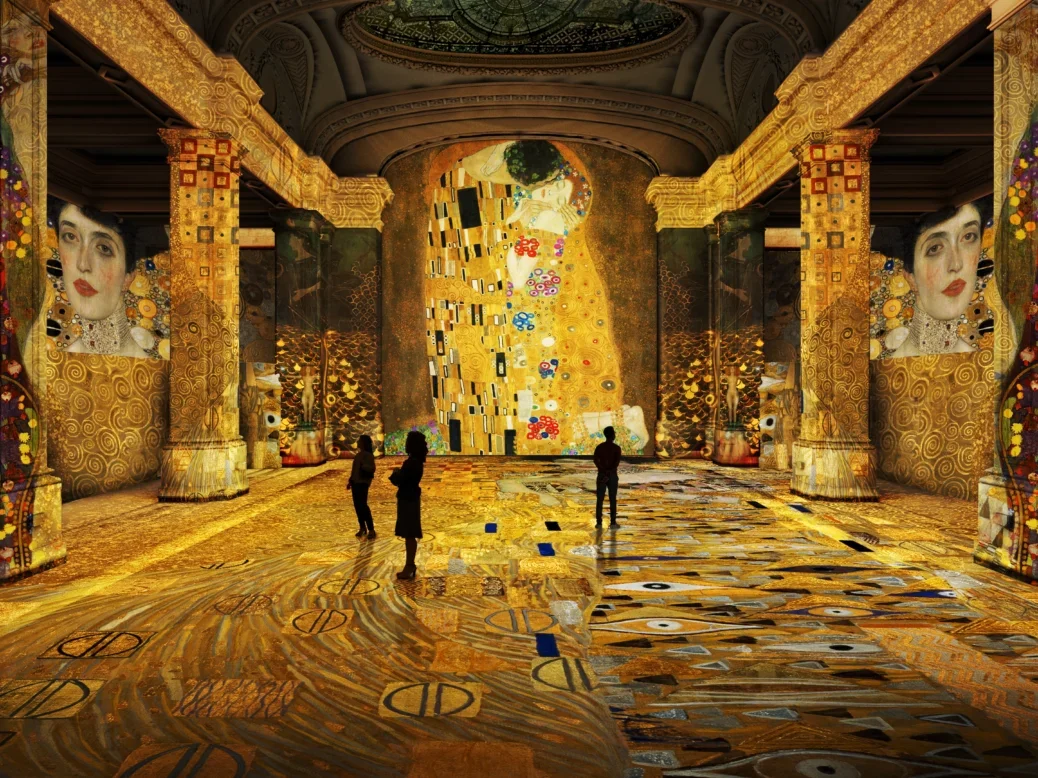 This September, New York is set to welcome a brand new immersive digital art space, Hall des Lumières. Situated at 49 Chambers Street within the dramatic former teller hall and vault level of the Beaux-Arts Emigrant Industrial Savings Bank, the inaugural installation will feature gleaming, 30-ft-high images of paintings by the legendary Austrian artist, Gustav Klimt.
The stunning art center is the latest project from Culturespaces, a private manager of museums and cultural heritage sites, and IMG, a global events, sports and talent management company. Prior to this, Culturespaces had already made a name for itself by setting up the critically acclaimed Atelier des Lumières digital art space in Paris's former Chemin-Vert foundry.
Spanning 31,615 sq ft, the new Manhattan outpost will become the largest digital art center in New York City. The artistic team behind the debut exhibition is helmed by Gianfranco Lannuzzi, whose previous work includes crafting the astonishing Vincent van Gogh Starry Night immersive gallery at Atelier des Lumières.
[See also: House of Fine Art Mykonos Hosts All-Female Exhibition]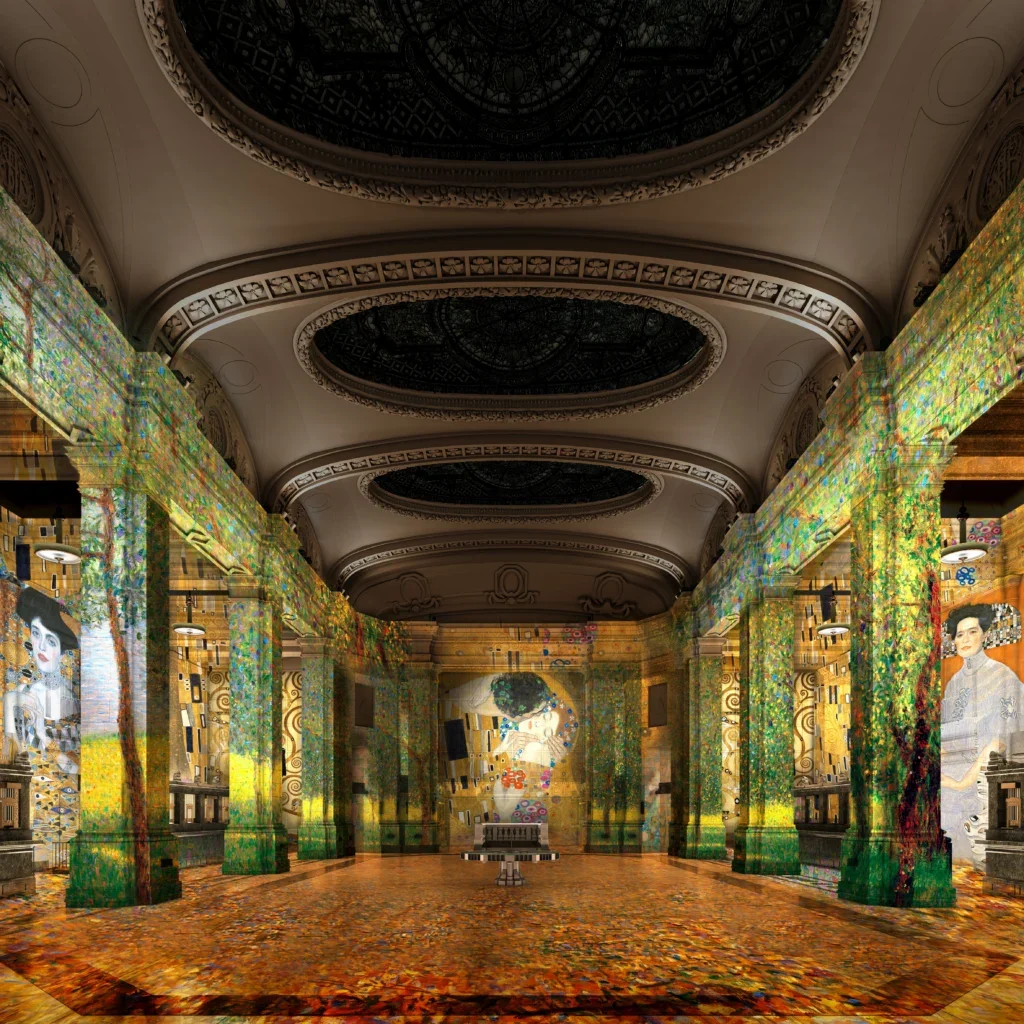 "By embracing cutting-edge multimedia technology, I have been able to create and develop a rich, immersive and interactive musical and visual environment over the years," said Lannuzzi. "It has given me the opportunity to play with different sense and emotions, placing the public at the very heart of the experience and inviting them to move through a multi-dimensional space where they end up becoming an integral part of the work, surrounded by images on the walls, floors, and ceilings."
Running from September 14, Gustav Klimt: Gold in Motion will feature six distinct sequences, taking visitors on a journey through the painter's life and major themes in his work. These include his early neoclassical frescoes in Vienna's Kunsthistorisches Museum, images of paintings during his 'golden phase' including his celebrated oil-on-canvas masterpiece with added gold leaf, The Kiss, and a collection of his works that depict female figures at varying stages of life.  
To create a truly captivating experience, the creative team has carefully selected pieces of music to accompany the moving images from one sequence to the next. There will also be a series of shorter digital exhibitions on display including works by Friedensreich Hundertwasser, an Austrian artist inspired by Klimt; and a contemporary audiovisual creation, Recording Entropia, exploring the vast possibilities of the human mind.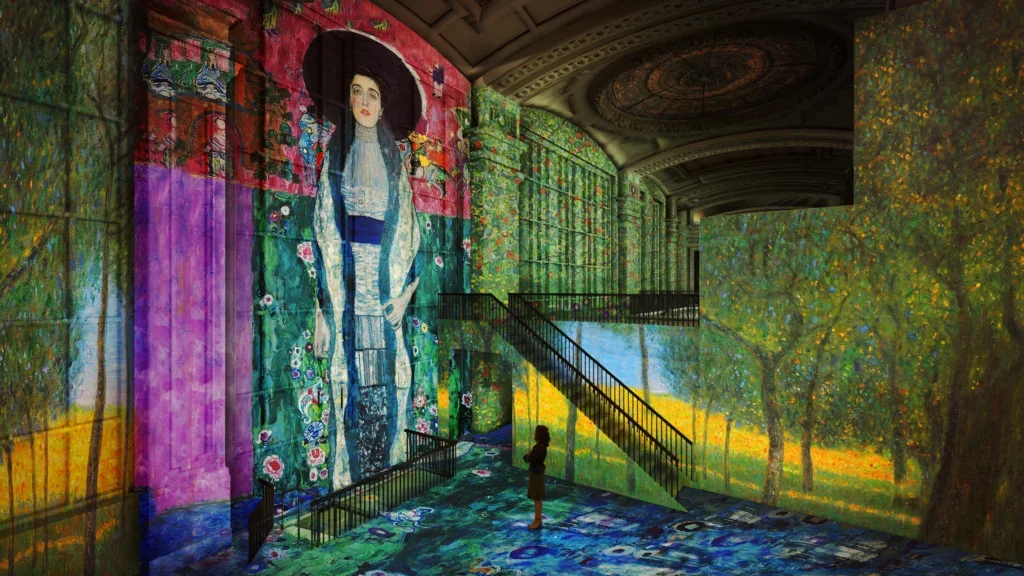 Hall des Lumières will become the first North American digital art center by Culturespaces, with existing outposts scattered across the globe in locations including Bordeaux, Amsterdam, Dubai and Seoul.
"We always try to select interesting venues with unique architecture, and Hall des Lumières is no exception," said Culturespaces CEO and founder, Bruno Monnier. "The Beaux-Arts style of the historic New York landmarked building is the perfect backdrop for our digital and creative teams' beautiful exhibition, which compliments and moves with the 40 ft. high columns, ornately arched doorways, and mosaic tiled floors."
The New York-based art space will become the latest destination to take part in the Culturespaces Foundation program which helps facilitate access to the arts for underprivileged children through a range of tailor-made tours and teaching workshops.
Hall des Lumières New York will open with the Gustav Klimt: Gold in Motion exhibition on September 14, 2022. Ticket prices start at $30 for adults and $15 for children aged 5-16.
[See also: David Filer Previews Life-sized Elephant Series in London]