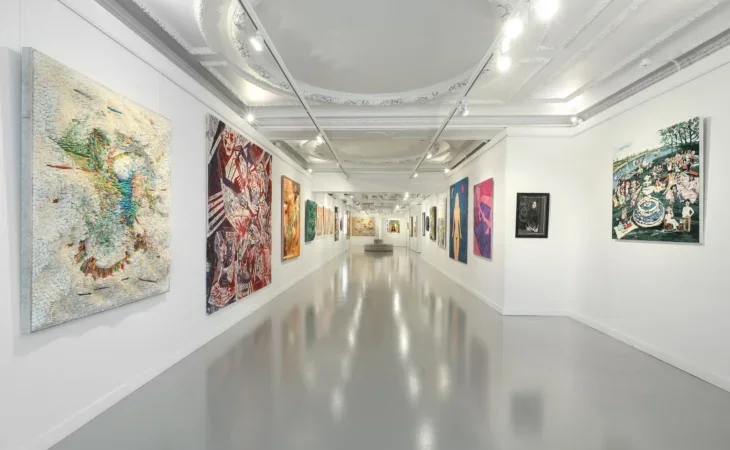 The House of Fine Art is set to host an exhibition this summer at its Mykonos outpost to celebrate and promote the work of contemporary female artists while shining a light on the lack of gender parity within the art world.
Running from August 4 through September 4, the new exhibition – titled The Divine – will feature the work of twelve international women from twelve different countries.
"Summer 2022 in Mykonos will be the season of the decade, and to make sure of this, we're delighted to bring major exhibitions to the island once again," says House of Fine Art co-founder and curator, Simonida Pavicevic.
[See more: Inside the Salvatore Ferragamo Exhibition: Women in Balance]
"Taking center stage at The House of Fine Art in August, The Divine is an all-female artist show, designed to challenge the historical underrepresentation of female artists."
Among the pieces on display will be South Korean artist Ilhwa Kim's intricate works composed of tens of thousands of seed units made from rolled hand-dyed mulberry paper, Belgian painter Laura Limbourg's works examining issues including sexual discrimination and women's rights, and Mexican artist Susana Anaya's vivid three-dimensional oil paintings.
Other highlights from the exhibition include a series of Lucille Gauvin's colorful figurative works, Camille Hannah's abstract explorations of femininity and Romina Ressia's portrait photographs of women inspired by classical paintings.
The exhibition first ran at The House of Fine Art's London outpost in March to coincide with International Women's Day. Of course, the gallery's efforts to further the work of female artists does not stop there. In 2022, around 50% of The House of Fine Art's planned solo shows, across its locations in London, Mykonos and Los Angeles, will be by female artists.
Last summer, the gallery also joined forces with Adora Mba (curator and founder of ADA / Contemporary Gallery) to create the hugely successful Mother of Mankind exhibition – an all-female show exploring a wide range of themes including gender, family, society and sexuality from the perspective of black femininity. Following its popular reception, Adora is set to return this year to collaborate with the gallery once again.
Elsewhere at The House of Fine Art's Mykonos outpost this summer, Jan Kaláb's highly anticipated exhibition, Shape of Mind, will run through July 28. The visual artist made a name for himself painting graffiti in his native Czech Republic and is known for his ability to create stunning illusions of movement through his bold, vibrant paintings.