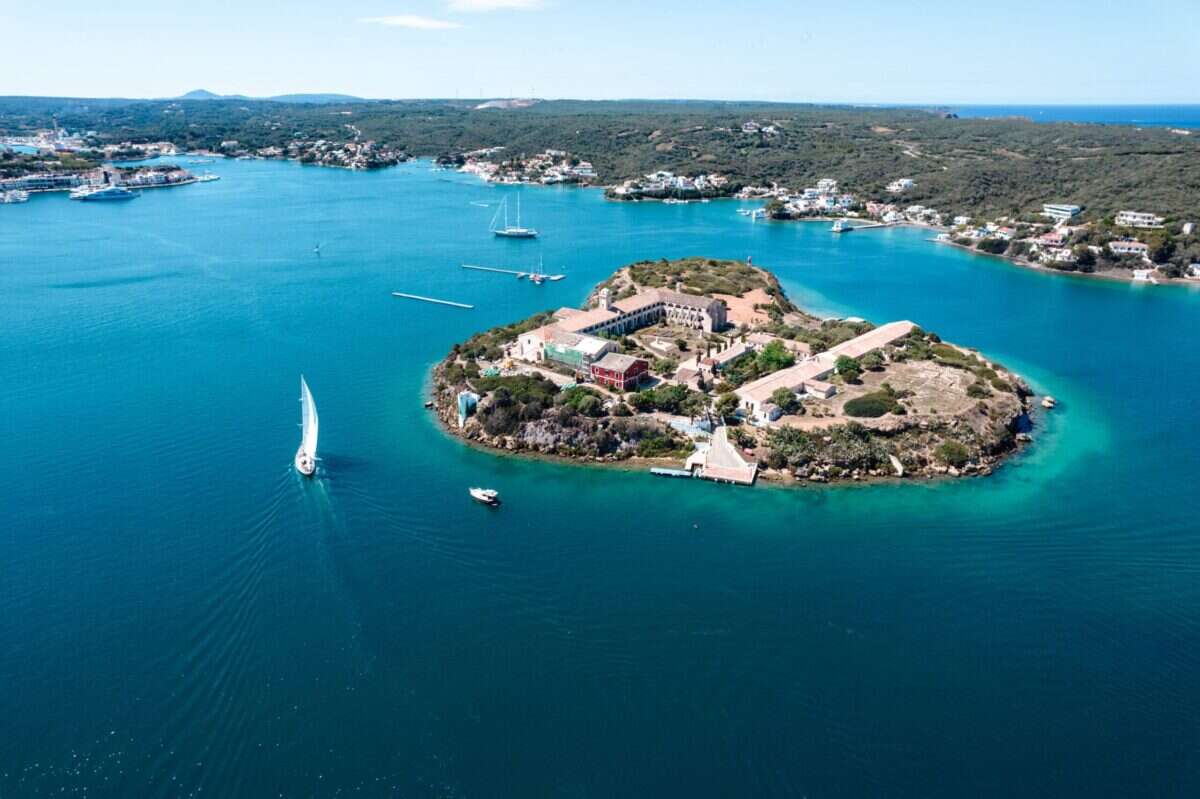 Last July, Hauser & Wirth opened the doors to its brand-new arts center on the Isla del Ray – a tiny island in the Mahon Harbor of Menorca. It was an ambitious project that saw the gallery transform the outbuildings of a crumbling 18th-century naval hospital into a 1,500-sq-ft arts venue complete with a sculpture garden and restaurant. Now, the gallery has announced that American artist, Rashid Johnson, will be holding his first solo exhibition in Spain at Hauser & Wirth Menorca this summer.
If you're hoping to visit, you'll need to start planning your trip soon as the gallery operates seasonally, closing over the winter months. From Menorca airport, it's a short drive to Mahon Port from where the island is just a fifteen-minute boat ride away.
So, what can you expect from this year's exhibition? After studying photography at the Art Institute of Chicago, Johnson made a name for himself with his contemporary pieces that span a wide range of mediums including sculpture, painting, drawing and filmmaking. The talented artist's work is deeply personal, often referencing his childhood and collective aspects of African American cultural identity.
[See more: A Guide to Madrid's Greatest Museums and Galleries]
Opening on 18 June, Johnson's exhibition is titled 'Sodade' after a Cape Verdean song from the 1950s, popularised by Cesária Évora, that tells of a melancholic state of yearning on the 'long way to São Tomé '.
Drawing on narratives around migration and journeys, Johnson presents a newly developed series of bronze sculptures of boats cast from clay forms and filled with an array of objects with symbolic significance including VHS tapes, books and a CB radio.
He is also set to showcase his collection of Seascape Paintings in which shapes reminiscent of individual row boats are scratched into Neutral White or Prussian Blue oil paint, alongside his Bruise Paintings series rendered in deep blue oil paint that speaks to the times we are living in conjuring feelings of trauma, pain and healing.
Eager to help the next generation of artists find their way, Hauser & Wirth Menorca is running a residency program, giving two Spanish post-graduates the opportunity to receive mentoring and create an engagement project to run alongside Johnson's exhibition, as part of the gallery's Education Lab.
While Hauser & Wirth is well-known for its sensitive restoration projects, its latest venture might just be the most impressive yet. The island is steeped in history hosting both a decommissioned naval hospital founded by the Royal Navy in 1711 when Menorca was under British rule and the archaeological remains of a sixth-century basilica.
Renowned Argentinean architect Luis Laplace and landscape designer Piet Oudolf were enlisted for the project – both of whom worked together previously to transform a rural farmhouse into the gallery's Somerset outpost.
Working closely with the Fundacio Hospital de la Islay de Ray, a non-profit established in 2005 to protect and promote the island, Laplace transformed the hospital outbuildings into an exhibition space with eight galleries while Oudolf created an idyllic outdoor sculpture trail featuring pieces by Eduardo Chillida, Joan Miró and Franz West. The hard work has evidently paid off with the project scooping an award for the Best Social Responsibility Initiative from the Balearic Island's government.
Since 1993, Menorca has been recognized as a UNESCO Biosphere Reserve, thanks to the island's diverse range of habitats. Demonstrating its commitment to protecting this precious natural environment, Hauser & Wirth has put in place a range of sustainability measures on the Isla del Ray including rain-water collection to reuse the water for ground irrigation, reverse osmosis water treatment and energy efficient climate control systems for the buildings.
The gallery also works closely with Menorca Preservation, a non-profit that runs several local initiatives around sustainable agricultural development, renewable energies and sea preservation.
[See more: Sotheby's Marks Platinum Jubilee with Royal Exhibitions]