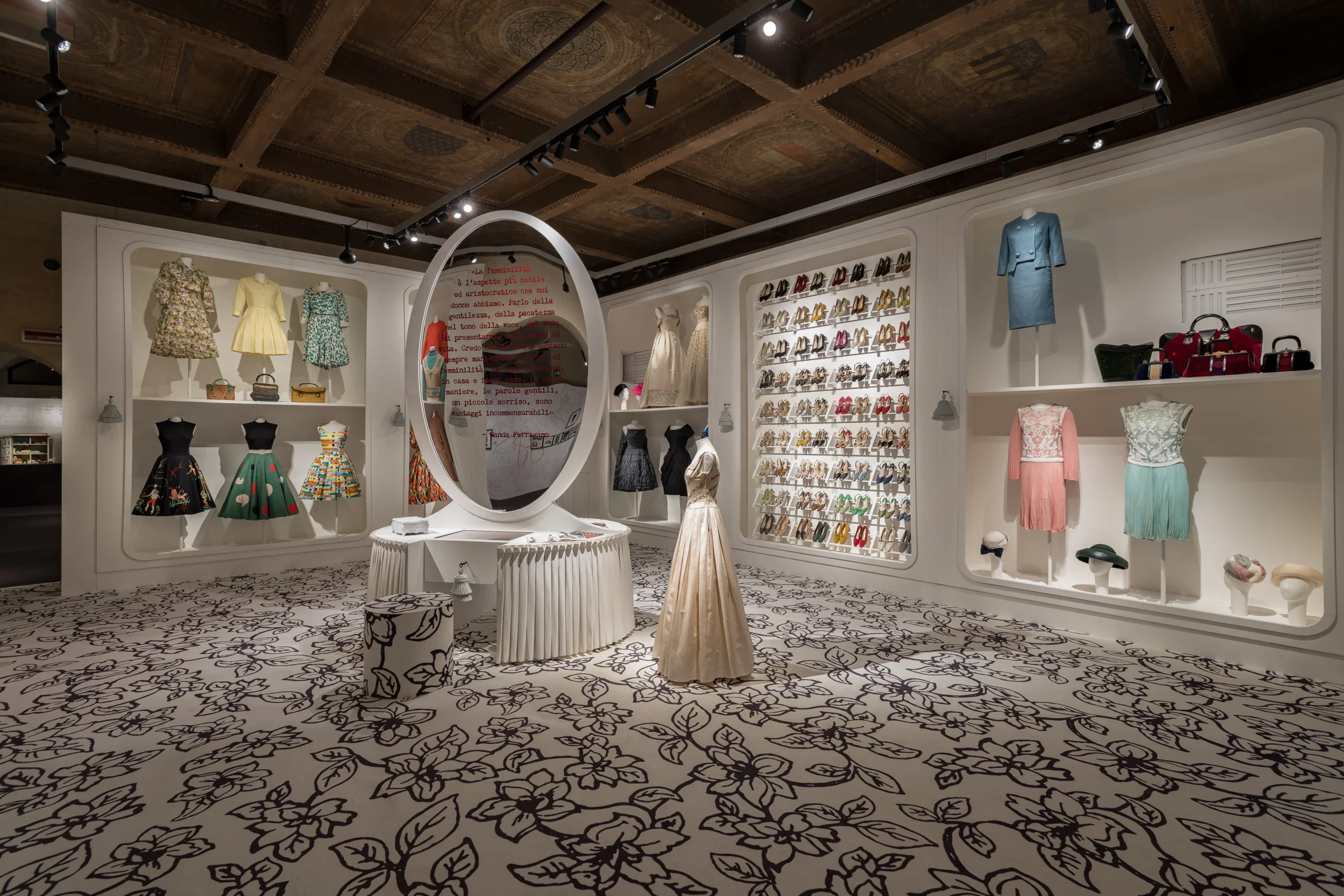 A new exhibition has opened in the heart of Florence, paying tribute to Wanda Miletti Ferragamo, the creative and resourceful mind that helmed the luxury Italian fashion brand Salvatore Ferragamo from 1960 until her death in 2018.
Curated by Stefania Ricci and Elvira Valleri, the exhibition – titled Women in Balance – will run from May 2022 through April 2023 at the Museo Salvatore Ferragamo, a museum dedicated to the history of the Ferragamo company, located in the basement of the 13th century Palazzo Spini Feroni.
It was here, in the 1930s, that shoe designer Salvatore Ferragamo first set up shop and quickly rose to fame garnering a star-studded list of clients that included Audrey Hepburn and Marilyn Monroe.
[See more: Gucci Opens Stylish Cocktail Bar in Florence]
When Salvatore Ferragamo died in 1960, Wanda took over from her husband, running the business while caring for her six children. The powerful exhibition, curated with the help of her family, explores the multiple roles she took on over her lifetime as wife, mother, grandmother and businesswoman, through a selection of objects, clothing, works of art, videos and photographs.
"Women in Balance shows the complexities of what it was to be a woman in Italy between the fifties and the sixties when Wanda changed the course of her life," says Stefania Ricci. "The experience of Wanda Ferragamo, one of Italy's first female captains of industry, exemplifies the art of preserving a great artisanal tradition while pursuing robust industrial development."
"She based her approach on a culture of care, and her work at the company, like her relationships with her children, was inspired by this principle of caring for others."
As well as exploring Wanda's personal story, the exhibition will also shine a light on other women who defied societal boundaries and managed to balance family life with personal success in fields of work previously reserved almost exclusively for men during the 1950s and 60s.
"Every woman's experience evoked in this exhibition can be interpreted as a unique journey towards the creation of her own way of 'being a woman', that arises from both the historical context and her personal exploration," explains Ricci.
"The narrative is based on the fact that women, entering the public scene, have also found nuanced solutions as they constantly search for new balances between work and family only emphasizing the continuous, ingenious and extraordinary creativity that has characterized and continues to distinguish the life of women, their choices and their different view of the world."
The exhibition goes beyond reflecting on a historical chapter, also exploring identity in the present day through a virtual project developed in collaboration with the Arts Curating course at the Istituto Marangoni Florence which draws on the work and testimonies of eleven international female artists.
Women in Balance is open from May 2022 through April 2023 at the Museo Salvatore Ferragamo, Palazzo Spini Feroni, Florence.
[See more: Toast Partners with Somerset House for Exhibition]