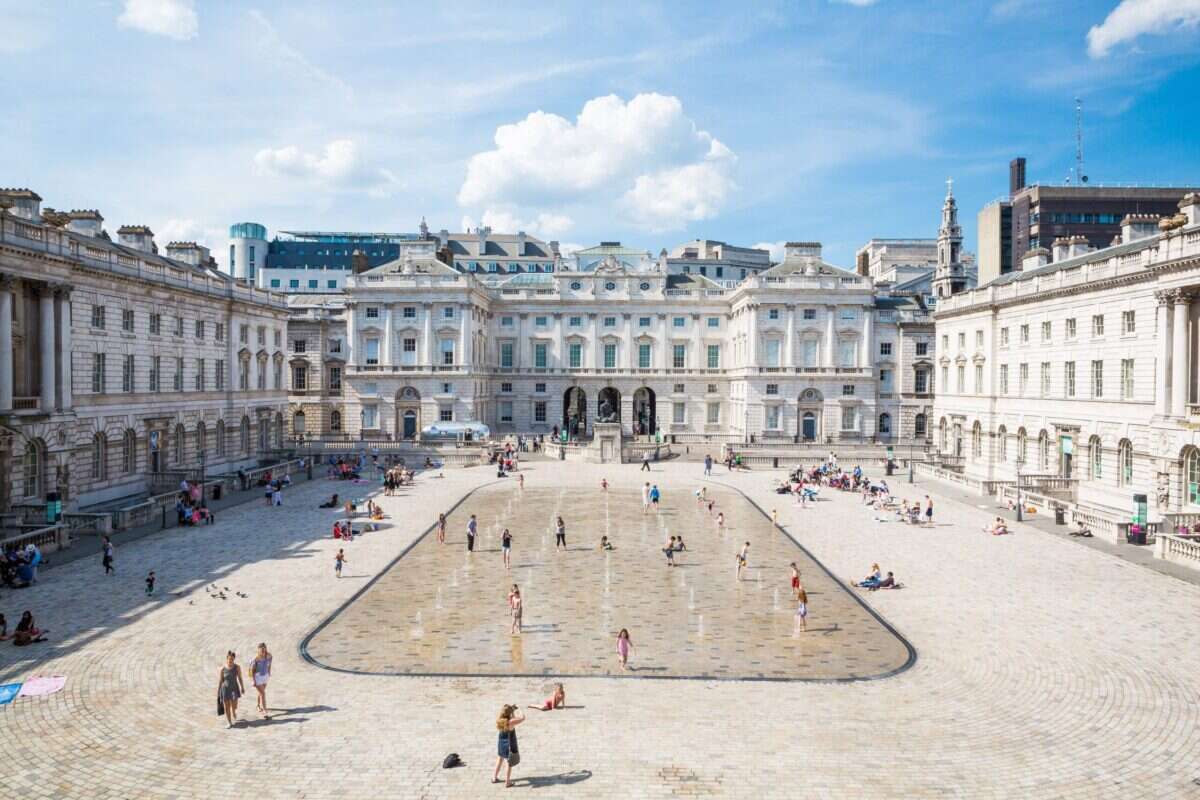 When it comes to sustainability, it's no secret the fashion industry leaves a lot to be desired. Each year millions of tons of textile waste end up in landfill with mountains of clothing thrown away after only a few wears. Eager to shine a spotlight on this issue, lifestyle brand Toast will be taking part in Eternally Yours – an exhibition at London's Somerset House exploring ways to give your clothing a new lease of life.
Running from 16 June to 25 September, the exhibition will encourage visitors to cherish the worn and aged instead of discarding much-loved garments in need of repair. Staged across three Terrace Rooms, the event calls on people to reconsider their relationship with clothing and the planet, moving beyond the monetary value of objects to discover their emotional meaning.
The exhibition will be hosted at Somerset House – a striking neoclassical arts center situated in the heart of London overlooking the River Thames. Highlights from the artists and designers on show include stories of survival sewn into the soles of the shoes of Syrian migrants by Aya Haider and Aono Fumiaki's transformation of items salvaged from the wreckage of Japan's devastating earthquake and tsunami in 2011.
[See more: Luxury Fashion Pieces Championing Sustainability]
A collection of historical and contemporary objects will also be on display demonstrating the value of upcycling and repurposing. Look out for the Gee's Bend Quilt – a beautiful tapestry made from recycled fabrics by generations of women living in an isolated hamlet on a bend of the Alabama River.
Visitors will be given a valuable insight into the traditional Japanese art of boro (mending textile items with would-be discarded scraps of fabric and a simple sashiko stitch) and Kintsugi (repairing broken pottery with lacquer and gold). In both instances, there is no attempt to conceal imperfections. Instead, flaws are embraced and celebrated – a powerful lesson in an age of fast fashion and mass production.
At the heart of the exhibition, you'll find 'The Beasley Brothers' Repair Shop', a pop-up created by designer Carl Clerkin. The installation will host demonstrations from a range of artists and designers giving discarded objects a second life.
Perhaps most exciting are the series of workshops and mending consultations hosted by Toast in the Courtyard Rooms, adjacent to the exhibition. These include ceramic repair with British artist Bridget Harvey, traditional Japanese embroidery with textile repair artist Molly Martin and decorative Swiss darning with knitwear expert Amy Goacher.
Many of these artists will contribute to a collaborative installation made from repurposed garments from Toast. The Eternally Yours exhibition is just the latest in a collection of initiatives from the lifestyle brand to encourage slow fashion including Toast Renewal, a free in-store repair service, and the Toast Circle clothes swapping program which has seen over 1,500 garments swapped since launching in 2019.
"Nearly every flaw in the system can be traced back to overproduction and overconsumption so as an industry, we need to get to a point where extending the life of garments is the norm, not a passing fad," says Toast CEO, Suzie de Rohan Willner.
"To reduce waste and emissions we all have a part to play by slowing down and valuing the things we own, not just for a season but for years – or even generations – to come," she continues. "Much of this starts with changing cultural norms, so we hope our contribution to the show through our installation and expert mending workshops can play a small part in this."
The Eternally Yours exhibition in partnership with Toast is open from 16 June to 25 September at Somerset House in London. Tickets for individual events can be booked at somersethouse.co.uk
[See more: Feadship Launches Sustainable Clothing Line]