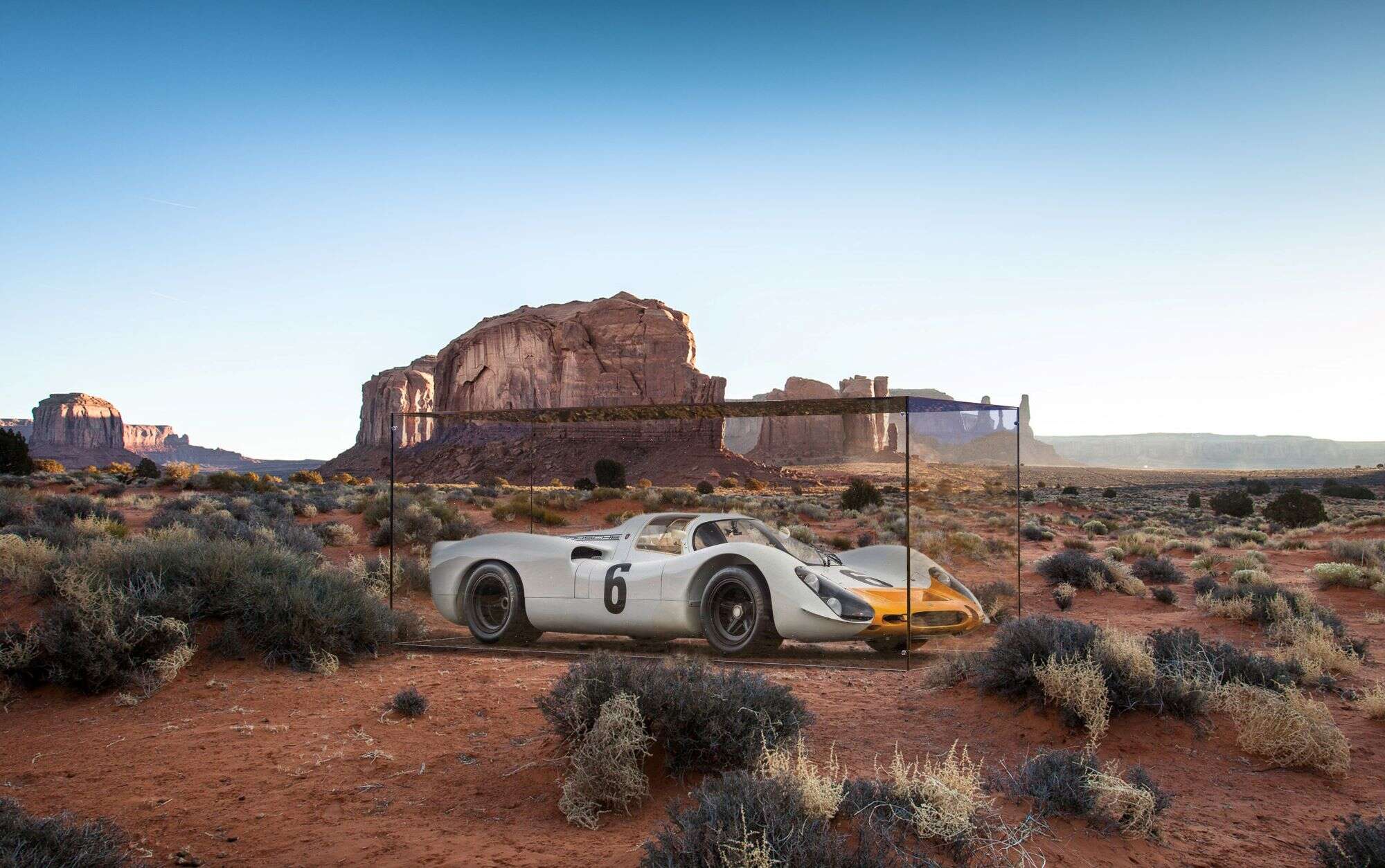 Porsches In Nature, an experimental outdoor museum exhibition by multidisciplinary designer Jared Zaugg, is being planned for the dramatic plains of Utah's Canyonlands. 
Still in its concept phase, Zaugg hopes his unconventional artistic display will ignite a sense of adventure in its audience and challenge the notion that exhibitions must be experienced indoors. 
The Porsches In Nature concept sees 30 influential Porsche models displayed outside where the 'canvas' offers as much appeal as the exhibits themselves. The 'frames' in which the cars are displayed are transparent UV-blocking boxes, which provide both complete protection and security and a fishbowl effect for 360-degree viewing.
The designer claims to have taken his inspiration from multiple sources including the iconic Guggenheim Museum and Petersen Auto Museum as well as Christo Environmental Art, associated with striking outdoor sculptures of epic proportions. Zaugg says the exhibition "engages the act of travel, discovery and experience – the very qualities automobiles represent."
Cars will be placed at intervals along a 5-10 mile winding scenic road among the stunning rust-red rock of Canyonlands National Park near Moab, Utah. The one-of-a-kind exhibit will be accessible via road and visitors will be required to download directions to locate the cars dotted throughout the landscape. 
Discussing the logistics of the exhibition Zaugg says: "a lot of consideration and sensitivity has been given [to the environment]. The area where [the exhibition] would take place does have roads, is designated as multiple-use, and would have the appropriate approvals in place. Never would I want to compromise the integrity of our natural places in any way."
Zaugg is hoping that his Porsches in Nature exhibition could encourage more people to experience the great outdoors. "It's about the activity of getting people out into nature, seeing the landscape, seeing America and seeing our national treasures.
"No one, no matter how they arrive or how they engage, can come to this part of the world and not be moved. These landscapes must be experienced to be fully appreciated and valued, and if it's 'cool cars' or 'art installations' [achieves this], so be it," he says. "Hopefully, it will open it up to an entirely new audience because of the subject of the exhibition."
He added: "I view the landscape – which is acting as the frame or background – as important as the subject or exhibit piece itself, and the complementary contrast or juxtaposition is part of that allure."
Those cruising along Utah's remote desert byways shouldn't expect to stumble across this unique spectacle quite yet as the Porsches in Nature exhibition isn't planned to launch until Spring 2022, with more information scheduled for release in the coming months. 
[See also: Tuck in at the New Aston Martin Residences in Miami]