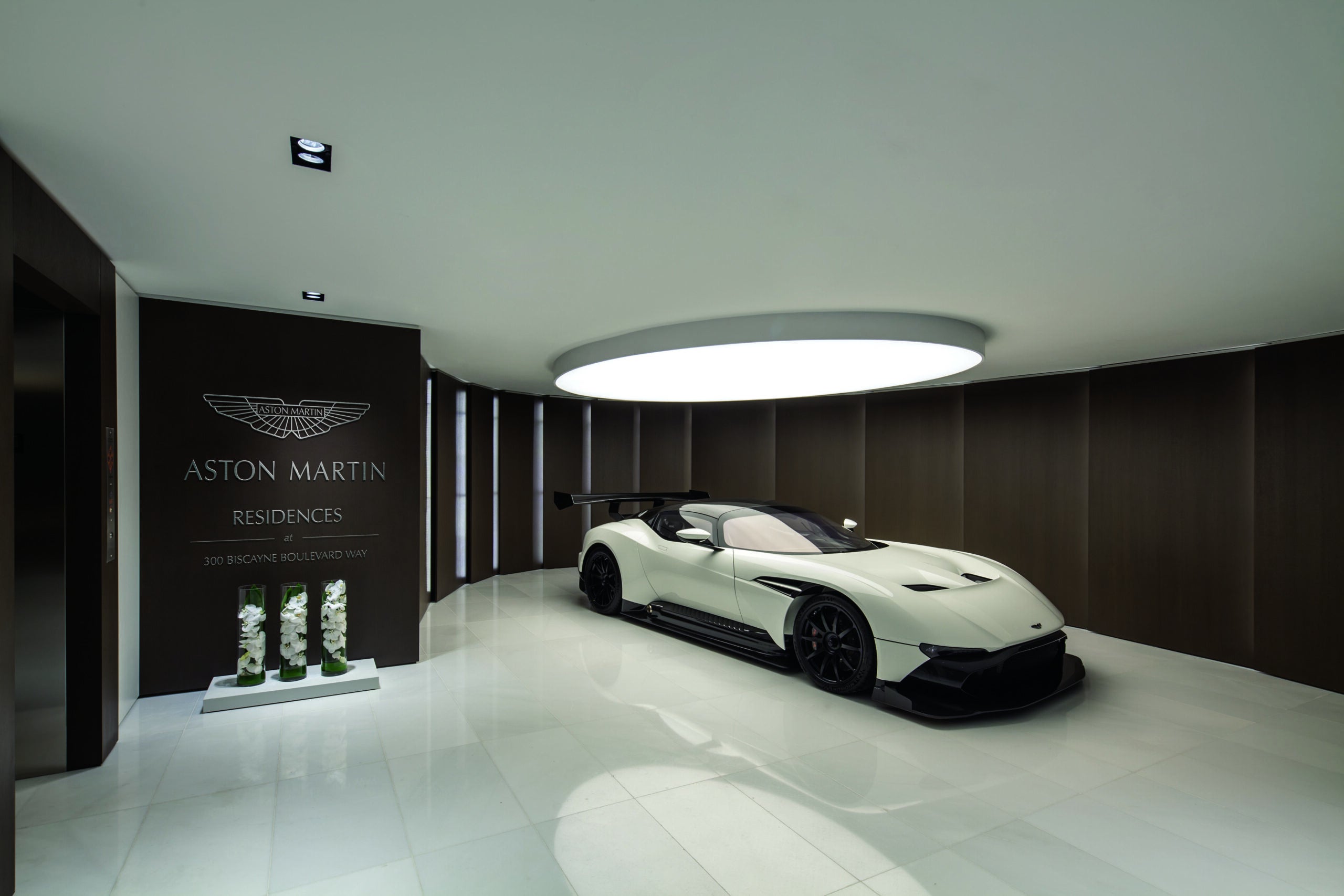 Some homes come with a garage. But if you buy one of the elegant Aston Martin Residences in Miami, your purchase may include a smashing new car.
The first venture into real estate development by the venerated British automotive king, Aston Martin, the new sky-high, waterside tower purports to be the tallest residential building south of New York. Its sail-shaped design by Revuelta Architecture International honors the sleek lines of Aston Martin's James Bond-beloved, easily distinguishable motorcars, evoking a spirit of art de vivre.
Overlooking Biscayne Bay, the 66-story building rises in the heart of downtown. Its interiors, a collaboration between Bodas Miani Anger (BMA) Architects and Aston Martin, draw from the automotive giant's esteemed sophistication and century-old tradition of handcrafted, British luxury styling. Within the 391 residences, flourishes such as top-notch Gaggenau appliances, Bulthaup cabinets and quartz kitchen countertops mirror Aston Martin's penchant for sumptuous chic.
[See also: Pendry West Hollywood Offers McLaren 765LT with $16m Penthouse]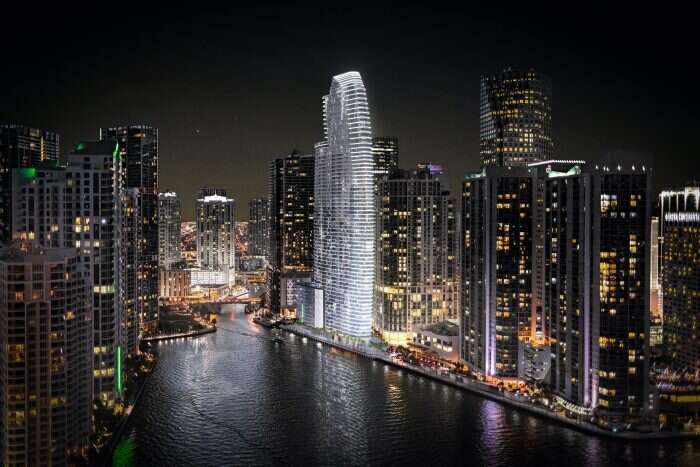 "In this, our first residential development, the interiors are inspired by Aston Martin, but take into consideration Miami's tropical environment," says Marek Reichman, EVP and chief creative officer at Aston Martin. "Our design language is based on beauty and the honesty and authenticity of materials. It's simple and pure, and it has an elegance attached to beautiful proportions."  The design teams incorporated Aston Martin's DNA through fine craftsmanship and subtle details, with an emphasis on ease. "This building is for people who appreciate the finest quality," he said.
With condominiums that range in size from one to five bedrooms, seven penthouses and a unique, jaw-dropping Triplex Penthouse, the tower offers a variety of residences, each with stunning vistas. In terms of common spaces, four stories of 'Sky Amenities' encompass 42,275 sq ft of entertainment options, including cinemas, an infinity pool, a catering kitchen, a spa, virtual golf, a fitness center, a boxing gym, teen and children enclaves, and more. Twenty four-hour butler service seals the deal.
But what about those cars? Owners of the Signature Residences can choose to receive either the exclusive DB11 Riverwalk Edition or the DBX Riverwalk Edition — the first SUV model by Aston Martin — each limited to just 47 vehicles. The coup de grâce, however, will be saved for the owner of the $50m, eye-popping, three-story Triplex Penthouse. That owner will be gifted a rare Aston Martin Vulcan, one of only 24 in the world. The brand's 7.0-liter, V12, 820 hp, all-carbon fiber supercar gets kudos for its extreme performance capabilities, making it a perfect match for a 18,000-plus-square-foot home above the sea.
Contact miamisales@astonmartinresidences.com, +1 305 573 7333, astonmartinresidences.com