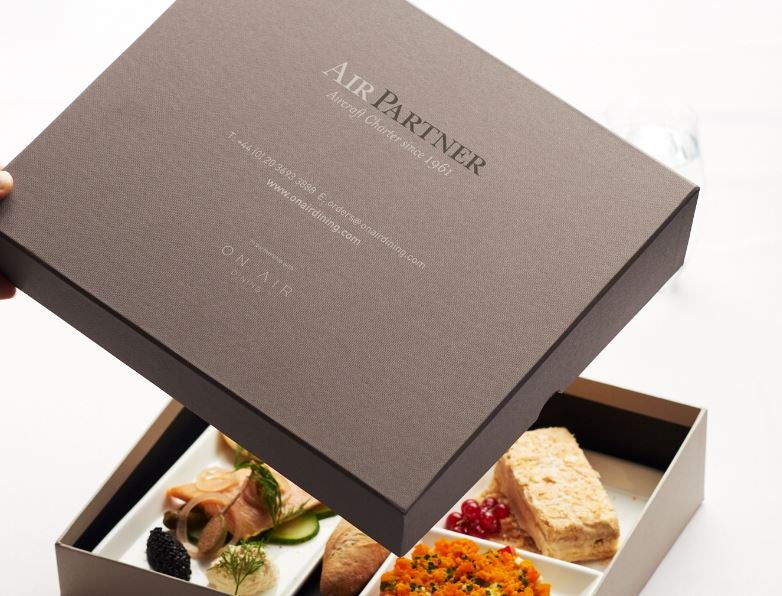 When Air Partner created the JetCard over 13 years ago it became one of the first companies to offer a private jet membership. Now considered a leading jet membership program, JetCard is celebrated for its flexibility, level of customer service and expertise. To extend the benefits provided, the aviation company have added new enhancements to the product, including new gourmet menus, limited edition cards and more exclusive events.
By collaborating with high-end catering partners such as the culinary concierge company On Air Dining, Air Partner can now provide JetCard members with a fine dining experience as they fly, breaking away from the expectations of inflight meals. With JetCard members in mind, On Air Dining have created a series of bespoke menus and boxed meals inspired by international cuisine; while the Japanese option comprises sashimi, a seaweed salad and a selection of maki and nigiri sushi, the Italian menu is made up of antipasti, seared tuna with caponata and tiramisu. Middle Eastern, Russian, French and Spanish options are also on the menu.
To achieve the quality provided, the chefs of On Air Dining needed to take a scientific approach, taking into account the affect the altitude has on our taste buds. In this way, they continually endeavor to push the boundaries of flavors accomplished and cooking methods used. And in addition to these news meals, working with On Air Dining also enables Air Partner to source food from the clients' favorite restaurants, ensuring they have exactly what they want to eat on their journey.
Additional new benefits include a client referral recognition program, a limited edition $1m JetCard and access to exclusive events from VIP supercar experiences to prestigious polo matches.
To find out more go over to airpartner.com.