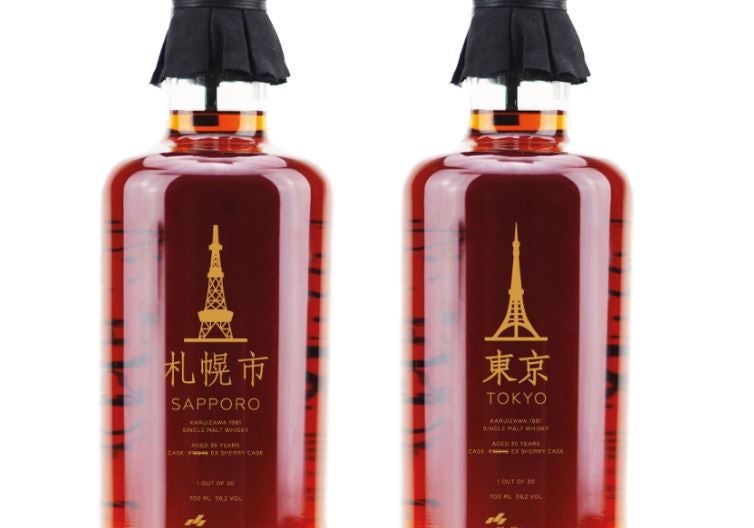 Today, the authentic Japanese spirits retailer dekantā announced the launch of its ballot for a rare Karuizawa 35-year whisky, of which only 150 bottles from the now closed distillery are available. As Karuizawa ceased production in 2000 and demand for Japanese whisky has steadily risen, this distillery's whisky is particularly sought after. The ballot for the limited-edition bottles closes on February 7th at midnight (GMT), with each one priced at $12,500.
With its six limited-edition bottle designs taking inspiration from Japan's celebrated cities, dekantā's Karuizawa Cities of Japan 35 Year Old sherry cask collection aims to embody the character of the country's most iconic settings, from the nation's vibrant capital Tokyo to Sapporo in Hokkaido, and on to Nagoya, Osaka, Yokohama and Kobe.
Having spent over three and a half decades in a first fill sherry cask, the rich, dark and complex spirit is imbued with the flavor and character of the cask, opening with notes of licorice, roasted coffee beans and dark chocolate followed by cinnamon, ginger and clove. A sweet and creamy palate is then joined by dark chocolate, umami and forest fruits, with prunes, dates and plums near the finish, which brings flavors of cocoa, spice and mango.
The founder and director of dekantā, Makiyo Masa, says: "Karuizawa is synonymous with quality, luxury, and rarity. We're overjoyed to offer our clients a piece of this legendary silent distillery, and to unveil the beautiful bottle designs honoring six great cities of Japan."
Winners of the ballot will have the opportunity to buy a bottle in their preferred design. To enter the ballot for the Karuizawa Cities of Japan 35 Year Old Sherry Cask and express your interest in a particular design, visit dekanta.com/ballot35.