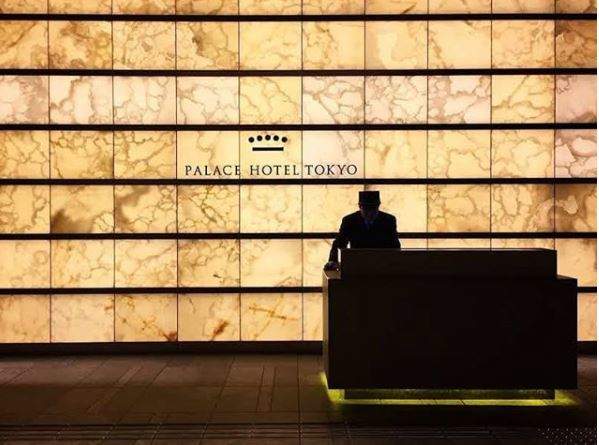 It's no secret Tokyo is now the food capital of the world. However one thing that does often get overlooked in pretty much every city is hotels with fantastic restaurants. While cities such as London, Tokyo, Paris and New York are full of fantastic places to eat, both big and small, there is something extremely satisfying about having a great place to eat on your doorstep. So to help those of you venturing to Tokyo, Elite Traveler has put together a list of the best hotel restaurants in the Japanese capital.
Arva at Aman Tokyo
Taking up one side of Aman Tokyo's jaw-dropping lobby where floor-to-ceiling windows reach over 98-ft in height, this restaurant commands views over the city from its vantage point on the 33rd floor. While the design is distinctly Japanese in style, the signature restaurant's cuisine is predominantly Italian. Arva's executive chefs draw on Italian cooking techniques and the country's rich culinary tradition, while utilizing locally sourced ingredients and adding their own element of creativity. With a name that translates to 'cultivated land' in Latin, it's no surprise that much of the focus here is placed on the quality of locally grown and sourced ingredients. Sustainability is at the heart of the kitchen, with relationships being forged with local fishermen, farmers and specialist suppliers. These ingredients are incorporated into dishes such as wild boar ragout with truffle, grilled barracuda with roasted cauliflower and anchovy and sparkling enope squid (also known as the firefly squid for its bioluminescence) with fava beans. Opt for one of three tasting menus or go a la carte. These menus can be paired with fine Italian wines.
Kyoto Tsuruya at Peninsula Tokyo
It's within the plush Peninsula Tokyo that you'll find the sister restaurant of famous Kyoto restaurant Tsuruya, which dates back to 1928 and has played host to members of the Imperial family and international royalty. This Tokyo offshoot serves the same kaiseki-style cuisine as the original, giving guests a truly authentic Japanese fine dining experience. Each delicate dish within this cuisine pays homage to the season while exhibiting long-held culinary tradition and meticulous craftsmanship, and showcasing the finest ingredients of Japan's master producers. Set menus here include the tempura set consisting of an appetizer, a selection of tempura with rice, miso soup and other accompaniments, and a kaiseki option, which incorporates dishes such as teriyaki beef, sushi and local fish. The dining room is modern in design but still distinctly Japanese with a main dining area, five private rooms and the tempura bar to choose between.
Tapas Molecular Bar at Mandarin Oriental Tokyo
This lavish hotel has a diverse selection of fine dining restaurants to decide between, but the Tapas Molecular Bar is one that stands out for its individuality as well as for its accomplished cooking; this Michelin-starred eight-seat restaurant is arguably the hotel's most exclusive dining space. Innovative molecular cuisine is the focus here, with a selection of dishes served to diners in the same style as a traditional sushi bar. Over the course of two hours you can watch as chef Ngan Ping Chow and his team prepare each bite-size tapas plate in front of you, while revealing the story behind each creation. Each mouthful exhibits the chefs' innovative style through the creative use of texture and unexpected flavor combinations, finished with imaginative presentation. Highlights on the menu include lobster with turnip cake and bisque, and charcoal grill Wagyu beef with wasabi. Just don't expect them to come in their original form.
Sushi Kanesaka at Palace Hotel Tokyo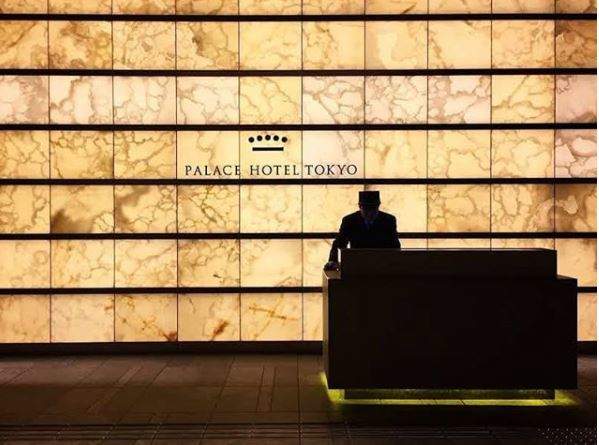 The preparation of sushi is a revered art in Japan and this restaurant's chef Shinji Kanesaka is among Tokyo's celebrated sushi masters. Kanesaka has spent more than half his life honing his culinary skills, which have ultimately earned the chef a Michelin star. In this dining space, classic Edomae-style sushi is made and served to diners at the sushi bar, taking each guest on a journey of Japanese flavors and providing an introduction to the nation's finest seafood. Lunch and dinner sets come with 10-15 sushi plates and the chef-recommended course comes with additional side dishes. The restaurant's interior is designed in the traditional sushi bar style.
New York Grill at Park Hyatt Tokyo
This restaurant on the 52nd floor of the Park Hyatt Tokyo is one of the city's best known dining spots. Panoramic views through floor-to-ceiling windows come with contemporary interiors complete with paintings of New York by Italian artist Valerio Adami. In this space diners are served the international cuisine of chef Stefan Heerdt and his team. Expect premium meat and seafood that's grilled to perfection and paired with wines from the 1,800-bottle cellar. Menu highlights include Japanese beef cheek pastrami with pickled tougan melon and horseradish, Kobe sirloin, whole grilled Canadian lobster, and fresh tagliolini with Hokkaido hairy crab, sea urchin, basil and lemon zest. After dinner, head to the New York Bar for classic cocktails and live jazz.
Pierre Gagnaire at ANA InterContinental
The only Japan-based restaurant of renowned French chef Pierre Gagnaire, this restaurant is one of the city's great gastronomic draws. The two-Michelin-starred dining spot is positioned on the hotel's 36th floor, providing spectacular views of the skyline and Tokyo Tower. While the interiors display classic elegance, the menu showcases Gagnaire's famously inventive French fine dining plates, which are designed to surprise through their flavor, texture and presentation. Multi-course meals include dishes such as scallop marinated in a vinegar of chardonnay and chorizo, and langoustine and ginger with shitake mushrooms. Each menu can be paired with premium French wines.
Wakatake Tempura Restaurant at Grand Prince Hotel Takanawa
A space that's particularly appealing for daytime dining when the sun comes streaming in, this restaurant feels particularly tranquil with traditional Japanese interiors and abundant surrounding greenery. Tempura is the specialty here and one that they certainly know how to get right. With a cooking station at each individual table, the batter, seafood and vegetables are prepared before you, before being cooked to perfection. More than just a delicious meal, this is an immersive culinary experience that makes dining here even more memorable. The restaurant has a terrace and garden, as well as private dining space.
The Restaurant at Hoshinoya Tokyo
One of the latest additions to Tokyo's hotel scene, Hoshinoya Tokyo combines elements of traditional Japanese ryokans with luxurious contemporary design. The hotel's dining space follows suit with a modern approach that's underpinned by Japanese tradition. Here, the award-winning executive chef Noriyuki Hamada leads the kitchen in creating dishes using mineral-rich ingredients from Japan's forests, sea and mountains, taking each day at a time, rather than basing the menus on each season. The chef then gives these dishes his signature style based on the French culinary techniques he's mastered.
China Blue at Conrad Tokyo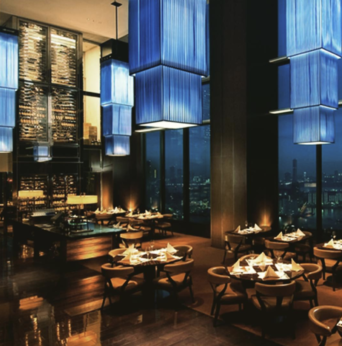 Situated on the 28th story of the Conrad Tokyo, China Blue is world-renowned chef Albert Tse's Japanese outpost. Having conquered Singapore and Hong Kong with his beautifully presented fusion food, Tse's Tokyo restaurant doesn't fail to impress. Each dish bursts with color and flavour accompanied perfectly by the view across the harbour. One of the stand out dishes include Tse's signature dish, barbeque ribs with sweet and sour food, served with wasabi leaves, strawberries and Japanese ginger.
Azure 45 at Ritz Carlton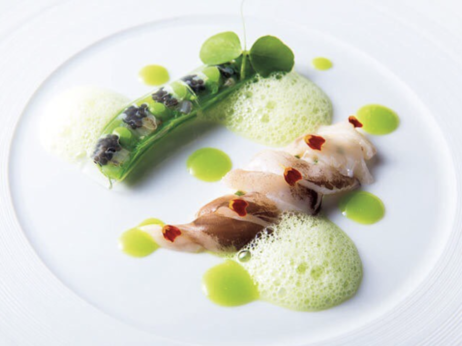 Having held a Michelin star for the last three years it's no surprise to see Azure 45 on our list. Set on the 45th story of the Ritz-Carlton, Azure 45 is headed up by Shintaro Miyazaki, the restaurant's Chef de Cuisine. Having spent the majority of his career working at Tokyo's Au Gout du Jour restaurant, Miyazaki joined Azure 45 in 2014, helping the restaurant attain its first Michelin star the following year.
Azure 45 focuses on serving French cuisine, fused with the simplicity of Japanese food, giving a unique take on two of the city's greatest culinary delights.
Nadaman at Shangri-La
With the Nadaman's Chief Chef, Takehiko Yoshida, working for the restaurant for over 20 years, one of the most impressive parts of the Shangri-La's flagship restaurant is its innovation. While it would be easy for Yoshida to rest on his laurels, the team at Nadaman continue to work towards innovating their menu wherever possible. Focusing on serving the best sushi, teppanyaki and kaiseki possible, some of the restaurant's stand out dishes include Kano eggplant wrapped in Wagyu beef and foie gras egg custard with a truffle sauce.
Toh-Ka-Lin at Hotel Okura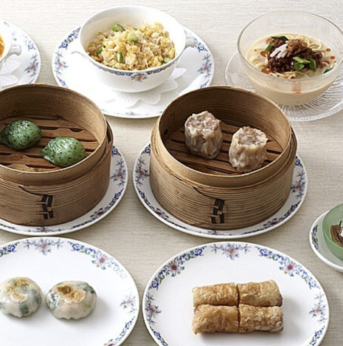 Another one of Tokyo's fantastic Chinese restaurants, Toh-Ka-Lin first opened up in Hotel Okura in 1962. Since then the menu has gone on to accumulate over 200 different items, going from traditional Chinese dishes such as braised soft roe in chili right through to modern takes on dim-sum. While Toh-Ka-Lin is our first choice in Hotel Okura, the hotel also offers food at five other venues, including its exquisite sushi-bar, Kyubay.
Les Saisons at the Imperial Hotel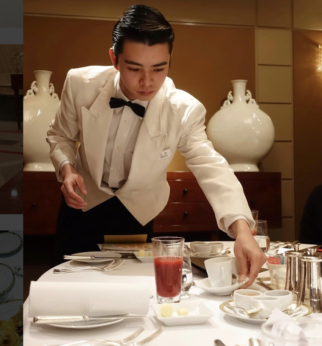 Situated in the center of the Imperial Hotel, Les Saisons is one of Tokyo's top French restaurants. Headed up by the frighteningly young Thierry Voisin (formerly of Les Creyeres in Reims), the food on offer covers classic French dishes such as Beef Rossini as well as offering some more modern dishes such as smoked fresh water eel served with foie gras, celery puree and a fruit vinaigrette.
The restaurant's interior is spacious and the staff are courteous, taking step from Hotel Okura's almost legendary standards of service. All in all, Les Saisons is a place no elite traveller should miss out on.
MOTIF Restaurant at the Four Seasons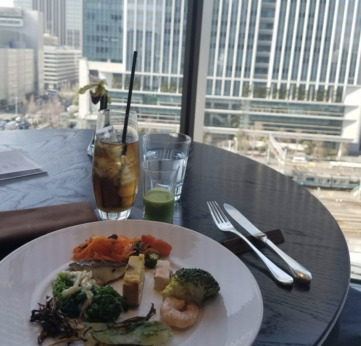 Offering a complete farm to table experience, MOTIF is the Four Seasons Tokyo's flagship restaurant, serving some of the city's finest French food. Offering guests a panoramic view of Tokyo's skyline, the restaurant focuses on offering traditional French dishes, inspired by Tokyo's abundance of fantastic local ingredients.
For those looking for a mid-afternoon treat, MOTIF also offers an impressive afternoon tea, bringing a bit of olde English style to the skies of Japan.