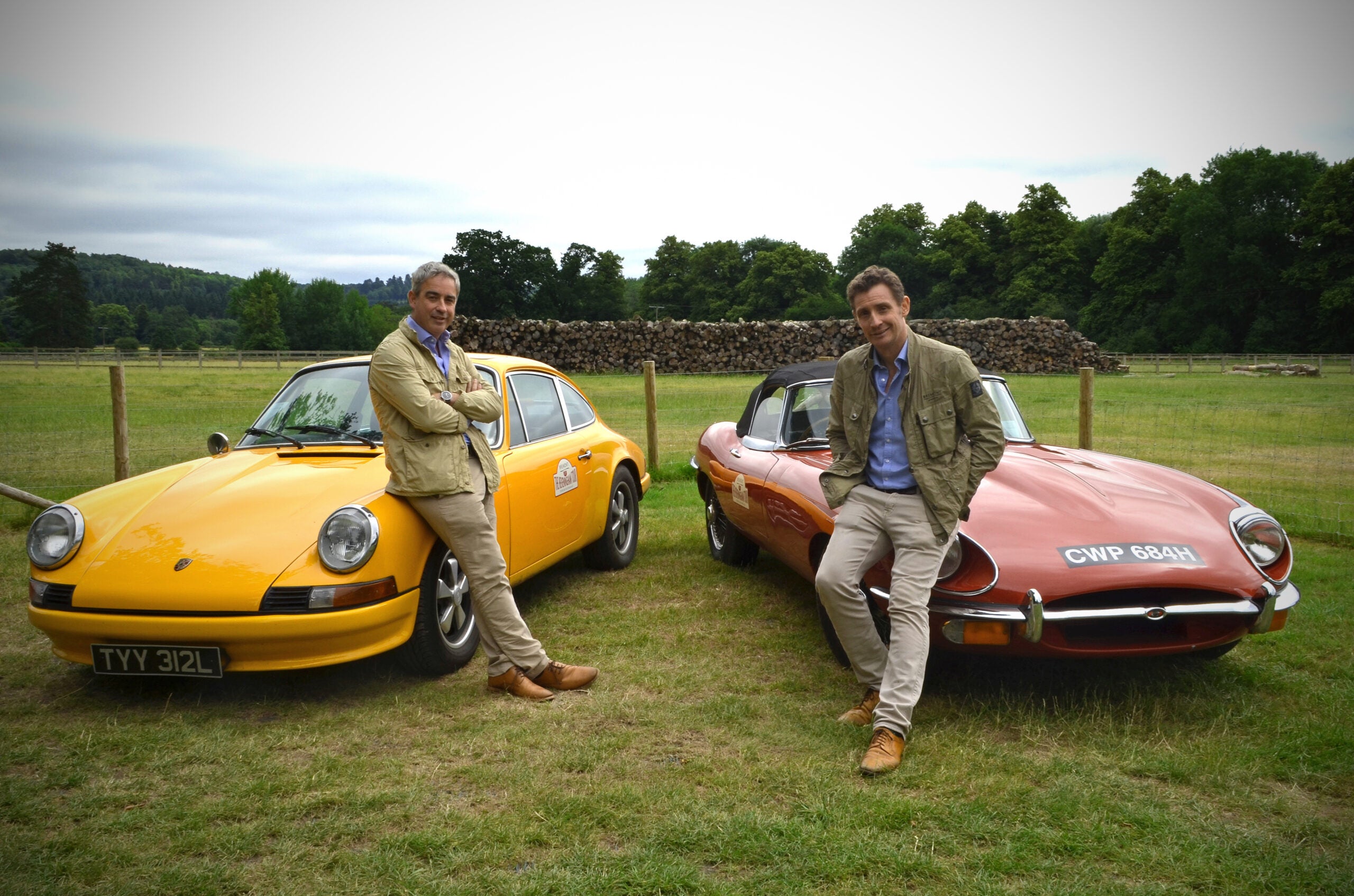 By Olivia Cuccaro
Luxury timepieces are often associated with the Swiss countryside, but for Bremont it's all about the UK. To celebrate the brand's heritage, co-founders (and brothers) Nick and Giles English embarked on a road trip in a car that shares their British background — a 1970 Jaguar Series II E-Type. Originally restored by their late father, Euan English, the Jaguar was joined on the road by Giles' 1973 Porsche 911T to make a journey of over 3,300 miles from New York to San Antonio.
Over the course of their 12-day excursion, Nick and Giles made stops at top retailers to share their passion for watches and British culture with US enthusiasts. The English brothers kicked off the tour at Bremont in New York City before heading on to Little Treasury Jewelers in Maryland, followed by Windsor Jewelers in North Carolina, Sandler's Diamonds & Time in South Carolina, 57th Restaurant in Georgia, Loring & Co in Alabama, Mednikow Jewelers in Tennessee and finally Timeless Luxury Watches in Texas. As part of the brand's commitment to philanthropy, Nick and Giles arranged for 5 percent of sales made at each retailer along the way to be donated to The Friedkin Disaster Relief Fund for those affected Hurricane Harvey.
Aside from its British roots, the relationship between Bremont and Jaguar traces back to 2010 when the car manufacturer unveiled the Jaguar C-X75. Bremont developed a modern-looking analog dashboard clock to match the vehicle's futuristic design. The relationship continued with the release of six Bremont chronometers that accompany the six 'continuation' lightweight E-Type sports racing cars in Jaguar's range. Each watch features a chic black dial that reflects the look of a Lightweight RPM gauge, 'red zone' quadrant and chamfered hour and minute hands similar to a tachometer needle. Even the crown is reminiscent of the car, with a pattern mimicking the E-Type's Dunlop racing tires, while the strap is made of the same Connolly leather as the Jaguar's the interior trim.
The auto-inspired Bremont US trip comes to an end as the brand introduces its newest addition to the collection, Bremont 1918 Limited Edition. As the first moonphase watch from Bremont, the Bremont 1918 Limited Edition commemorates the centennial of the Royal Air Force and the dial will showcase historic day and night RAF battle scenes at 6 o'clock.
Click through the gallery for a look at Nick and Giles' Bremont ride across the US.
See which Bremont timepiece made our list of the Top 50 Watches in the Elite Traveler September/October issue here.