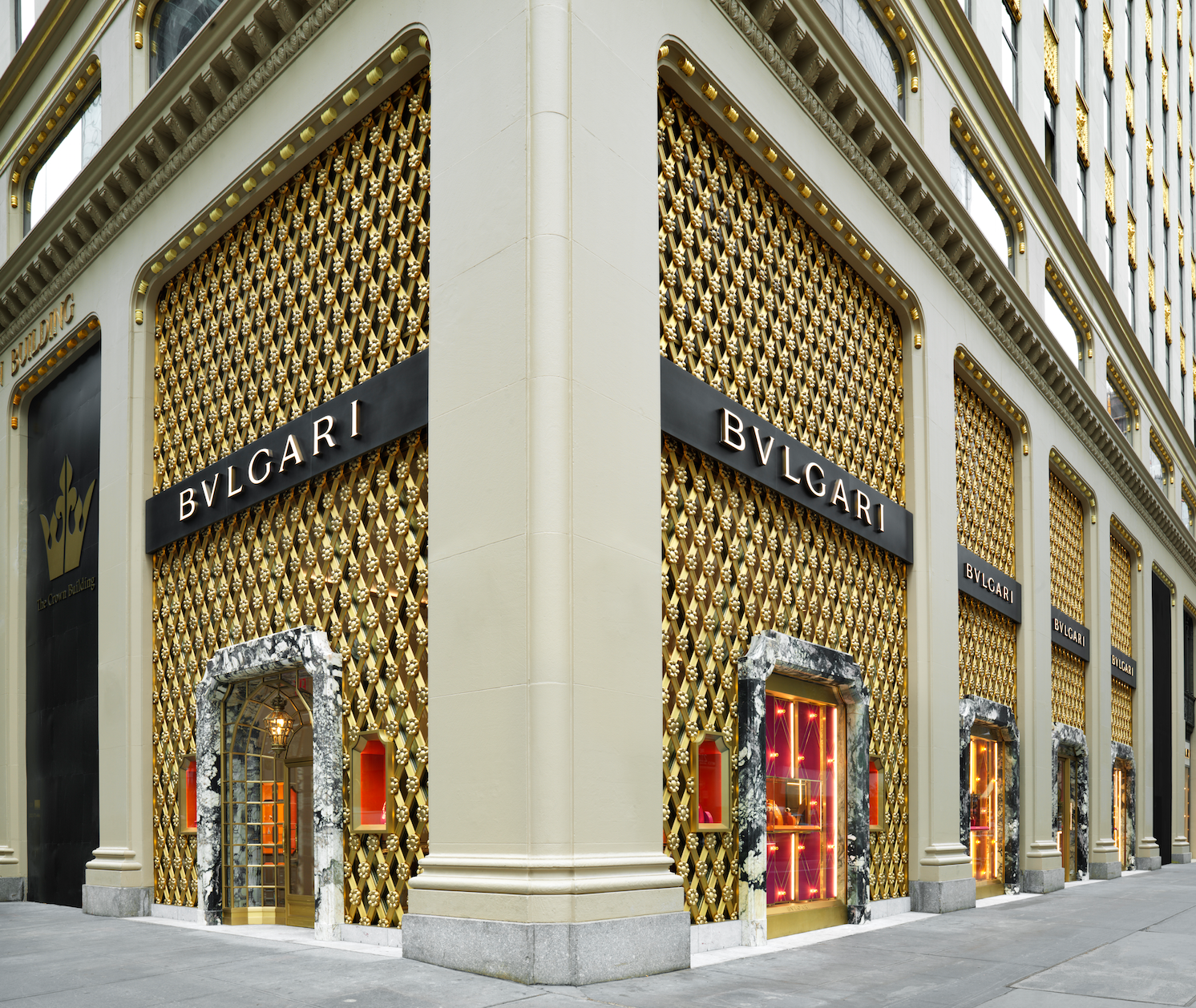 Rome is the heart and home of high-jewelry house Bulgari, and that distinctly Italian spirit was tangible as Elite Traveler previewed the brand's restyled flagship store in New York City. It was in 1972 that Bulgari first arrived in Manhattan with a boutique in the Pierre Hotel before opening at the current Fifth Avenue location in 1989. Completely transformed, the stunning new store has elements of Rome, New York and the brand's illustrious jewelry archive.
Bulgari CEO Jean-Christophe Babin introduces the new store as more a "marble-and-walnut" than bricks-and-mortar extension of the brand, addressing the design components that reflect Bulgari's Via Condotti flagship in Rome. The Roman influence is apparent from the entrance to the store — a replica of the Via Condotti door from 1930 — to the interior balcony that recalls an Italian theater. Even the signature eight-point Condotti star on the store floor symbolizes Roma Caput Mundi, meaning "all roads lead to Rome." The store welcomes elite guests to the VIP area on the mezzanine, which evokes the lounging room that once served as a hideout for actress Elizabeth Taylor. Architect Peter Marino incorporates original vintage decor and Italian craftsmanship with more refined modern details to create a store experience that is undeniably Bulgari.
In celebration of the Fifth Avenue store's grand reopening, Bulgari has released an exclusive New York Collection as on ode to the US. Per the first Stars and Stripes collection introduced in 1972, these new pieces conjure the American flag with a distinctly Mediterranean twist in their use of coral as 'red.' Shimmering pavé diamonds are featured throughout the collection, while the signature Bulgari coin also makes appearances.
"The flavor is from the seventies, but it's more contemporary, more versatile," Lucia Silvestri, Bulgari creative director, tells me. "It's inspired by the American flag, so the colors are more or less blue and red. This is a capsule collection, only for New York and one-of-a-kind. I'm very excited to be here to see this beautiful store. It's such an honor."
Lucia points to the bracelet as her personal favorite piece in the collection, saying it was "very difficult to cut the coral…the result is really amazing and so special." While the capsule collection may be her latest, she encourages everyone to "play" with jewelry, as she herself mixes Divas' Dream Collection earrings with a New York necklace, further bringing together Rome and New York.
Bulgari is located at 730 Fifth Avenue, New York, NY 10019. For more information, please visit bulgari.com.
Image Credit: Gionata Xerra